Heading back to college when you're a single mom is a challenge. You'll need to carve out time to get to class, study, and write papers while you take the kids to schools too. As a single parent with household expenses, it can be hard to save money for tuition and books.
Did you know that many foundations and organizations offer scholarships for single moms who want to earn a degree? Check out these college scholarships to help cover your college costs.
Ann and Peter Ziegler Scholarship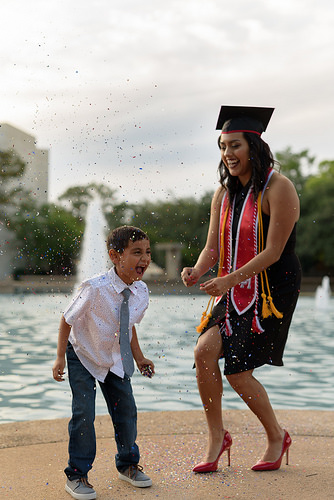 Image via Flickr by mabdigiphoto
The CNM foundation offers scholarships to single moms who attend Central New Mexico Community College and plan to continue on to a four-year school. Liberal Arts majors with a 3.0-grade point average or higher may apply. Note that scholarship amounts vary.
While scholarships may not cover your entire tuition bill, don't let that cancel your plans to go back to school. You can combine your awards with funds from financial aid and private student loans to get the money you need to earn a college degree.
Bernice Murray Scholarship
Single moms who have one or more children under 12 years old and live in Vermont can apply for the $2,000 Bernice Murray Scholarship. Students do not have to meet minimum grade point average requirements or choose a specific major to qualify for this award. The scholarship covers undergraduate and graduate students.
LouEllen Dabbs Scholarship 
Holyoke Community College students may qualify for up to $750 from the LouEllen Dobbs Scholarship Fund. Single moms studying for a career in business, finance, or banking with a solid academic record are eligible to apply. The fund gives scholarships to single moms who have a financial need and a potential for academic achievement.
TopProducts Single Mother Scholarship
The review website TopProducts.com helps single moms afford college by granting a $1,000 scholarship each year. Moms with children under 18 years old can apply by writing a 1,200 to 1,500 essay describing what education means to you. Moms enrolled in or accepted to a two or four-year college can apply for this award. You'll need to send in an unofficial copy of your high school or college transcript as well.
Deblinger Family Scholarship
Low-income single moms can qualify for up to $10,000 in assistance from The Deblinger Family Scholarship Fund administered by the Silicon Valley Community Foundation. The scholarship is open to California moms who live in Alameda County, Santa Clara County, Santa Cruz County, and San Mateo County.
The foundation gives preference to single moms who live in Oakland, San Jose, Watsonville, and Palo Alto. You'll need a minimum 2.5-grade point average and be enrolled in college or plan to return to school to finish your degree.
For many applications, you'll need to provide proof that you are the single head of the household with children at home. Have copies of your tax returns handy in case you need to send them in with your applications for this purpose. You can use scholarships, financial aid, and private loans to pay for your dream of getting a college degree.
Content on this site contains sponsored and affiliate links. Read our disclosure here. If you purchase something through a post on our site, Bloggy Moms or the publishing member may get a small share of the sale.