A study published in a recent issue of Contexts, a publication of the American Sociological Association geared to be publicly accessible, titled The Joy of Cooking, focused on families in their homes as they prepared and ate meals, and also observed details of their trips to the grocery store and to their children's check-ups. Sitting around the kitchen table and getting a feel for these women's lives, the sociologists came to appreciate the complexities involved in feeding a family.
 The study observed that for most moms, getting a home-cooked family meal on the table was stressful. The authors discuss the difficulties meeting foodie standards for homegrown, home-cooked, preferably organic, meals, prepared lovingly and passionately, and the financial and temporal realities faced by many families today. The moms interviewed in the study talked about how with both parents working long, irregular hours, there is simply not enough time to cook a quality meal, much less sit down at the table at the same time. Others talked about the trade-offs between spending time cooking or spending time with their kids at the end of the day. Many said that it was difficult to please everyone with one meal, so they ended up sticking to tried-and-true, albeit boring, recipes to avoid new challenges.
Putting together a balanced meal means including all or most of the food groups (these days it is not difficult to skip out on meat entirely). By offering a variety of food types, you pretty much ensure that meals will be nutritionally sound without having to fret much about individual nutrients. Your balanced meals may be elaborate and impressive, but they don't necessarily have to be. Protein can be a scoop of peanut butter served next to apples, canned chickpeas made into hummus, or 3-minute scrambled eggs.
If you're a busy mom, you know the Ontario work week is a long one, especially if you deal with GTA commute times. But before you go to the pantry for a quick box-meal solution, or grab the phone to order pizza, consider a few out-of-the-box recipe ideas at www.getcracking.ca that are quick, nutritious, and that maximize quality family time.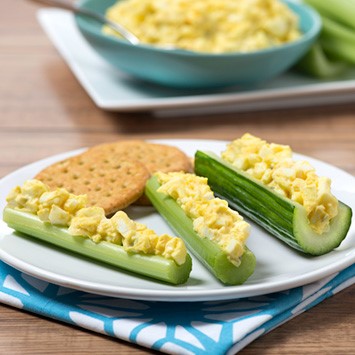 If it's just you and the kids, why not try a new spin on an old favorite? Instead of egg salad sandwiches, try egg salad boats — using simple celery stalks. Have your kids help you prepare the egg salad so they can adjust the ingredients based on their individual tastes. The basic recipe simply requires you to stir the eggs with mayonnaise, relish and mustard until well combined. You can even store the mix in an airtight container for up to 3 days and re-use as necessary.
If you're looking for something with a little more zing (or for something when dad's at the table), try a fuss-free frittata. Loaded with veggies, frittatas can be as simple as you like — with no crust to make, no eggs to soft-set in the pan, just give a quick sauté to the veggies, then mix everything together and pop it in the oven.
For more easy outside-the-box meal ideas that your kids — and husband — will love, visit www.getcracking.ca to see more fabulous recipes and kitchen tips!
Content on this site contains sponsored and affiliate links. Read our disclosure here. If you purchase something through a post on our site, Bloggy Moms or the publishing member may get a small share of the sale.