This content may contain affiliate links or sponsored content. Read our disclosure
here
.
Magic Kingdom Birthday Party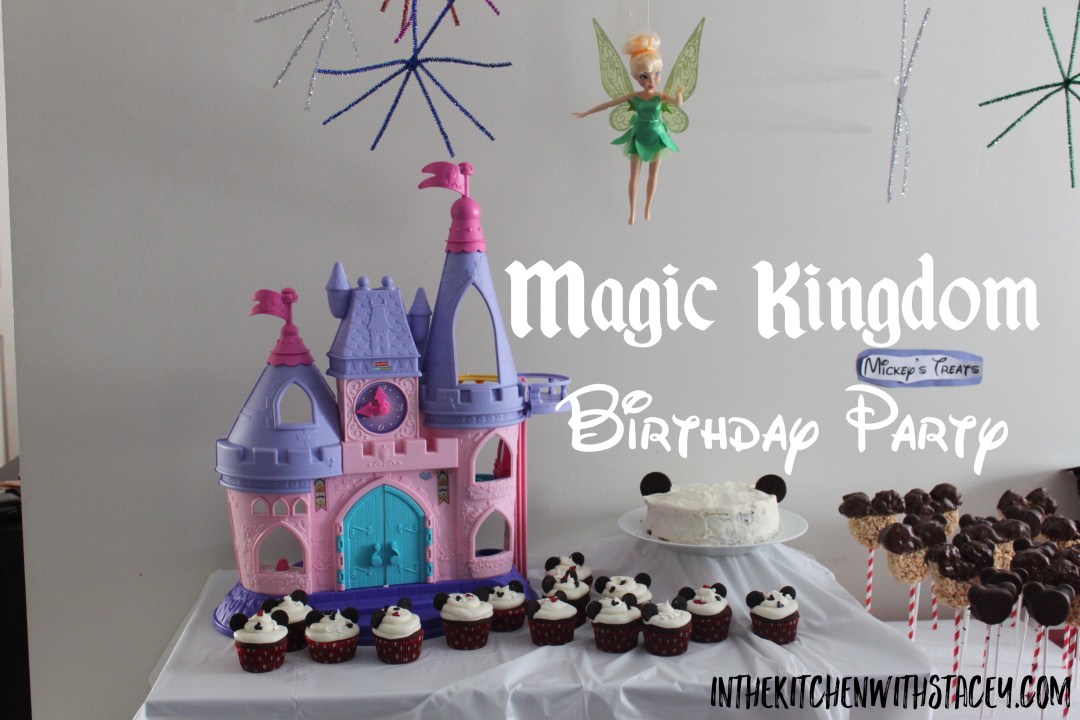 Planning a Magic Kingdom Birthday Party!
A few months ago, I asked Isabelle what type of birthday party we should do Gabriella's First Birthday party.  She kept giving me a mix of Tinkerbell and Mickey Mouse.  I was thinking of Disney World and how much I am missing the parks–granted with us living in Florida we didn't get to go to the parks as much as I thought we would due to the cost and getting the time off from work for Victor.  I knew I didn't want to do a full on Mickey Mouse Clubhouse party, with Mickey everywhere-I watch enough Disney Junior.  I went onto Pinterest and found this party at Lansdownelife.com!
Perfect! I knew I was going to have a Magic Kingdom Birthday Party and I was going to use Disney toys that the girls have to decorate.
For her birthday invite, which I only emailed due to time I used this to get started.
The font I used for the Magic Kingdom on the front of the card is called Started by a Mouse and the font I used for the "Celebrate with Us" and the back of the invitation is Didot.
For a PDF of the invitation please click here
I also made Mickey Party Hats, here is the tutorial.
Main Street USA
Due to us living in Massachusetts, I am finding out that you can experience all four seasons in a week! Seriously, it's spring and it was beautiful with a high of 70 and then two days ago it was snowing.  Needless to say we had her party inside at our home.
The kitchen I decorated it slightly like Main Street USA.  Our walkway, which is like our small office area was the tiki room (Isabelle love's the song) and the living room was Fantasy Land.
I saw the fireworks on Lansdownelife, but decided to hang them from the ceiling using thread and blue painters tape.  I also used Isabelle's Tinkerbell, Periwinkle, and Fawn dolls as well.  Tinkerbell, the fireworks, and the castle all reminded me of the'Wishes' fireworks show at the Magic Kingdom.  The castle is by Fisher-Price Little People Disney Princess.  My folks gave it to Isabelle for her first Christmas gift.
I bought two cheap plastic tablecloths from Walmart in red and white.
The font for the Main Street USA sign is Algerian
The font for the Mickey's Treats sign is Waltograph
The font for the Casey's Corner Hot Dogs sign is Bodoni
The food on the menu:
Casey's Corner Hot Dogs (served in the crockpot)
Mickey's Sandwiches ( ham, turkey, swiss, and cheddar shaped like Mickey)
Mickey's Treats-Chocolate Dipped Rice Krispie Treats, Chocolate Covered Oreos, and Gluten-Free Chocolate Cupcakes (recipe to be posted soon)
Hummus served with Pita Chips, Sweet Potato Chips
Sangria and Beer-for the adults
Tropical Strawberry Fruit Juice-for the kids
I also found boxwood balls at Jo-Ann Fabrics to make a Mickey topiary (thank you Erin at Lansdownelife for this idea), like at the Disney Parks.
The cutter I used for the Mickey Ham, Turkey, Cheese, and Rice Krispy Treats was purchased on eBay!
The recipe for Mickey's Rice Krispie Treats  and Mickey's Chocolate Covered Oreos
The recipe for Mickey's Coconut Flour Chocolate Cake
I bought the Walt Disney World Official Album from iTunes to go with the party.
The Enchanted Tiki Room
When it came to decorating our little hallway in-between the kitchen and living room I decided on the Tiki Room.  I remember when we took Isabelle to Disney World, she loved seeing all the birds, flowers, and tikis sing!  For this part I really utilized every idea from Lansdownelife's Tiki Room.  I bought the Tikis and flowers from party city.  I found the birds along with Iago on Amazon (affiliate links).
I used twigs from our backyard, as our landlord just trimmed a tree, to form swings for the birds.
For the Welcome Sign and the chorus to the Tiki Room I used Ed Interlock.
In this part of the house, I had my old iPhone hooked up to an iHome to play Disney World Music.
I also added a few "Hidden Mickey's" in the tiki room.
Fantasy Land
When it came to our living room I knew I wanted it to be Fantasy Land!  I saw on Lansdownelife.com what Erin made for her interpretation of Fantasy Land and loved it!  I found this image of It's a Small World on Google (I honestly don't remember where I found it).  I connected our projector to my computer and placed the image on the wall.  Then, I taped a piece of foam board to the wall to trace the image.  I can't draw worth anything, but I can trace!  I didn't get to finish coloring it in, but it's ok.
I found the colorful pennant banner at Wal-Mart and the font I used for the Fantasy Land sign is Orange Grove.  I used crepe paper to create a canopy effect, like that from It's a Small World. By the way-I am loving the blue painters tape to hang things-it actually holds the decorations and I don't worry about the walls getting messed up (especially since we are renting).
Since Isabelle has Disney toys, I used those to decorate the living room.  Anna, Elsa, and Aurora I placed on the mantle next to the picture of It's a Small World-similar to that of the dolls from the ride?
On our TV stand, I placed Cinderella's Garden Tea Party Set along with a few friends- the kids played with this during the party 🙂
On our coffee table I placed Snow White and the Seven Dwarfs' Cottage for the kids to play with, while the adults were talking 🙂
After we were finished eating, it was time for cake (well it was more like Isabelle asking for cake and treats).
I think she likes it
I had fun planning and getting things together for Gabriella's First Birthday!  I know Isabelle had fun too
Content on this site contains sponsored and affiliate links. Read our disclosure here. If you purchase something through a post on our site, Bloggy Moms or the publishing member may get a small share of the sale.