This content may contain affiliate links or sponsored content. Read our disclosure
here
.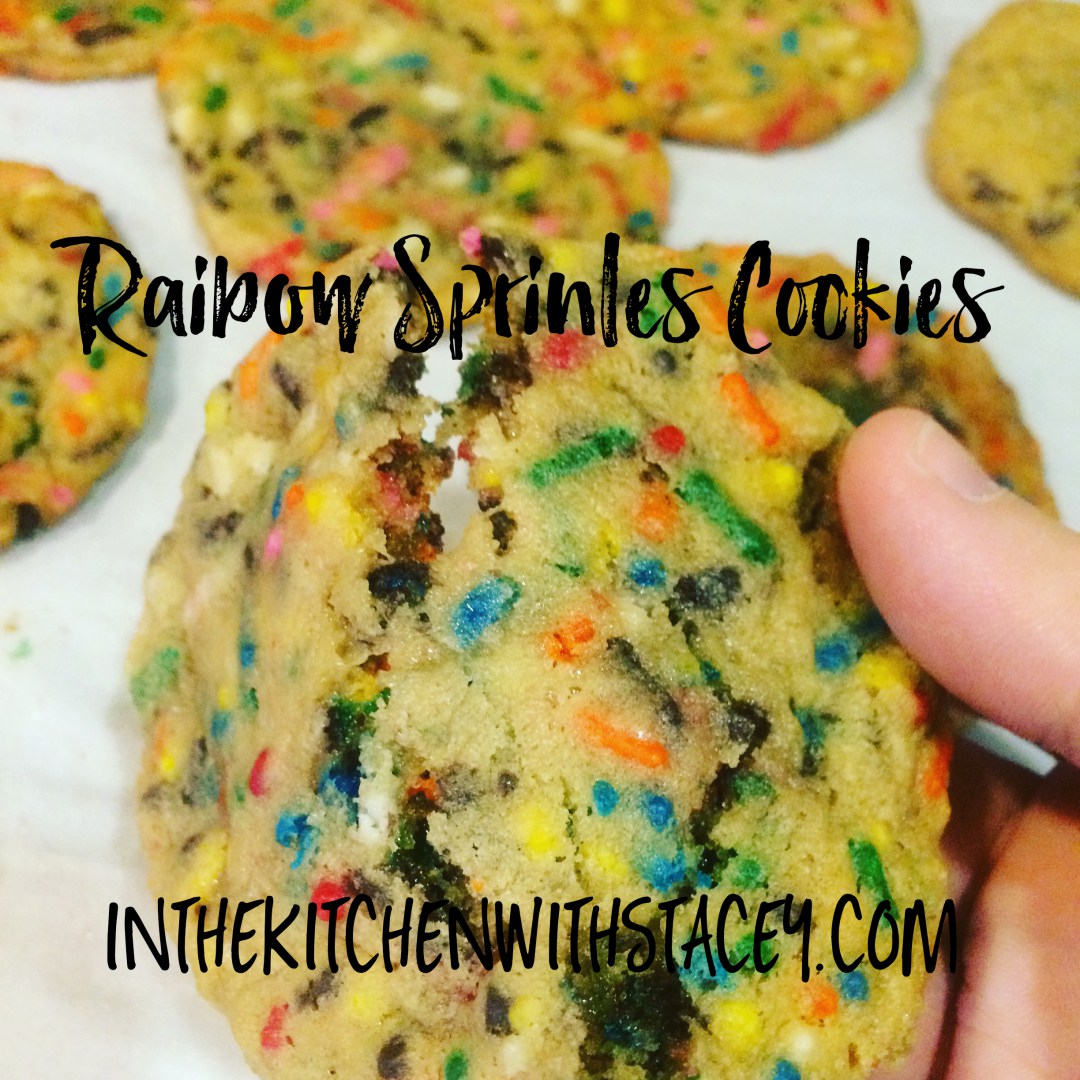 I planned on making chocolate chip cookies, but when I asked Isabelle what she wanted to put into the dough she said "SPRINKLES!!" I then asked "Are you sure?"  "Momma, I want to make Rainbow Sprinkles Cookies!" "Okay" unsure how they would turn out. However, after they came out of the oven..I think she's on to something as my Instagram went crazy!  Future Chef in the making?
Ingredients
2 1/4 cups all-purpose flour
1 teaspoon baking soda
1 teaspoon salt
1 cup (2 sticks) butter, softened
3/4 cup granulated sugar
3/4 cup packed brown sugar
1 teaspoon vanilla extract
2 large eggs
10.5 Rainbow Sprinkles (I used Cake Mate)
Cooking Instructions
Preheat oven to 375F
Combine flour, baking soda and salt on a small piece of parchment paper. Reserve.
Beat butter until smooth in the bowl of a stand mixer.  Add sugars and vanilla, mix well.  Add in eggs mixing in one at a time until creamy.
Funnel in flour mixture into wet mix and mix until well incorporated.
 Add in sprinkles.  Turn on mixer to medium speed, turning off and on until well combined.
Drop by rounded tablespoon onto parchment lined baking sheets.
Bake for 8-10 minutes or until not completely golden brown.  With these particular cookies, I bake until slightly underdone, due to the high sugar content. Cool on baking sheets for 2 minutes.
Content on this site contains sponsored and affiliate links. Read our disclosure here. If you purchase something through a post on our site, Bloggy Moms or the publishing member may get a small share of the sale.