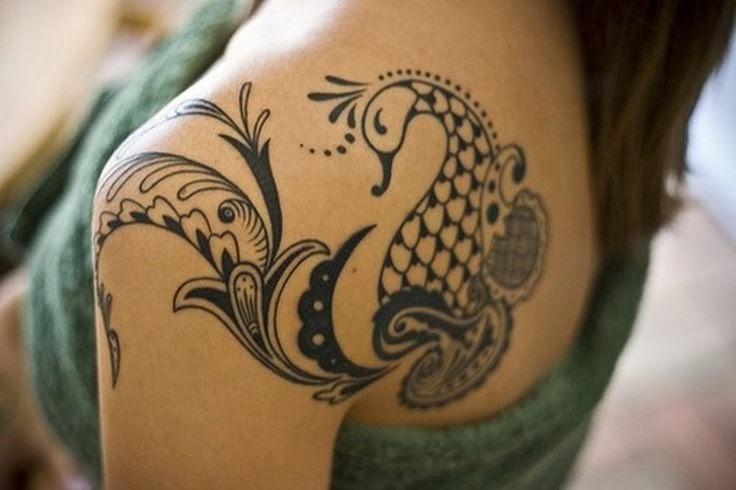 Temporary tattoos are the latest trend and are just as cool- if not cooler – than the real thing. After all, do you really want to commit to having something emblazoned on your skin for the rest of your life? Temporary tattoos have come a long way; they are much more realistic and many of them last more than a day or two. Plus, with the many companies out there that will customize a temporary tattoo, you can always find something you like and try it out just to see if you have that "next day regret."
Here are 10 gorgeous temporary tattoo design ideas for you to use, courtesy of Temporarytattoos.com.
Dark Triangles: (or any other geometric design) These are very basic and interesting. They don't really have a big meaning, but they do make people curious about what is going on.
Butterflies: Especially for women and girls- these are dainty and beautiful- and add an element of "girly girl" to your overall style. This is one of the main "go-to" tattoo designs for females. Butterflies are especially gorgeous when paired with flowers.
Celtic: This is another really popular permanent tattoo design, which is also an excellent choice for temporary tattoos. There are so many designs to choose from when it comes to the Celtic designs.
Tribal: Another popular permanent tattoo design- many men (and women) choose tribal designs. Most of the time they really don't mean anything at all- they just like the way they look on them. You can get them in color or in basic black.
Balloons: These are fun and whimsical and are a popular choice for children's temporary tattoos as well as fun-loving adults. Again, this is a great one to have in color, but basic black works just as well.
Foxes (or other animals): These can be realistic or whimsical and make excellent temporary tattoos. You are sure to call attention to yourself when you put on one of these! Get them in basic black, black with a splash of color (perhaps the eyes), or all in color.
Eye: Eye tattoos are very popular- you can choose a realistic eye, or the "all-seeing eye." Many people choose the latter one just for the deeper meaning that it has. These are always fun tattoos- get them in black except for the eye itself, and get a splash of color there for a fun effect.
Glow-in-the-dark: These tattoos are one of the newest crazes- they really do glow in the dark! You can get any of the constellations- this way, when the lights go out, you've got the stars right at your fingertips.
Lightning bolt: You've probably seen people that have these on their fingers- they are really cool looking and typically done in basic black. They add an air of mystery to your overall look- people begin to wonder what you are all about when you have a lightning bolt on your finger.
Meaningful words: Another popular option for permanent tattoos are meaningful words- why not choose this for a temporary tattoo as well? You can choose a word or phrase that means something to you and/or a loved one.
Content on this site contains sponsored and affiliate links. Read our disclosure here. If you purchase something through a post on our site, Bloggy Moms or the publishing member may get a small share of the sale.