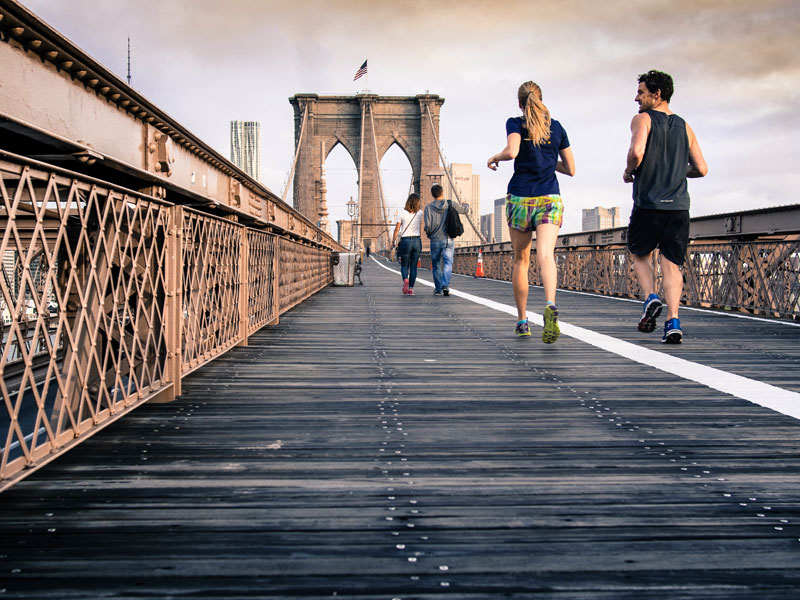 The struggle is real. Getting out of bed in winter is tough, slacking off with workouts is easy and comfort food is ever tempting.
So how do we combat winter weight creeping up and keep up our healthy lifestyle all year around? From diet and motivation hacks to cold weather work-outs, here are our tips to keep healthy this winter.
1. Resist the temptations
As we pile on the warm winter clothes, it's only natural to pile on the pounds too, right?
Wrong. Though most Australians gain two to four kilos over winter, the Dietitians' Association of Australia warns that even one month of 'vegging out' and overeating could have health effects lasting for years.
This winter, try to resist the temptation of larger portion sizes, more frequent snacks and sugary treats (puddings, we're looking at you!). Instead, opt for the hearty, more filling seasonal fruits and veggies: apples, kiwi fruit, mandarins, oranges, carrots, pumpkin, Asian greens and sweet potatoes, to name just a few in season. Your waistline, teeth and wallet alike will thank you.
2. Embrace superfoods
Winter is also the ideal time to stock up on superfoods that are rich in vitamin C, K, A and antioxidants. These not only provide a nutritional boost but also pump up our immune system to help our bodies fight off potential colds, flus and other illnesses — all the nasties that can take such a toll on our health this season. You may also like to look into taking nutritional supplements for a bonus top-up.
3. Warm winter cuppas
In colder climes, there's nothing like a piping hot drink to warm us up. However, embracing more nutritious options such as herbal teas can make a big difference for our bodies.
If you can't go without coffee or hot chocolate on those cold winter mornings, try to make it healthier by limiting the added sugar and opting for reduced fat milk. Also remember to keep up your fluids and drink just as much water throughout the day as you would in summer.
4. It's all in the mindset
For many of us, winter — with its frosty temperatures and shorter daylight hours — is the hardest time of the year for exercise.
But famous trainer Michelle Bridges takes a proactive attitude to working out in winter, telling Woman's Day: "I believe winter is actually the best time to train because you can set yourself up to be looking and feeling your best for spring, and then you can enjoy summer socialising knowing that you've put the hard work in over the cooler months."
Her recommendations on how to stay motivated in winter include setting personal fitness goals, working out with a personal trainer or friend who can help keep you accountable, and stocking up on winter active wear to brave the cold chill.
Another simple hack to keep up momentum is preparation: get all your work-out attire and equipment ready the night before so you wake up ready to exercise with no excuses.
5. Winter workouts
Staying motivated is one thing – but what workouts are best in winter? Early morning bootcamps can be the ideal way to ensure you get your workout over with first thing, which can help you stay on track with your diet throughout the rest of the day.
If you'd prefer not to have to face the cold outside, consider taking up dance classes, joining your local gym or even investing in home gym equipment. Look into high intensity interval training, offering all the benefits of a challenging work-out in a shorter time period – perfect for the lunch break at work. Make sure you have wet weather options like an exercise DVD or even workout videos on Youtube.
Remember to always do a pre-workout warm up; these are especially important in winter, as our muscles are tighter and thus more prone to injury in the cold.
6. Maintain hand hygiene
Last but not least, there's no sure-fire way to dampen our fitness inspo quite like coming down with the flu! With winter being peak cold and flu season, remember to double down on the hand-washing and have the antibacterial handy at all times to keep nasty bacteria at bay.
Staying fit and healthy doesn't have to be a chore or challenge. By instilling simple and sustainable habits it's much easier to keep up your health and fitness regime all year round.
Over to you
Keeping those healthy habits going year round is a struggle is. Truth is, we don't have to go it alone. Often the secret to success is simply in finding the right support. Band together with your friends and encourage each to living happier, healthier, every single day. How do you stay motivated and healthy in Winter?
About the Author: Judy
Judy hails from sunny Sydney. During the week, she's a practice manager at Inner West Orthodontics, helping teenages and adults alike achieve their ideal smile. In her spare time, she loves pilates, gardening and watching a good movie.
Content on this site contains sponsored and affiliate links. Read our disclosure here. If you purchase something through a post on our site, Bloggy Moms or the publishing member may get a small share of the sale.