Derek Vail, currently a sophomore relief pitcher for Santa Fe College in Gainesville, has been asked to participate in the 2014 FCSAA All-Star Game. His inclusion in the team comes after back-to-back successful seasons as a relief pitcher for the Saints.
His freshman year at Santa Fe saw him lead the team in appearances as he was a relief pitcher in 25 games. During the same season he recorded an ERA of 3.11 over 46.1 innings. This year, as a sophomore, Vail has continued to impress for the Saints; he has led the team in appearances for the second year running by recording 17 games on his stat-sheet. He recorded an ERA of 3.49 over 38.2 innings in addition to leading the team in saves. Vail was also named to the Santa Fe College's Dean's List as well as the NJCAA All-American Academic Team for 2014.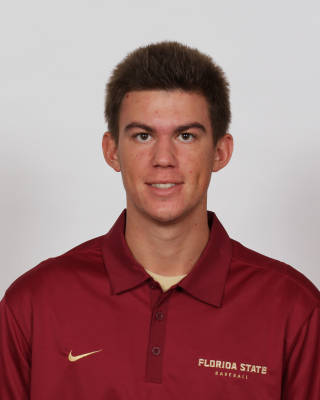 The FCSAA stands for The Florida College System Activities Association; it seeks to promote and facilitate college sporting events and teams within the The Florida College System. Membership in the FCSAA is open to any of the 28 college's that are part of the Florida College System. All members of the FCSAA have abilities to influence the policy making of the association. There are over 20 member schools, including Santa Fe College, as well as other sporting power houses Tallahassee Community College and Pensacola State College.
Santa Fe College is also a member of the National Junior College Athletic Association (NJCAA), which was founded in California in 1937 in order to better organize American college's sporting programs from a national perspective. The college's baseball program is notorious for producing NCAA Division 1 Athletes. As such, they are able to recruit many talented local players who dream of moving to an NCAA school and potentially the MLB draft.
Vail graduated from Buchholz high school in 2012; he decided to pursue his dream of pitching at a collegiate level by signing for the Santa Fe Saints. In 2012, as a senior at Buchholz, he was named their pitcher of the year. It is rumored that Derek Vail may be looking to pursue an NCAA Division 1 pitching career; he has been fielding interest from a number of teams in the South-East region, including Florida State University.
Derek Vail Named to NJCAA All-American Academic Team
Derek Vail has been named to the NJCAA All-American Academic Team. Vail, a sophomore relief pitcher at Santa Fe College, has added to his tally of academic recognition. As a freshman Vail was named to the NJCAA All-State Academic Team as well as Santa Fe College's Dean's List.
The NJCAA stands for National Junior College Athletic Association. The NJCAA was founded in 1937 in California in order to promote and facilitate the varsity sporting teams of junior colleges around the country. At present, the organization has over 500 members from around the country; they ensure strong competition within junior college athletics.
The All-American Academic Team awards are divided into divisions and require the student athlete to receive a GPA of 3.6 or higher while maintaining full-time involvement in a sanctioned sporting team. The awards were created to promote and acknowledge the additional effort that student-athletes must make in order to be successful both on and off the field. The NJCAA recognizes that many of their athletes will not pursue a full-time career in sports and it is therefore pertinent that they receive an effective education for their futures outside of the sporting world.
Aside from his academic success, sophomore relief pitcher Derek Vail has also had his fair share of on field accolades. He led Santa Fe' pitchers for appearances during his freshman year at the college; he recorded pitches in 25 games his freshman season. This year, as a sophomore, he has been selected to represent Santa Fe College in the 2014 FCSAA All-Star Game. The FCSAA stands for Florida College System Activities Association, it hosts a yearly All-Star game that recruits the Florida college system's best baseball players to compete with and against one another.
Vail attended Buchholz High School in Gainesville, Florida. It is rumored that he will be seeking to move to a NCAA Division 1 team after the end of his sophomore season at Santa Fe College. Florida State University and Clemson University in South Carolina have both been tipped to be interested in obtaining the junior college star. Vail's track record of academic rigour will serve him well in negotiations with NCAA Division 1 school's as they seek assurances that students transferring from junior colleges will be able to handle the academic pressure of a four-year division 1 school.
Content on this site contains sponsored and affiliate links. Read our disclosure here. If you purchase something through a post on our site, Bloggy Moms or the publishing member may get a small share of the sale.