Whether you're lucky enough to be planning a tropical winter vacation or you're just going to the Y for daily laps, you want to look great in your swimsuit. Even if you think you're over or under endowed, wish your derriere were firmer, or don't have the buffest body at the pool, there's a flattering swimsuit waiting for you somewhere out there.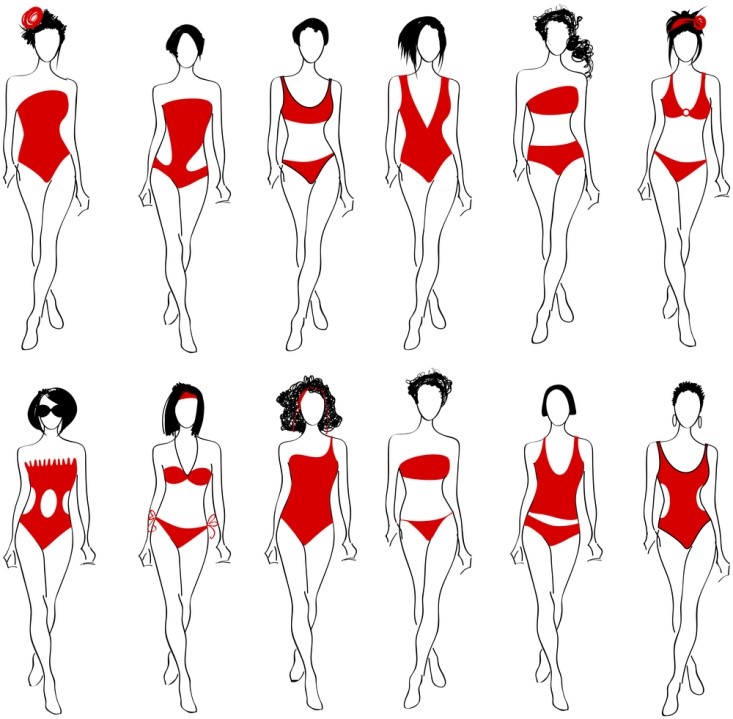 No, really there is. You just have to remember that, unlike Barbie dolls, you are a real woman with real body parts. Comparing yourself to a Photoshopped fashion model or some so-called celebrity whose entire life's work is to be physically perfect (and still be Photoshopped) is to deny everything you've pulled yourself through to get here.
A pooch here or a sag there? They're proof that you've been living. Be proud of what you've got, fellow mommy bloggers. Now follow these suggestions to present what you've got in the best possible way. Find a trendy swimsuit that plays up your best features, and then go out and have some fun.
To Maximize or Minimize Your Bust
Funny, isn't it, how we always want what someone else has? Women with smaller chests might want more oomph but they can wear tops cut down to there and skip along the beach with no worries. More voluptuous women need support and a lot more coverage so they can stay in place while they're spiking a volleyball or running after a tot.
To make the most of what you've got, choose triangle, halter, and bandeau tops, and look for something embellished with ruffles or other eye-catchers. Padding and push-ups are also your pals, as are light or bright colors and patterns.
To support larger busts, choose halters, cups with underwires, and wider shoulder and back straps. Darker colors and small prints don't call quite as much attention as bold hues and prints that call out "look at me!"
To Boost or Diminish Your Booty
Thanks to curvy women like J-Lo, an ample backside is more on-trend than in the past. No matter what you have, though, you want to be comfortable.
To make a flat behind more curvaceous, choose a bottom with frills or a bright design. You're the person that tiny bikini bottoms and high-cut suits were made for. String ties and contrasting trim or other detailing will add to the illusion of more back there.
To shrink an ample rear, choose smooth bottoms in deep colors, and avoid stripes and busy prints. String bikinis might beckon, but you'll do better in a bottom that gives you coverage so you're not tugging at it all day.
To Hide Your Tummy
If you feel self-conscious about your midsection, one-piece swimsuits are the best bet for holding yours in. The construction of a one-piece is designed for the job, and even more so with a built-in control panel. Shirring and ruching can trick the eye and blur the definition of what's suit and what's not. And choosing a style with a plunging neckline or some detail up top will divert attention entirely from your midsection.
To Balance Your Proportions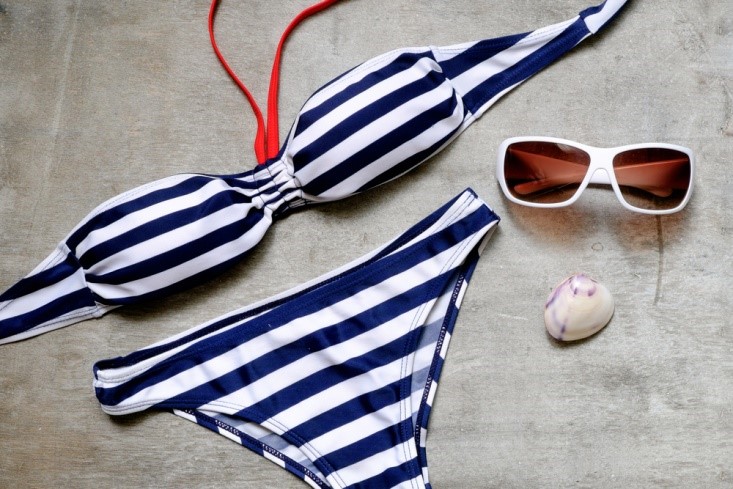 For everyone of us who is not a swimsuit model — which means everyone but swimsuit models — our various parts are probably not completely in line with what the media tells us is today's ideal. But the right choice of swimsuit can perform a pretty good optical illusion.
To elongate your legs, show them off with a high-cut suit.
To stretch your torso, choose a low-rise bottom that shows more of your midsection, and a halter top that gives the appearance of raising you up.
To soften broad shoulders, don't wear a bandeau or other straight-across style. Cut-outs, and asymmetrical necklines will all draw attention elsewhere.
To define your waist, choose a one-piece with contrasting side panels.
To balance your top and bottom, do it with separates and color: decorative and bright on the part you want to highlight, simple and dark on the part you want to de-emphasize.
Most importantly, whichever swimsuit you're wearing, remember to use sunscreen and have a good time!
Content on this site contains sponsored and affiliate links. Read our disclosure here. If you purchase something through a post on our site, Bloggy Moms or the publishing member may get a small share of the sale.