"It's the toughest job you'll ever love."
This may have been a long-ago tagline for the Peace Corp but it can be equally applied to motherhood. Being a parent is exhausting, not just physically but emotionally as well. The late nights, the early mornings, the mess, and the stress: they all add up. When you add in the current trend to be the perfect parent who can manage it all and still pull off the perfect birthday for a 1 year old who won't even remember it, everything can feel like it's falling apart.
Even mothers who have help in the form of a partner, caregiver, or doting grandparent can still feel as if they're buckling under the pressure. However, even though it may feel selfish and you'll wonder how your little ones will ever survive without you, it's vital to take time for yourself, to remember who you are, and focus on self-care.
These are five ways you can do just that.
1. Find Your Tribe
Whether it's the girlfriends you've had for years or new moms you meet at the playground, connections with other women can be the single best way to understand that you're doing just fine. These women are your tribe and, as such, they're the ones that support you, encourage you, and show up with a bottle of wine when you're having a very bad day.
Having these people in your life is crucial. Motherhood is very hard, especially during the first year, and you need these people in your corner. And they'll understand you better than anyone else.
2. Do Something Just for Yourself
Well-meaning people often advise moms to do something just for themselves. This usually translates into a spa visit or a trip to the hairstylist. Why not take this a step further and do something that you want to do, something creative or something that you can do long-term with a bit of creative baby juggling?
Sign up for a weekly art class or language course. Take a horseback riding lesson. Volunteer with at-risk youth or at your local women's shelter. Taking the time to try something new not only energizes your soul but you'll also find a renewed sense of your own strengths and passions, and your family will notice.
3. Buy Something New, Just for You
Shopping has always been touted as a cure-all for women, but sometimes it really does help, especially when you struggle to find a shirt without spit-up on it or the sweatpants you just really, really love.
New clothes can make you feel like a new person, and they don't have to be anything fancy or even items that can be seen from the outside. Many women feel some discomfort about their bodies after giving birth. Big changes have happened and it's hard. Why not treat yourself to a professional bra fitting (nursing bras can be sexy too!) and a pair of new silk panties? Little things like this can make a big difference.
4. Exercise
You've heard it time and time again but exercise really can help you get out of the funk you're feeling from time to time. It doesn't even really matter what you do as long as you get to the point where the endorphins kick in and your racing mind relaxes.
Take a spin class, try acro-yoga, walk for an hour a few days a week, or join a gym. Not only does this give you a bit of "me time," the health benefits are many and can truly help you find a calm space and your children will benefit greatly from that.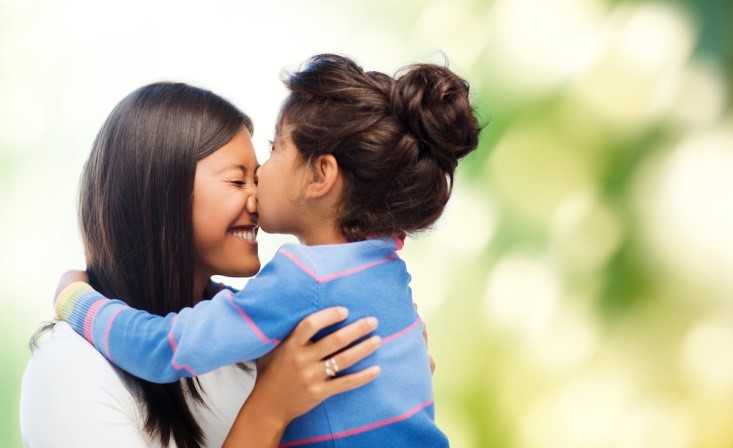 5. Set Your Boundaries
An important part of parenting is setting boundaries, for yourself, your partner, and your children. As they pertain to children, boundaries are expectations of behavior. As they pertain to your partner boundaries might be an equal division of work.
But what about your own boundaries? As a new mom you're under a lot of pressure and questions and demands fly at you from every angle. Set your own boundaries and limits and enforce them. Older children can understand the concept of private time and you and your partner can discuss your own boundaries together. Not only does this give you the confidence that your voice and your desires are respected, but you'll be able to take the time you need, when you need it.
Being a mom is hard but there are ways to make it through while keeping battle scars to minimum. Consider some of these self-care tips and find out how they can help you be a better parent and a better person.
Content on this site contains sponsored and affiliate links. Read our disclosure here. If you purchase something through a post on our site, Bloggy Moms or the publishing member may get a small share of the sale.