No one likes yardwork. While you might find spending time in your garden relaxing, the actual work involved in caring for your plants is hardly pleasing. Tasks like schlepping soil and fertilizer, scooping rotting leaves and shoving around an unruly lawn mower make you dirty, sweaty and achy, and everyone wishes they would be over sooner.
In truth, there is only one way to eliminate yardwork completely: ditch the yard. Otherwise, you will need to take responsibility for the health and appearance of your landscape. Fortunately, there are ways to make yardwork go faster and feel easier. These include:
Outsource Some Chores
Not all yardwork chores are created equal. Many are much more energy- and time-intensive — and require more expensive equipment — to complete. You can cut down the time you spend maintaining your yard and be certain that these chores are completed correctly by outsourcing them to professionals. Some good candidates for outsourcing include:
Lawn mowing. If you live in an urban environment, like Jersey City, lawn mowing is all but impossible for the average homeowner. You probably don't have enough outdoor storage space to keep a lawn mower, and you likely don't have the time to keep a lawn well-mowed during the spring and summer months. Worse, if you mow your lawn incorrectly, you could cause serious damage that results in unsightly brown patches.
Pruning shrubs and trees. While a pair of pruning sheers isn't hard to store, you should avoid this task because of its myriad rules. Different types of plants need to be pruned in different ways to facilitate the right kind of growth, and chopping indiscriminately, at the wrong time of year, could straight-up kill your plants.
Weeding and pest control. Herbicides and pesticides are literal poisons, so it isn't a good idea to spray them in your yard unless you know exactly what you are doing. There are other forms of weed and pest control, but they require back-breaking work. It's usually easier and more cost-effective to hire a professional to visit your yard every few months.
Invest in Better Tools
For the tasks you choose to maintain responsibility of, you need to have the best tools available. Performing yardwork with inadequate tools will require much more time and labor, and you could injure yourself or your yard with the wrong equipment. What's more, there are plenty of tools you might not know about that don't cost much but reduce time and energy investment to nearly zero. Some gadgets you might want to acquire include:
A stand-up weeder. These allow you to pull up an entire weed without bending over or using a trowel.
A leaf bag funnel. This tool will hold your bags open, making it easier to transfer raked leaves, lawn clippings or other debris from the ground to the garbage.
Cordless power tools. When you don't need to plug in your edger, weed whacker or air blower, you can reach more of your yard and decrease your time transferring from outlet to outlet.
A utility cart. Also called a wagon, a utility cart takes the heavy lifting out of yardwork.
Reuse What You Can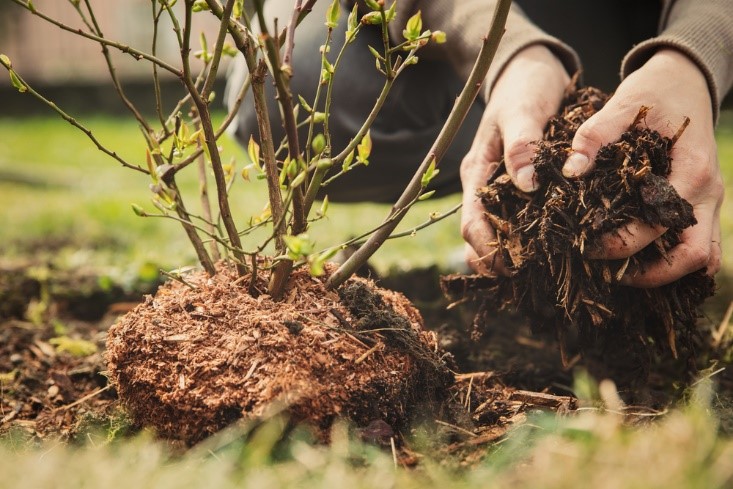 In truth, it isn't that hard to sweep, rake and trim — it's cleaning up all the junk you collect that constitutes the bulk of the work. That's why you should try to reuse all that stuff in your yard. Transforming your yard into a sustainable system will reduce your work as well as necessary costs like water and fertilizer. Lawn clippings, leaves and bark and other detritus can function as mulch, which protects the roots of plants and keeps moisture in the soil, reducing the need for extra waterings. You can also put your green waste into a compost bin, which you can use to feed your greenery every so often.
Add More Hardscaping
Finally, the reason yards are so much work is because they are filled with living plants. If you can't stand the thought of raking up another leaf, you might consider converting a greater portion of your outdoor space into hardscaping. Outdoor entertaining spaces like covered patios are exceedingly functional — and can be beautiful to boot. You can also install hardscaped walkways and borders, which reduce the problems that can develop with lawns and other groundcover.
Yardwork is hard work, but most homeowners find the availability of a lush, green outdoor space worth the toil and expense. Fortunately, you don't have to do it all; with the help of professionals, dedicated tools and a system for reusing yard scraps, you can reduce the work involved and increase your enjoyment of your exterior.
Content may contain affiliate links. This means that, at no additional cost to you, we may earn a little somethin' somethin' when you use the link to make a purchase.
Learn more here.
Would you like Bloggy Moms to feature your brand?
Contact us here.