Image Source: https://i.imgur.com/0ceQxx7.jpg
Whether you've seen it infused in coffee or sold in its pure oil form, cannabidiol (or CBD) has become increasingly mainstream over the past few years. As regulations shift and more research is being done on CBD, it becomes less of a passing trend and more of a mainstay in the market.
Available as CBD creams, CBD hemp oil, CBD edibles and more, cannabidiol exists in many forms for various reasons. CBD usage differs from person to person. While some folks consume it as a calming agent, others may use CBD topical creams to treat irritated skin.
What Is CBD?
First and foremost – what is CBD? Short for cannabidiol, CBD is one of over a hundred compounds called cannabinoids found in the cannabis plant family. It's mainly known for claims of its mentally and physically calming effects, and it may also encourage general wellness.
When understanding what CBD is, it's important to note that it is an entirely separate compound than tetrahydrocannabinol or THC. While THC is responsible for causing a "high" feeling, CBD is non-intoxicating. Additionally, commercially available CBD is usually extracted from industrial hemp. 
Commonly Consumed CBD Products
If you're considering delving into the world of CBD or want to change up your already existing routine, take a look at the most popular CBD products on the market. Your CBD oil usage can change depending on what is troubling you, whether it's difficulty getting to sleep or dry skin.
#1 CBD Oil
What is CBD oil? Simply put, this is cannabidiol extract in the form of oil. This is the compound's purest available form.
CBD hemp oil can be consumed sublingually (under the tongue) or mixed into food and/or beverages. It's often available in bottles of varying quantities, from 100 mg all the way to 3500 mg. You can even purchase daily dose droppers, which are pre-filled with an appropriate dose of cannabidiol.
#2 CBD Edibles
They're exactly what they sound like – CBD edibles are cannabidiol-infused treats you can eat. In general, CBD oil edibles come in sweet or sour gummy form. These can come in varying sizes and doses, and they are the most portable option for taking cannabidiol on the go.
#3 CBD Creams and Lotions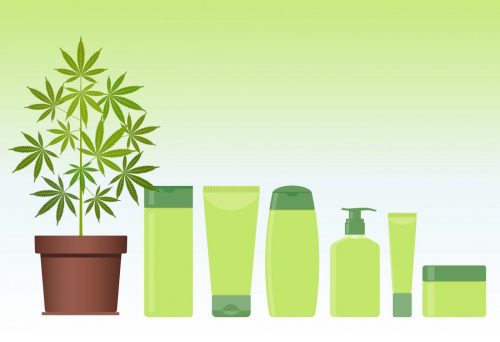 https://i.imgur.com/kGRq2A6.jpg
If you're trying to enhance your skincare routine, consider using CBD lotions. These provide natural nourishment to your skin, and cannabidiol-infused creams usually contain additional supportive ingredients like vitamin E, avocado oil, and other essential oils.
There are also CBD topicals that aim to provide relief for your muscles and joints. Available as roll-on balms, these products are formulated to soothe your tired limbs. Consider picking one up post-workout.
#4 CBD Terpenes
What is a terpene? Basically, it's a chemical that determines the smell of something, like the citrusy scent of an orange or the woodsy aroma of a pine tree. So, CBD oil terpenes are naturally occurring compounds in the hemp plant responsible for its color, scent, and flavor.
At least 20,000 different terpenes exist in hemp plants, but there are a few – myrcene, limonene, and terpineol – that are more abundant than others. Each has its own specific taste, smell, and set of distinct effects. Limonene, for example, has a citrusy scent and boasts strong antibacterial and antifungal effects.
#5 CBD Capsules/Softgels/Pills
 While they may not be as tasty as gummies, CBD oil capsules are great if you're on-the-go. It's as quick and easy as popping a cannabidiol pill to get you through the day.
Formulated to be easily digestible, capsules are meant to slowly release cannabidiol into your system throughout the day for a longer-lasting effect. This is possible due to the human body's built-in endocannabinoid system, which has CBD receptors throughout your body. These receptors react naturally with cannabidiol as it enters your body.
Are They Legal?
 Is CBD legal? Is CBD oil legal? Are CBD capsules, CBD terpenes, and CBD lotions legal? The legality of cannabidiol and CBD products is often questioned, but there are specific regulations that make CBD legal.
To be considered legal on a federal level, cannabidiol must be extracted from hemp. Complications arise mostly when it comes to selling consumable products because the U.S. Food and Drug Administration recognizes CBD as an approved drug form, it can only be sold under federal law as cosmetic products, not in food, or beverages.
However, the FDA recently announced that it would begin creating new regulations to distinguish CBD's various uses. In response, cannabidiol stocks soared.
Statistics of CBD Products in Recent Years
CBD statistics state that today, nearly 7% of adults in the United States use CBD products – oil, creams, edibles, etc. As CBD becomes not only more popular but also more accessible, this number is projected to reach 10% over the next several years.
Other CBD oil statistics project that the overall sales of cannabidiol products will reach $22 billion by 2022.Takeaway
With numerous uses and growing availability, cannabidiol has plenty of staying power. As the general mindset surrounding it shifts, new research is conducted, and regulations are put in place, CBD will likely be a household health and wellness staple in the coming years.
Content may contain affiliate links. This means that, at no additional cost to you, we may earn a little somethin' somethin' when you use the link to make a purchase.
Learn more here.
Would you like Bloggy Moms to feature your brand?
Contact us here.