"Life is an adventure". This is something you've probably heard more than a few times. Unfortunately, it's not something we always experience. Many people live out their days trying their best not to draw too much attention to themselves. They play with the idea of going on an adventure but never take it seriously. They know they're unhappy, but don't want to confront what's holding them back. Well, here's the thing: Life is an adventure, and it's always happening. In modern times we're cut off from adventure, but that doesn't mean it isn't there. For example, Wildlife adventures are more popular than ever, and it's something you can do with the whole family. Below you'll find some of the very best wildlife adventures for you and your loved ones. An opportunity to confront the unknown and to get a taste of what life is all about.
Okavango Delta, Botswana
Created by the Okavango River, which flows from the Angolan highlands, across Namibia's Caprivi Strip, and through to the Kalahari Desert, is Okavango Delta. Often described as "Africa's Last Eden", this incredible ecosystem attracts travelling families from the world over, all excited to experience the Delta's Safari Circuit, and to see all the animals nature has on display: from African Buffalo to Nile Crocodiles.
Angama Mara, Kenya
When translated from the original Swahili, Angama Mara roughly means: "suspended in mid-air". This Kenyan safari lodge hovers above and overlooks the African wildlife below. The adventure, however, begins when you start taking the lodge up on some of its activities, which include hot air ballooning over the expanse, as well as close-up walking safaris sure to put you and the family face to face with Mother Nature herself.
The Kruger National Park, South Africa
No adventure list would ever be complete without the Kruger National Park. One of the world's best known Wildlife and preservation parks, The Kruger is likely to leave the entire family in a spell of awe. The Big Five (elephant, lion, leopard, rhinoceros, and Cape buffalo) all roam here. The Park itself has a wide variety of different accommodation options, from self-catering camping to luxury hotels. An endlessly popular escape for anyone (or any family) hungry for adventure and new experiences, the Kruger National Park remains eager to show you why it's so well known.
Etosha National Park, Namibia
Sometimes what you're after in a wildlife adventure is to see lots of actual wildlife. We've all seen a picture of an elephant, but it never compares to the first time you see a real one, right before your eyes. The Etosha National Park in Namibia is home to a massive variety of wildlife, and with floodlit waterholes at each of its main camps there's no chance of you missing any of the gorgeous sights.
Namaqua National Park, South Africa
If walking trails and mountain biking adventures through nature sounds like a good time to you, then this might be the family adventure you've been looking for. Situated in an area once inhabited by hunter-gatherer San People for thousands of years, this Park is sure to give the family a feeling of perspective, as well as the opportunity to experience History. In August and September the valleys of Namaqualand burst with wildflowers, setting the stage for a family escape you'll likely never forget.
Thanda Safari, South Africa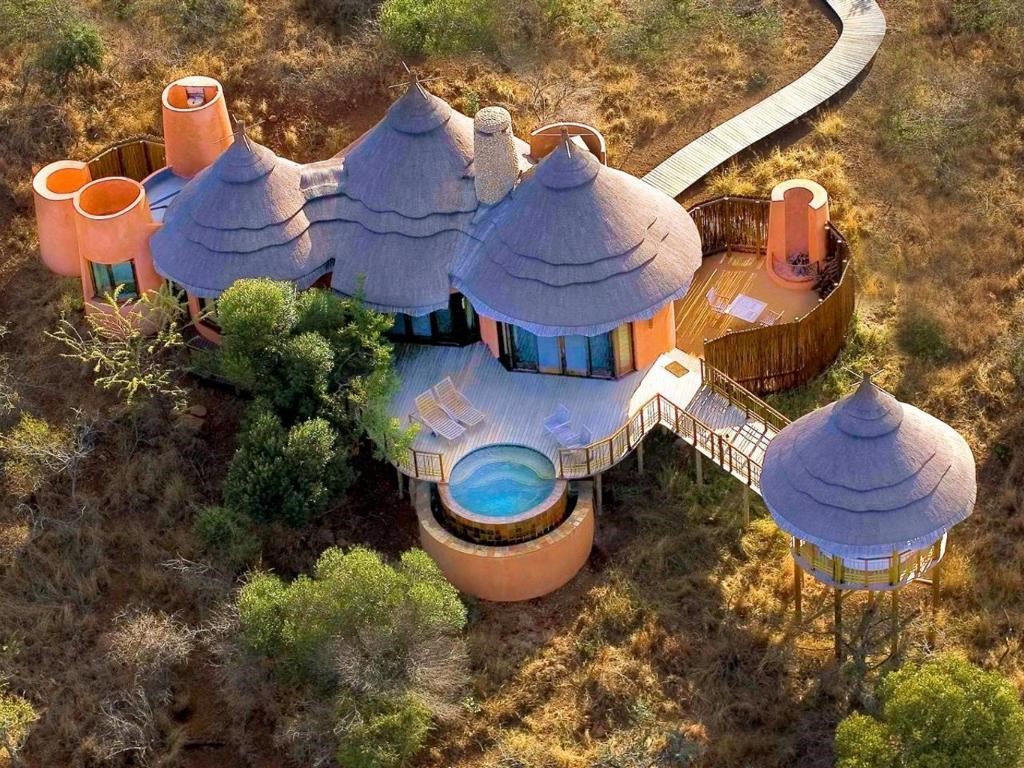 Are you looking for the perfect mix of adventure, wildlife, luxury, and family fun? Then your search has ended because Thanda Safari is everything you've been looking for.  Part private game reserve, part safari game lodge, Thanda Safari offers a truly authentic dip into the luxuries of Africa, while still giving you the freedom to get up close to nature, among the animals, breathing the same air. A Luxury Big 5 game reserve experience that the family will talk about for decades. Wildlife? Check. Adventure? Check. You?
And so, our little adventure ends. These days there are so many distractions keeping us perpetually at play in the drama of life that we sometimes forget to sit back and take off our masks. Needless to say, sometimes we need a break, and sometimes we need to look up and see what's happening, to be reminded that it's amazing that we get to live this life, every moment an adventure. Often times, the adventure is right there, waiting for you. All you need to do is show up!
Content may contain affiliate links. This means that, at no additional cost to you, we may earn a little somethin' somethin' when you use the link to make a purchase.
Learn more here.
Would you like Bloggy Moms to feature your brand?
Contact us here.