This post may contain affiliate links. Read our disclosure policy
here.
Deals are current as of date and time posted.
Do you have a love/hate relationship with pancakes? Pancakes are one of my biggest weaknesses and they are one of my favorite breakfast entrees. They were on my radar even when I was losing weight. But I also know that they are loaded with unhealthy ingredients. Raise your hand if you don't want to give up your pancakes either.
I have great news and you don't have to give up pancakes either. We found that with a few simple modifications you can turn those unhealthy pancakes into healthy protein pancakes that are actually good for you. Check out these 35+ drool-worthy healthy protein pancakes that will satisfy your appetite and keep you feeling full morning long.
Vanilla
You can't go wrong with a simple vanilla protein pancake. These are super easy to make. Head over here to view the recipe.
Chocolate Chip Banana Cottage Cheese
Chocolate and bananas are the perfect combinations and you won't be disappointed with their healthy protein pancakes. They aren't your typical light and fluffy pancake. Instead, these are dense and chewy pancakes. If you want a bit healthier version, you can omit the chocolate chips and forgo adding butter and syrup too. Check out the full recipe here.
Oatmeal Blueberry Yogurt
Monique over at Ambitious Kitchen loves cottage cheese pancakes. However, when she read the nutrition label a bit closer she discovered that the sodium content was too high. So she did a bit of experimenting with her recipe and substituted yogurt in lieu of cottage cheese. The yogurt-based pancakes did not disappoint and she loves that she can mix up the flavors easily too. Find the complete recipe here.
Apple Cinnamon
Do you love going apple picking every fall? These pancakes are the perfect recipe to make with all of the delicious apples that you just picked from the tree. Plus, you can even make your own fresh applesauce too. Find the full recipe here.
Light & Fluffy Banana
These light and fluffy banana flapjacks are the perfect recipe if you are looking to cut carbs while still enjoying a breakfast tradition that you love every Saturday morning with the family. The batter is unlike traditional flapjacks but they are still delicious. Find the full recipe here.
Reduced Sugar Pumpkin Pie Pancakes
Starbucks has had pumpkin spice lattes in their stores for several weeks even though fall weather isn't here yet (as least not in Texas). Pumpkin is a huge fall favorite and we thought about all the pumpkin lovers when we picked this recipe. You may have to tweak this recipe if you feel that you can make them a bit healthier than they are in the recipe. Click here for the full recipe.
Peanut Butter
Do you love peanut butter? Peanut butter lovers will love these surprisingly healthy hotcakes. They ae made with whole wheat flour and don't contain any protein powder. We don't think you will be disappointed either. Visit here for the full recipe.
Healthy Oatmeal
Pancake lovers probably already know that eating pancakes every day is bad for the waistline. Most traditional mix contains far too many carbs and the syrup is loaded with unhealthy sugar unless you are using sugar-free syrup.  However, these healthy flapjacks won't go to the waistline. Again this recipe omits protein powder and uses cottage cheese for added protein. Plus, this recipe uses whole grain oats instead of flour. Find the full recipe here.
Blueberry Coconut
These yummy hotcakes are thick and fluffy and filled with blueberry goodness. Melissa at ProShape Fitness gets bonus points because her recipe omits butter, butter, or sugar too. She also tailored her recipe so that they don't come out as flat, rubbery discs that aren't appetizing to eat. We hope you enjoy her recipe too. Find it here.
Skinny Chocolate Banana
Skip the sugary sweet breakfast options and give these chocolate banana flapjacks a try. Even Jocelyn over at Inside Bru Crew Life, thinks that life is sweeter when you have flapjacks for breakfast. She created this recipe to give her family a healthy option for breakfast. Find her recipe here.
Cinnamon Bun
Who needs the donut shop when you can have these cinnamon bun protein griddle cakes. Arman at the Big Man's World promises that we won't be disappointed and that these have all of the flavors of a traditional cinnamon roll. Except these cinnamon roles are sugar-free, gluten-free, vegan, grain-free, and contain protein vs the counterpart that is filled with sugar, fat, flour, and quite possibly lard. You can find his recipe here.
Pumpkin Gingerbread
Once again, Arman at Big Man's World will have all the pumpkin lovers falling in love with these healthy pumpkin gingerbread hotcakes too. Find the recipe here.
Double Chocolate
Are you craving chocolate? When losing weight, my sweet tooth can easily become a problem if I let it. However, these double chocolate rolled flapcakes will do the trick. Mason Woodruff created these flapcakes when he was craving chocolate and came up with this recipe with frosting. The flapcakes with frosting will only set you back 420 calories which is less than a serving of IHOP short stack without butter or syrup. Who can resist this chocolaty goodness? Find his recipe here.
Kit-Kat
Once again Mason came up with delicious, chocolaty kit-kat flapjacks. If you are having a chocolate craving, these are a must try since they are healthy. Check out his here.
Chocolate Chip Greek Yogurt Pancakes
Raise your hand if your kids love chocolate chip hotcakes? My kids love chocolate chip hotcakes but as a mom, I already know that these contain way too much sugar. Next time they want hotcakes for breakfast on Saturday morning, give this recipe a try. We bet they will love it and not even realize that they are a healthier version either. Find the full recipe here.
Sweet Potato
Do you love sweet potatoes? Kelly at Hungry Hobby is a registered dietitian and has a wealth of healthy recipes on her site. She came up with this delicious recipe to serve to her best friend one day for brunch. We thought that there are plenty of other people who love sweet potato protein pancakes and wanted to share them with you too. Visit here to find the full recipe.
Confetti Cake
Do you have a birthday coming up? These confetti cake protein pancakes are the perfect way to start someone's birthday. My kids would enjoy these any day of the week because they contain sprinkles. After all, who doesn't love sprinkles? Just don't freak out when you see that her recipe includes psyllium husks. Psyllium husks are a dietary fiber and it helps promote bowel movements. So unless you are struggling with constipation, you can omit it from your batch. Find the full recipe here.
Cinnamon
Jacinda from Northern Nester whipped up a batch of the cinnamon flapjacks and topped them with a fresh fruit compote. She decided to try adding a bit of collagen to her recipe and she was pleased with the results. Both she and her husband was only able to eat one pancake because they were too full to eat any more. These pancakes are filled with tons of protein from the egg whites, greek yogurt, and collagen. Find the recipe here.
Blackberry Ricotta
When I found this recipe on Pinterest, my mouth immediately started to water. These hotcakes are light in texture and packed full of delicious blackberries. Andrea over at Andrea's Protein Cakery, we delighted when she discovered that they were enough to keep her feeling full, even after a working out her legs the previous day. We love that you can easily swap our the blackberries and create other fabulous ricotta hotcakes too. Find her recipe here.
Flourless Peanut Butter Chickpea Pancakes
Are you looking for gluten-free, flourless pancakes? You have come to the right place. These flourless peanut butter and chickpea pancakes are all you need for your morning breakfast. You won't be disappointed giving this protein-packed breakfast a try tomorrow morning. Erin at the Almond Eater says they are excellent with a dollop of peanut butter, eaten plain, or drowned in maple syrup. Of course, you could even add a fruit compote or use sugar-free syrup if you are watching your carb intake. Grab the recipe here.
Carrot Cake
Do you love carrot cake? If so, these flapjacks are the perfect way to start the day especially if you top them with a bit of homemade cream cheese icing too. Get the full recipe here.
Strawberry Cheesecake
Raise your hand if strawberry cheesecake is one of your favorite desserts. *Raises hand* very high in the air. Too bad it is filled with unhealthy ingredients that causes it to be so fattening but oh so good. When we discovered this recipe, we knew that we had to fulfill all of the cheesecake lovers cravings without all the sugar and fat that is found in the traditional dessert. These delicious cheesecake pancakes are gluten-free, low-fat, and filled with protein instead of junk. You can find the recipe here.
Cookies and Cream
Oreo cookies are one of my favorite cookies and it is always just so hard to eat 1 serving. I try not to buy them when I am losing weight because we will devour them in one day if we aren't careful. I admit I am guilty of eating too many Oreos. However, these cookies and cream flapjacks can be consumed anytime you get an Oreo cookie craving. Just make sure that if you buy Oreos for this recipe, just divvy the rest of them up into single portion control packages and eat them in moderation. Check out her recipe here.
Pumpkin Spice
Pumpkin Spice is all the rage every fall and PS lovers get their fill as much as possible until it disappears for the year. These flapcakes are the perfect combination with your coffee (even pumpkin spice) on a crisp fall day.  You can find the recipe here.
Maple Pumpkin
This recipe screams fall and will appease all of the pumpkin lovers out there. However, these hotcakes can be enjoyed year round. Fall in love with this recipe here.
Strawberry Shortcake
Angel food cake, fresh strawberries, and whipped cream are one of my favorite summer treats. Even though angel food cake is low-fat, it still contains sugar. These protein pancakes have all of the feels of eating a dessert; however, they are a healthier option and you can eat them for breakfast. Yum Yum!  Find the full recipe here.
Healthy Matcha
Are you looking for a healthy pancake mix for St. Patrick's day? These healthy Matcha flapjacks are kid friendly and fit the bill for St. Patrick's day. They are gluten-free too. Check out the recipe here.
Vanilla Blueberry Cake
Oh my! These protein pancakes look amazing with the blueberry jam and warm vanilla glaze on top. They contain a whopping 38 grams of protein and 13 grams of sugar for the entire serving of protein pancakes. You can't go wrong here. Grab the full recipe here.
Red Velvet
Whether you are looking for the perfect breakfast for Valentine's Day or  Christmas morning, you can't go wrong with this recipe for Red Velvet flapjacks. You won't be disappointed preparing these rich, chocolatey, gooey healthy flapjacks. She also includes the recipe to top them with a healthy cream cheese icing. Get the recipe here.
Chocolate Hazelnut
Do you love the chocolate goodness found in a jar of Nutella? Nutella is a chocolate flavored hazelnut spread that has a consistency similar to peanut butter. I will be the bearer of bad news, most jars of Nutella aren't considered healthy. But we found a healthy, compliant chocolate hazelnut butter called Justin's Nut Butter. It is natural and lower in sugar most varieties of Nutella. Use Justin's Hazelnut butter to make these delicious hotcakes. Find the recipe here.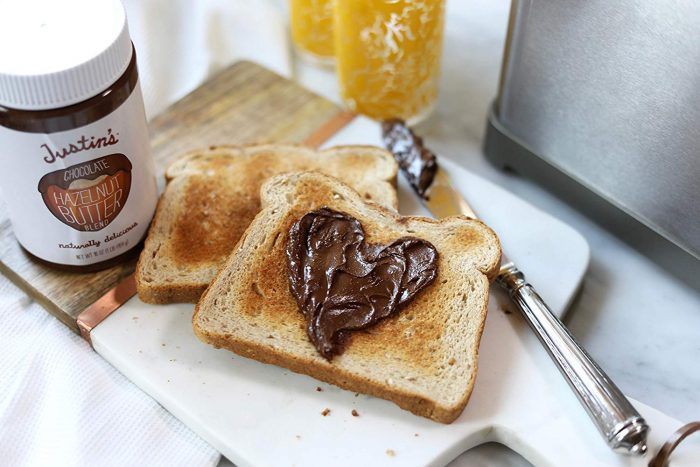 Raspberry Cheesecake
As we already mentioned earlier, cheesecake is a decadent dessert but it is an unhealthy option to eat on a regular basis. But these raspberry cheesecake protein pancakes are the perfect option to serve for breakfast or even dessert too. We hope that you enjoy these low-carb, high protein pancakes. Find the full recipe here.
Chunky Monkey Greek Yogurt Pancakes
Most hotcake recipes are made to serve a family or small army of people, so making a batch for one person is too much hassle to mess with unless you are serving these chunky monkey hotcakes. These hotcakes boost over 20 grams of protein. Find the failproof recipe here.
Cinnamon Roll
Skip the donut shop next Saturday morning and give these protein flapcakes a try. Marcia said just one of these flapcakes was enough to fill her up too. Find the full recipe here.
Quinoa, Coconut, Clementine
With so much buzz around gluten-free, flourless recipes, have you jumped on the wagon train yet? I personally have not but I don't have any gluten-allergies. I decided to share these flapjacks out there for all of those who are looking for a sugar-free and gluten-free recipe. The citrus flavor from the clementines add just the right amount of sweetness. Grab the recipe here.
Raspberry Oatmeal
You don't have to worry about there being any unhealthy ingredients in these flapjacks. These flapjacks contain rolled oats, egg whites and low-fat cottage cheese (just watch the sodium content). We love that you can even use a variety of fruit too. Find the full recipe here.
Chocolate Pomegranate
These vegan chocolaty pancakes are the perfect pancake recipe for vegans. So whether you enjoy them for breakfast, brunch, or for dessert, you can't go wrong with these vegan protein pancakes. Find the recipe here.
Strawberry Chocolate
With so many holidays sprinkled throughout the year, Victoria had to come up with healthy recipes because dieting was no longer an option. She was tired of failing and started creating healthier versions so that she can feel like every day is a cheat day, including these delicious strawberry chocolate hotcakes. Find the full recipe here.
Wow, I am impressed that there were so many drool-worthy healthy protein pancakes to pick each morning for breakfast. It is hard to believe that a few of these are healthy even though they sound like desserts. We think you will be impressed with these healthy protein pancakes too. I love that I am still able to eat my favorite breakfast entree or occasionally for dinner and even eat these when I am having a strong craving for sweets too. Give these drool-worthy health protein pancakes a try and sit down to eat dinner with the kids tonight too!
Do you love pancakes? Which of these drool-worthy healthy protein pancakes are you excited to try first?
Content may contain affiliate links. This means that, at no additional cost to you, we may earn a little somethin' somethin' when you use the link to make a purchase.
Learn more here.
Would you like Bloggy Moms to feature your brand?
Contact us here.