This post may contain affiliate links. Read our disclosure policy
here.
Deals are current as of date and time posted.
When was the last time you changed your air filter? Since our air filters are out of sight and out of mind, we tend to forget about them more often. Unfortunately, this can lead to some health problems if we aren't careful. You may experience a decrease in air quality and other nasty detriments that can plague your home. This is why it is important to constantly change your air filters. Fortunately, we have some information that will show you the importance of having a clean air filter inside your home and help you stay on top of your air filter routine.
It Will Improve the Lifespan of Your HVAC System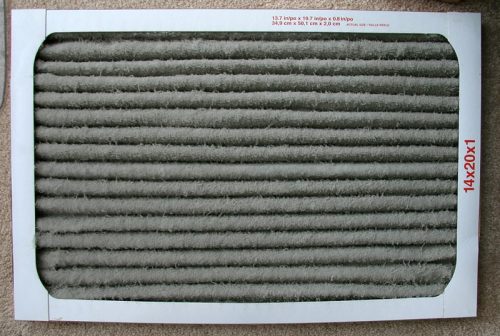 Image via Flickr by Ivy Dawned
Having a dirty air filter can provide more problems to your HVAC than we normally realize. For starters, it can clog up your system and cause it to break down. Dirt can accumulate inside of your HVAC unit and block entrances. This will force your HVAC unit to work harder to pump out air into your home. This increases the chance that your HVAC's fan and other components can break down faster.
Your Wallet Will Thank You
Remember how we mentioned the fact that your HVAC unit will end up working harder to pump out air? That means that your energy bill will skyrocket because of it. Dirty filters will force your HVAC unit to work much harder in order to maintain heat or cool air in your home. Simply changing the air filter often will help you prevent this problem from ever occurring.
It Will Improve the Air Quality in Your Home
We had mentioned before that you could experience an air quality decrease in your home. Unfortunately, a dirty air filter will only cause you to breathe in contaminated air. This can be incredibly dangerous for people who have respiratory issues. These allergens may end up getting you sick and causing other health problems. Be sure to change your air filter to improve the quality of your health.
You Won't Have to Worry About Excessive Repairs
While it is important to receive regular maintenance from an HVAC professional, having your HVAC unit break down constantly isn't good. Your HVAC unit may end up needing excessive repairs in order to keep it running if you fail to replace the filter often. Be sure to change your air filter to improve the quality of your health.
Many people do not realize how important the air quality inside of their home is. They may be breathing in allergens without actually realizing it. Fortunately, these tips are designed to help you stay ahead whenever it comes to air filter changes. Speak with an HVAC professional to determine when you should change your air filters in your home. They will be able to provide you with the right information and even perform an inspection of your HVAC unit. Staying vigilant is key to ensuring that your HVAC unit runs longer and you enjoy optimal air quality.
Photo by Timothy Buck on Unsplash
Content may contain affiliate links. This means that, at no additional cost to you, we may earn a little somethin' somethin' when you use the link to make a purchase.
Learn more here.
Would you like Bloggy Moms to feature your brand?
Contact us here.