This post may contain affiliate links. Read our disclosure policy
here.
Deals are current as of date and time posted.
You are more than likely going to be turning on your furnace now that the temperature is dropping outside. While you may notice an increase in your electric bill, other factors could cause it to skyrocket. A damaged HVAC unit could be the culprit. You notice that the furnace has begun to make strange noises. What could they possibly indicate about the state of your HVAC unit?
Blower Wheels That Are Out of Balance
You may notice some kind of a thumping noise from time to time coming from your HVAC unit. This could be a clear indicator that your blower wheel is out of balance and spinning unevenly. You will want to have an HVAC professional look at this right away before it causes more damage.
Burner Problems
The burner is a crucial component of any furnace. However, damaged burners can cause serious problems if you are not careful. They will emit a strange rumbling noise coming from your furnace. It is crucial to turn off your burner and call the professionals immediately. Letting your furnace run whenever you have burner problems can lead to serious consequences.
Dirty Furnace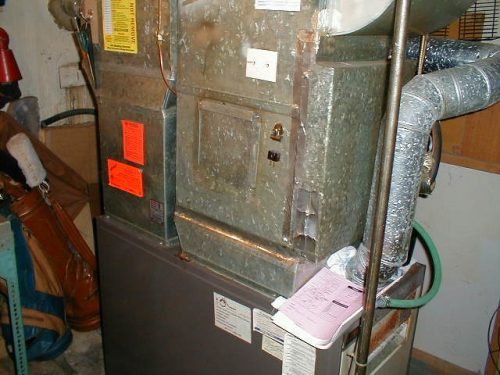 Image via Flickr by John Steadman
When was the last time that you scheduled a cleaning service for your furnace? A dirty furnace can end up creating major problems inside of your household. You may hear banging noises come from your furnace whenever you turn it on. The banging noises are usually followed by your furnace's inability to pump out any kind of air. Letting this problem persist will lead to your heat exchanger breaking down. This will end up costing you a brand new furnace if you let this happen.
Loose Components
Older furnaces have a lot of components that end up becoming loose and rolling around. This can cause a rattling noise that will most certainly grab your attention. Letting a loose component rattle inside of your furnace can end up damaging other components.
Lack of Oil
The fan belts are constantly running to provide you with airflow inside of your home. However, these belts need to be lubricated to keep them working properly. Not regularly lubricating your fan belts can end up causing your furnace to make a squealing noise. Simply apply oil on your fan belts to keep them running longer and to prevent any kind of unwanted noise from occurring.
Keeping the Air Flowing and Your Furnace Quiet
Furnaces can end up receiving damages over the summer, when most people aren't paying attention to it. This can lead to breakdowns during the winter when it is time to pump heat into their homes. They will be able to assist you and ensure that your furnace is working properly. The last thing anyone wants is to be without a working furnace whenever it is cold outside. This can end up causing you to get sick if you aren't careful. Make sure that you take immediate action and call your local HVAC specialists immediately whenever you recognize these noises
Photo by Irina Murza on Unsplash
Content may contain affiliate links. This means that, at no additional cost to you, we may earn a little somethin' somethin' when you use the link to make a purchase.
Learn more here.
Would you like Bloggy Moms to feature your brand?
Contact us here.