This post may contain affiliate links. Read our disclosure policy
here.
Deals are current as of date and time posted.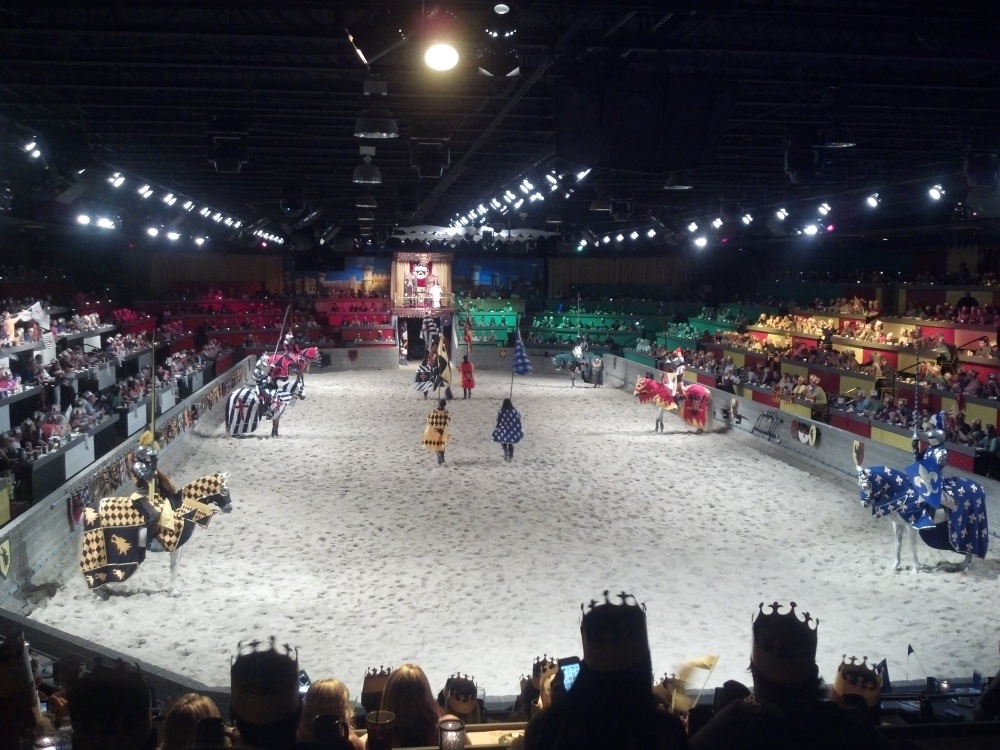 We love that there are a variety of dinner shows available in Myrtle Beach.  Evenings of food and entertainment are great ways to spend time with the family.  One of our favorite dinner shows is Medieval Times!  We highly recommend that you consider spending an evening with them.
What is Medieval Times?
Medieval Times is an exciting, family-friendly dinner attraction inspired by an 11th century feast and tournament. Guests are served a four-course banquet and cheer for one of six Knights competing in the joust and other tests of skill.
When you arrive at Medieval Times – you arrive at a castle! I'm not sure why we hadn't imagined that this would take place in a building made to look like a castle. However, on our first visit – we were pleasantly surprised. The kids were thrilled when they saw they were visiting a "castle" and entering at the drawbridge.
Tip:  Arrive early enough to get a family photo taken in front of the castle and to enjoy a little bit of time exploring the lobby area before the show.
The moment you walk in the door, you journey to the 11th century begins!
We enjoyed the food and thought that is was delicious.  Actually the food service is entertaining as well. I believe I was served "dragon foot" and some other interesting items. Okay, it was a large portion of delicious chicken but we enjoyed the medieval twist on the menu item's names.  However, a trip to Medieval Times is really more about the experience and the show. The tournament is fun, exciting and full of medieval action. Cheer on your knight as he battles for honor and don't leave your table!  You will not want to miss a moment of the action.  Especially the dancing horse or the amazing display of falconry.
Surrender to an age of bravery and honor and witness epic battles of steel and steed during the ALL-NEW SHOW. From ringside seats, discover a feast of the eyes and appetite with more action, more fun & more excitement than ever before.
Tip:  Your server will be entertaining and serve up some crazy-sounding food – but don't worry, it's completely delicious and fun.  Also, pay attention to their instructions – even how you place your cup will be important to what drink you are served.
They host larger groups such as birthday parties, corporate events and more. If you'll be in a larger party, we suggest calling ahead to arrange the best seating for your group.
Tip: We suggest you pay a little bit more for closer seating – it is well worth the view to see closely see your knight as you cheer him on!  It's also a great way to see more detail of what goes into the show from each cast member.  They do an amazing job of performing and ensuring a fun time.
If you haven't yet taken in a Medieval Times dinner show, we highly encourage you to make reservations for your next Myrtle Beach trip.
Would you like to have your location featured on Bloggy Moms? Please contact us here.
Disclosure: Bloggy Moms was provided with a complimentary trip to Medieval Times. All opinions are our own.
Content may contain affiliate links. This means that, at no additional cost to you, we may earn a little somethin' somethin' when you use the link to make a purchase.
Learn more here.
Would you like Bloggy Moms to feature your brand?
Contact us here.