This post may contain affiliate links. Read our disclosure policy
here.
Deals are current as of date and time posted.
Pompeii is a place like no other. Although Roman ruins are abundant throughout Italy, southern Europe, and beyond, there are very few places quite like this where you can explore a preserved Roman town in its entirety. Only nearby Herculaneum, buried by the same volcanic corruption that killed Pompeii, comes close. But Pompeii is unrivaled for its pure scale. And even with everything that has been uncovered from under ash and rock, ongoing excavations mean there's always more being discovered here.
Visiting Pompeii is about the closest thing we're ever likely to have to a time machine. The eruption of Mount Vesuvius in 79 AD completely buried the city under several meters of rock. When excavations began in the late 16th century, historians found haunting traces of life short in this Roman city, including food still on the tables and people caught sleeping by the falling ash. That makes the city an incredible place to visit to get a sense of what Roman life was like for everyone from rich nobility to poor slaves.
Pompeii is vast. The excavated ruins cover more than 440 km², and it would take several days to explore them fully. If you have a more general interest, a day is enough to see the major highlights of the city, but you will need to devote a full day to seeing everything. And you'll do plenty of walking.
Drop off your bags at a convenient luggage storage at Pompeii before you visit. This sprawling site is not a place where you want to carry anything more than you need to.
Tips for visiting Pompeii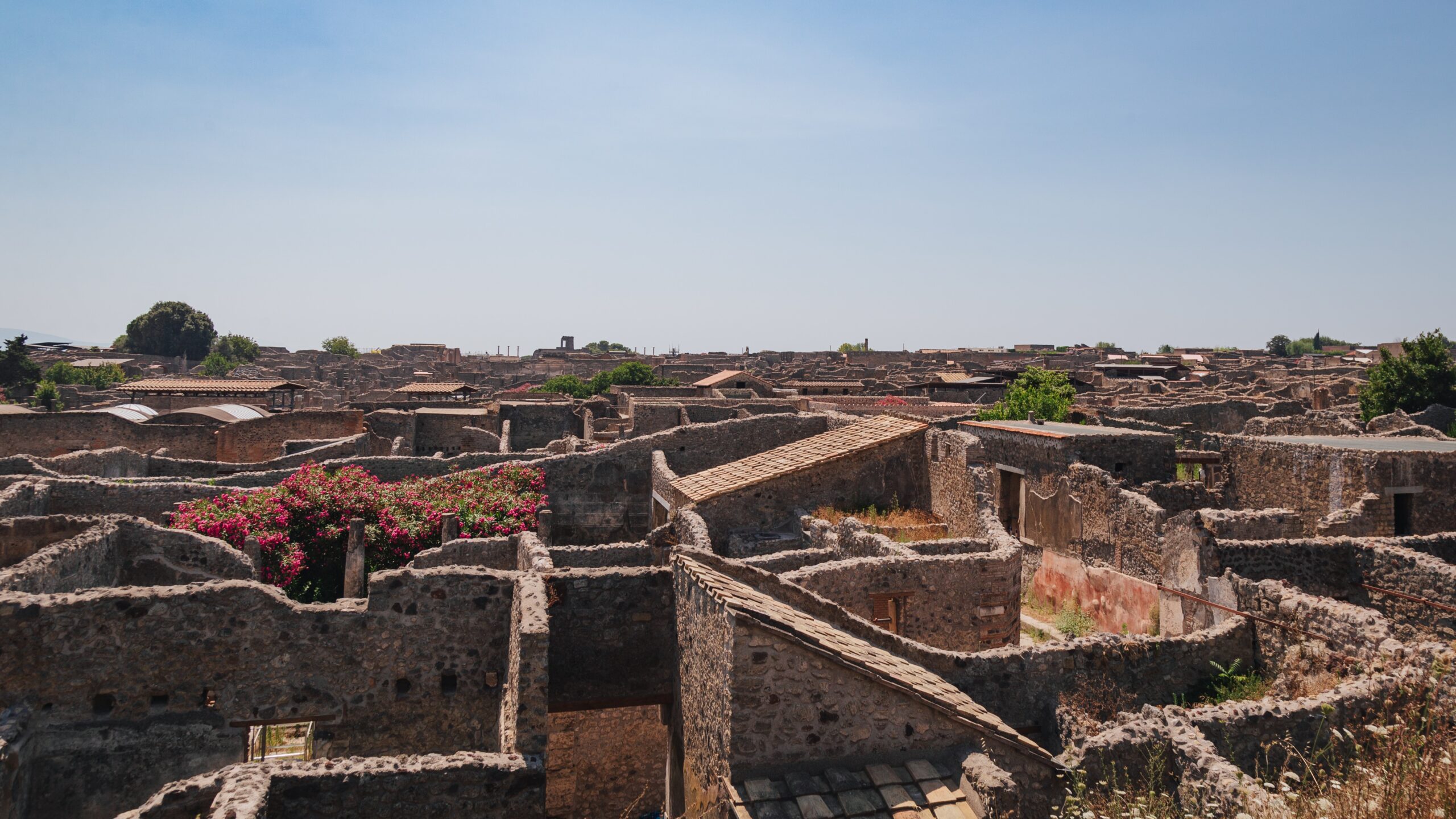 Photo by
Nick Night
on
Unsplash
Bring a water bottle. There are very few trees in the city, and its almost underground location makes the stone streets a heat trap. On a hot day in southern Italy, Pompeii can become a furnace, so be prepared for heat. You'll find free water fountains around the city, so bring a bottle and stay hydrated.

Dress appropriately. You need comfortable walking shoes because you will be covering several miles to see the city properly. A hat to keep the strong sun off your head is also a great idea. And although it's tempting on a hot day to wear as little as possible, light-flowing fabrics that cover you up to prevent sunburn are a better choice.

You can buy tickets to visit the ruins on-site, but if you're visiting during the busy summer season, it might be a better idea to book online in advance using the official ticket seller

Ticketone

.

Bring snacks. There is a café within the ruins itself, but there is only one, so it gets extremely busy at lunchtime. You can save yourself a long line and potentially a long walk by bringing your own food with you.

Leave big bags behind. For security and to protect the ruins, staff will not allow bags bigger than 30 cm x 30 cm x 15 cm inside, so anything bigger than a small backpack is out. Instead, drop it off at a convenient luggage storage near Pompeii before you visit.

Make sure you pick up a free map at the ticket office. Otherwise, you're liable to get lost.
What to see
Even if you have the whole day to spend among the ruins, you'll need to prioritize to get the most out of the city. There are three different entrances to the ruins of Pompeii, so where you go first depends on which direction you enter from.
Since most visitors to Pompeii reach the city from Naples, we'll assume you're visiting the city from the Pompei Scavi Villa dei Misteri Train Station, which will make the Porta Marina entrance the most convenient. However, you'll often find smaller crowds at other entrances, so it may make sense to enter the city elsewhere, depending on where you're coming from.
The Forum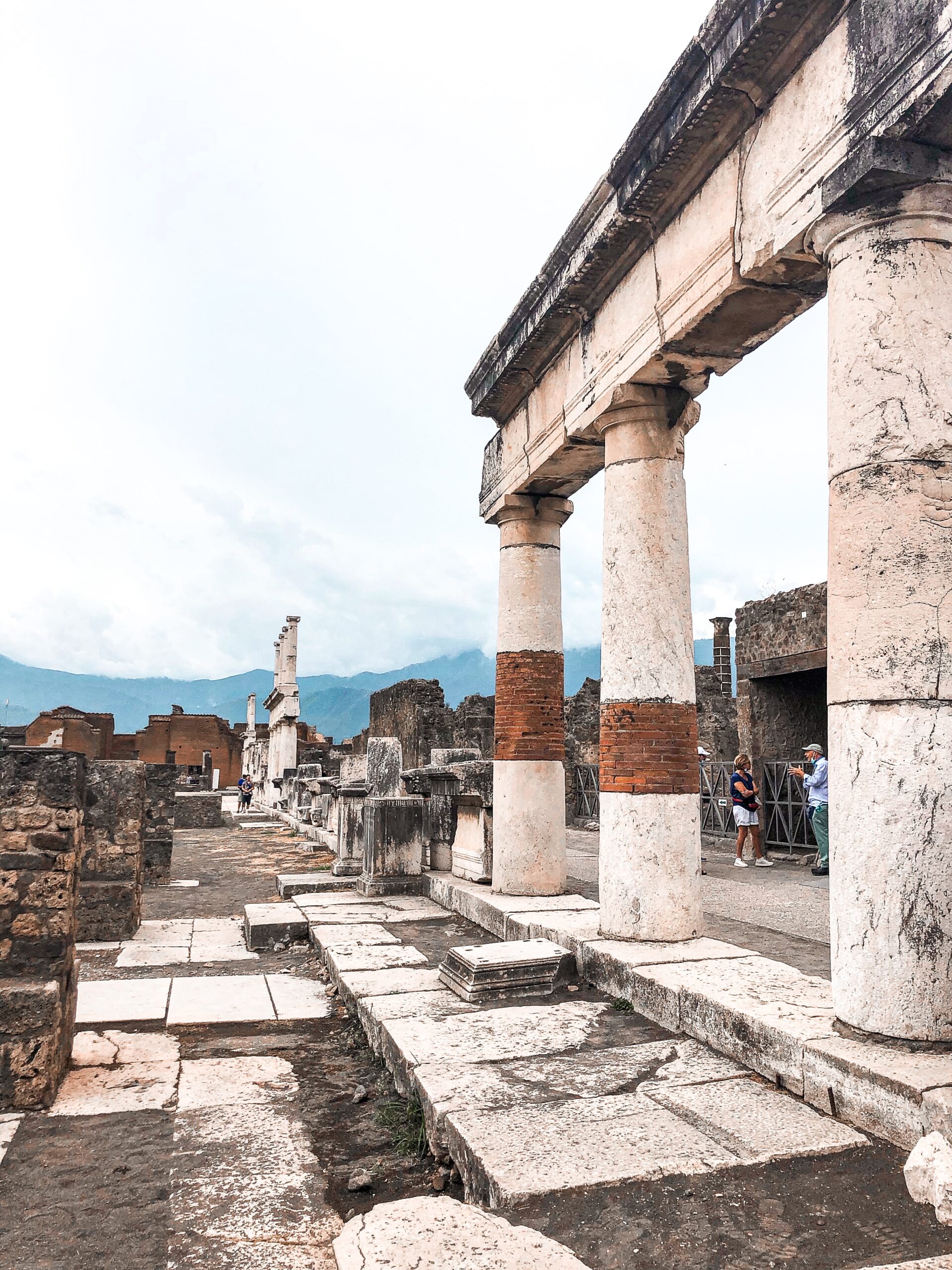 Photo by
Kirsten Velghe
on
Unsplash
The forum was the heart of every Roman town and the center of municipal life. Entering the city via Porta Marina means that Pompeii's ancient forum, with its temples and civic buildings, is one of the first sites you'll see. But along the way, don't miss the Temple of Venus, which offers sweeping views of the Bay of Naples.
In the forum, you'll see the second-century Temple of Jupiter, the Sanctuary of Apollo, a temple to the emperor Vespasian, and the Macellum, the ruins of Pompeii's food market. Also, check out the granary just off the forum square. This is where many of the most important archaeological artifacts of the city are displayed, including many of the famous bodies preserved by falling ash.
House of the Tragic Poet
Heading north from the forum, you'll find one of Pompeii's more residential districts for famous houses, including the House of the Tragic Poet. The beautifully preserved mosaics will give you an insight into how people lived in this wealthy city. In this area, you'll also see the many bars Pompeii had, along with other beautifully decorated houses that will give you an insight into the way Romans lived.
Lupanare di Pompeii
Some things never change. Pompeii's brothel was one of the most popular buildings in the city 2000 years ago, and it still is today. Located close to the forum, the brothel preserves frescoes advertising the sex acts available for purchase inside, so if you're visiting with the kids, prepare for some awkward conversations. As one of the most popular buildings in the city, you can expect crowds here, but if you head to the brothel early, you'll avoid the rush.
Grand Theater
One of the most impressive ruins in the city, this beautiful theater was one of the most important centers of entertainment in the city. Marvel at its wonderful acoustics, then check out the smaller theater located just next door and the gladiator school a short walk away.
Garden of the Fugitives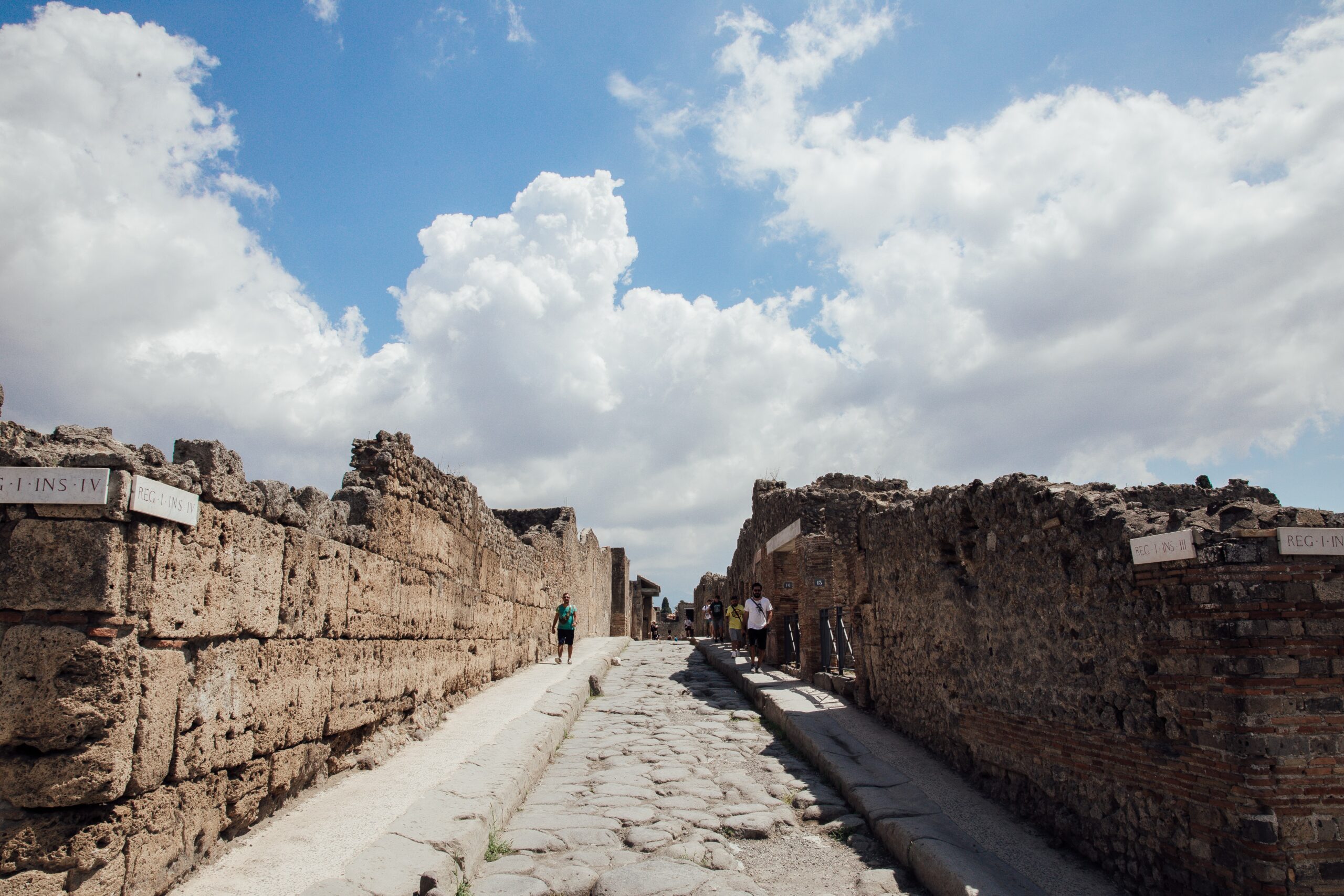 Photo by
Christopher Ott
on
Unsplash
One of the more haunting places to visit in the city, this vineyard is where a family was caught by the speeding ash cloud from the eruption of Vesuvius and buried for almost 2000 years. Among the majestic ruins, it's easy to lose sight of the human cost of the tragedy that happened here, but this garden is the perfect place to pay tribute to the people who lost their lives.
Pompeii in a day
This guide only touches on some of the more famous buildings in the city. There is also an amphitheater and several houses full of beautiful frescoes to visit in Pompeii. Give yourself an entire day to explore so you can really appreciate this unique attraction for what it is.
Featured Image By: Photo by Andy Holmes on Unsplash
Content may contain affiliate links. This means that, at no additional cost to you, we may earn a little somethin' somethin' when you use the link to make a purchase.
Learn more here.
Would you like Bloggy Moms to feature your brand?
Contact us here.