This post may contain affiliate links. Read our disclosure policy
here.
Deals are current as of date and time posted.
As we enter cold and flu season and continue to recover from the Covid-19 pandemic, more and more people are looking for helpful products to supplement their health.  However, it is sometimes difficult to navigate through the sea of health supplements and vitamin products in order to identify which ones are effective, safe, and made with natural ingredients.  Many companies claim to be "all natural" because their ingredients may be derived from certain plants isolating select components, while actually using the whole plant could prove to be more beneficial.  Where do you find a trustworthy company that produces truly all-natural products?  Earthley is an exc
eptional health and wellness brand that is committed to using only organic and all-natural ingredients in its products.  Lead herbalist and CMO of Earthley, Kate Tietje says, "We don't (and won't) use any compromising ingredients.  Everything on our labels is recognizable because it's all about using whole and unprocessed plant materials."  She adds, "We do everything ourselves, with absolutely no outsourcing to a third party, because it's important to us to know that the products we're selling are truly clean."
Earthley is also on a mission to help educate people about herbal remedies and natural health support.  This allows people to be more empowered and proactive about taking care of their own health and wellness.  Earthley offers many different products including tinctures, lotions, capsules, powders, and much more.  Earthley is completely transparent about its ingredients and believes that everybody should have access to natural, effective, and affordable health products that are safe for the whole family.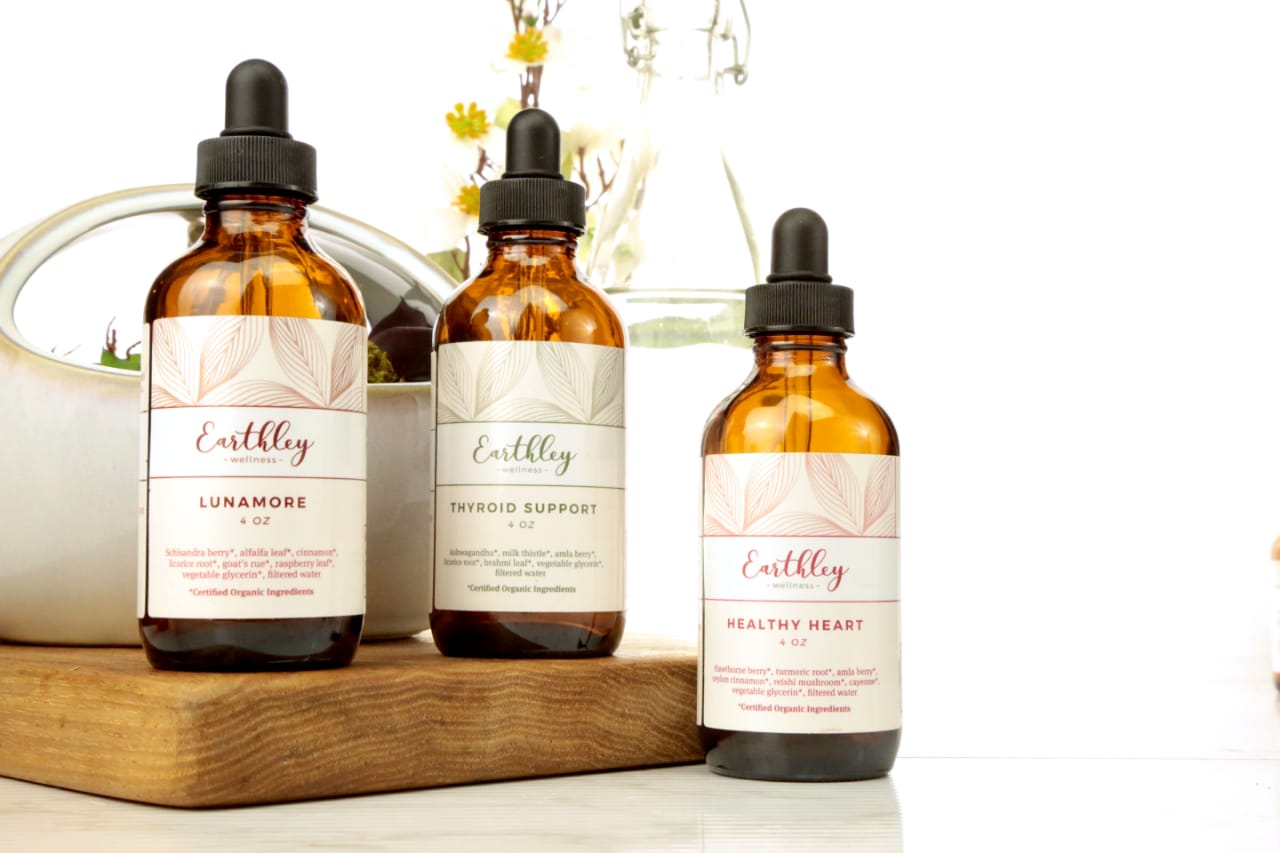 Earthley is also excited to announce the release of some new herbal products.  "Thyroid Support" is an herbal tincture helpful for the thyroid and total body wellness by supporting a healthy liver, stress response, and vitamin C nourishment.  "Healthy Heart" is an herbal supplement that supports the heart and a proper immune response. This tincture is rich in anti-inflammatory properties and vitamin C. It can help to lower blood sugar and blood pressure, increase insulin activity, and can even help with symptoms of type two diabetes.  "Lunamore" ("moon love") is for special metabolic support for a woman's moon cycle.
This tincture provides herbal support for hormone balance, helps to reduce cramps and cysts, and supports healthy blood sugar levels.  "Ginger Root Capsules" help to promote a normal inflammatory response, can help lower blood sugar levels, relieve indigestion, help fight infections, and more. It is also an amazing, natural way to relieve occasional nausea and morning sickness.  
"Five-Mushroom Super Blend Capsules" support the brain and immune system. Mushrooms have been shown to enhance cognitive functions like learning and memory, while also aiding in support against symptoms of depression, anxiety, stress, neurological disorders, and more. Earthley's chosen superstar mushrooms are high in anti-inflammatory and antioxidant properties to improve immunity and overall health.  
"Immune-Aid Capsules" are a vitamin C supplement made with 100 percent real food. Organic berries and orange peel provide natural vitamin C to give your immune system a boost.  
"Greens Capsules" are a supplement that combines traditional greens like spirulina and kelp with green tea and nutrient-rich herbs for energy and wellness. High in vitamin and mineral content, these capsules enhance your daily nutrition. Enjoy a natural energy boost, improvements to gut health, and an overall feeling of wellness.  All Earthley products can easily be made a part of your daily routine.  When you purchase from Earthley, you know you are getting high-quality products with wholesome, natural ingredients made from an experienced herbalist.
For more information, visit www.earthley.com
Photo by Jason Briscoe on Unsplash
Content may contain affiliate links. This means that, at no additional cost to you, we may earn a little somethin' somethin' when you use the link to make a purchase.
Learn more here.
Would you like Bloggy Moms to feature your brand?
Contact us here.