This post may contain affiliate links. Read our disclosure policy
here.
Deals are current as of date and time posted.
Bloggy Moms was provided a complimentary dining experience to facilitate this article. All opinions are our own.
Before I head to a restaurant where I've never dined, I typically find their online menu to try and get an idea on what foods I may want to order when I arrive. Though I'll change my mind about 250 times before my order is ever taken, regardless of what I do.
However, for our recent dining experience at Buffalo Wings & Rings in Mason, Ohio – I decided to just… wing it be surprised. Though, obviously, I was going to order wings.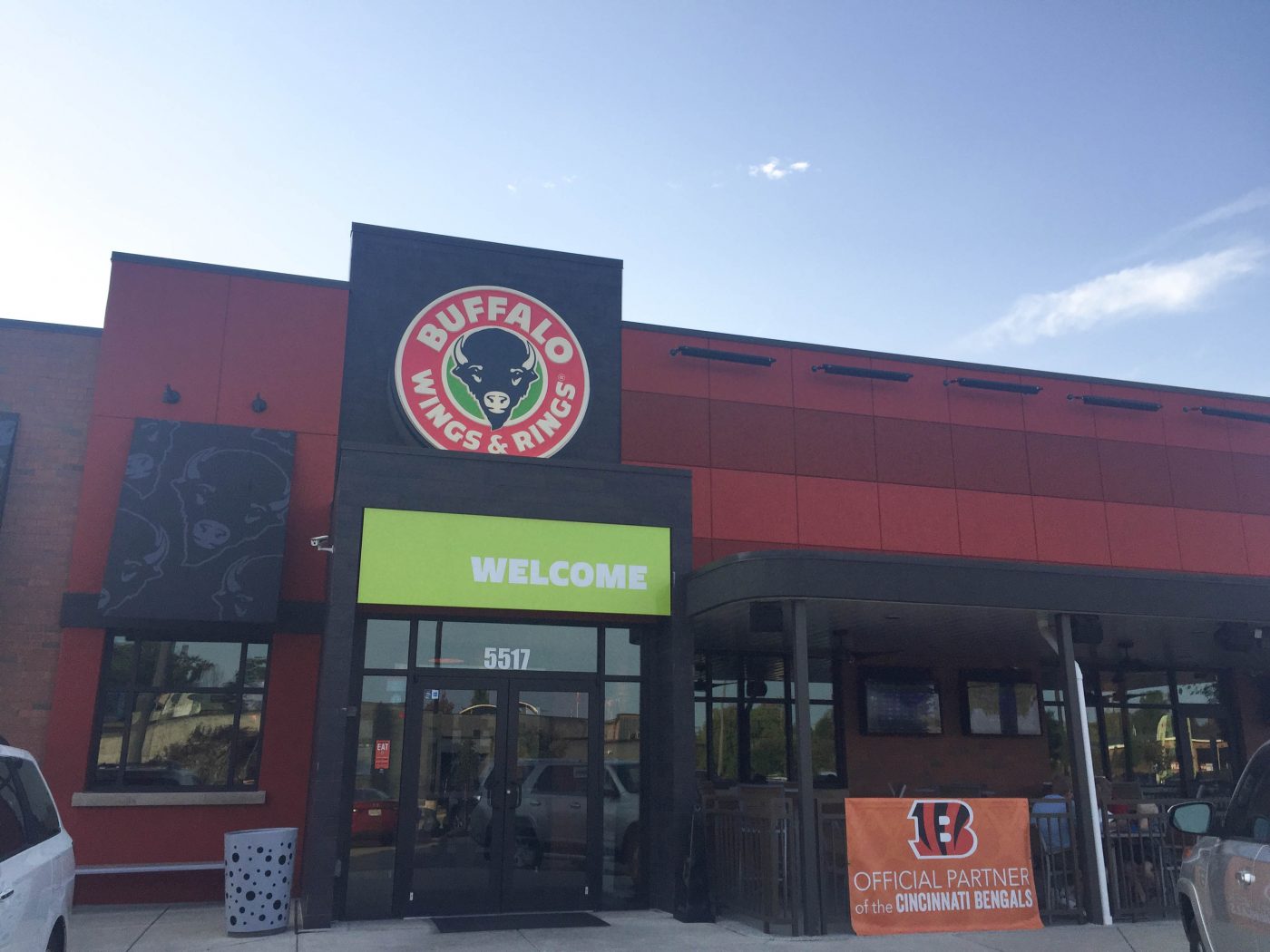 Note: I should mention that my husband believes I did eat at a Buffalo Wings & Rings about ten years ago – but I don't recall that. So, I'm logging this as my first visit.
And, for a first visit – I enjoyed it immensely! This location is very close to other favorite attractions of mine – and the food was absolutely amazing.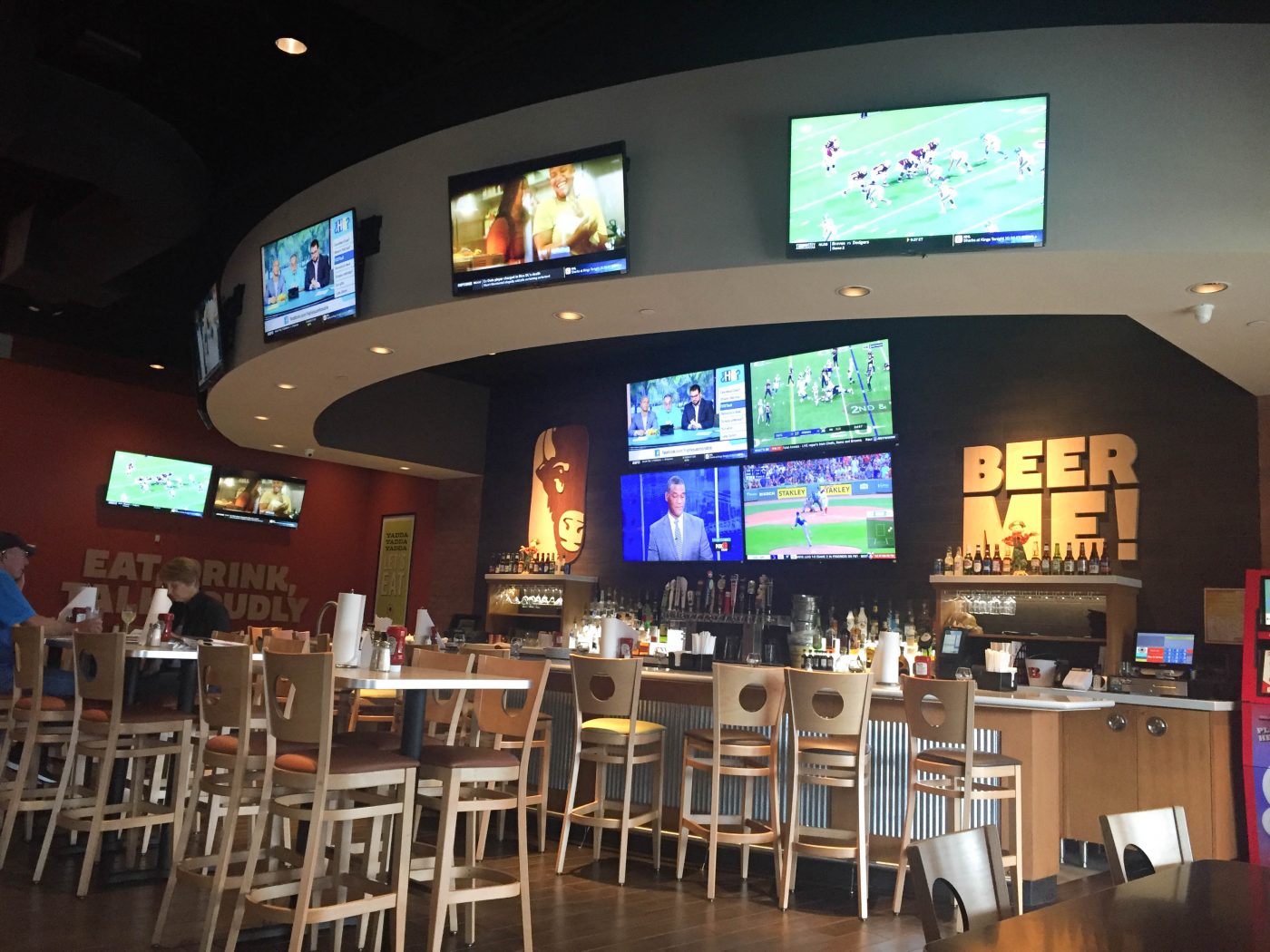 Nothing beats a meal that's fresh and well made. Their menu claimed to be fresh, never frozen and always delicious.
It.
Was.
Yummy.
We knew that we'd try the wings in various flavors and heat – and an appetizer. Everything was so good that I think we left having tried about two times the amount of food that we had planned. We took a nice long walk around Kings Island, which is located just down the street, to help work off all the extra food. No regrets!
Okay, let's just dive into all the amazing and tasty food that we tried and that we'd love for you to try as well.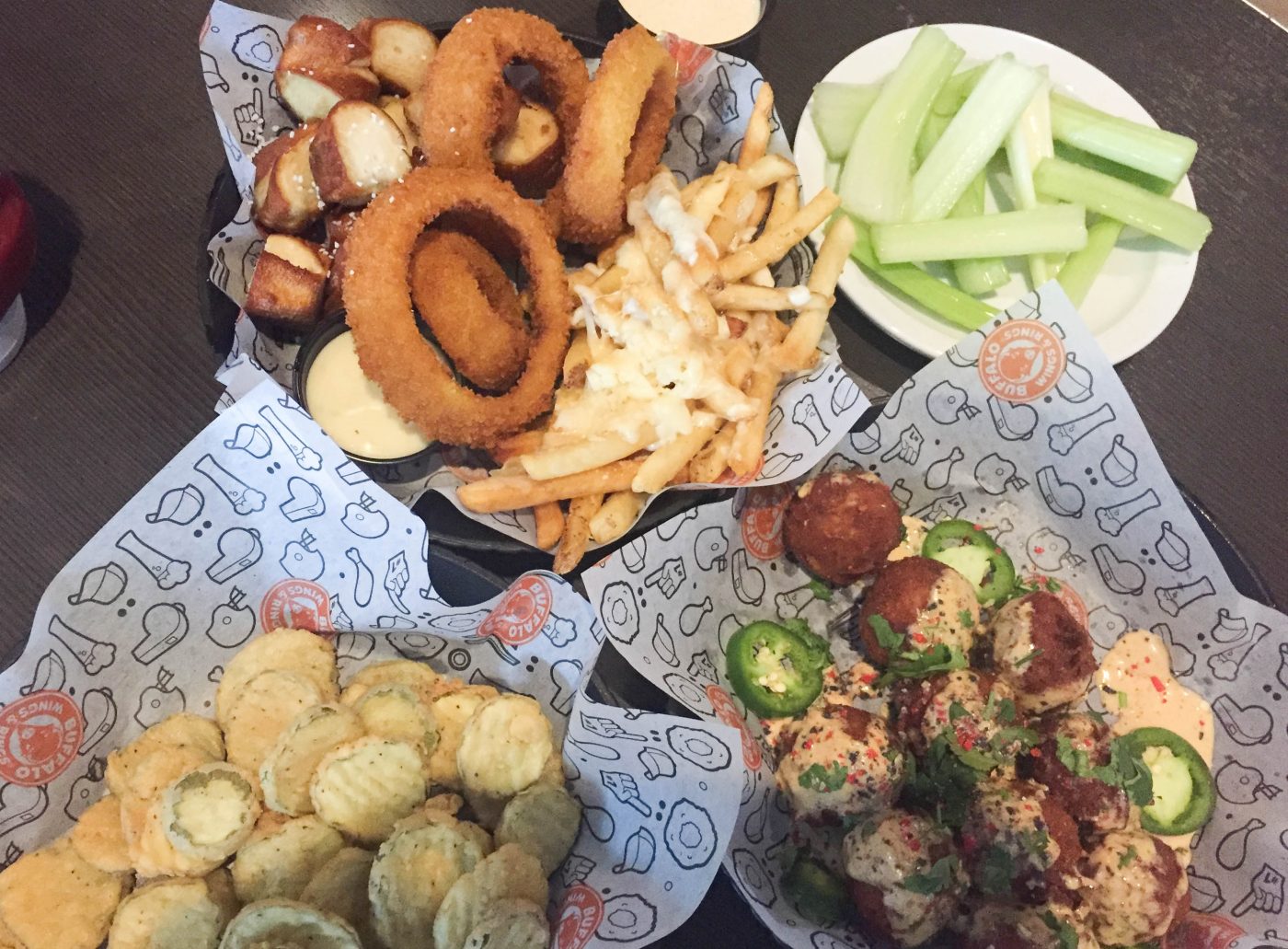 We started by sampling three of their appetizers. We tried the:
Ranchero Tots
Oversized bacon and cheese stuffed tater tots. Topped with fresh jalapeños, cilantro and chipotle ranch.
Friend Pickle Chips
Hand breaded and fried to perfection, served with ranch dressing.
Appetizer Sampler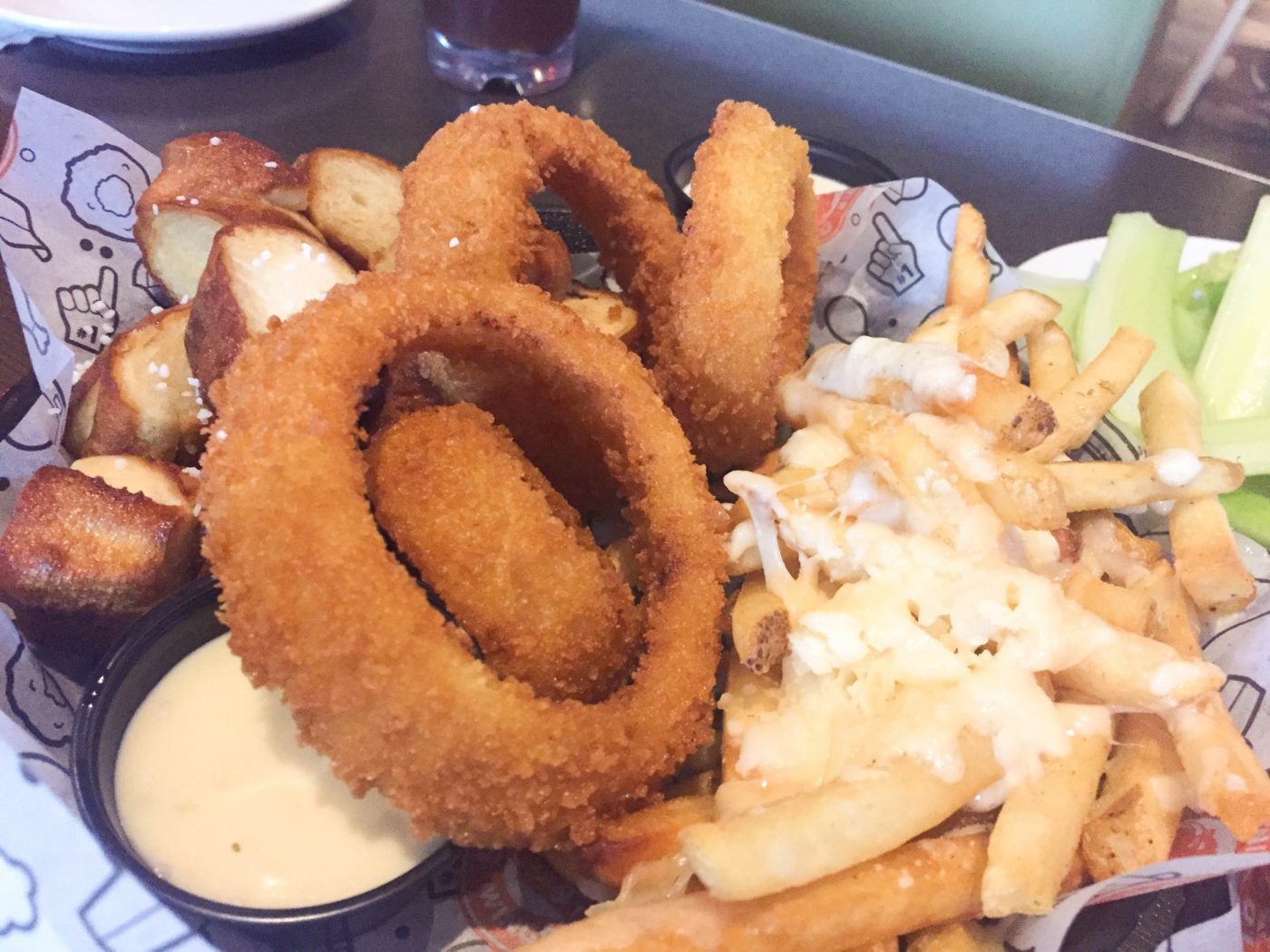 This Appetizer Sampler came with…
(1) Parmesan Garlic Aioli Fries: Our natural cut fries topped with Garlic Aioli and shaved Parmesan cheese.
(2) Onion Rings: Our thick-cut, crumb-breaded rings served with 'Bama White BBQ dipping sauce. A signature and classic since 1984.
(3) Pretzel Bites: Soft and airy deep-fried pretzel bites, served with a generous portion of queso dipping sauce topped with fresh jalapeños, salsa and fresh cilantro.
I honestly can't tell you which one stood out above the rest. The crumb-breading on the Onion Rings was just the right amount of crispy and salty – the Ranchero Tots were the most delicious little bites of potato, bacon and cheesey goodness – the fries were garlicy and mouthwatering… and dipping all of it in their homemade Bluecheese dressing was the most wonderful thing to happen to me that day.
For our main dish, most of us stuck with the wings and rings theme. We could choose from grilled, traditional, boneless,or tenders. After that – choose your sauce and your heat level. I stuck with a medium, my son chose the mild and in fitting style – my husband went for something a little more spicy.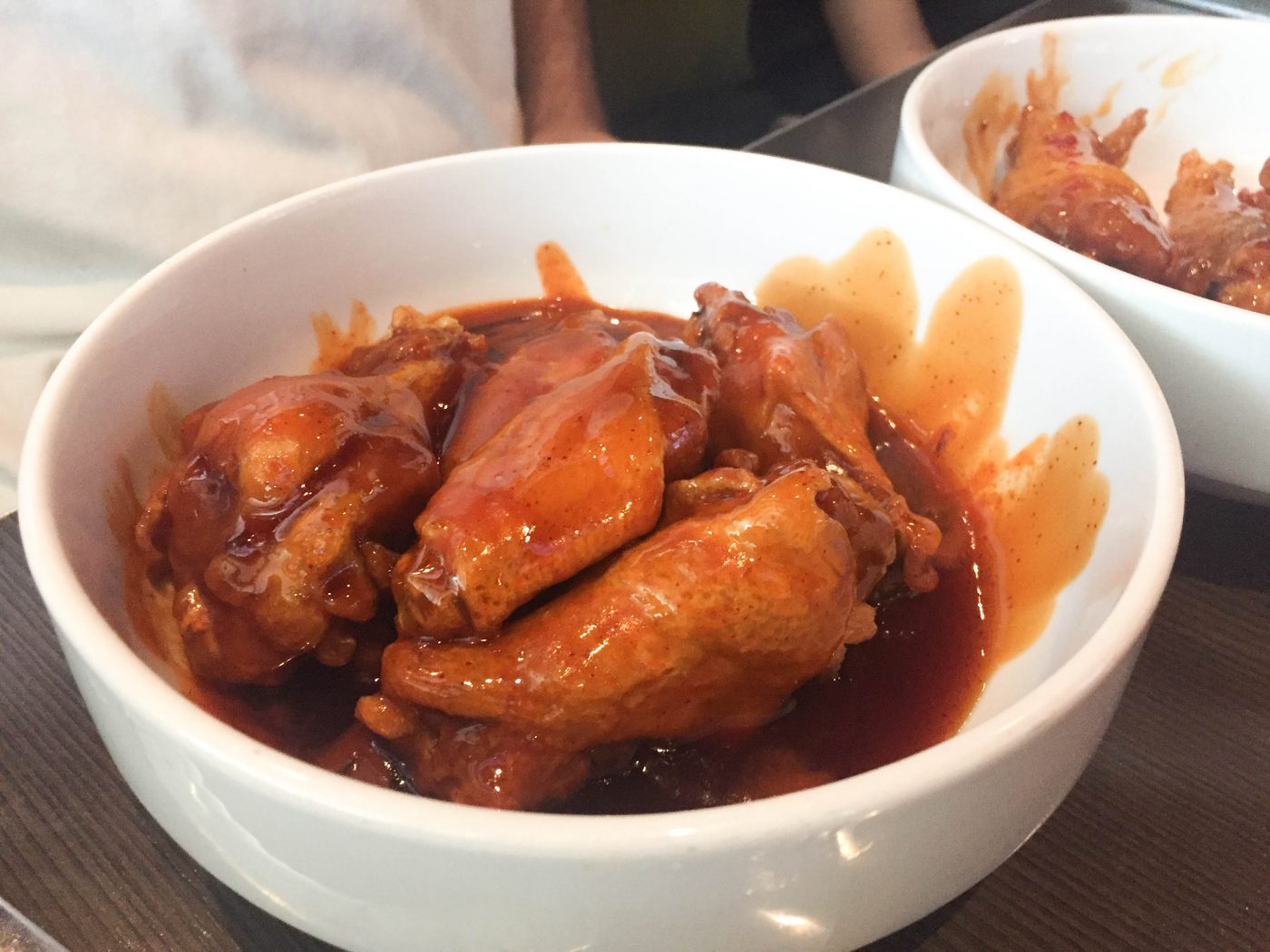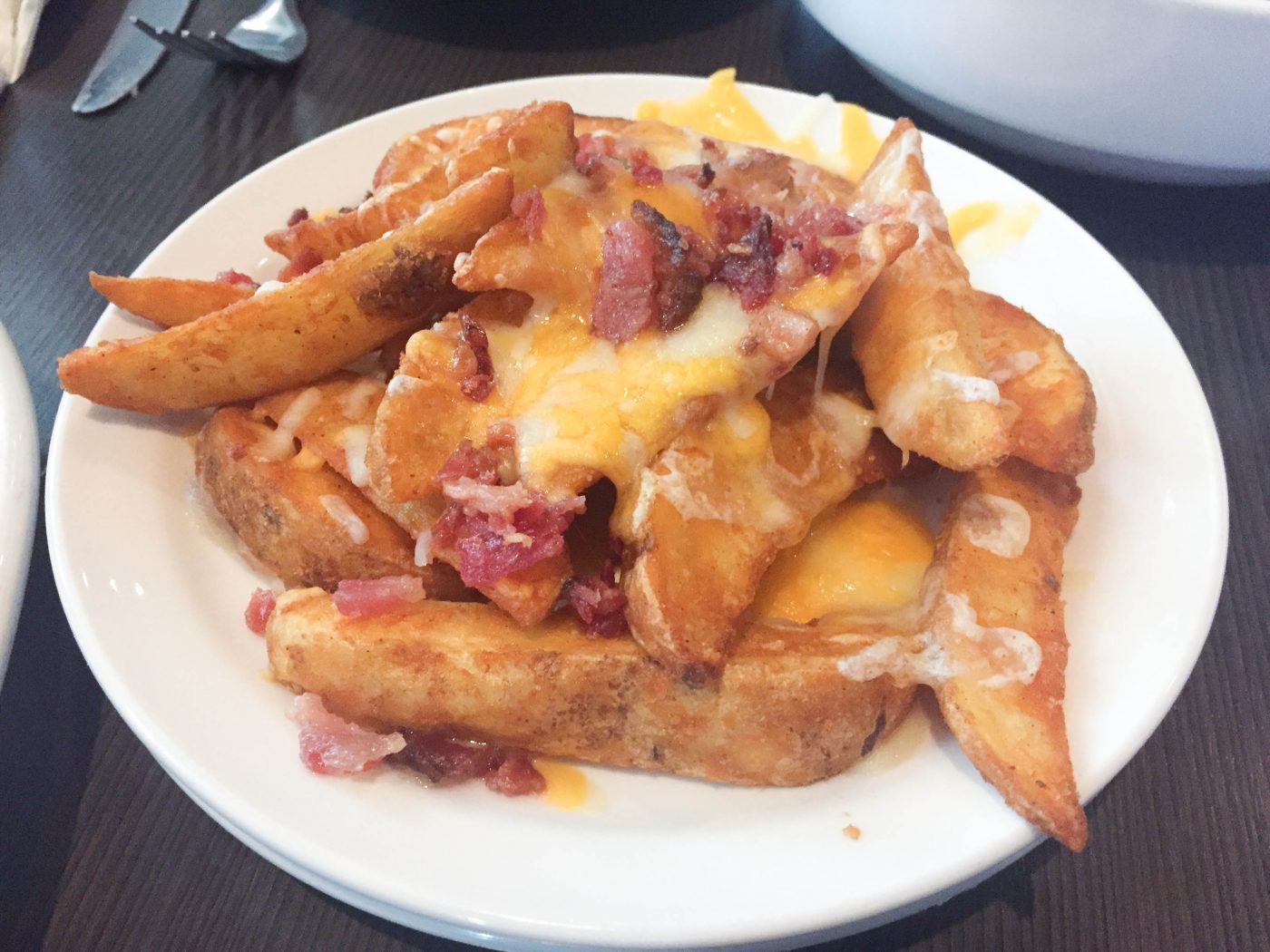 My daughter chose a fish dish complete with a very yummy cole slaw, and Saratoga chips with dipping sauce. Yep, I tested hers as well! (Because, how can I write about it if I don't take a little from everyone's plate – right?) I find that a lot of times, coleslaw seems to be an afterthought and is usually left bland – but this is another example of their homemade and always fresh goodness.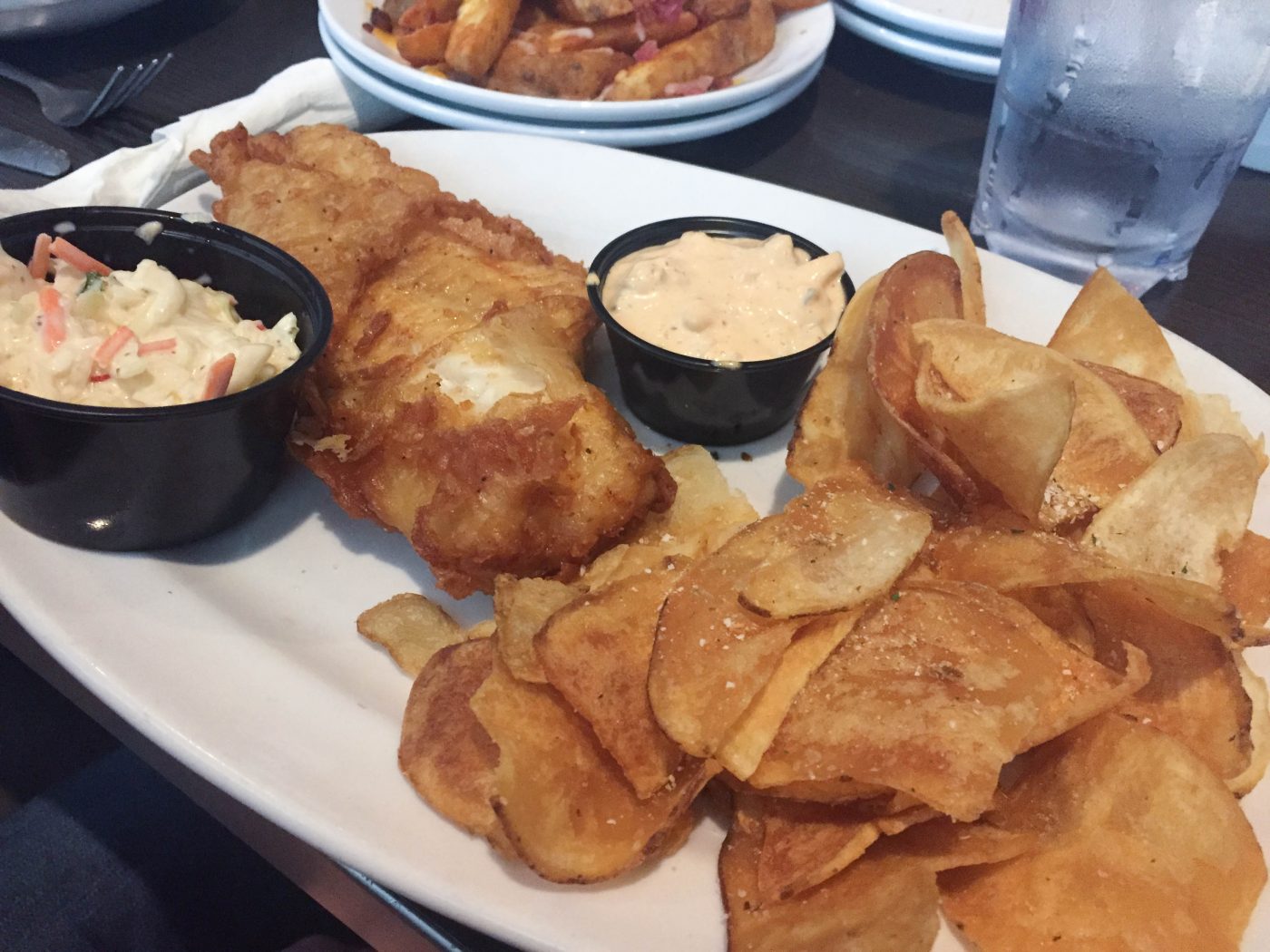 Desserts, oh the desserts! Yes, we tried all the desserts. Grabbing forks, we all four dove into devouring them all. The favorite was the Chocolate Croissant – thought they were each amazing, sweet, and delicious.
Turle Lava Cake
Cooked with pecans, served warm with vanilla ice cream, topped with chocolate sauce.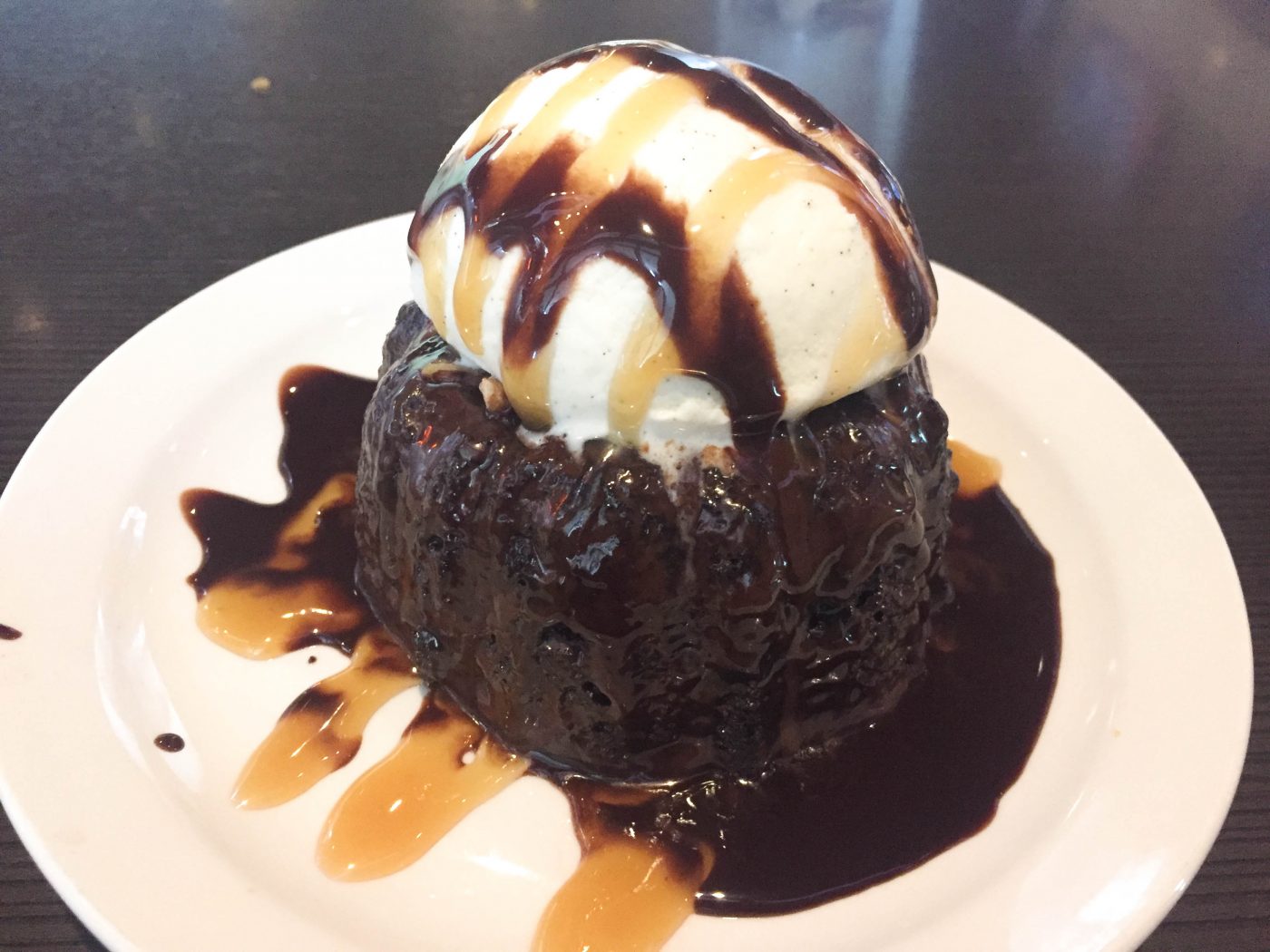 Vanilla Creme Brulee Cheesecake
Lightly warmed and served with raspberry sauce.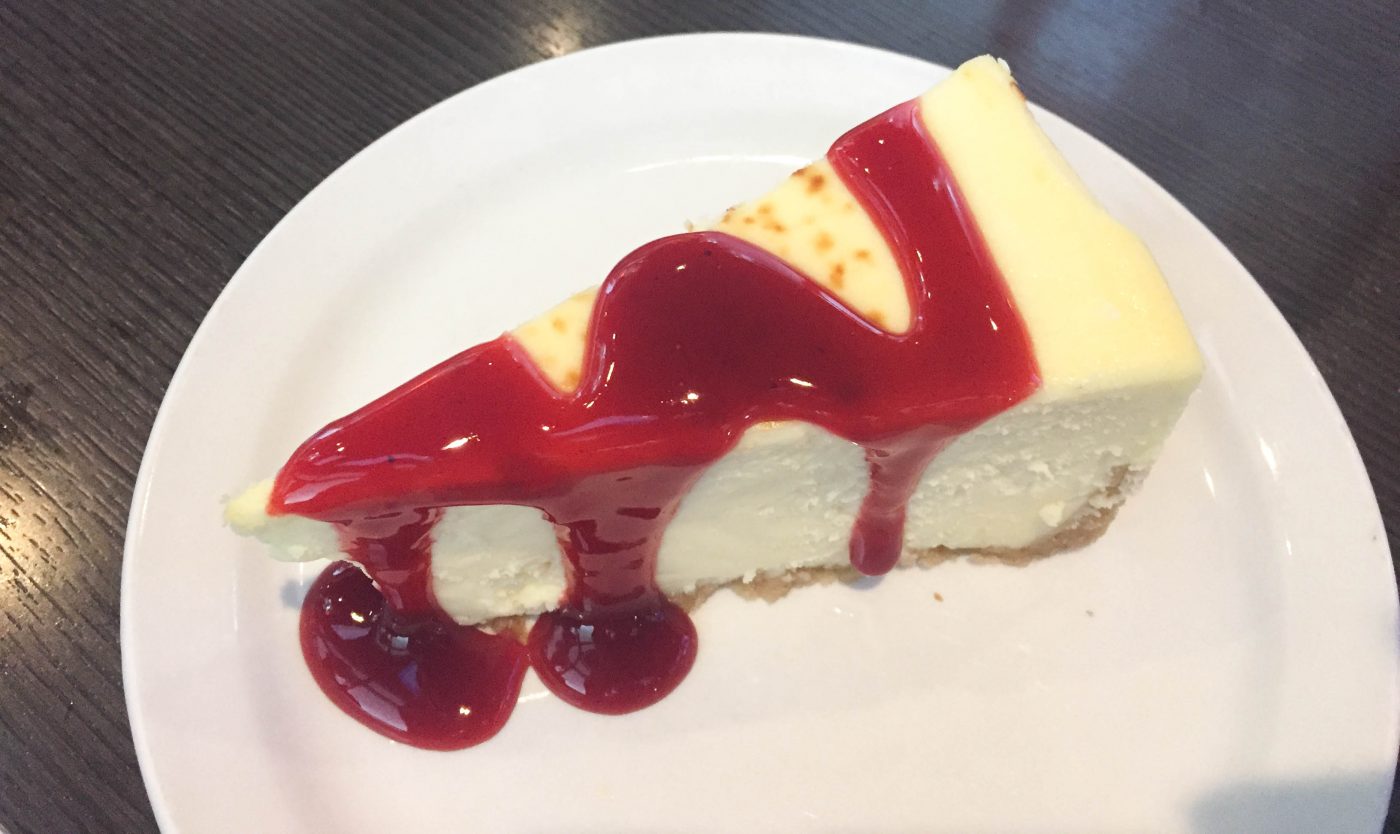 Chocolate Croissant
Two fried puff pastries filled with rich and creamy chocolate. Topped with vanilla ice cream, caramel and chocolate sauces and powdered sugar.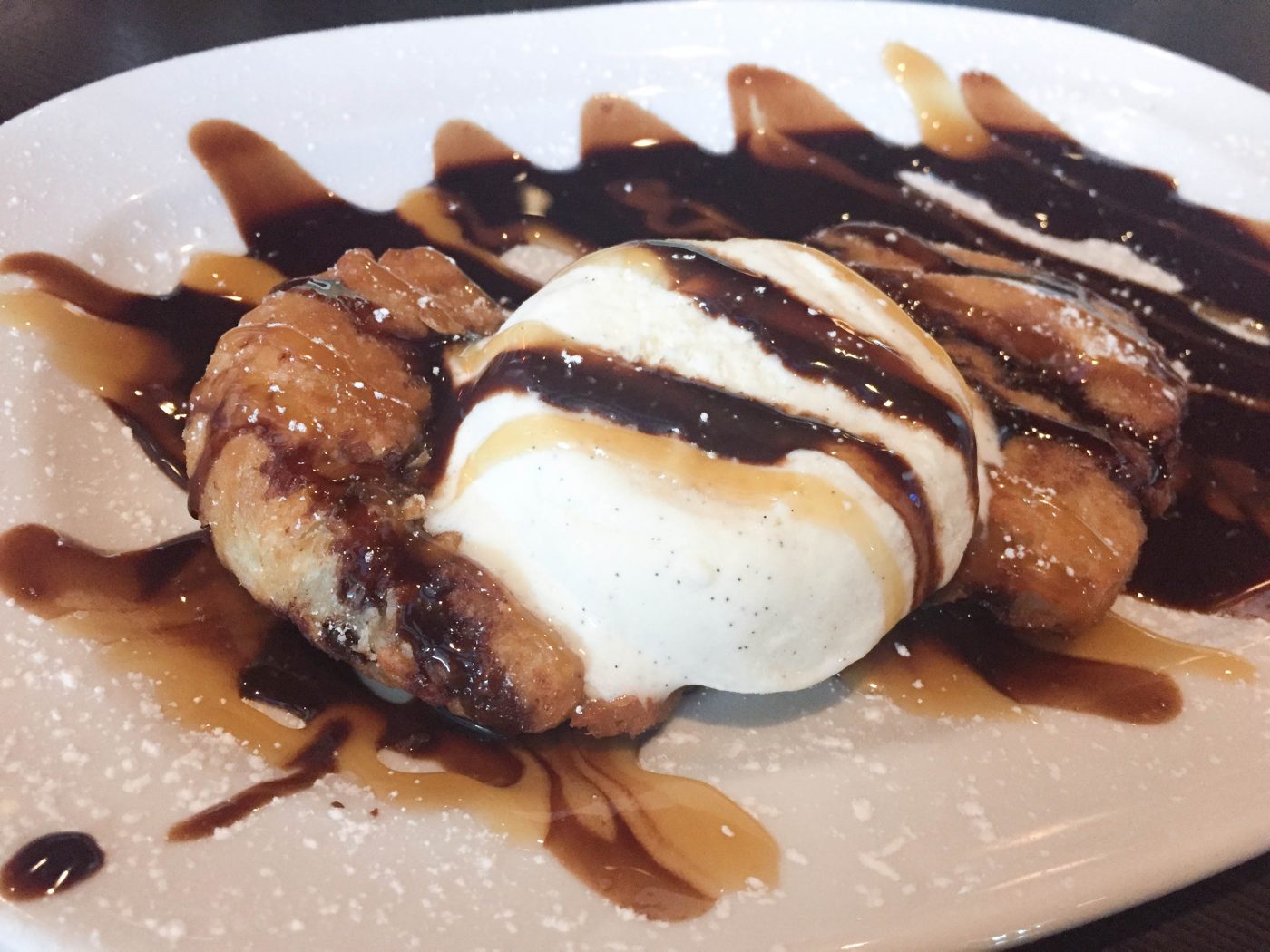 If you live near or will be close by a Buffalo Wings & Rings – make sure to swing by and test them out for yourself. Let me know when you visit and tell me which items you tried! Do get the Bluecheese. Oh my goodness. Just do it – and dip all the things in it.
You can also order online if you'd like to just pick up and go! There are a lot of overnight stay accommodations in the area – and this would be perfect if you just want to grab something and head back to your hotel.
You can find this Buffalo Wings & Rings location at:
5517 Kings Center Dr.
Mason, OH 45040
513-336-6644
Content may contain affiliate links. This means that, at no additional cost to you, we may earn a little somethin' somethin' when you use the link to make a purchase.
Learn more here.
Would you like Bloggy Moms to feature your brand?
Contact us here.