This post may contain affiliate links. Read our disclosure policy
here.
Deals are current as of date and time posted.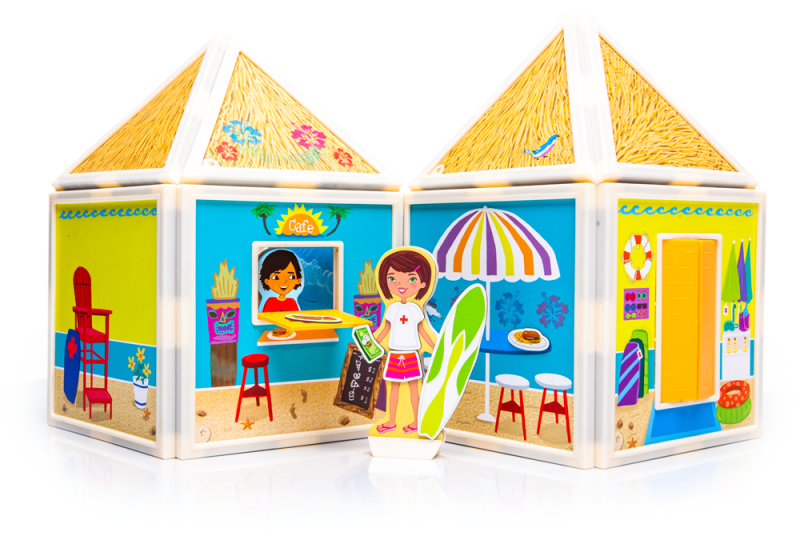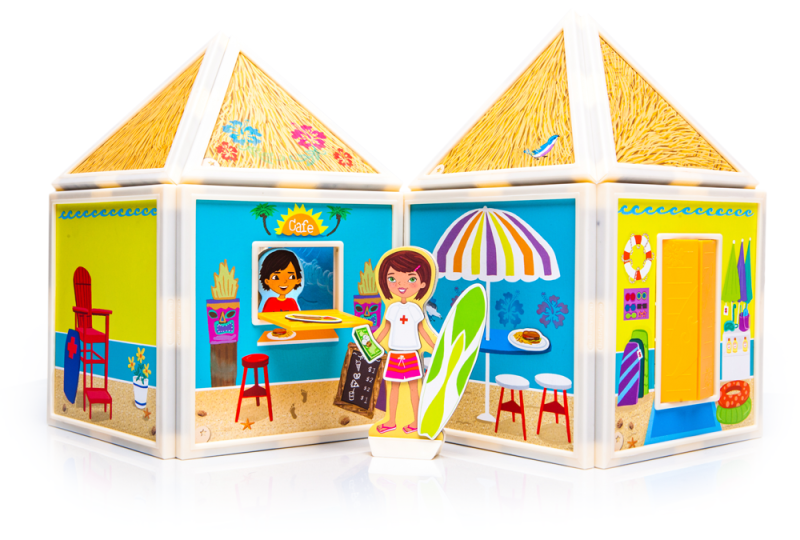 In a way, this play set made me desperately wish we were at the beach! The bright colors really pulled me away from the gloomy winter days that we've been having and into the memories of our trips to the ocean.
Day at the Beach is a magnetic building set that features a walk-up cafe window, surf shop double doors, lifeguard stand, surfboard workshop, food prep kitchen, cafe seating, surf scene, beach gear, rescue gear, outfits, tools, and yummy food!
This is a high quality construction set that allows children to not only create their own stories but to re-imagine and re-design the scene each time they play. The kids had a great time constructing different layouts. The Day at the Beach was designed with girls in mind, but Joey enjoyed playing with the set as well.
I like how easy it is to assemble and disassemble. It was easy for the kids to create different scenes and then to pack up and store once playtime was over.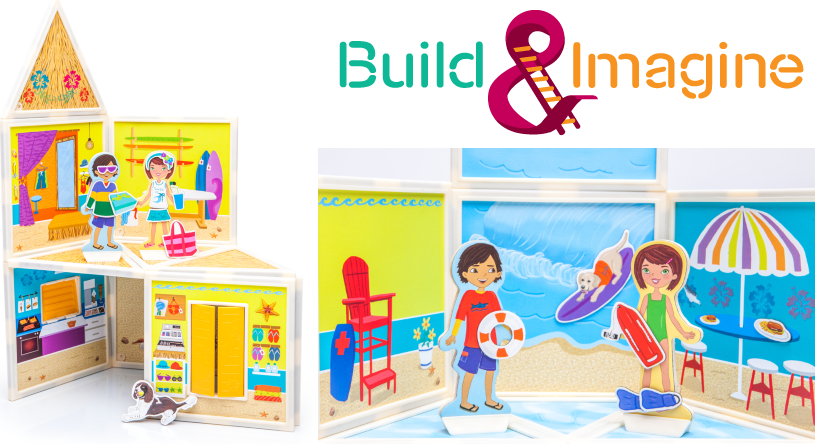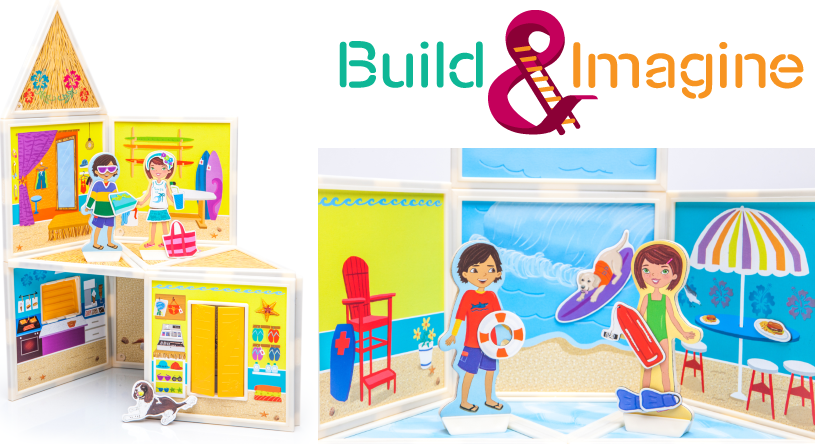 Build a Scene and Imagine Countless Stories!
Emily and Lucas can't wait for their day at the beach working at the surfside café and shop. Between running the café window, the surf shop register, and the lifeguard stand, there is always action to keep them busy. After the lunch rush, they catch a few waves to try out Emily's latest surfboard designs.
Day at the Beach includes:
Emily and Lucas dolls
10 illustrated building panels
More than 40 action packed magnetic accessories
Rich Imaginative Play
Build & Imagine play-sets contain illustrated scenes that children can build, decorate, and use as a backdrop for imaginative play with the included dolls. We call them StoryWalls, because it's like building a storybook setting in 3-D and then jumping in to play!
Open-Ended Building
With Build & Imagine StoryWalls, kids aren't limited to one design—they can quickly reconstruct the structure into whatever design suits them. They can also change the context of their story with magnetic accessories that stick to the floors, walls, and dolls. Or combine multiple play-sets to build a larger scene.
Develops Foundational Skills
The layered play experience creates long-term engagement to hold your child's attention and helps to develop foundational language and engineering skills, including spatial reasoning, problem solving, and creativity.
Build & Imagine offers several different StoryWalls. You can find them here. This is a toy that I've used in our classroom for downtime and to entertain young children in my care. It's great for the imagination and entertainment!
Build & Imagine StoryWalls develop early engineering skills including:
Spatial Reasoning
Experimentation
Creativity & Design
Build & Imagine StoryWalls are easy to setup, cleanup, and store. The panels allow for limitless combinations, and you can expand your structure and story with additional sets.
We were provide a Build & Imagine Day at the Beach StoryWall for review purposes. All opinions are our own.
Content may contain affiliate links. This means that, at no additional cost to you, we may earn a little somethin' somethin' when you use the link to make a purchase.
Learn more here.
Would you like Bloggy Moms to feature your brand?
Contact us here.