This post may contain affiliate links. Read our disclosure policy
here.
Deals are current as of date and time posted.
I learned very early on in this motherhood journey that there are a number of reasons that I might want to control my children's access to every cabinet, drawer, and door in the kitchen.
One afternoon, I walked through the dining room and into the kitchen to find marshmallows covering the floor.  I was so thankful it wasn't flour or peanut butter!  Child safety locks were already on my cleaning cabinet, but I hadn't imagined to put them elsewhere.
Another day, I awoke to find a large puddle of water in front of the fridge.  So many emotions ran through me as my mind filled with every scenario that could have happened – from the "why" to the "what if". The puddle came from someone pulling the water dispenser out just enough to press the tap and fill their cup… but never pushed it back into place. When the door was shut, it shut onto the tap – allowing water to flow freely onto the floor. Which also meant, an open fridge all night long.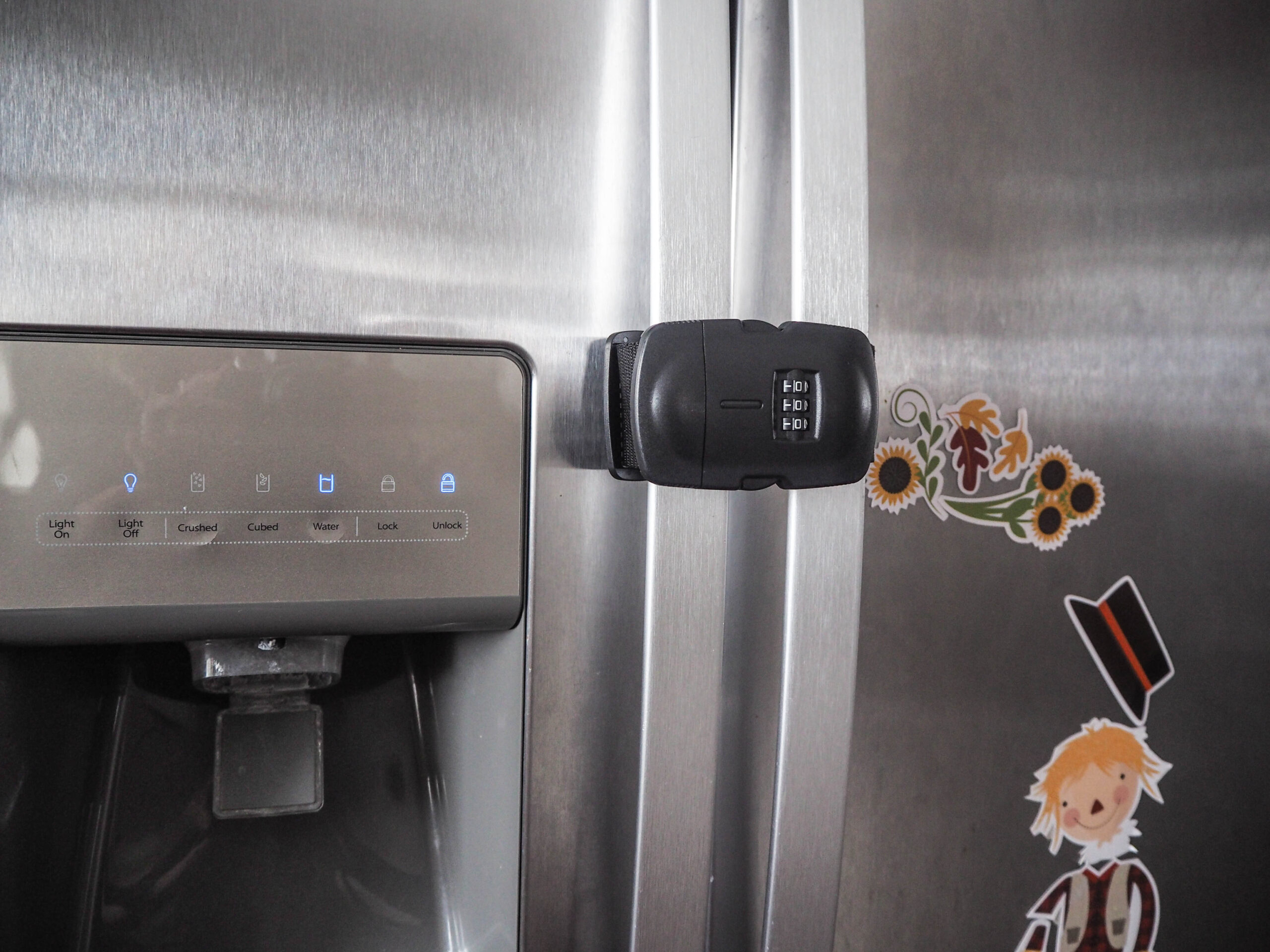 At the time, I didn't even know that locking the fridge was an option. But there's an answer for everything! And there are a myriad of reasons that you may need to lock up the fridge — the main one being safety.
In this year's Holiday Gift Guide, we're partnering with Urban August to secure our kitchen!
Want To Gain Some Reassurance Over Your Cabinets and Refrigerator?
We get it- for a number of reasons you want to keep a lock on your refrigerator. But there isn't one built in. That's where we come in. We offer a number of combination locks to prevent access. Whether its a child wanting snacks, teens trying to sneak a beer, or an elderly family member who might be cognitively impaired, our clients come to us for a whole range of issues.
In your gifting this year, include a Fridge Lock by Urban August! This handy lock would have helped me to save an entire fridge full of food,and it could be very beneficial in a lot of different situations.  Perhaps there are food allergies that a young child wouldn't understand, and you need to keep those foods safely out of the child's reach.
Pictured below is one of Urban August's locks – but they have several different types and styles of lock.  You can check them all out here.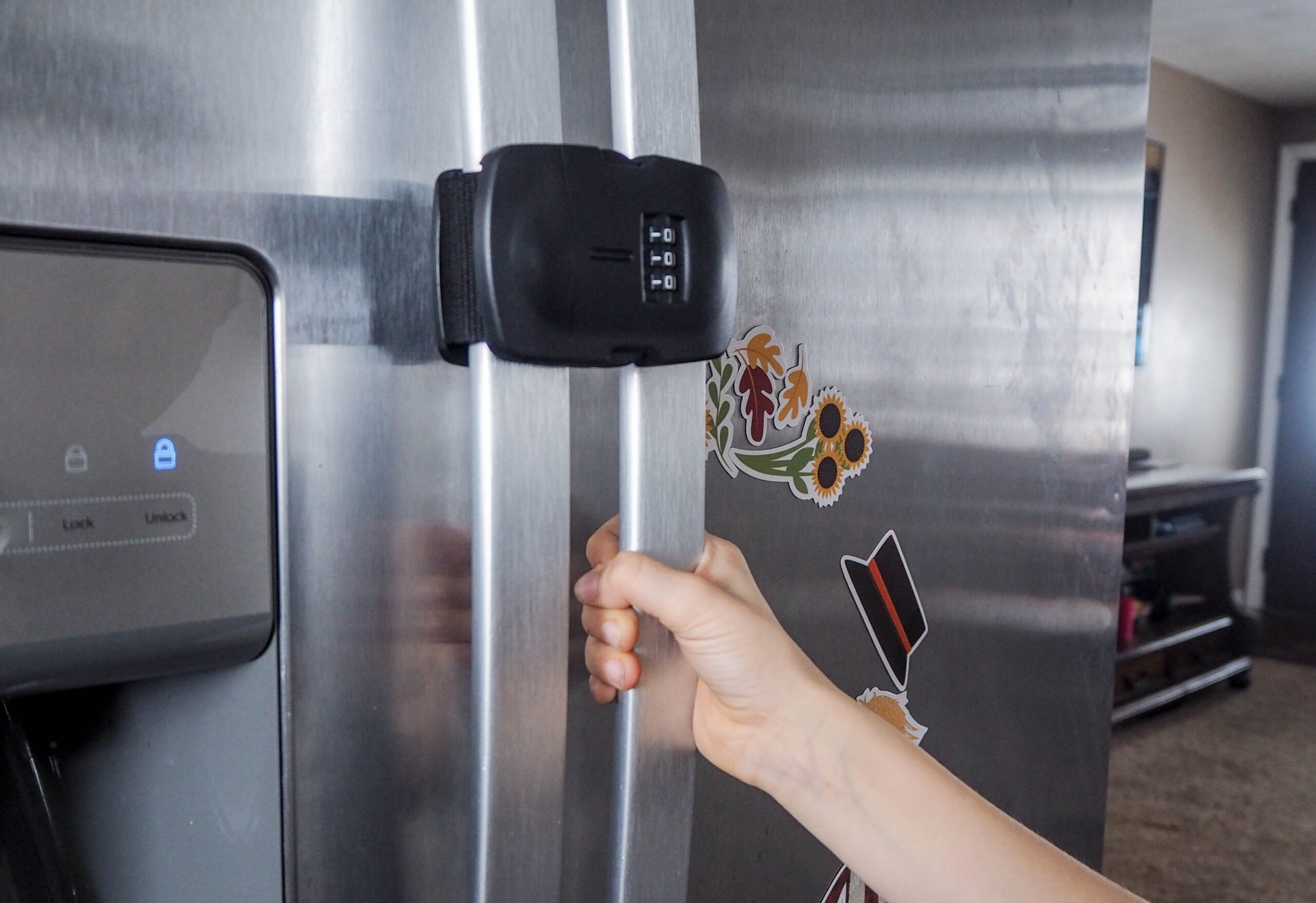 There are many uses:
Snacks and other sugary foods
Medicines
Setting a line with roommates
Avoiding disappearing lunches at work
For loved ones in nursing homes
Keeping alcohol away from minors
Want to keep that birthday cake a secret?
BORN FROM EXPERIENCE: "Growing up with a developmentally disabled sibling, my family struggled with securing our fridge over the years. Late-night covert snack runs grew from a small nuisance to a serious health warning when large amounts of food would go missing. Through trial and error, I developed this line of fridge and cabinet locks."
Our family has food allergies, we've had elderly loved ones who were no longer cognitively able to manage their food intake, and like a lot of people, we've needed to keep medicines away from children.  This is an extremely simple solution and I'd love to hear how you've used it to help solve a problem in your home.  You can browse their variety of locks on the Urban August site here.
Content may contain affiliate links. This means that, at no additional cost to you, we may earn a little somethin' somethin' when you use the link to make a purchase.
Learn more here.
Would you like Bloggy Moms to feature your brand?
Contact us here.