This post may contain affiliate links. Read our disclosure policy
here.
Deals are current as of date and time posted.
Looking for gorgeous condos on the beach in Destin, Florida? We've added a new beach condo to our list of favorite places to vacation as a family! It's a beautiful, family-friendly atmosphere – and what's not to love about the beach?
I've probably said it before, but I love road trips. Especially when they take me to amazing, natural scenery – such as the beach! One of our favorite beach destinations is Destin, Florida. Been there? If not – go! Florida's Emerald Coast is a must-take vacation. The water and the beaches are like no other.
Speaking of beaches and the water – the condo that we stayed in at Destin Pointe's Magnolia House had one of my favorite views of the water and beach. Check out the video tour below to see that view!
In fact, the entire property couldn't help but offer beautiful views. With its gulf front pools, houses, and condomeniums – I'm not sure that we could have dreamt up a more perfect location.
Destin Point of ResortQuest by Wyndham Vacation Rentals is located on the far west pointe of Holiday Island in a beautiful, private gated community. A short drive or bike ride brings you to all the shopping, dining and adventure that Destin has to offer.
Beachy Farmhouse Condo at Destin Pointe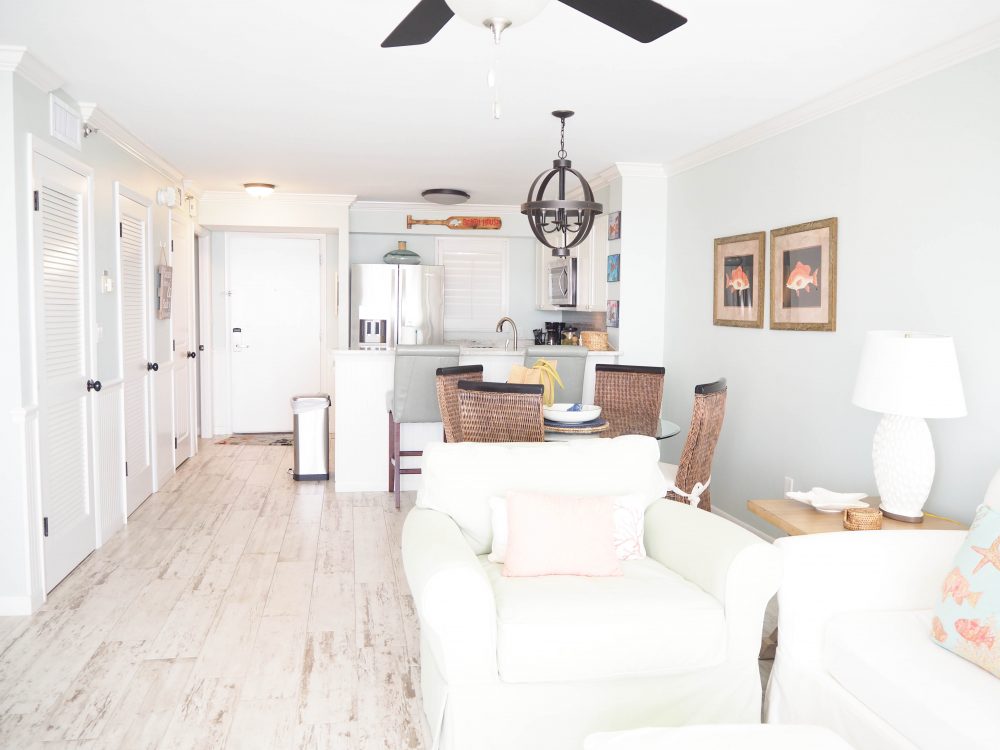 I fell in love with this condo the moment that I walked in the door. I'm generally happy with any place that gives a beautiful and relaxing view – but when it's absolutely gorgeous on the inside as well, I seem to enjoy my time there even more.
Every detail of this condo had been considered and designed to the perfect beachy farmhouse feel. From the flooring to the cabinet knobs – it was cute!
Magnolia House Condominiums is wonderfully situated in the secluded section of Holiday Isle in central Destin, within the private gates of the Destin Pointe community.
Take a tour of this cute, beachy-farmhouse style condo:
Did you notice that beautiful gulf – and the area just to the right of the pirate ship I pointed out? That's Destin Harbor, a great place to visit for dining, and more. Hop on a water taxi across the East Pass and you're there!
It's always so much fun when we can be so close to the beach. A short walk or tram ride took us to their private beach access where we enjoyed complimentary beach chair set up each day.
Full Kitchen With All The Things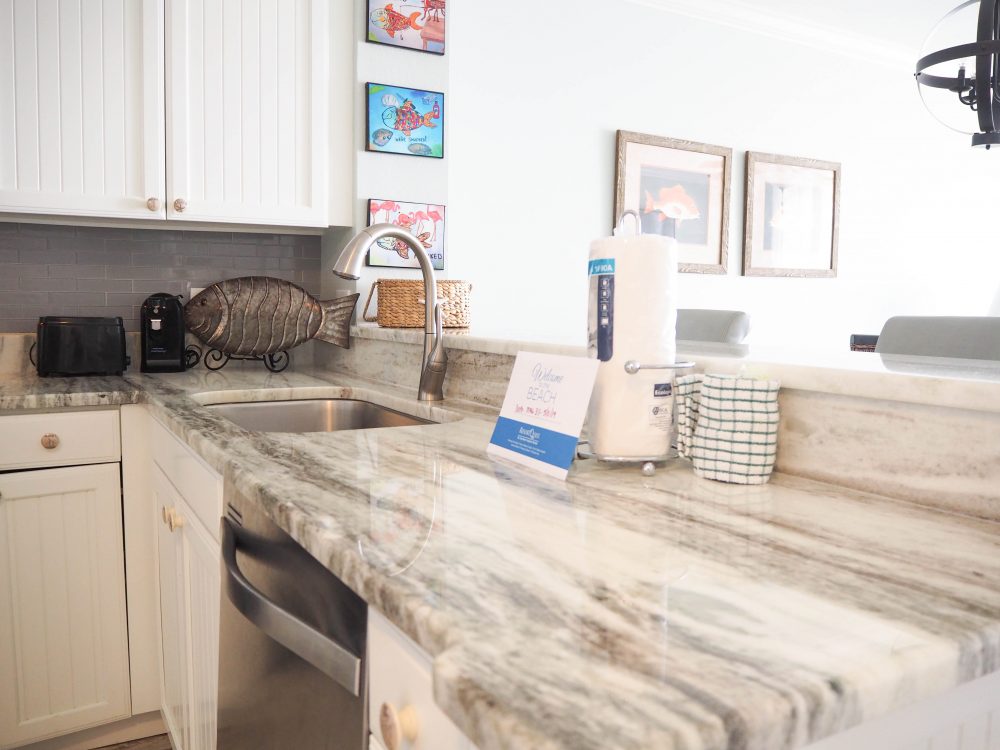 This kitchen, this kitchen! Isn't it just the cutest? Even more than that – it was stocked with everything I could have needed to prepare meals during our stay.
It's probably most common that everyone looks forward to dining out during vacation – and I do as well – but I also love to cook. When we stay at the beach, we most often eat breakfast and lunch in our hotel – while leaving our evenings open for venturing out around town to check out the local fare.
I most definitely want to be able to make myself a hot cup of coffee in the morning. Even though I always bring my own single-cup coffee maker – it's so much nicer when I have a nice sized kitchen to where I can make that cuppa joe.
We did use this kitchen, a lot! This particular condo had a good size refrigerator and quite a bit of space to store groceries that we picked up on our first day.
On top of the full kitchen, there were several grills in the pool area. We took advantage of that and grilled out for one of our meals.
I'll share vacation food and meal ideas that we used for this trip in another post!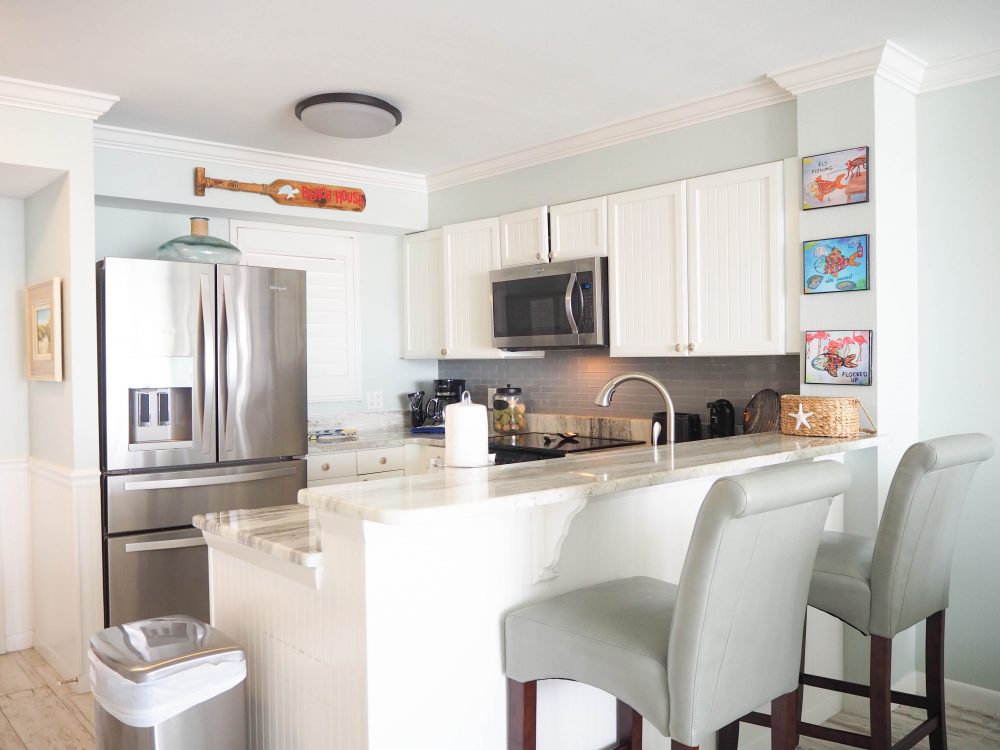 Roomy Bedrooms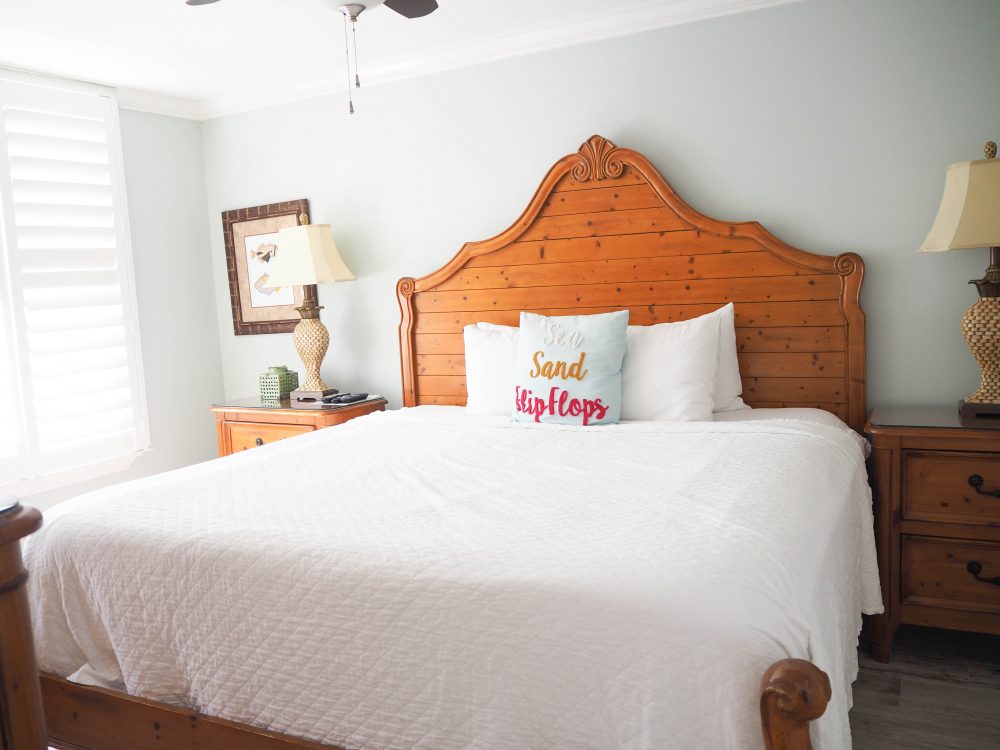 The view from our master-bedroom was perfect. The beach, sun, and sand were there to greet us in the morning – and the moon was a relaxing last glance at night.
The beachy theme continued through the bedrooms and into the bathrooms.
I'm not typically overly-impressed by the dressers in places where I stay during travel… but I loved this bedroom set. The light-toned wood, large bed, and round mirror were more examples of just how much care was put into furnishing this condo. Every piece must have been carefully picked and placed. Just perfect!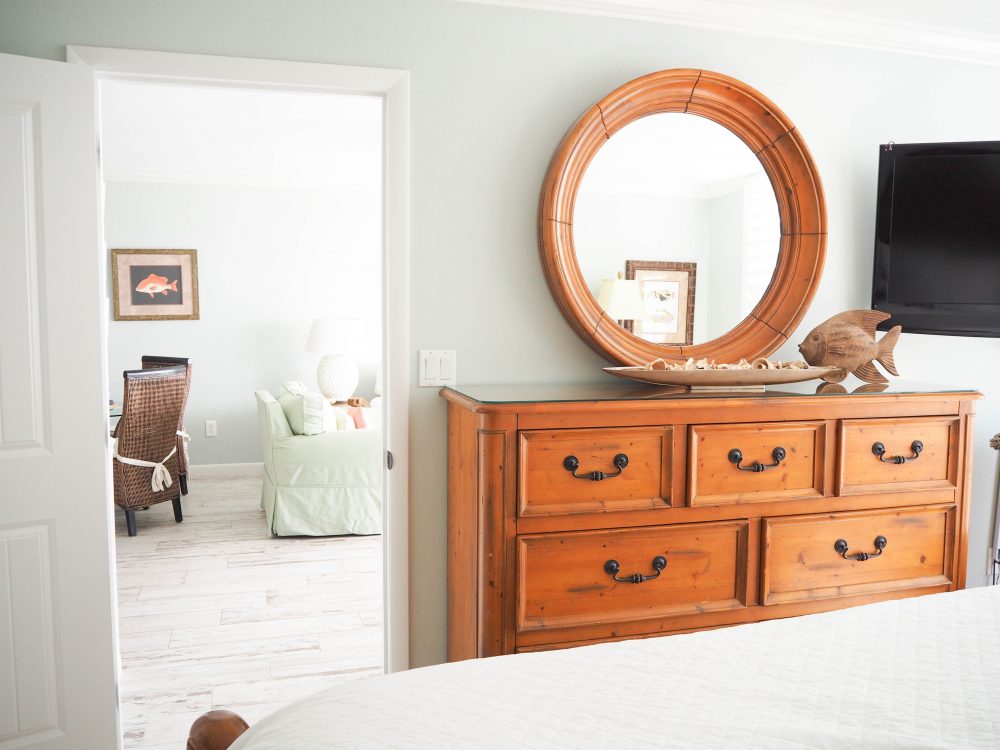 Though the bathrooms weren't large – they were adorable! The shell-shape adorned shower curtain, and rustic towel hooks topped off the beachy feel.
My daughter and I were even talking about these bathrooms just this morning. We were discussing how we might want to redo our half bath – and replicating part of this bathroom came to mind. We loved the tiles on the floor – but I hadn't thought to take a picture of it. But just know, it was perfect like the rest of the condo decor.
Check out the video above for the bathroom attached to the second bathroom!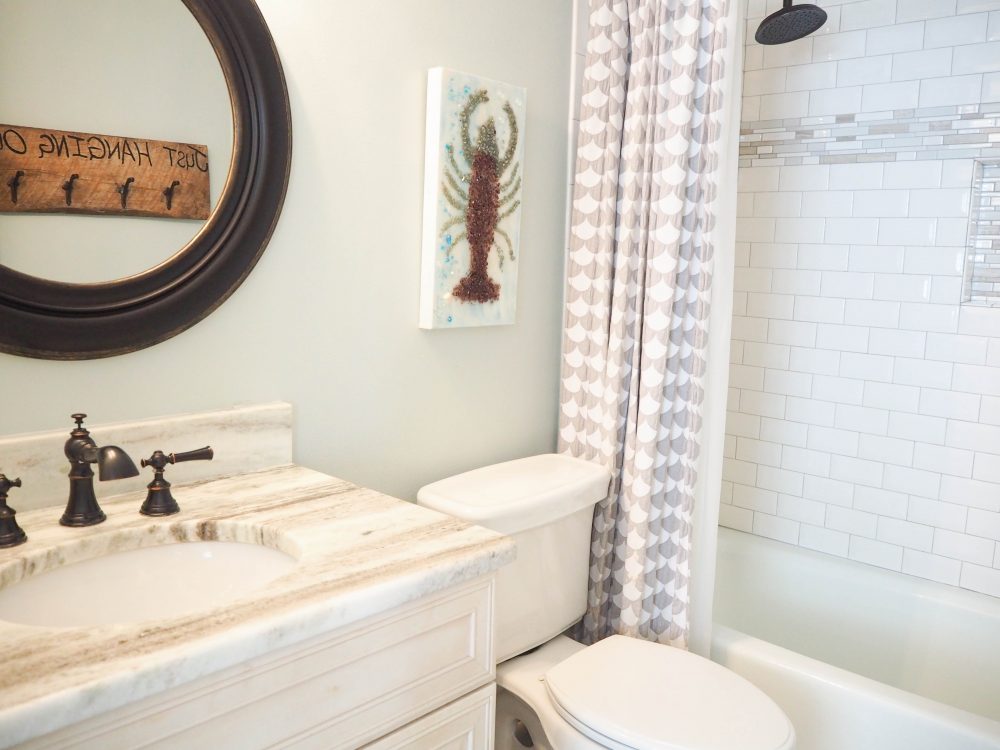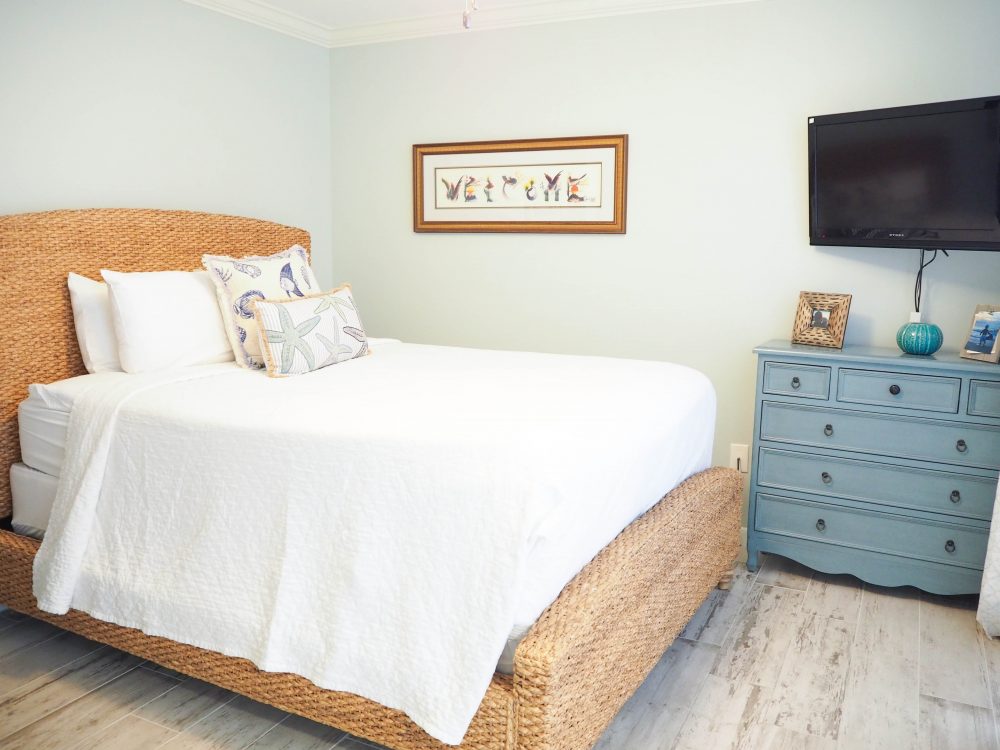 The kids shared this second bedroom. They also had their own beachy bathroom and enough space to spread out their things and relax when we weren't enjoying the pool or beach.
One of the neatest things about the last few condos where we've vacationed – have been the guest books. I meant to take pictures of the guest book at Destin Pointe's Magnolia House 311, but I forgot!
You can see it briefly as I tour the condo in the video above – but I forgot to sit down and record some of the memories that other guests have shared about their time in the same condo. I promise that I'll remember to do that next time. But if you stay in 311, I'd love to have a few pictures from the guest book – and I wish I had added our memories.
Planning a Destin vacation and need a condo or house rental on the beachfront? Check out the beautiful options at Destin Pointe.
Content may contain affiliate links. This means that, at no additional cost to you, we may earn a little somethin' somethin' when you use the link to make a purchase.
Learn more here.
Would you like Bloggy Moms to feature your brand?
Contact us here.