This post may contain affiliate links. Read our disclosure policy
here.
Deals are current as of date and time posted.
May and June are tough times for parents of 17- and 18-year-olds, who are preparing themselves for a tough time ahead: graduation. While the first few years of adulthood certainly won't be challenging — especially if your kid is heading off to college, which is basically high school 2.0 — the prospect of leaving everything they've ever known and gaining unprecedented independence can be daunting.
That's why celebrating graduation is so imperative. It provides an exclamation point at the end of a lifetime of effort, and it allows both you and your child to gain a sense of closure on childhood and a fresh, fun start to adulthood.
You should want your teen's graduation party to mimic your child's achievements — which is a long way of saying that it should be big. If you haven't thrown a serious celebration in a while, here's a guide to help you get ready for the upcoming event.
Talk to Your Teen
The first step in planning a kick-butt graduation party isn't ordering some oversized "2019" balloons or printing out embarrassing baby pictures of your kid and their friends — rather, the first step should always be to talk to your teen about what they want and expect for graduation. It's a bad idea to throw a record-breaking bash if your teen doesn't want to celebrate in that manner; it will only increase their stress about the big event. Similarly, you don't want to plan a theme or atmosphere that doesn't fit their personality or interests, so it is best to have a conversation about what their ideal graduation celebration looks like. You might talk about whom you'll invite, where you'll host it, what kinds of food and drinks will be on offer and what games and activities you'll have. Some teens will have plenty of ideas, but some will leave it all up to you — and both reactions are finem as long as your grad is enthusiastic about the party.
Build a Budget
Unless you have unlimited money, you should probably be saving to help your kid transition to adulthood, which is a costly affair. Still, that doesn't mean your grad party will consist of tap water and peanuts; you just need to set a spending limit to ensure you don't go over-the-top and set a bad financial example for your teen.
You should start by listing out what you'll need for the party — food, drinks, decorations, seating, etc. — and researching cost estimates. For instance, if you need access to a whole bunch of folding chairs, you can usually find rental and purchase prices online. If you are going to host the party at a venue instead of your home, you might make an inquiry with their event booking to determine what they can provide. However, if you have the space, you might as well host the shindig at home, to give your kid one last hurrah before they move out.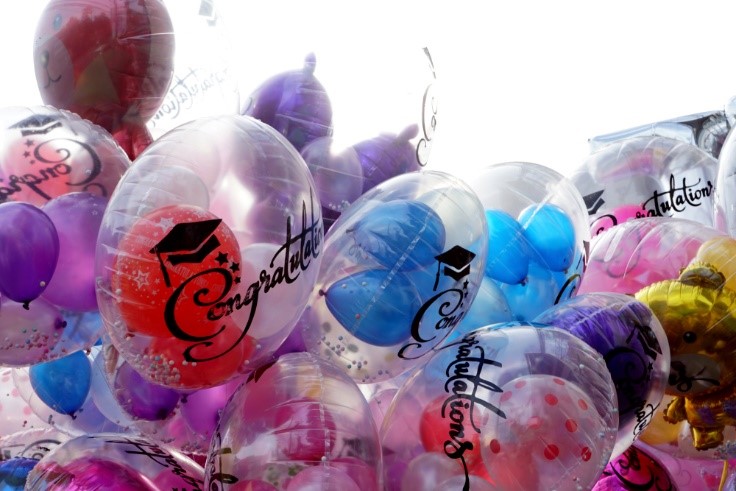 Gather Guests
You need to work with your teen to create the guest list for the party, or else you'll end up with a whole bunch of adults who don't make the party much fun for your young'un. Still, it's a good idea to have some family members, neighbors and other adults on the invite list because they usually come with choice gifts your teen will need in the coming years, like kitchen appliances or towels.
You can go the old-fashioned route of sending out invitations through the mail, and you can even find some gorgeous-yet-affordable options online through stationary vendors like Minted. However, you can save money and a few trees by sending invites over the web. Services like Paperless Post design attractive e-vites sure to get invitees' attention, and many of their options are free.
Furnish Some Food
This is another place where your kid should have some input. You should decide together (and with your budget) whether you will serve a full meal, like brunch or dinner, or just cocktail-like snacks, and you should also determine what kind of culinary tradition you will adhere to, i.e. American hotdogs and hamburgers vs. Chinese dumplings and eggrolls vs. Indian curry.
As a surprise, you might whip up a few sides or snacks that play off your graduation theme. There are plenty of DIY treats that mimic the look of graduation caps or diplomas, and you can even try to do the same with vegetable platters or crackers and cheese. This is a cute, simple decoration that makes people (and perhaps your graduating teen) smile.
Once the party arrives, you should try to relax and enjoy the time you have with your teen. They're all grown up now, which is hard for most parents to come to grips with and might require some time and reflection even after the shindig ends. Still, it will be nice to celebrate your teen big-time, so they can feel your love even as they prepare to leave.
Content may contain affiliate links. This means that, at no additional cost to you, we may earn a little somethin' somethin' when you use the link to make a purchase.
Learn more here.
Would you like Bloggy Moms to feature your brand?
Contact us here.