This post may contain affiliate links. Read our disclosure policy
here.
Deals are current as of date and time posted.

Here are a few things that give me a serious case of the sads: daily grocery store trips, half-empty boxes of pasta in my freezer, beautiful veggies aging before my eyes. I'm always trying to cut back on waste, especially as the holiday season picks up and time and funds become more limited. That's why it's so important to me to take a little bit of time on Sundays to plan meals for the week ahead. Luckily for you, dear reader, I'm a generous person. So today, I'm sharing our plan for a week of easy dinner ideas. Think: a chicken casserole, a lasagna recipe, a slow-cooker recipe, a Mexican casserole and cheesy broccoli soup. As a bonus, I've also created a super-handy printable shopping list (click to open it in a new tab) that covers everything you need.
So without further ado, here's the schedule: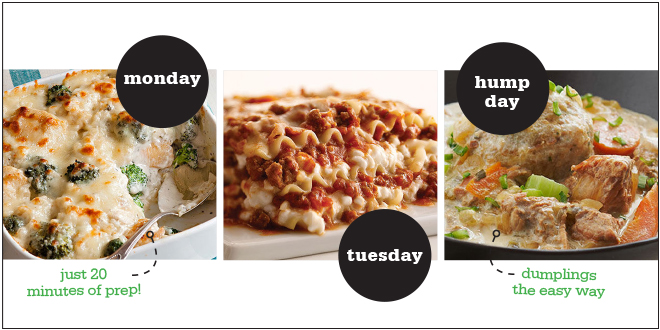 Monday: Go shopping, then make Chicken & Broccoli Rice Bake.
When broccoli, cheese and chicken get together in a casserole dish, the result is always a comforting, crowd-pleasing dish. If you've bought heads of broccoli, cut all the florets tonight to make Friday's soup a snap. While this guy's baking in the oven, roast or poach the rest of the chicken breasts for Thursday's dinner—don't worry about shredding it tonight, because that's easier to do when it's cold. This recipe makes 6 servings, so if you have leftovers, reheat it at lunchtime on Tuesday.
Salad on the side is a nice way to round out any meal, so take time tonight to prep your lettuce and salad veggies for the whole week so you only have to do it once. Cut your carrots and celery tonight for Wednesday's, Thursday's and Friday's recipes, and use any extra for your salads. Same goes for the chives for Wednesday's recipe and the cilantro for Thursday.
Tuesday: Better-Than-Ever Cheesy Meat Lasagna
Who doesn't love lasagna? Not my family! This recipe calls for extra-lean ground beef and low-fat cottage cheese, making it secretly better for you than a regular recipe. Go ahead and cook the whole box of lasagna noodles—you'll only need half for tonight, but you'll use the rest on Thursday. This recipe makes 9 servings, so your young children's playdates could stay for dinner. Leftovers will have you looking forward to lunchtime the next day.
Wednesday: Slow-Cooked Pork Stew with Dumplings
Get over the midweek hump with the help of your trusty slow cooker. Simple dumplings made with stuffing mix are the perfect companion for juicy pork tenderloin in this creamy family favorite. With 8 servings, you can easily feed a crowd or save some for Thursday's lunch.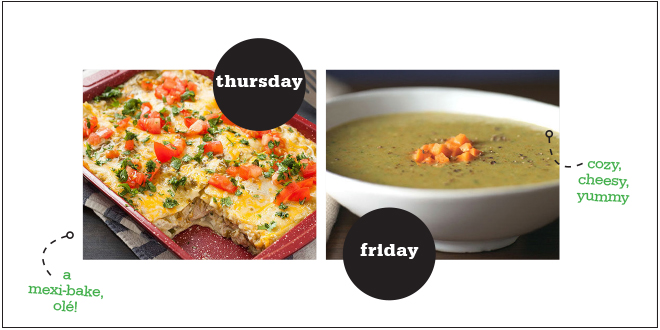 Thursday: Green Chile-Chicken Lasagna
Make Thursday night a fiesta with this easy Mexican-inspired casserole. Sure, you're using the chicken you cooked Monday and the lasagna noodles from Tuesday, but with cilantro, green salsa, Mexican cheese and fresh tomatoes, this dish will be a nice change of pace for your taste buds. Again, leftovers are perfect for lunchtime the next day.
Friday: No-Cream Creamy Broccoli Soup
How do you get kids (and, um, adults) to eat their veggies? Puree them into a creamy soup and add cheese. This simple soup comes together in a flash thanks to all the veggie-chopping you did on Monday, and it's surprisingly thick and hearty thanks to the addition of instant rice. By using milk instead of cream and Parm instead of cheddar, you can have your cheesy soup and eat it too! And with 8 servings, you've just solved what to eat at lunchtime (or dinnertime) on Saturday.
A few tips for making your own weekly menus:
1. Mise en place is your friend: Cut down your time in the kitchen all week by prepping as many ingredients as you can on Monday after you go shopping or as you begin to use them during the week. Doing something once is always easier than doing it over and over all week.
2. Crossover is key: Look for recipes that use the same foods so you have fewer items on your grocery list and are less likely to open your refrigerator to find unused ingredients screaming "Eat me!" You'll notice I'm using broccoli, chicken stock, instant rice, milk, carrots, celery, onions, chicken and Parm multiple times this week.
3. Use it or lose it: By the same waste-minimizing token, look for recipes that use all of an ingredient—an entire package or bunch. If you want to cook something that only uses some of an ingredient, try to match it up with another recipe that uses the rest like I did with those lasagna noodles. And remember, just about any extra veggie can go into a side salad.
Got any other meal-planning tips or tricks I should know about?
Origianlly appeared on kraftreciptes.com
Content may contain affiliate links. This means that, at no additional cost to you, we may earn a little somethin' somethin' when you use the link to make a purchase.
Learn more here.
Would you like Bloggy Moms to feature your brand?
Contact us here.