This post may contain affiliate links. Read our disclosure policy
here.
Deals are current as of date and time posted.
Ergonomics. This is the science that studies ways to optimize and improve different things.
You and I are not scientists, but it doesn't mean we can't optimize spaces in our home effectively.
Today, I'm going to share with you a step-by-step guide on how to make a couch from a Twin mattress and customize it. Eventually, you will get a piece of furniture that not only saves space but also looks stylish. Are you intrigued? Let's dive right in!
Step 1: Get Yourself the Best Twin Mattress
When trying to make a couch from a Twin mattress, the first thing you should decide is how often you're going to use it for sleep and whether you are the one who's going to sleep on it. Your situation can be different, but I will mention two most probable cases:
You personally will use it as a regular bed every night. If that's the case, you will need to consider several factors when shopping for a mattress.

Are you a back, side, or stomach sleeper? Your sleeping position defines the level of firmness you need your bed to have.
Do you sleep with your partner? Does he or she have different sleeping preferences? This will define if you need two identical mattresses or two different ones.
Do you toss and turn in your sleep? If yes, you should be careful with spring mattresses, as they tend to produce squeaking noise. And with foam mattresses too, as they often have weak edge support.
Do you sleep hot? You might need a mattress with a special gel layer for a cooling effect.
Do you have any allergies? If yes, pay attention to the materials that the mattress cover is made from.
"With that being said, you should research the topic a bit and read reviews before making a purchase. There are too many models on the market, but you need the one that is of high quality and suitable just for you. After all, your personal comfort depends on that. It might cost more than you expect, but it will be a long-term investment in your health and well-being."
Other people will sleep on it occasionally (e.g. when guests stay overnight). If that's the case, you can hardly find a mattress to suit the sleeping needs of all your guests for years to come. Still, there are lots of mattresses of decent quality that offer an average level of support but without bells and whistles. You can even find some models under $100.
A quick tip:
No matter how much you will eventually pay for your Twin mattress, you need to make sure the manufacturer offers warranty and has proper return and refund policies. This is particularly important if you're shopping online. You can check the study made by Happysleepyhead to see which companies offer the best twin mattresses to buy online this year.
But the good news is:
Most manufacturers today have a trial period for their products, which enables you to return your mattress if you find out it isn't suitable or is defective.
Step 2: Get Yourself a Bed Frame
While with mattresses you're limited to a single option – to buy one, with bed frames you get several more affordable alternatives.
Build a bed frame from scratch.
If you're a fan of challenging DIY guides and have the needed equipment and tools, you can build a bed frame with your own hands like this guy. This way you will get a sturdy base for a mattress.
Construct a bed frame from pallets.
An easier and cheaper solution is to use pallets. You can buy them online at less than $10 each. Actually, if you try harder, you can get them totally free from a local factory or store. You should note here that these have been already in use for some time, so they might be not as sturdy as you wish. But new ones should be durable enough to serve as a base for your Twin bed couch. This option requires some physical work and tools too, but no serious equipment.
If neither of these options works for you, purchase a ready-made bed frame. It shouldn't be hard to do. Just keep in mind that you need the one with no head- or footboards. You can find it in IKEA and similar stores.
"There are bed frames designed specifically for people who want to make a couch from a Twin mattress. They are called stackable. This means one bed frame is put on another one, just like LEGO units. They can be split and put side by side to transform into a King bed or joined together in a shape of an L to function as a couch or sofa. You can get such a piece of furniture for about $150."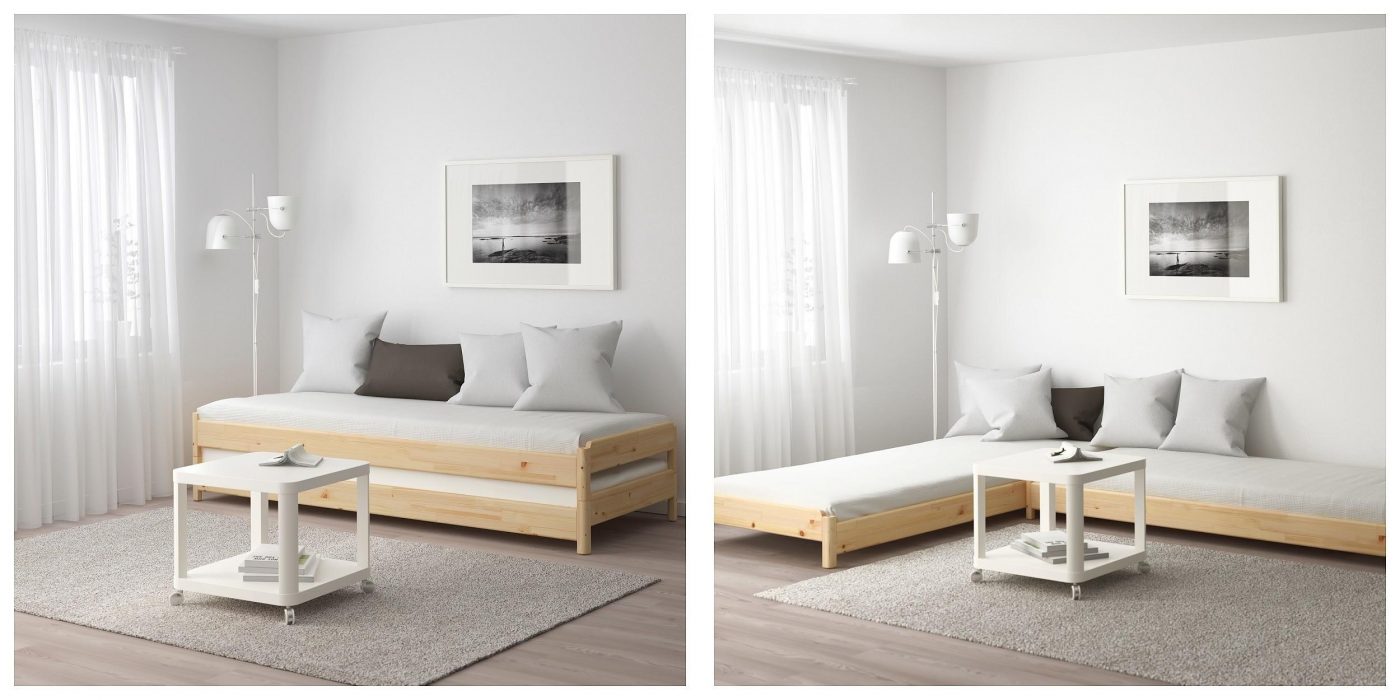 Step 3: Get Something to Cover Your Mattress With
If I were to make a couch from a Twin mattress, I would go for the following combination:
a mattress protector, the one with straps so that it would rest accurately on top of the mattresses;
a sheet, the fitted one to make sure it sits tightly on the topper and keeps it in place;
a blanket, the one large enough to cover the whole surface of the mattress as well as its sides.
You can choose your own combination but I strongly advise purchasing a mattress protector in the first place.
Why?
Well, if you're going to use your bed as a couch, no matter regularly or occasionally, it needs more protection than a traditional bed. I'm sure you don't want to buy a new mattress every time one of your guests accidentally spills coffee on the couch.
"A mattress protector serves as a protection layer between the mattress and the sheets. It is usually machine washable. Using it will rid you of the necessity to clean the entire mattress each time it gets dirty or stained. You can simply throw it into a washing machine with other blankets on a laundry day."
Step 4: Get Some Pillows
Just two plain mattresses joined in an L-shape will look way too minimalistic, in my opinion. But the good news is you can add a bit of style to this ergonomic solution.
And the best part is:
There are so many accessories on the market today!
Long back cushions can be designed rectangular or as a triangular wedge. Smaller throw pillows can be square, round, or custom shaped. You can also add a few bolsters. And I haven't mentioned the variety of colors and patterns yet!
Long story short, you can customize your Twin bed sofa in many ways. Who knows, it can end up looking much more stylish and trendy than the ones you will find in stores.
Make sure to match the pillows with the blankets that cover your newly made Twin bed couch. If you chose blankets with a bright pattern (e.g. a Mexican styled one), opt for bright pillows with a similar pattern or at least of a similar color. If you purchased a one-color blanket, add pillows of the same color or of a matching color.
"For decorative purposes, you could drape a throw over the back cushions and the seat area. Throws are a trend now."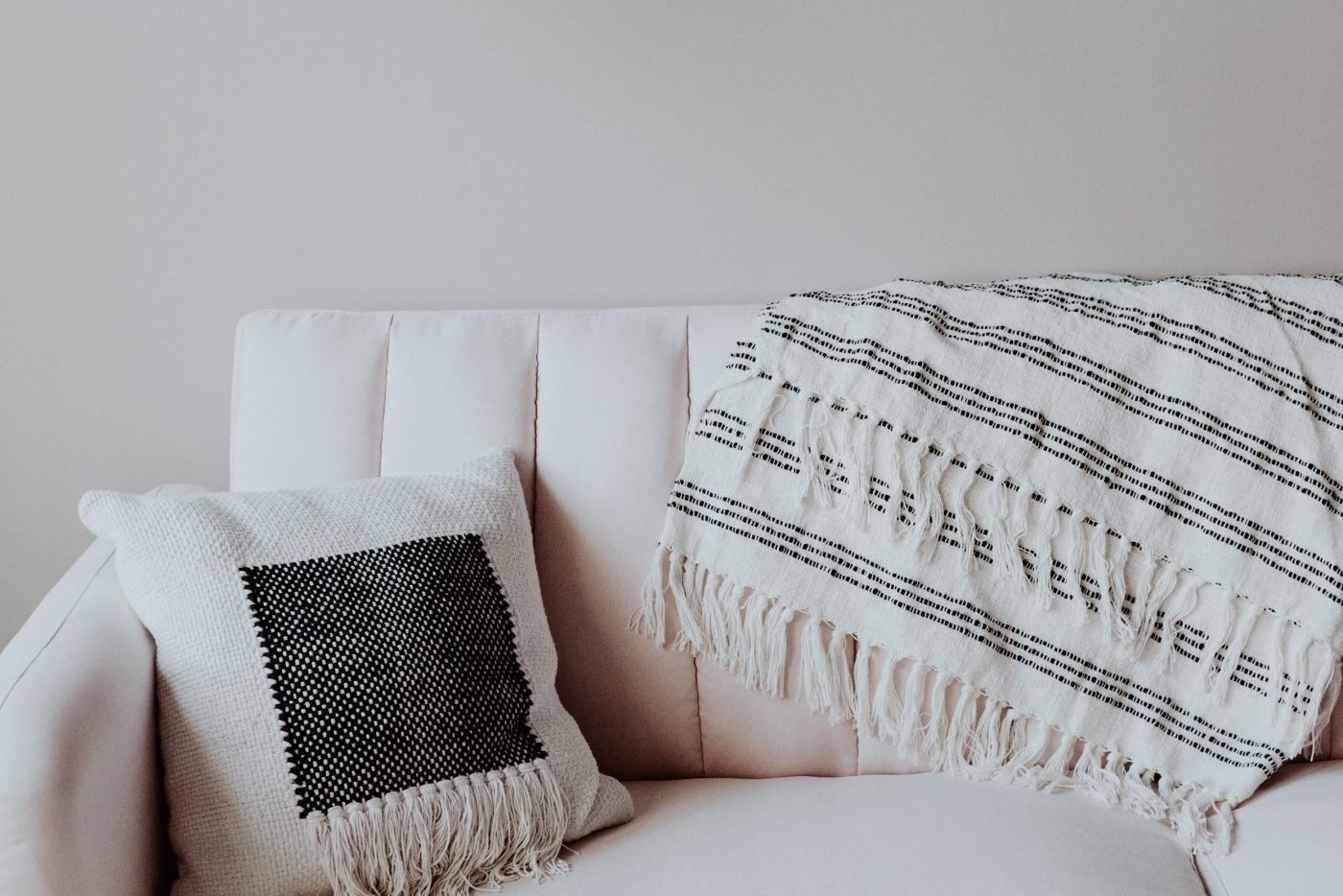 Step 5: Bed or Couch? Choose the Purpose Yourself!
Now, you are the one to choose the configuration in which to use this piece of furniture!
If you need a cozy corner to watch a movie with your family, chat with friends who came over, or just relax alone with a book, move two beds in an L-shape, furnish them with pillows and blankets, and you're good to go.
When it's time to go to sleep, take the pillows and everything else away, move two Twin beds back together to form one King sized bed, get your bedding out of the closet, and enjoy your sleep.
"Moving the beds every evening and every morning can be a bit challenging and definitely not safe for the floors. However, the benefits are great. You get a comfortable bed and a cozy couch – two in one at quite a low price. This is a great option for a small apartment, a guest room, and any other room with limited space."
Not a drawback, but rather something to keep in mind – if you want to make a sofa from a Twin size mattress, you will need an empty corner in the room.
Here's the thing:
A couch configuration requires walls to serve as back support. All the cushions I suggested that you buy won't hold upright when you put the pressure of your body on them if there's no wall behind. But once you push the beds to the walls, you will be able to enjoy the comfort of your Twin bed in a new way and have your family and friends joke about your career in ergonomics.
Content may contain affiliate links. This means that, at no additional cost to you, we may earn a little somethin' somethin' when you use the link to make a purchase.
Learn more here.
Would you like Bloggy Moms to feature your brand?
Contact us here.