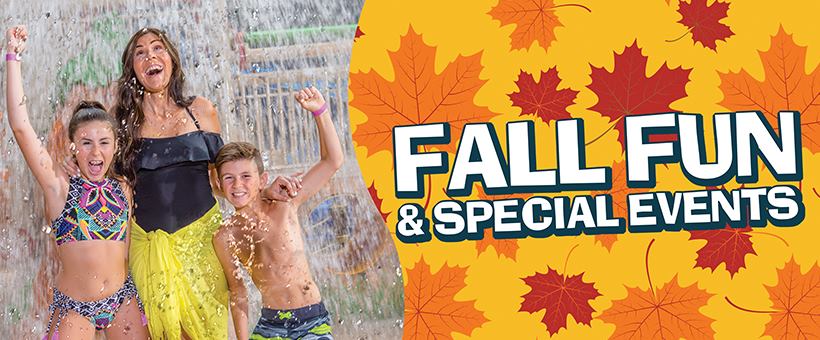 Content may contain affiliate or sponsored content. Read disclosure
here
.
Sahara Sam's will debut its first ever Halloween Horror on Friday, September 28, featuring three terrifying scares zones, claustrophobia exhibit, outdoor themed bar and more. The Terror-by-Night event will run every weekend, Friday through Sunday, from 7:30 to 10:30 p.m. through October 28.
Enjoy Treats-by-Day, family-friendly activities like pumpkin painting and a DJ Dance party beginning at 5 p.m. By 7 p.m. the park's "Wringmaster," will guide you to safety indoors as the outdoor park transforms into Halloween Horror.
Only the bravest will journey through three scare zones, Midway Mayhem, Zombie Zone and Boom Town filled with clowns, zombies, ghouls and more. In the "Zombie Decontamination Zone," find your way through a claustrophobia tunnel filled with spooky surprises.
"Offering a scary experience in our outdoor water park is pretty cool and unique," said Brandon Moore, Park President. "We're really excited to get Halloween Horror underway and share it with our guests."
The park will also bring back "Monster Splash" DJ dance and foam party on October 19 and 26. From 4 to 9 p.m., a DJ spins Halloween jams while you enjoy the indoor waterpark plus contests and giveaways throughout the night. Indulge on Halloween-themed menu items at Tom's Place featuring bat wings, spider web pizza, vampire's blood and other spooky treats.
Halloween Horror is free with a 2019 Season Pass and included with a daily admission ticket. You can purchase admission tickets to the night-time event for $13.99. For more information, visit: www.saharasams.com/2018/posts/halloween-horror/
Images Courtesy: SaharaSams.com