This post may contain affiliate links. Read our disclosure policy
here.
Deals are current as of date and time posted.
It's easy to forget that we are surrounded by toxins every day. Most things around us are packed with chemicals. This can be true of foods, as well as products. The result can be that our body absorbs some of this – and the evidence may show up on our skin!
Signs that Your Body is Full of Toxins
Lack of energy
Exhaustion
Itchy skin
Rosacea
Other skin breakout or rash
Overheating
Sinus issues
Headaches
Insomnia
Gallbladder issues
White (or coated) tongue
If you're experiencing any of the above – it may be time to detox! Detoxing sounds laborious – but it can actually be very simple.
Natural Detox Remedies
Probiotics
One of the first things I do when it seems that my body is suffering from toxins or other issues listed above – is to ensure that I'm getting the probiotics that my gut needs. I prefer this NLA for Her – Her Probiotics, but you should research and decide on one that fits your needs best.
I also like this Zenwise Health Digestive Enzymes Plus Prebiotics & Probiotics.
Epsom Salt
Taking an Epsom salt bath helps to raise the magnesium levels in the body and thus helps to eliminate toxins. Relax in an Epsom salt bath to help relax and soothe aching muscles. Add a cup or two of Epsom salt to a bath and soak.
Green Tea
Green tea is packed with antioxidants. It helps to remove free radicals and prevent liver damage. Try swapping out your coffee for green tea to prompt your body to detox toxins that may be causing any of your above symptoms. I like to try for two or three cups of Green Tea a day during a detox.
Lemon Juice
Lemon juice is my favorite way to detox! It is so simple and I, personally, love the taste of adding a little lemon juice to my water. Lemon juice stimulates the bile production and helps to absorb more nutrients. It alkalizes the body and helps boost your immune system. You can mix this with warm water or cold water. Do this as soon as you wake up each morning. There are also a lot of great pre-made lemon detox drinks if you prefer.
Water
It's amazing the lack of hydrating water that we get into our diet. Our body is largely made up of water – and every part of our body needs it. Ensure that you are consuming the appropriate amount of water each day for your body size. This will help to naturally flush the body and provide your organs with the hydration they need to function properly.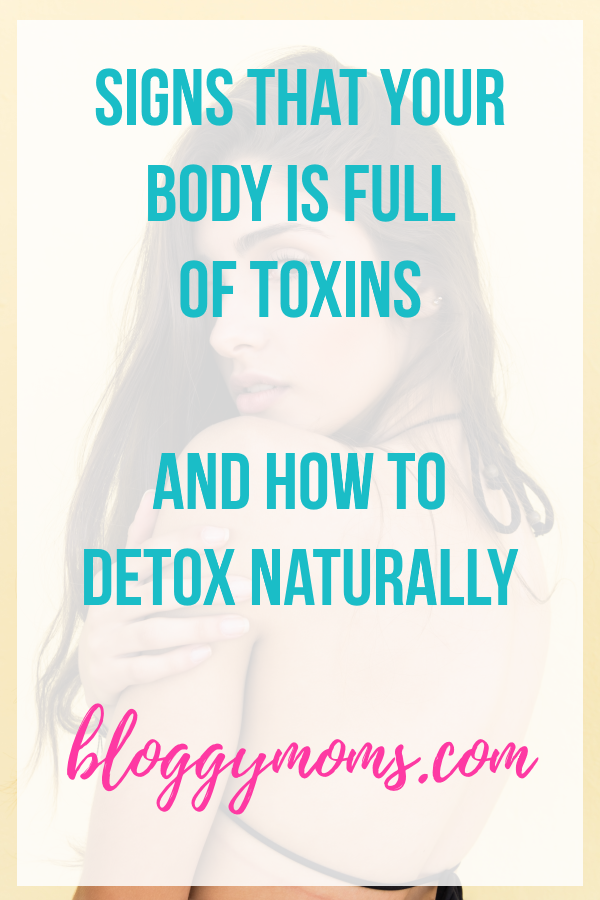 Content may contain affiliate links. This means that, at no additional cost to you, we may earn a little somethin' somethin' when you use the link to make a purchase.
Learn more here.
Would you like Bloggy Moms to feature your brand?
Contact us here.