This post may contain affiliate links. Read our disclosure policy
here.
Deals are current as of date and time posted.
A spacious bathtub to soak in, a big window that floods the space with light, a stunning vanity and basin combo. So many desires, yet so little space. If you have a small bathroom, you may think that you can never get that coveted clean aesthetic and spa-like feel. After all, a confined space doesn't scream relaxation.
If you're designing a new bathroom that you consider too small, don't give up on your dreams yet. With some careful planning and smart shopping from a well-stocked bathroom store, you can fit everything in the tiny space without it feeling claustrophobic. Here are some great ideas on how to make a small bathroom appear larger and unleash its full potential.
Layout Is Everything
Even though they aren't exactly visible, water lines and drain lines can affect your bathroom design and rob you from the already limited space you have. Their location is what dictates where the fixtures and drains can be placed. In other words, where your bathtub, basin and toilet can go. So, before you go on a shopping spree at a bathroom store, plan your bathroom layout carefully.
Bathrooms can have a one -, two- or three-wet-wall layout. In a one-wall layout, the basin, toilet and bath or shower are all located along a single wall. This makes it the easiest and most cost-effective layout to achieve, but it also the most limiting, especially for small bathrooms.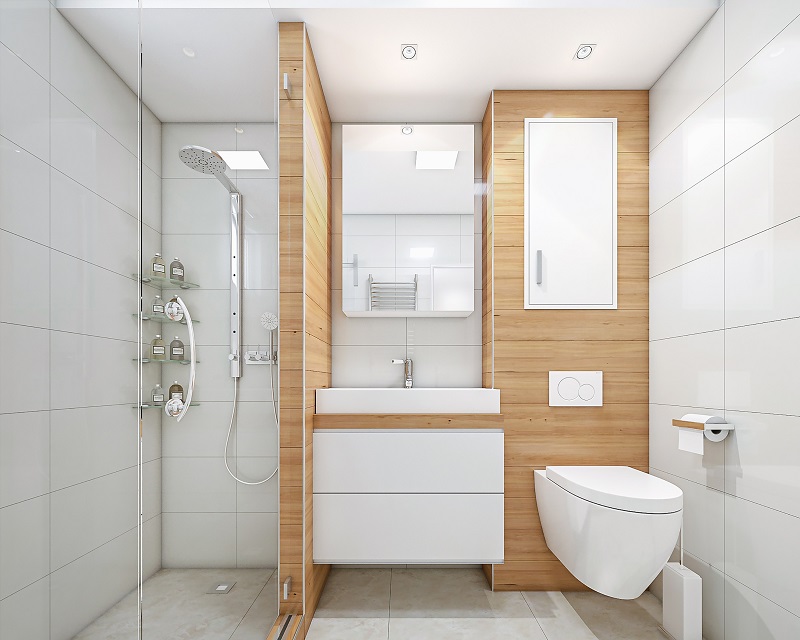 A more suitable layout for limited space would be a two-wall one. You can connect the sink and toilet on one wall, and have the tub and shower on the other. This allows you to use the space more efficiently. The three-wall layout is the most flexible one as you can arrange your bathroom elements however you like. The only downside is that it can be complicated and expensive to achieve.
Stick to the Walls
Any visible cisterns, pipework or pedestals can make the bathroom smaller than it is. Everything that seems to stick out, not only restricts the space but it also draws the eye to it, contributing to an even more cramped feeling. The closer to the walls certain elements are, the better. For that reason, opt for more compact designs of toilets and basins with slim profiles.
Instead of a pedestal sink that takes up valuable room, consider an inset sink, or even better – a wall-mounted one. As it doesn't require to be installed on a vanity or other surface, a wall-mounted sink helps free up floor space. And the more free floor space, the bigger the room will look.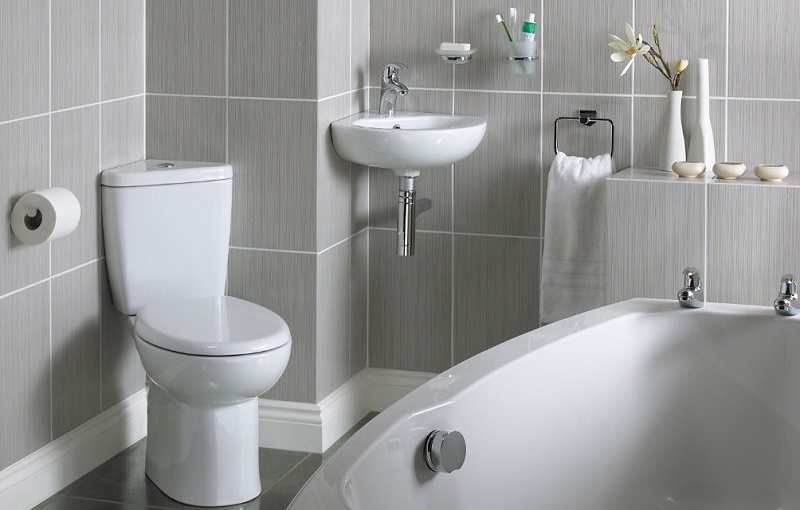 Additionally, instead of a close-coupled toilet which is already long out of style, why not opt for a more modern design such as a floor pan toilet? The cistern of a floor pan toilet is neatly hidden in a specially designed unit within the wall and the flush is in the form of a smooth button on the wall. The result is a sleek and minimalist look that makes the toilet resemble nothing like a traditional toilet. This way, you won't be reminded of the less glamorous stuff that goes on in the bathroom as you have a luxurious soak.
It's also worth to mention that the sleek designs of both wall-mounted basins and floor pan toilets can contribute to creating a bathroom that's easy to clean. There's no visible grout, pipework, pulleys or levers to regularly wipe and scrub.
The Solution Is Just Around the Corner
Having a small bathroom shouldn't prevent you from enjoying a relaxing soak. If the limited space has you feeling like you're backed into a corner, that corner may be just the perfect spot for a bathtub. Although you may not be able to fit a hot tub or freestanding bathtub, I'm sure you can easily find a free corner to sneak a corner tub in. Corner bathtubs are the most space-efficient option for smaller bathrooms. You can purchase a rectangular corner tub or one with a rounded end for a more comfortable soaking experience. With the wide range of corner bathtub designs and materials any premium bathroom store carries, I'm certain you can easily find a complementing look for your space.
Colour It Right
If your bathroom has a patterned paint job or colourful wallpaper or decor, the space can seem somewhat overwhelming. Avoiding a splash of colours in favour of cleaner, monochromatic designs can make your bathroom appear more spacious. Regarding what colours to use in a small bathroom, it's a good idea to pick something light for the walls. White is obviously a winner, but if you want to spice things up a little, you can opt for other hues such as sky blue or pastel yellow. Neutral shades such as beige and light grey can work just as well. You can use these clean, light walls as a blank canvas to build your décor upon. You can use accessories, plants and even art to add colour and interest to the space in a way that isn't overwhelming.
Drop the Curtain
Sure, shower curtains are practical and prevent the floor from getting wet. But they are also a visual obstruction that can make an already small bathroom seem even tinier. When it comes to enclosing the bathtub, a glass screen is a much better alternative. A glass shower screen is an almost invisible element in the bathroom, and as such can help keep the space open and airy. Plus, glass holds up the steam inside which can enhance the spa-like feel of your bathroom.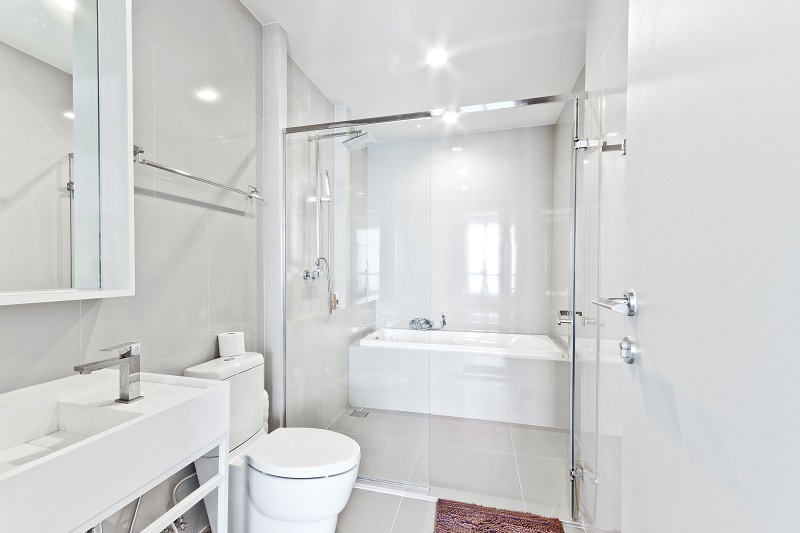 As opposed to shower curtains which can easily turn yellow and moldy, a shower screen is a permanent investment that's easy to keep clean. It also allows you to showcase any decorative tiles surrounding the bathtub area. And if plastic shower curtains are old-fashioned, glass is more modern and glamorous looking. So, if you want your bathroom to look modern, a glass panel is definitely what you should enclose your bathing area with.
Contain Yourself
And finally, even if your bathtub, toilet and basin might say minimalist, your ever-growing collection of shampoo bottles, body scrubs, face cleansers and creams suggest otherwise. I'm not saying to put a hold on your skincare addiction (although that might not be such a bad idea), but you can at least try to organize these things neatly. Make sure that all those self-care products aren't lying on the sink or edge of the tub and contribute to visual clutter. Hide them away in a wall-mounted cabinet or use cute wicker baskets under the basin or on a shelf. Wall hooks are also a helpful addition as you can use them to hang your shower sponges, brushes and towels. All in all, it's important to know how to organize a small bathroom as clutter can easily pile up.
Content may contain affiliate links. This means that, at no additional cost to you, we may earn a little somethin' somethin' when you use the link to make a purchase.
Learn more here.
Would you like Bloggy Moms to feature your brand?
Contact us here.