This post may contain affiliate links. Read our disclosure policy
here.
Deals are current as of date and time posted.
My husband and I recently attended a Step parenting class through our local Kids First Program. The class description "The Kids First Program for Step parents is designed to help people in step-families understand the normal difficulties experienced by each person in the new family, including those of their children. Participants will learn ways to ease the process so that each person will get their needs met while growing to feel comfortable in their new roles and relationships" My husband and I want to make sure we are doing everything we can to provide a comfortable environment for our children.
We were married 3 ½ years ago and honestly it has feels like our family has blended together so easy that we are luckier than most. Currently we have an almost equal split of time with my husband's children. My oldest daughter is married and on her own, and my younger daughter, who is 15, lives with us full-time because her father has moved out of the country. We are in the process of pursing more time with the younger children as they have requested many times to live with us. They feel like they have more of a family when they are with us. We felt that attending the class with help either reassure us that we are doing all we can, or point out areas where we could make improvements.
The Class
In our class there were 4 couples and 3 singles so it was a small enough group for good participation. The class was led by a lawyer and a psychologist to give two differing views about how issues can affect families. The first task in the class, as with most, was going around the room and introducing yourself and giving a little history to your family situation. Right from the start I felt encouraged that our family was doing better than most. I felt horrible for several of the couples. They are experiencing very aggressive exes who they are fighting with constantly, or the children are causing problems for the parents. One couple wasn't even sure if they were going to stay together because the stress in the home is just too much.
Step vs. Bonus
We talked about what terms are used to describe our families, such as step-family and blended family. Also, what the children call the adults in the family, some used first names, some used step mom and dad, some used mom and dad, we use bonus.
A couple of months after my husband and I married, his daughter who was 7 at the time said she wanted to call me her Bonus Mom, that she didn't like stepmom. She said I was more than that and she loved me more than that. In that moment in time I felt like I was on cloud 9. My heart was so full, and so happy that I had built such a good bond with her that she felt that way about me.
The psychologist suggested that "bonus" was not a good term to use because some children don't feel that way and it can pressure them into something they aren't comfortable with. We know this is true because when our daughter's mother remarried she told the children "now you have a Bonus Dad" our daughter replied "no, I have a step-father" their mother was very upset about that and pointed out to the children that they call me their Bonus Mom, our daughter said he didn't feel like a "bonus". We reiterated to the psychologist that this was not a term that we suggested; it was a term that our daughter suggested. The kids call me "Steph" or "Stephie" but introduce me as their Bonus Mom. I would never force a term on my kids. My oldest daughter calls my husband "Dad" and my younger daughter calls him by his first name but refers to him as her "Bonus Dad". I agree that they have to be comfortable. Is it fair to say that "bonus" is wrong? I don't think so.
Forcing Children to Visit Parents
Another topic that came up was a step-mother whose issue is her step-son asking not to visit his Dad when it's his weekend because the biological Mom is doing something he wants to do; one example given was going to the fair. It seemed obvious to me that the biological Mom was telling the boy what she was doing in order to entice him to stay with her. My first thought was the Mom should not be telling the son what she is doing, but that is in a perfect world. These parents have already been to the "high conflict" parenting class because they fight over everything. The lawyer stated that the child should be told by both biological parents that it is his time with Dad and he should be forced to go even if it upsets the child. I understood why it was recommended for this situation, the boy is 7. I asked why I should force my child to go when they are determined not to go. I brought up our situation as an example why I didn't agree with that. My ex-husband moved to Canada (about a 12 hour drive away) 1 ½ years ago. My younger daughter was given the option to go with him or stay with me. She chose to stay here. All of her family and friends are here and she knows no one in Canada. She has only met her step-mother twice. We have told her that if she wants to go during school vacations, Christmas break or during the summer, or even if she ever decides she wants to live with Dad we will help to make arrangements for her to go. We have made it clear that we support her decision either way. She doesn't want to go. The psychologist said that isn't fair to the child to put the decision making on their shoulders. That they will have to live with consequences of their choice and that is too much guilt for a child. My daughter is 15, she understands the choice she is making and I am not going to force her to go somewhere she isn't comfortable. I told the lawyer and the psychologist this and asked at what point do the parents have to accept their consequences? Her father chose to move away for love. He knew he was giving up time with his children and that he might only see them a couple of times a year and he was okay with that. If he wants to see our daughter he is capable of coming here as well. His family still lives local so there are plenty of people for him to see in one visit. I would look at this situation differently if she were 6 instead of 15. She would be too young to make that decision alone. So is it wrong not to force your child to go see their parent? I think you have to look at the overall picture and handle it case by case; that you can't say what we are doing is wrong or that all children should be forced to go.
Discipline
The third topic that threw me off was disciplining stepchildren. The psychologist stated that a stepparent should never discipline a stepchild they should tell the child we will discuss this when your parent comes home as to avoid any aggravation between the two. It avoids the "you aren't my parent you can't tell me what to do" remarks. In our home we have "house" rules, these are the basic rules that all of the children know and understand such as, don't run in the house, use indoor voices, you don't hit anybody, we speak with respect, we respect each other's privacy, etc. If our children break a rule that we all know, you bet I'm doing to discipline them. I discipline his kids, he disciplines mine. Now if a situation comes up that we have never dealt with before my husband and I talk it out together to decide what the appropriate punishment should be. I never discipline the children in any way other that what we have discussed in the past and neither does he. We make communication a priority; it was lacking in our previous marriages and is what makes this marriage strong. It has been made very clear in our home that we are a family and whichever parent is here is in charge and is to be respected. I have never had a problem with any of our children on this matter. Honestly, I don't have to discipline for much. They really are very well behaved. Again, we are blessed.
Other "Step" Issues
Some of the families were having issues between siblings. Not us. Our children bonded very well. In fact, our younger two daughters are two peas in a pod, inseparable. Some families had problems with the step-children being disrespectful. That doesn't fly in our house. If my husband's children were ever disrespectful to me they would have major punishments, same with mine.
What We Learned
What we learned out of this class is that a lot of the issues the families in this class were having (and this is not a blanket statement for all stepparents) was a lack of communication between parent to parent, parent to ex, or parent to child. There are not good house rules that are expected to be followed. That the biological parent isn't standing up and backing the stepparent letting the children know their behavior is unacceptable. That the biological parent isn't standing up to the other biological parent and enforcing visitation times, rules and boundaries. . I do think communication is so important. Parents need to talk and be on the same team when dealing with their blended family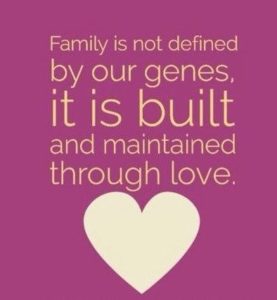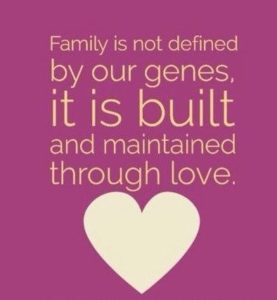 We also learned that we are doing much better than a lot of blended families. That we have a strong family bond in our home and there is a level of respect between all of us. A child can never have too many people in their lives that love them.
I truly feel that each family is a completely different entity and cannot be all covered by "blanket rules" Blended families are made up of so many parts coming together that you really need to explore your own and decide together what is going to work best for you .Some families have two parents bringing children with them, in some its one parent. Families can have biological parents that get along, some fight like cats and dogs. Some families blend with children that they adopted. Some children have a blended family with both of their biological parents, some have one. The variables are almost too numerous to mention.
So is what you are doing for your Blended Family wrong? I don't think so. I don't think anyone can tell you what is right or wrong for you. Suggestions and advice are always good, but they are just that, take them or leave them.
I feel blessed and so fortunate that our Blended family came together as easily as it did. I like to think it is because we really put good effort into communication on all levels and that we treat each child like they are our own. The only steps in this house lead to the upstairs. We are a bonus family. My Blended Life Makes Me a Very Happy Wife.
Content may contain affiliate links. This means that, at no additional cost to you, we may earn a little somethin' somethin' when you use the link to make a purchase.
Learn more here.
Would you like Bloggy Moms to feature your brand?
Contact us here.