This post may contain affiliate links. Read our disclosure policy
here.
Deals are current as of date and time posted.
Ready for a laugh-filled, family game night? I have the game for you – and the kiddos. If you enjoy humor, silly humor at that, this is the game to have on hand. Kids Against Maturity is everything that the title suggests. It's a fun and interactive card game that allows your child to let loose and have fun with jokes and humor that fits their inquisitive and imaginative minds.
So, what is Kids Against Maturity? It's a simple, and unique card game that comes with 600 question-and-answer cards. Game play is a question-and-answer, fill-in-the-blank structure that will bring the family together through hilarious questions with even funnier answers!
How to play:
The game is simple to play: All you need is to 'be the worst to be the best'. Other than the humor and fun that Kids Against Maturity brings – the best part of the game is that it's easy to teach and to play. Younger kids will have no problem picking up on game play, how it flows and how a winner is determined.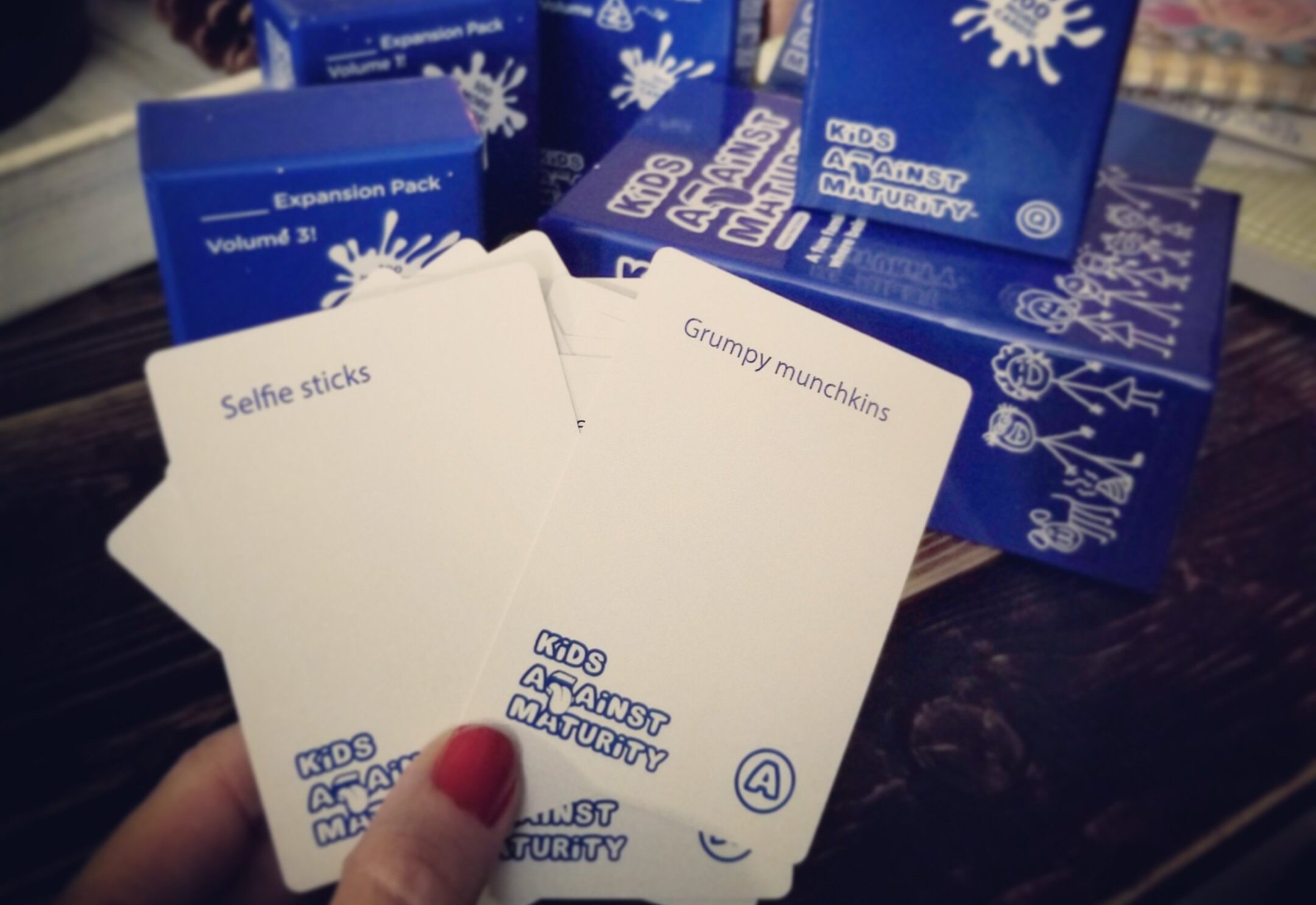 Each player is given 10 white answer-cards and players take turns asking the blue question cards. Each question asker chooses the funniest/best answer from their stack of answer-cards and the player with the highest number of funniest/best responses wins the game.
I love their obligatory warning: "Those who don't appreciate flatulence jokes, may not approve. PLEASE REMOVE ANY CARD THAT YOU DON'T APPROVE OF."
And, let me be the first to admit – potty humor hasn't been my favorite as an adult. But that wasn't the case as a child – and I can appreciate their bursts of laughter and laugh right along with all of it. And, as they mentioned – before you play the game, go through the cards and pull any out that you feel won't fit into your family or group. Easy as pie!
With age-appropriate toilet humor and funny innuendos for the adults, it can be enjoyed by all ages.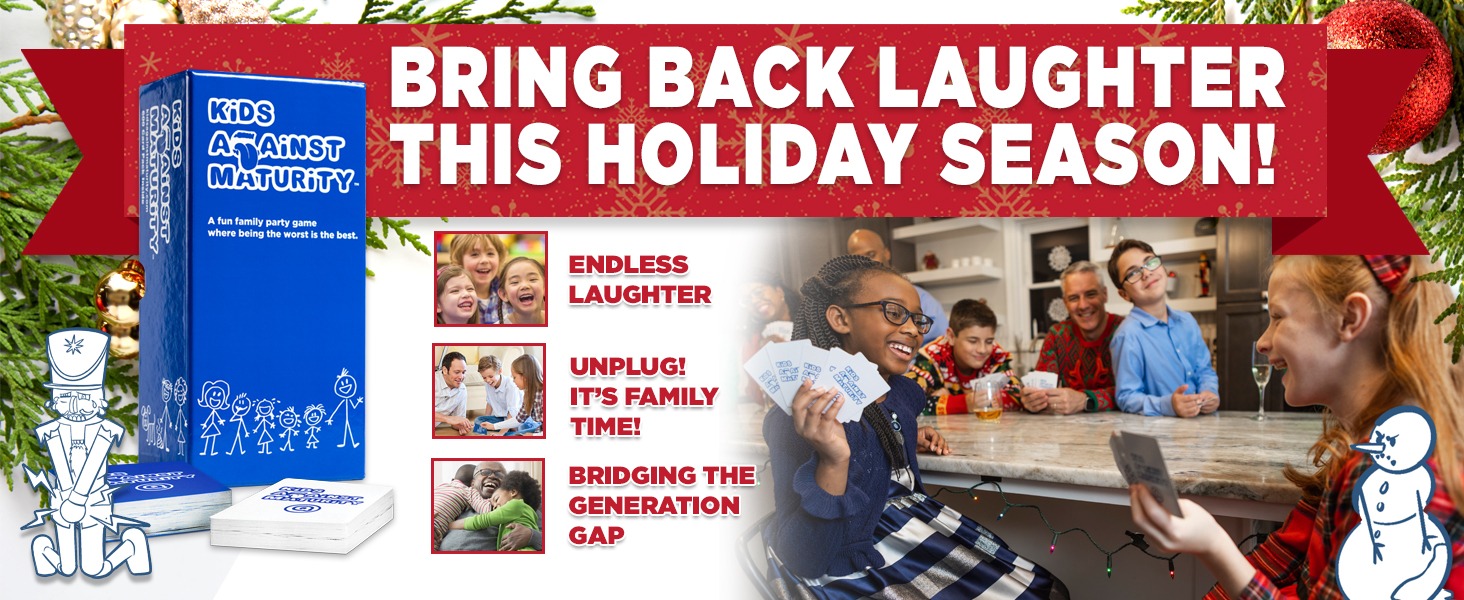 A kids card game that's also fun for adults!
This game is a real crowd-pleaser. Whether it's just a fun afternoon at home with your kids or a hosted game night with other families – everyone is sure to have a great time. Unplug from your phones and electronics and share a bunch of laughs between adults and kiddos!
Kids will love the silly cards and adults will pick up on innuendos that are totally lost on the kids.
A very handy travel game!
Kids Against Maturity comes in a handy box – so storing and traveling with the game is easy peasy! The expansion packs are also organized in a nice box, so they come along easily as well.
It's great for taking with you on sleepovers, family gatherings, camping, supper camp, plane trips, beach trips, and more!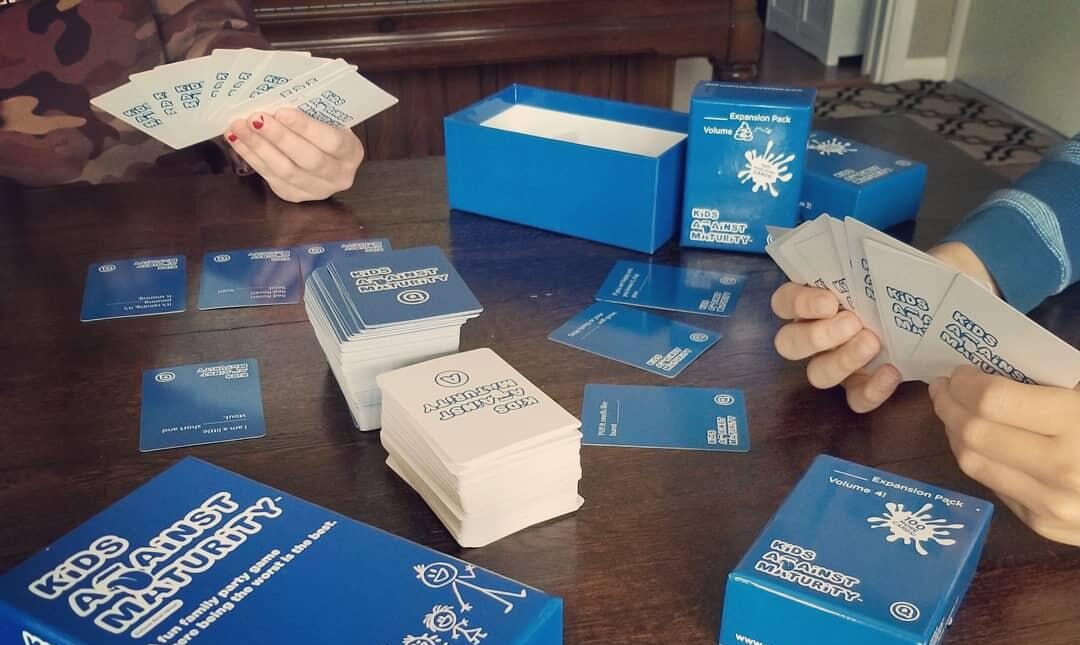 This will be a fun gift to have under the tree – or grab the expansion packs available as stocking stuffers for those who have the original!
You can learn more about Kids Against Maturity at their website here. You can order through Walmart or Amazon.
Kids Against Maturity is a part of our 2021 Holiday Gift and Activity Guide. Contact us to have your brand included.
Content may contain affiliate links. This means that, at no additional cost to you, we may earn a little somethin' somethin' when you use the link to make a purchase.
Learn more here.
Would you like Bloggy Moms to feature your brand?
Contact us here.