This post may contain affiliate links. Read our disclosure policy
here.
Deals are current as of date and time posted.
There's nothing most moms look forward to more than a relaxing vacation — but the empty house you're leaving behind could easily become a target for criminals. Taking a few precautions will pay off in the peace of mind you'll enjoy during your trip. Here are some simple steps you can take to protect the house.
Lamp Timers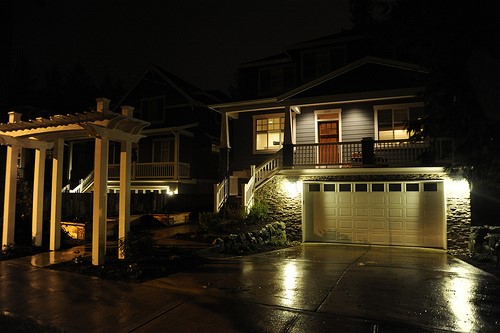 Image via Flickr by Wonderlane
If you drive through any neighborhood at dusk, it's easy to spot the empty houses because they stay dark, inside and out. You can give your house a lived-in look with a handful of lamp timers. The devices are easy to use: just set the timer, plug it into an outlet, and then plug the lamp into the timer. It's best to have each lamp on a slightly different schedule to give the illusion that people are moving around inside the house. You may find that you love having your most-used lamps coming on automatically even after you're home.
Outdoor Lighting
Motion-activated lights outdoors are another vacation security feature that will become a convenience when you come home. Burglars don't enjoy being put in the spotlight, so adding motion detectors to your front and back entryways, driveway, and other strategic locations will deter thieves. You'll appreciate the lighting when you come home after dark, too.
Your Neighbors
There's no better home security system than an informal neighborhood watch — if you choose the right neighbors to keep an eye on the place. You should find out a bit about your neighbors in general, just to keep your family safe. You want to be aware of any convicted felons or sexual predators who live nearby. With that out of the way, choose a neighbor you trust to hold your spare key (never leave it under the mat or hide it in the yard; thieves know those tricks better than you do).
Let your closest neighbors know you'll be out of town. Ask them to clear away any papers or debris that could signal your absence, and let them know you'd appreciate it if they'd watch the place and call the police if they see anything suspicious. That may seem obvious, but some people will hesitate less about interfering if you've asked them specifically to do so. Let them know you'd be happy to return the favor on their vacation.
Mind the Details
Ask your mail carrier how to put a hold on your mail while you're gone so it doesn't stack up near the front door.  If you have a home security system, let your monitoring company know you'll be away. If you have regular maintenance work scheduled, such as lawn care or pool cleanings, let the companies know you'll be away but would still like your property serviced. People moving around the yard on occasion adds to the illusion that the house is inhabited.
Leaving your home unattended can be scary, but if you take the proper precautions, you can dramatically reduce the odds of a break-in. Knowing your house is safe will help you relax and enjoy your trip.  Don't forget that you can rent a guardian home to ensure that your vacant property is kept safe at all times. This is perfect for those who spend long periods of time away from their property or have vulnerable vacant properties.
Content may contain affiliate links. This means that, at no additional cost to you, we may earn a little somethin' somethin' when you use the link to make a purchase.
Learn more here.
Would you like Bloggy Moms to feature your brand?
Contact us here.