This post may contain affiliate links. Read our disclosure policy
here.
Deals are current as of date and time posted.
So, I love road trips. They are the ultimate events and occasions for me. I know, it can be such a hassle to pack up and take a road trip – especially when the entire family is involved. But, I find it to be a challenge that I love conquering and a time of memories that aren't easily made or forgotten.
To be upfront, it's not all fun and lollipops when we travel. There can be frustration, exhaustion, and grumpiness – from everyone involved. But the following tips can help you to craft a better opportunity for a successful family road trip.
Tips to Plan a Successful Family Road Trip
Choosing a Vehicle
For me, this point can make or break the trip. Because it can literally break the trip if it – breaks. When planning to go on a road trip, make sure that your vehicle is roadworthy enough to make the distance (to and from), safe, and large enough for your entourage. You may have enough seats, but do you have enough cargo space for luggage, food, and legroom?
I also plan any special storage that may be needed for this trip. Will I need special totes for napkins and tissues? Do I need something to help the kids hold any electronics we may allow them to use on the trip? Do I need another bag to store the road trip car games?
We plan to have our oil changed, tired checked/rotated/replaced – among other things depending on the age of the vehicle at the time. The last thing you need to do is head out and end up with a quickly blown tire, blown head gasket (yep, I did that once – I still say it's not my fault), or other disaster that could have been avoided. This will cost you time, and most painfully – money.
Plan the Seating Arrangements
Even on short trips to the grocery store with little ones – I learned very quickly that where each child or person sits in the car matters, a lot. And I'm not necessarily talking about legal requirements for where children of specific height and ages must sit – though that is extremely important!
I'm talking about seating arrangements that will make the trip more enjoyable for all parties involved. For example, I wouldn't line three care seats in the middle row and place all older children in a third row – I would prefer to stagger a bit. But you will need to make the arrangements based on the personal needs and capabilities of each of your children. Needing a car seat? Check out the options at onlinecarparts.co.uk.
Plan Your Route
So, this is another point that can totally change your trip. Sometimes we want to get directly to the destination. Other times, we want to stop and see other attractions along the way. It's important to map out your route, distance, and time – because most of us need to get back home at a specific point to get back to work (yay!).
Taking a road that has a lot of construction happening either on your way to your destination or on the way back can really eat up your precious time. Plan ahead by consulting Google Maps often. I love that it updates constantly to let me know if there are construction delays or wrecks. The speed trap alerts are also fantastic for those of us who end up with a lead foot when on a long stretch of boring road.
Overnight Stay Options
I spend a lot of time on this part of planning. In fact, it's the first point that I clear before I plan any other part of our stay – including dates! It doesn't need to be a magnificent resort – but I do want it to be clean and in a safe area.
I use sites such as local visitor's bureaus, hotel and resort sites as well as the trendy home rental sites now available.
Bringing your pet with you
If you're planning on bringing your cat or dog along, plan with time and make sure that the hotels are pet-friendly. Also make sure things like food, and carriers are taken care of. You can see the benefits of using a pet carrier here: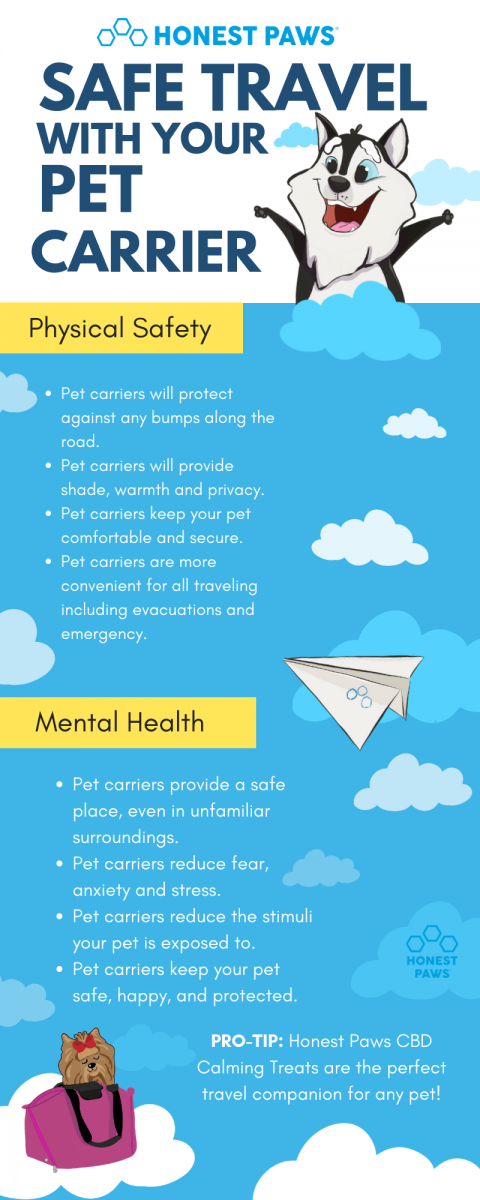 Infographic by HonestPaws.com
What are some of your travel planning suggestions?
Photo by Sharon McCutcheon on Unsplash
Content may contain affiliate links. This means that, at no additional cost to you, we may earn a little somethin' somethin' when you use the link to make a purchase.
Learn more here.
Would you like Bloggy Moms to feature your brand?
Contact us here.