This post may contain affiliate links. Read our disclosure policy
here.
Deals are current as of date and time posted.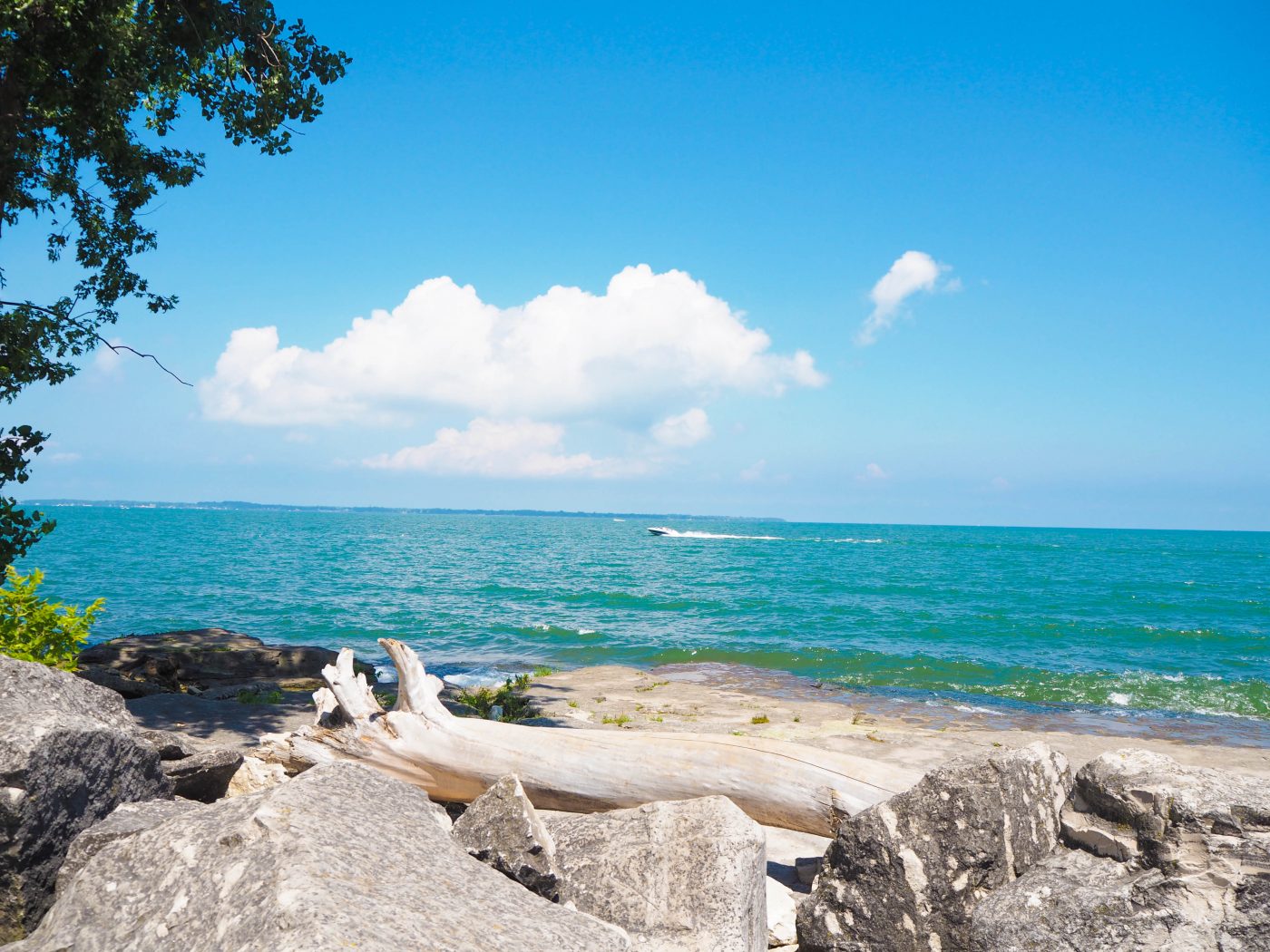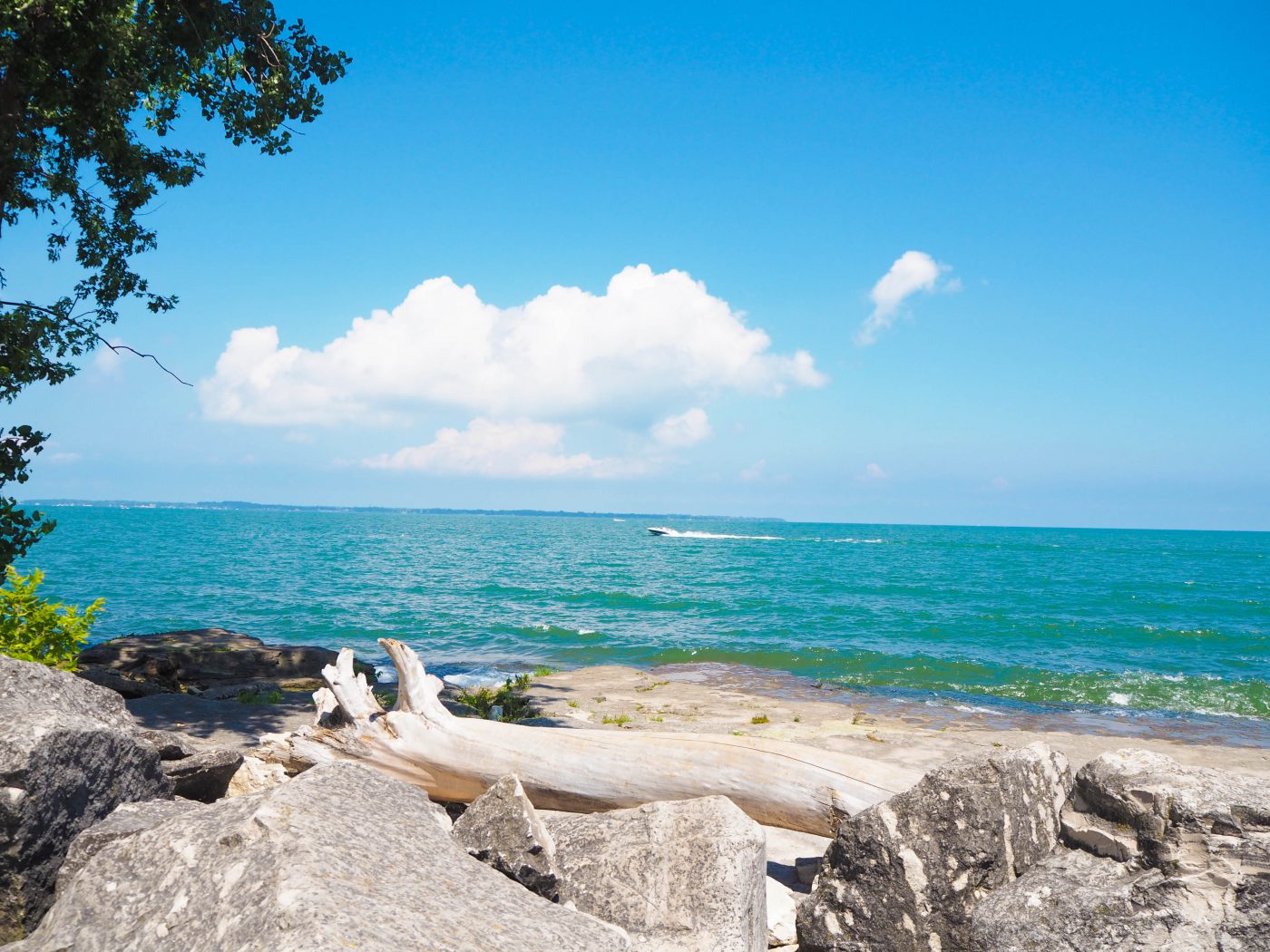 Life's busy – and quick weekend getaways with the family are sometimes the only type of vacation that we are able to squeeze in. We love destinations that offer a large variety of relaxing and entertaining attractions . We especially love it when they offer a mix of outdoor activities, museums, and nature's beautiful wonders.
On a recent trip to Lake Erie at Northern Ohio's edge, we found all of those favorites and more. Having been introduced to Sandusky, Ohio a few years ago, we quickly fell in love with one of its most recognized locations – Cedar Point and couldn't wait to explore more of the area.
There's so much to love in Ohio's Lake Erie Shores & Islands! Whether you prefer a getaway that includes lazy days at the beach, fishing with friends, and bicycling around an island, or one filled with exciting thrills like roller coasters, waterslides, and parasailing, the Lake Erie Shores & Islands is the ideal destination. It offers a coastal retreat with abundant recreational options to satisfy any number of interests. Visit soon and find your Lake Erie Love!
Actually, there's so much to do that if you're able to spend a week or more – you should take advantage of that. Or, visit several times throughout the year! Even though you'll find a lot of options, we suggest you at least have a good idea of the places you want to visit and see during your trip instead of heading to the area with no plan at all.
Given that there is so much to do, we're only going to mention the activities and places we have visited or had planned to visit during our trip. You can find so much more information here and using the the Lake Erie Shores and Islands itinerary builder to help plan your trip.
What to See
Put-In-Pay
On this trip, we spent a day exploring the beautiful Put-in-Bay and South Bass Island. This is a great example of our earlier suggestion to plan ahead. You'll want to ensure that you've planned how you will get to the island, arrive on time for your boat trip to and from the island as well as what you'd like to see while you're there.
Perry's Cave Family Fun Center was our first activity after arriving. There were several activities and even a cave to explore! It was great that we chose to do that first as it took several hours and was so much fun.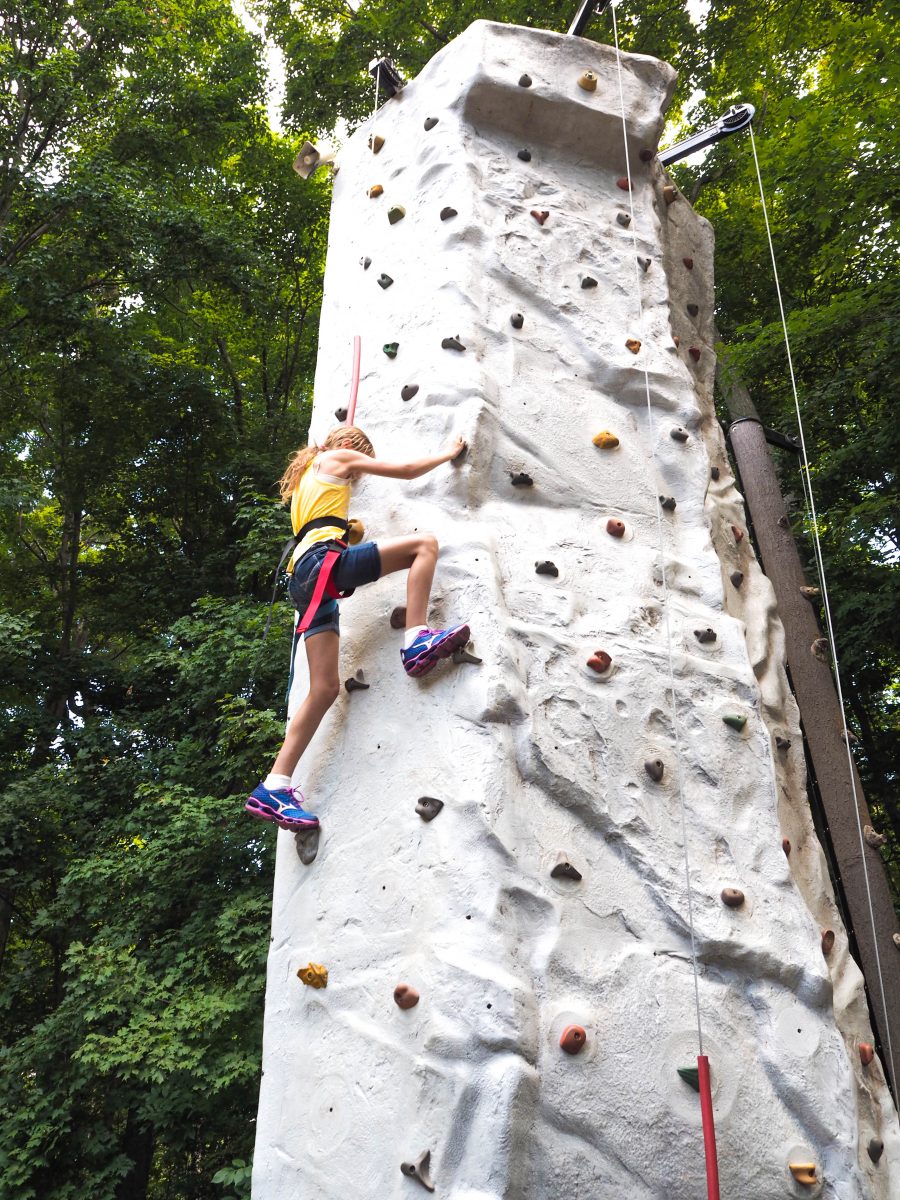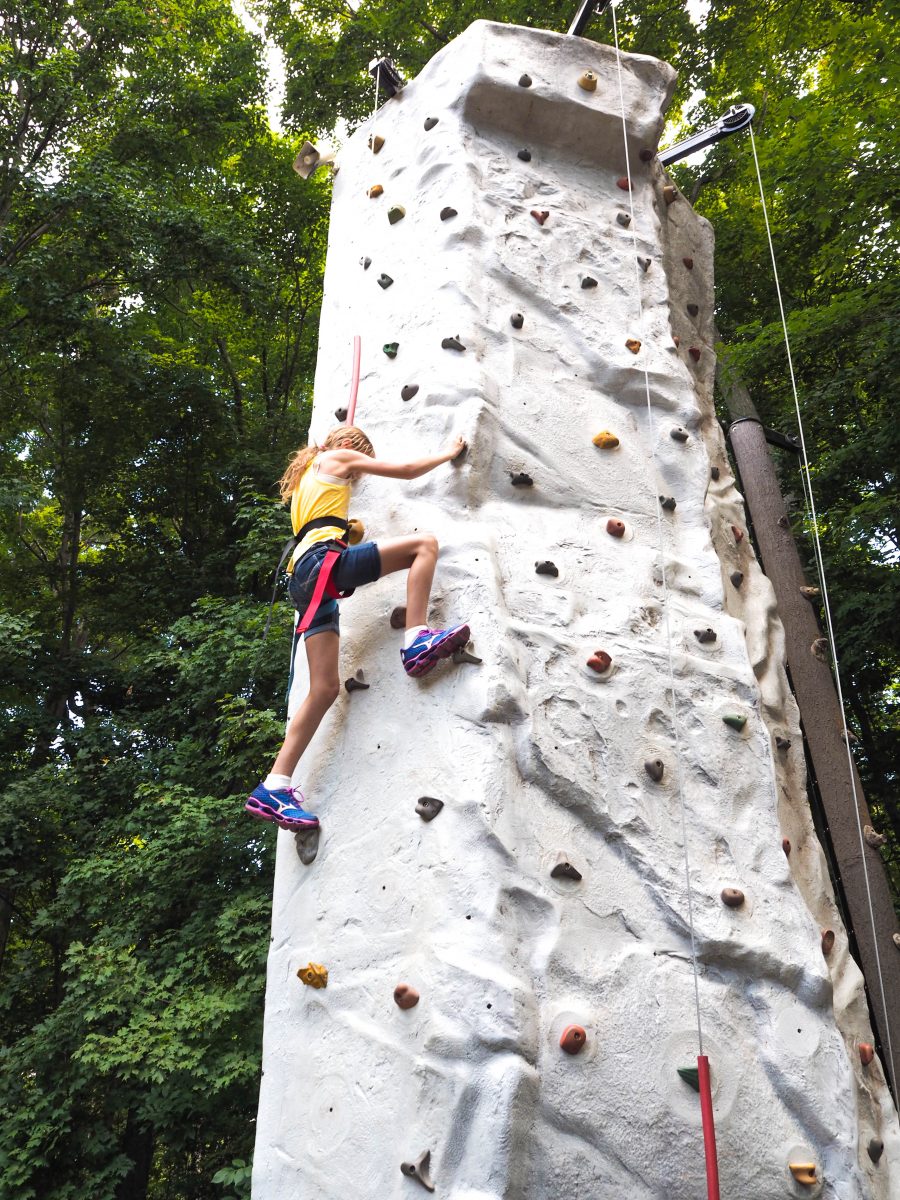 The kids first tackled and conquered the Rock Climbing Wall before we explored Perry's Cave and completed Fort aMAZE'n (Put-In-Bays only giant maze!). Perry's Cave Family Fun Center also offers 18 holes of mini-golf – War of 18 Holes Miniature Golf, a Butterfly House, Gemstone Mining, an Antique Car Museum and a great place to grab a bite to eat – DanDee's Snack Shack & Picnic Pavilion.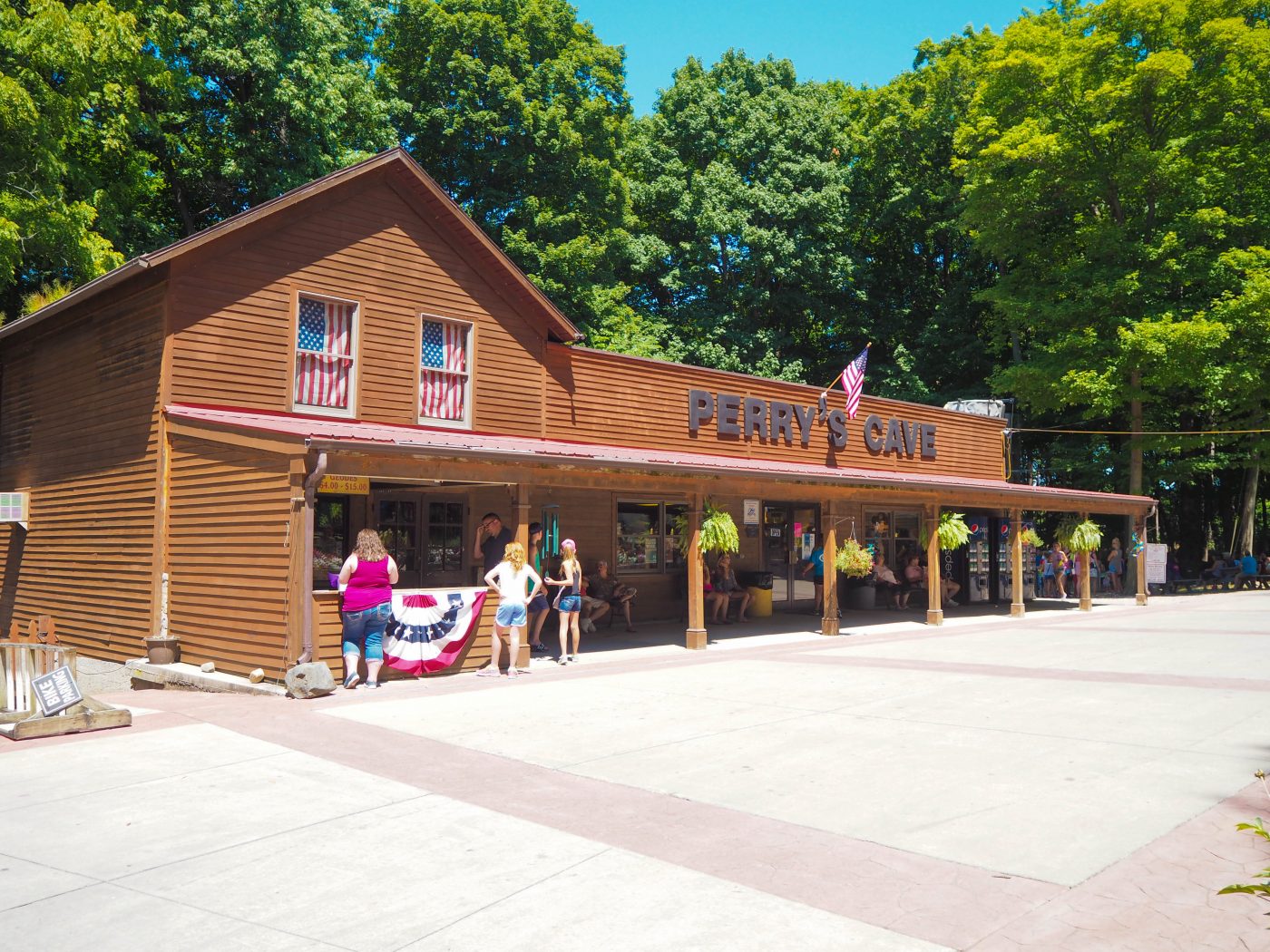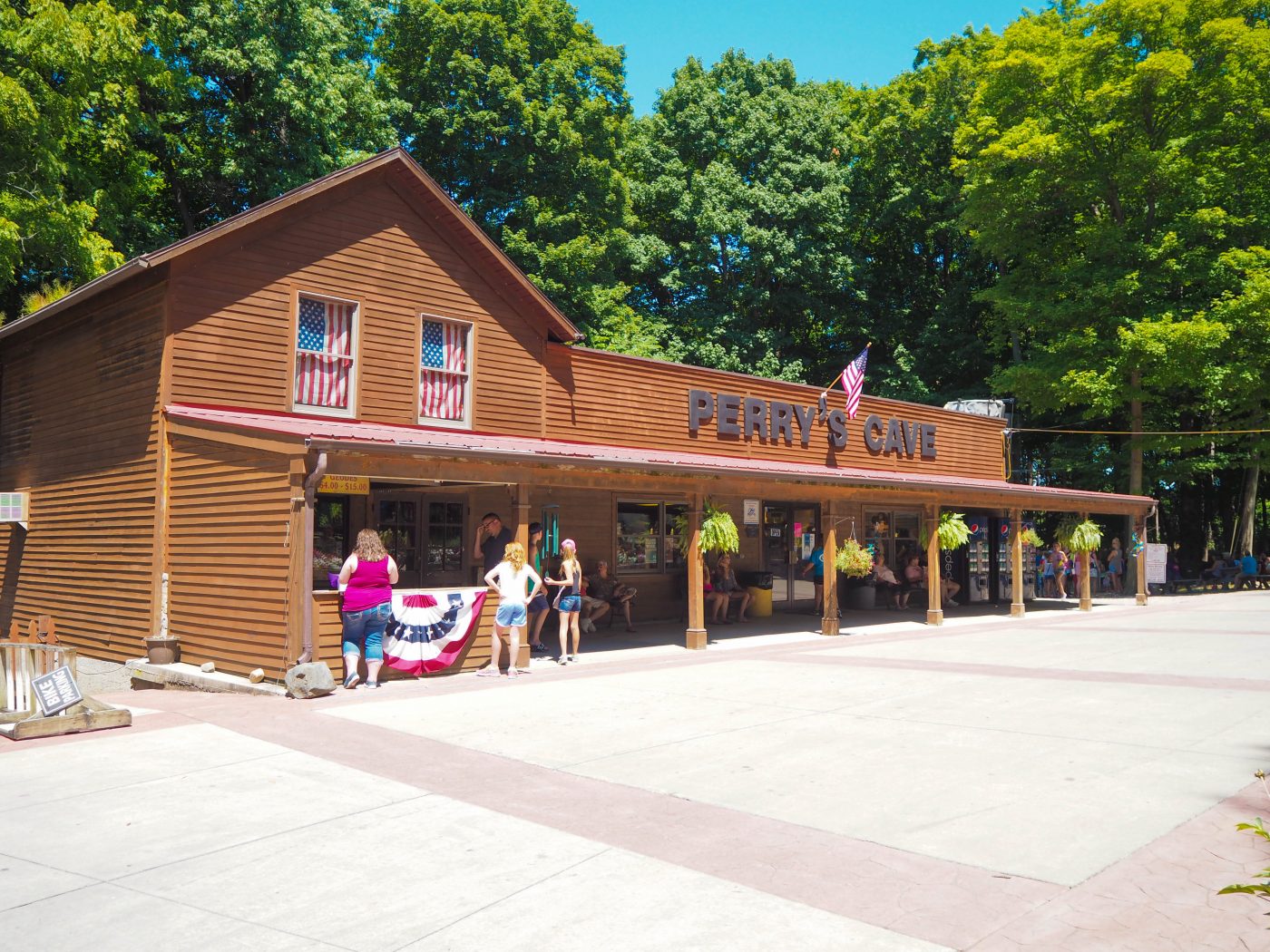 Liberty Aviation Museum
Sadly, we didn't get a chance to visit the Liberty Aviation Museum even though we had it as the first stop on our itinerary. We've heard many great things about it but totally missed out. We did however take in a meal at their Tin Goose Diner, which we highly recommend!
Liberty Aviation Museum showcases operational, historical aircraft and vehicles, including "Georgie's Gal", a WWII B-25 Mitchell Bomber, a U.S. Navy WWII TBM Avenger, PT-boat, and more. Witness the restoration of a 1929 Ford Tri-Motor and dine in the 1950s-era themed Tin Goose Diner. Museum is open daily, year-round
Marblehead Lighthouse
For me, this was the pinnacle of our trip. I love vast displays of nature – and Marblehead Lighthouse provided an amazing view of Lake Erie and the surrounding shores. Marblehead Lighthouse is a great location to pack a lunch and spend a few hours.
It was a very hot day when we visited, however, the breeze coming off the lake made that area comfortable, cool, and relaxing. The kids enjoyed climbing and playing on the rocks which lined the shore. We enjoyed watching them! Sitting in the shade, watching kids play, boats going to and fro – was a moment of relaxation I can't wait to revisit.
After a while, we climbed the 77 steps to the top of the lighthouse and took in Lake Erie's mammoth size. If you aren't fond of heights, perhaps that isn't the best activity – but it is an amazing view. If you do have trouble with the stairs, the volunteer staff on hand is very patient and helpful.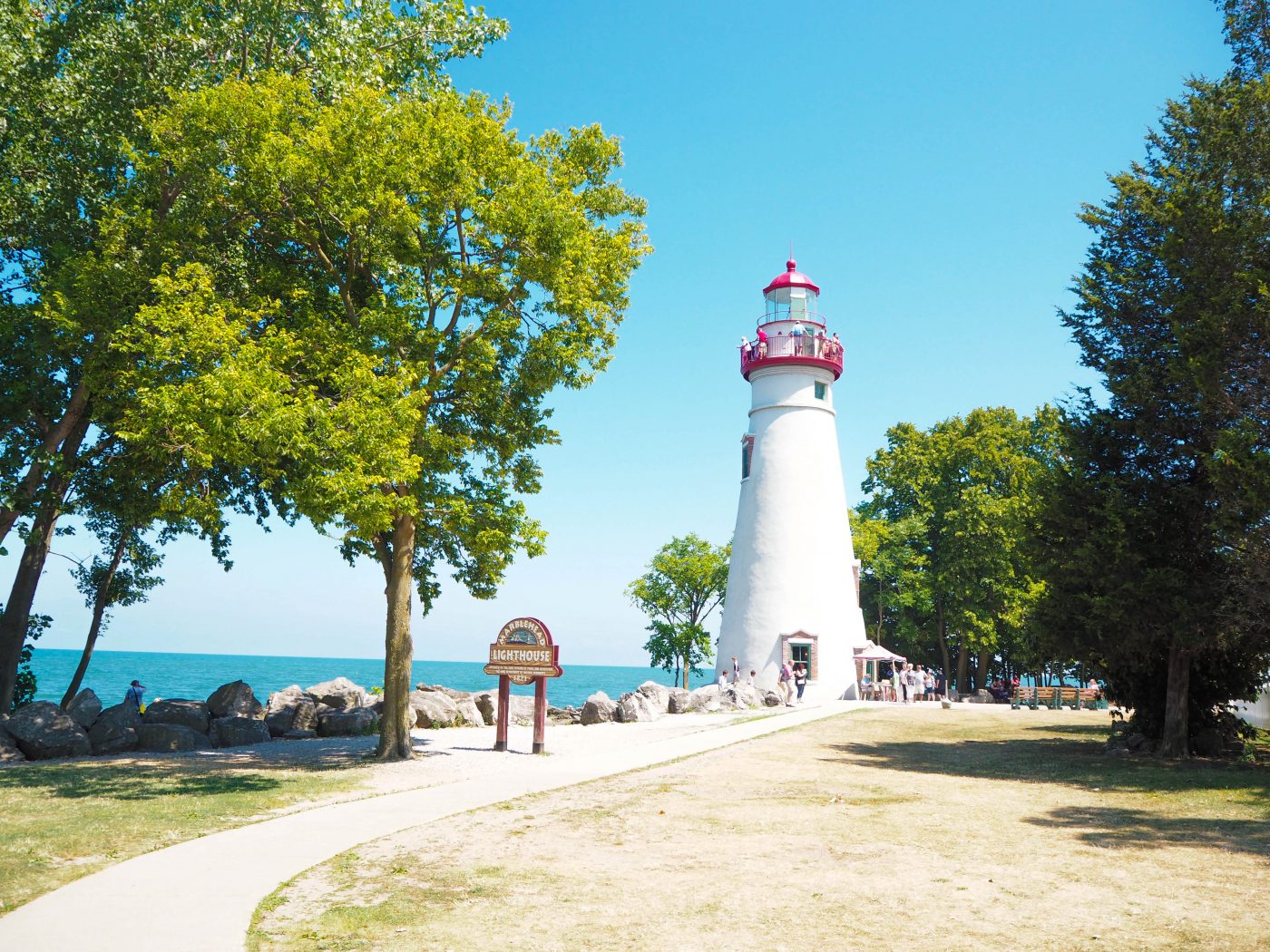 African Safari Wildlife Park
Love getting up close with a variety of animals? A trip through the African Safari Wildlife Park needs to make your list of things to do!
African Safari Wildlife Park is the Midwest's only drive-thru safari. Home to giraffe, zebra, and so much more! Get ready for a wild time feeding exotic animals from your vehicle. Stop by the walk-thru area for animal rides, shows, and pig races.
We so enjoyed feeding the animals that approached our vehicle and looking on at the animals that were not able to roam as freely. (Note that they are still in an enclosed area.) It's an incredible experience to not only see animals that you don't see on a typical day – and have the opportunity to fee them. Keep in mind that they are accustomed to being fed from vehicles – so the ones that are able to roam, will find their way to your car to greet you.
After your trip through the safari, be sure to visit the other animals waiting to say 'hello'! They had everything from an albino alligator to monkeys. We missed the pig race, just barely, but we did hear a crowd having a lot of fun watching the event.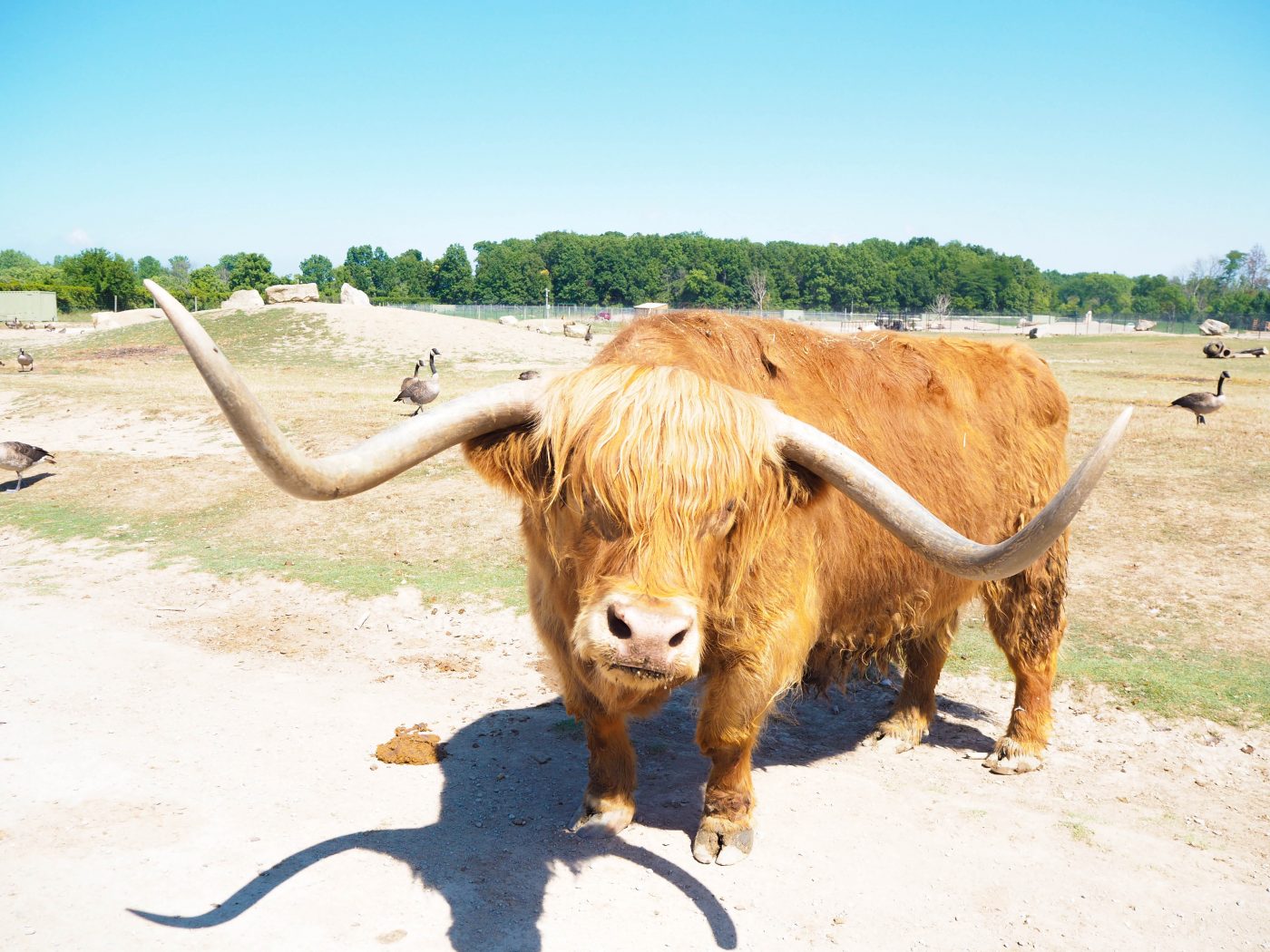 How to Get Around
Jet Express
This was quite an experience. There are a couple of ways to get to the islands, and Jet-Express was a breathtaking trip. Just as the name says – it is an express (fast) trip. The kids were amazed at the speed and we soared across Lake Erie. We saw so many island on our way to Put-in-Bay and were even able to catch a glimpse of Cedar Point in the distance.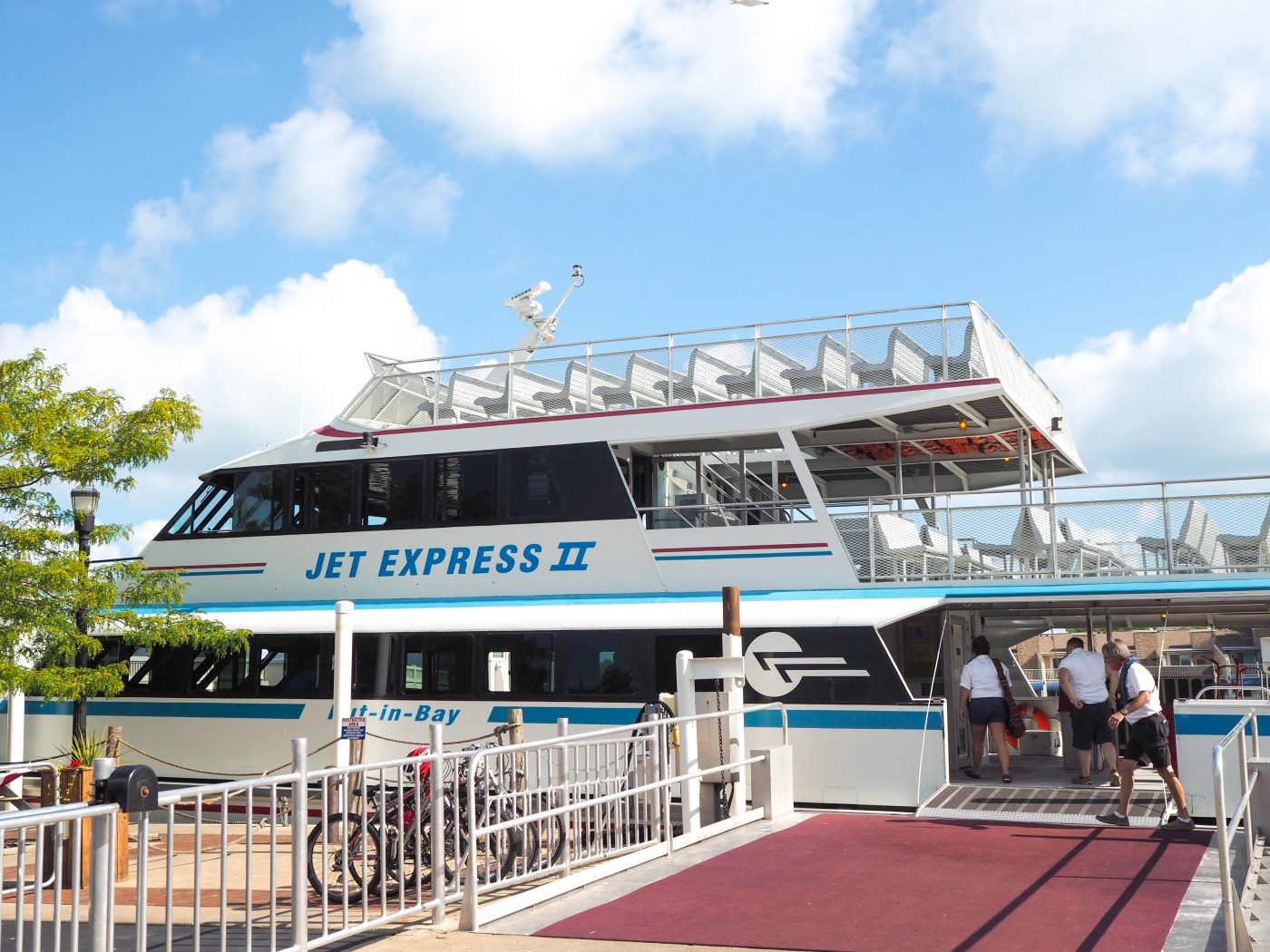 After arriving to Put-in-Bay, you're able to begin walking through the village or rent a golf cart to make your way around the island.
Put-In-Bay Tour Train
As soon as we arrived on the island, we walked to the Put-In-Bay Tour Train for a tour of the area. I'm so glad that we did that first since we had never been to the island and didn't know the layout. I'm always seeking out the history of destinations and this tour provided fun, historical information that you may not hear elsewhere.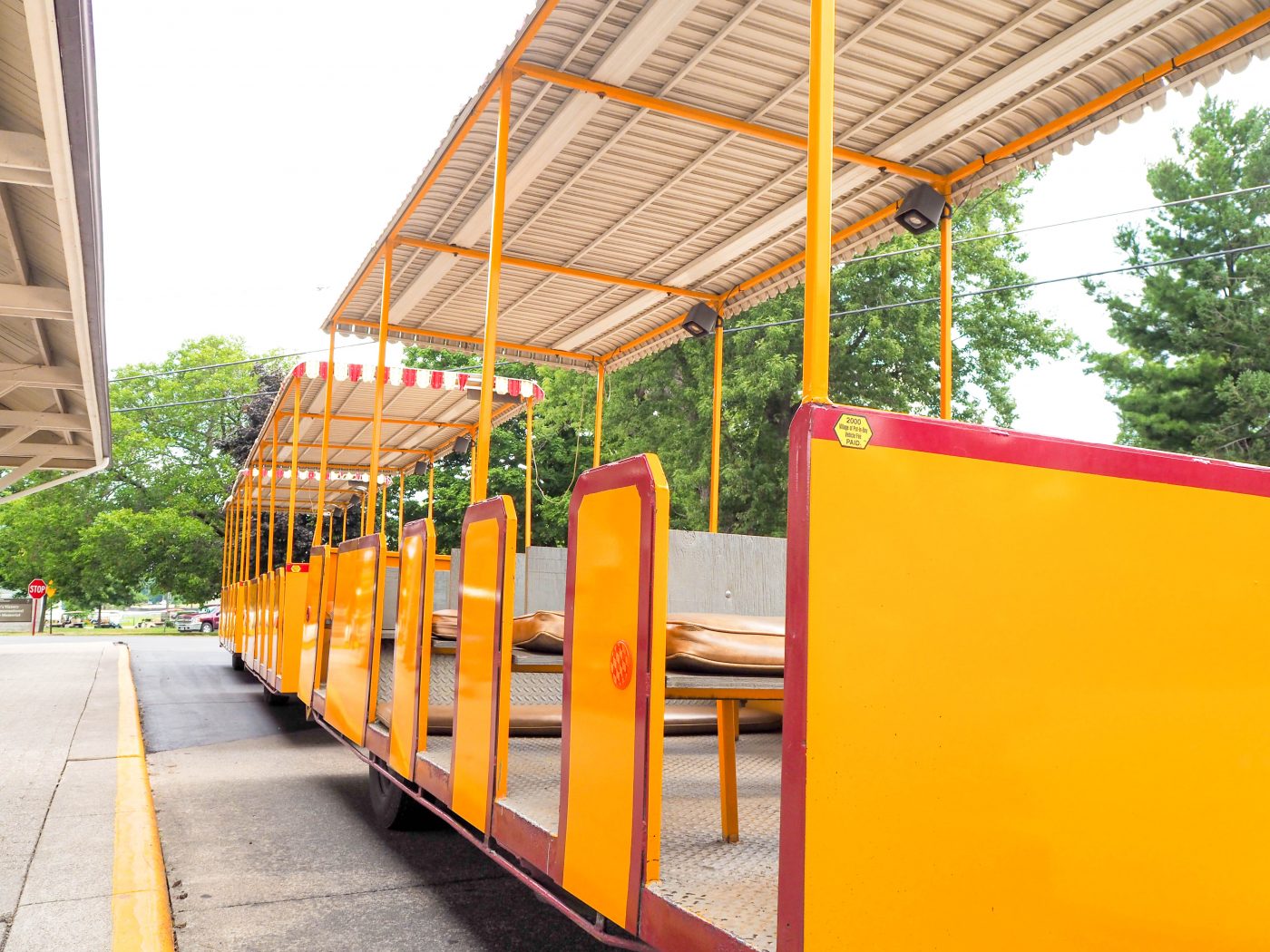 This is a must if you're new to Put-In-Bay! Once you're done with the tour, head to one of the many locations to rent a Golf Cart and head out on your own adventure. Or, head over to Perry's Victory and International Peace Memorial which is very close to the train's drop-off area.
Discounts
Get great deals and discounts around Lake Erie with the Lake Erie Shore Savings Card! Print and present your Lake Erie Shore Savings Card at local attractions, shops, restaurants and lodging accommodations to experience great savings while enjoying your Lake Erie vacation.
Dining
Tin Goose Diner
Our favorite meal on this trip was at Tin Goose Diner. It is perfectly matched with The Liberty Aviation Museum. The vintage diner was seemingly an experience in stepping back in time.
This diner is authentic, built by the Jerry O'Mahony Diner Company of Elizabeth, New Jersey, in the 1950's. It was originally operated as the Sunrise Diner in Jim Thorpe, Pennsylvania.
In reality, we didn't expect it to look so incredibly authentic. Be sure to head there early – it was a popular joint on the evening we visited.
Where to Stay
With the locations that were on our to-do list, the Holiday Inn Express & Suites in Port Clinton was a perfect choice. It was perfectly located for visiting Marblehead Lighthouse, African Safari Wildlife Park, and taking Jet-Express to Put-In-Bay. It offered breakfast in the morning – which the kids always seem to find fascinating. I loved that the staff was friendly, the accommodations were clean and the kids were able to enjoy several trips to the indoor pool after a day of sight seeing and exploring. You can find other great hotel accommodations based on your itinerary here.
Cedar Point Resorts: Though we didn't stay at a Cedar Point Resort this trip, they are always a great option. And there's a returning ferry option from Cedar Point to Jackson Street Pier. Check out the details here.
There's a seemingly never-ending list of fun for the Lake Erie Islands Region – visit a LES&I Welcome Center to help plan your trip and make the most of your time in the area.
Use the Ohio Lake Erie Shores and Islands Travel Guide to plan a vacation, weekend getaway or mini-break to Sandusky, Cedar Point, Port Clinton, Put-in-Bay and Kelleys Island. It includes travel tips, a map, a discount savings card and a Cedar Point coupon.
Hop over here to grab your Lake Erie Shores & Islands Travel Guide
Bloggy Moms was provided complimentary travel accommodations at various attractions and hotels listed in this article. All opinions are our own.
Would you like Bloggy Moms to feature your attraction? Please contact us here.
Content may contain affiliate links. This means that, at no additional cost to you, we may earn a little somethin' somethin' when you use the link to make a purchase.
Learn more here.
Would you like Bloggy Moms to feature your brand?
Contact us here.