This post may contain affiliate links. Read our disclosure policy
here.
Deals are current as of date and time posted.
Bridal showers are getting real cray, I hear. I talk to my friends in their early twenties about whats going on, and they are all "had to go buy my friend underwear for her bachelorette party last night…ugh" and I'm all "What in the H are you talking about?" and then they are like "For realzz" and I'm like "GIIIRL." This happens about twice a week.
I am over thirty. I got married a couple of years ago, but did I miss something? Underwear? ahem…lingerie from your friends?? so .. so .. weird..
So take it or leave it, I come from the old school. I had a crush on Leo as a kid. I loved *Nsync until Pop. Big League chew makes my mouth water to this day. R Kelly jokes were a thing when I was coming of age. You feel me?
Here is advice from the old lady who has been around the block.
"If it's cool with everyone, I'll just take some booze?" This is what I told my friends. I already had about 10 years to accumulate everything under $5 at IKEA, (which is just about everything) so I didn't feel like I needed all new kitchen appliances and aprons, and spatulas. I felt like I wanted something that really makes a house a home…. a bar… (at least that's the way people in their late 20's rolled a few years ago) SO my friends bought me bottles of liquor and wine that I otherwise wouldn't have been able to afford. The best part? I was able to share it with my friends whenever they stopped over.
Amazon registries are so smart. I know I have said it before, and I will say it again…Amazon is such a good place to buy gifts. Here is why..1) The price is right. 2)You can compare prices easily. 3)They have everything. 4)They have 2 day shipping. If you are the person who buys the gift the day before, drones are probably going to be able to drop the gift for you… SO SO SMART! (Disclaimer: some people think that it's tacky to do registries online. There is a school of thought that people want to be able to "go" shopping for your gift. Indulge them… set up a second registry at a brick-and-mortar.)
Register at multiple stores. Politics, greed, war, Wal-Mart…. At least that's what my generation thinks about when they think weddings. Target has taken a hit with certain demographics. It can get ugly. I steered clear of all that.. Amazon and Crate and Barrel… cause a girl gotta get some of that beatific crystal stufffffffffffff.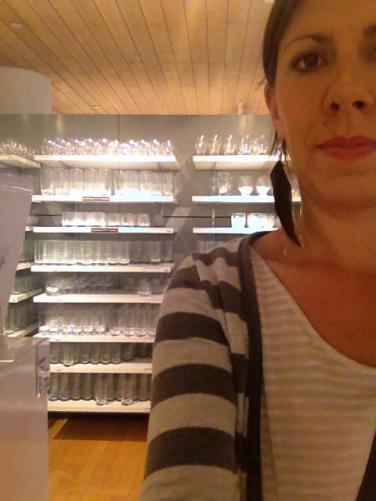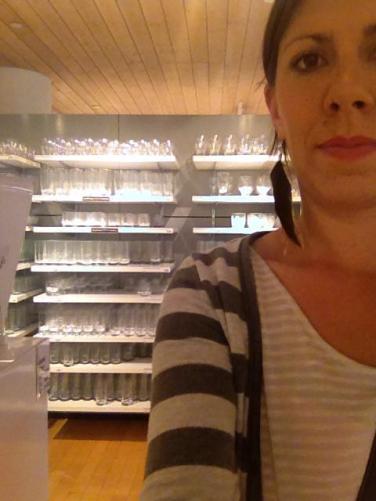 This is me loving Crate and Barrel. I didn't dress for the occasion, but I wouldn't put it past myself. Those stripes though…
Register for items across all price ranges.  It's just the right thing to do. I know that a group can all "go in" on a big-ticket item, but I know that I have gone to weddings when I didn't know a soul other than my +1 and the bride. Lord knows that I couldn't have afforded the KitchenAid mixer AND the travel/hotel AND the everything else costs. Good etiquette is having a range of items that most people can theoretically afford.
Don't forget about your outdoor kitchen… Camping! It is so easy to get that little laser gun in hand and start shooting at everything (AMMIRITE?) and the next thing you know it looks like Nate Berkus threw up all over ya house. It is important to remember WHO YOU BOTH ARE. Jay and I love to camp = we made sure to ask for a cast-iron skillet and a head-lamp.
Don't go crazy. Don't be unkind. People are giving you love, don't make them want to not.. ya know? Simple advice from the oldest millennial on the block. Take it or leave it.
Content may contain affiliate links. This means that, at no additional cost to you, we may earn a little somethin' somethin' when you use the link to make a purchase.
Learn more here.
Would you like Bloggy Moms to feature your brand?
Contact us here.