This post may contain affiliate links. Read our disclosure policy
here.
Deals are current as of date and time posted.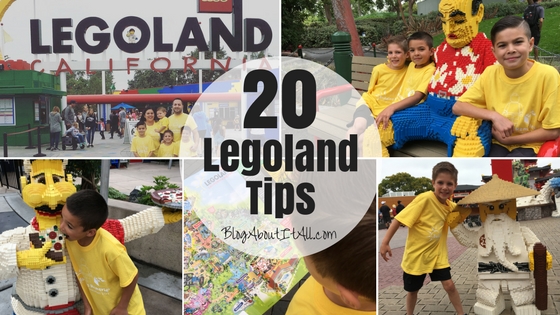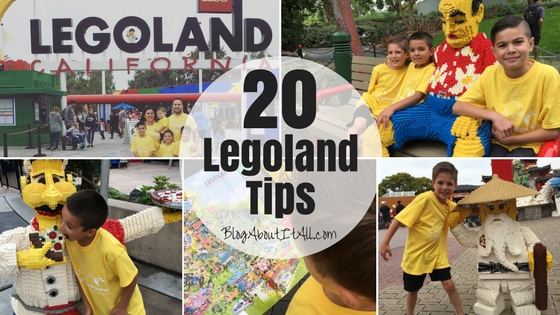 We recently visited Legoland CA in Carlsbad near San Diego, CA and I thought I would share 20 Legoland Tips to make your trip awesome!
1. Purchase tickets before you go, not at the gate. Check on-line for deals, use a coupon I have seen a couple different ones in the free Lego Magazine you can subscribe to, free child admission with a paid adult or buy one child get one free. I've seen Groupon Deals and if you are going to be in San Diego for a while, check out the San Diego City Go Pass Card, Get Away Today also has great packages.
2. Download the Legoland Mobile App which offers step by step navigation and enjoy the convenience of the FREE resort WIFI.
3. If you have a toddler check out Legolands What to do When You're Two article on their website.
4. Arrive early! At least 30 minutes early but I recommend an hour early, you will find close parking and not have to pay for preferred parking. Parking is $17, preferred parking is $25. You can get all settled with your photo pass wristband and even get a head start on shopping at the Big Shop, it can get crazy busy at the end of the day.
5. Purchase a Souvenir Cup with unlimited refills! The park has self-serve Coca-Cola Freestyle machines throughout the park.
6. Purchase the Photo Pass! It's only $35 and there are a lot of attractions that will capture your photo, as well as character meet and greets and photographers throughout the park. You will receive a wristband to link your photos to your e-mail.
7. Check your e-mail and photo pass account before you leave the park. If you have any photos you notice not on your account, you can visit the photo center before you leave near the entrance and they will find your photos for you.
8. Use Parent Swap! If you have kids that don't meet the minimum height restriction, this helps so both parents can enjoy the experience. All members of the party wait in line together. When you reach the front, let the ride operator know, when the first ride is over, the parents may then switch places and the other parent can then ride with the kids. A plus for the older kids they get to ride twice back to back.
9. Pick up a 1st Visit or birthday button as a FREE souvenir.
10. Bring Minifigures to trade with the staff. They wear Lego Minifigures on their name badges and will trade with you.
11. Pick up a map and know where to go. If you have older children start the park by going to the right of the park, if you have younger children go to the left. Another great tip is to walk all the way to the back of the park and work your way forward, if it's a crowded day most people start with the first thing they see you can avoid the crowds by going to the back.
12. Know the attractions and height restrictions. If your party likes the faster rides, go on those first. The lines tend to get longer as the day goes on.
13. Take time to play! There are so many areas for the kids to play, Lego building areas, sand box digging for dinosaur bones, build a Lego boat water play areas, gaming stations, and so many more. I know sometimes as a parent I feel like we paid money to enjoy the rides you can play in the sand box at the park. But letting the kids play and just enjoy is a nice little break for parents too, that is another benefit of Legoland I didn't feel rushed to go from one ride to the next, we let the kids play and then moved on to the next attraction. Kids love the little things, let them enjoy and you also get to rest a little.
14. Allocate time to really enjoy Miniland. There are so many details and they really are great works of art. I could have definitely spent more time browsing Miniland.
15. Shopping at The Big Shop or Minifigure Market? Visit the Big Shop earlier in the day; it is crowded when the park is closing. They have a package pickup service so you do not have to carry them around the park. Traveling to Legoland and have Amazon Prime? Here's a tip, browse The Big Shop, purchase your items on Amazon you can find the item easily by scanning the barcode, have them shipped to your home so you don't have to travel home with large purchases.
16. Prepare on getting wet! Bring a towel, or change of clothes if it's not a hot day. Even if you do not go to the Water Park, there are some splash areas and Pirate Shore area has rides that you will get wet on.
17. Heading to the Water Park? Bring sunscreen, sunglasses, hat, towels and Minifigures.
18. Definitely eat lunch in the park! Our kids get up ready to eat breakfast so eating before we enter the park is easy and economical. The park has a ton of dining options to suit all appetites as well as a lot of fresh and healthy options. They have new Beach Street Tacos coming to the Water Park this Summer so definitely plan on eating lunch in the park. Try their famous Apple Fries, the Churros with chocolate sauce are another one of our favorites and Gwyneth Paltrow recommends the Bao Bun from Ninja Kitchen in the Lego Ninjago World. The park closes at 6 PM so there is enough time to leave and a grab dinner outside the park. There are many food options nearby.
19. Visit Sea Life Aquarium! You can easily do this at the end of the day as you are leaving the park. It really is a nice aquarium, and cool place to hang out if it's hot.
20. Use #LegolandCa to share your photos with Legoland and followers!
Legoland has Surfers's Cove opening this Summer in the Water Park, they also have a NEW Castle Hotel planned for Spring of 2018. They frequently bring in new Lego creations, shortly after we visited I saw they had the life-sized LEGO Batmobile from Chevy made with more than 340k LEGO bricks. So if it has been awhile since your last visit it may be time to plan one soon!
Thank you for reading if you've enjoyed the content you've read above please share with your friends. BlogAboutItAll.com.
Content may contain affiliate links. This means that, at no additional cost to you, we may earn a little somethin' somethin' when you use the link to make a purchase.
Learn more here.
Would you like Bloggy Moms to feature your brand?
Contact us here.