This post may contain affiliate links. Read our disclosure policy
here.
Deals are current as of date and time posted.
Whether it's because of how life has changed due to the pandemic or you're simply not content with how your life is going, you don't have to stay in a rut. Even though it may feel like the days are endless, your responsibilities never stop demanding, and you can only handle so much as one person, don't give up on finding joy in your daily life. There are plenty of ways to boost your well-being and happiness, and you only have to put in as much effort as you want. Give the following 3 tips a try and see how much your life can change when you focus on the things that bring you joy.
#1: Practice Self Care
Too often, women put their own needs at the very bottom of their priority list. Over time, this can lead to burn out, feeling unappreciated, and losing your sense of self. However, you can prevent that from happening by practicing self-care.
Need some inspiration? Consider trying some of these ideas:
Take an hour a day to unwind by doing something you love (this could be drawing, reading, yoga, etc.)
Journal each night before bed to reflect on your day and progress towards your goals
Meet up with friends after work to catch up and blow off some steam (you could go to happy hour, take a walk in the park, get your nails done, etc.)
Treat yourself to shopping spree once a month when you meet goals at work or just need a pick me up
Invest in good skincare products and give yourself an at-home spa day; you'd be surprised how good a glowing complexion can make you feel
Pair one of these ideas with some of the very best CBD tincture and you'll be relaxed in no time. Keep in mind that there's no strict definition of self-care, it's about nurturing your own needs, so try a few things and see what works for you— it could even be something different every day.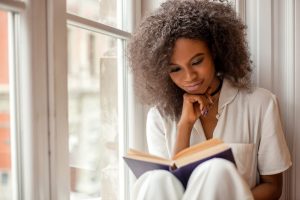 #2: Find Your Passion
Too many of us simply accept that we have to just work to pay the bills and put our dreams on hold until one day we have time for them. But enjoying your life shouldn't be a luxury.
To truly improve your overall happiness, one of the best things you can do is focus on finding your passion or purpose. This could be a change in career paths, starting your own side business, or even creating a blog where you talk about self-empowerment and start a community for other women.
Take the time to reflect on what you're passionate about, how you can incorporate more of that into your daily life, and make an action plan. Taking small steps can help you achieve your dreams, without overturning your life. After all, having the stability you've created is a great foundation for creating the life you want. Now, you just have to pivot. Soon you'll see how much more fulfilling life can be.
A Passion Planner is the perfect tool to help you find your passion and get organized. Set goals, establish a support network, and find ways to keep yourself motivated. It won't be an easy road ahead, but it'll be worth it.
#3: Work Out More Frequently
Working out is a great way to alleviate the stress of the day. In fact, exercise can have a significant impact on your overall mental health. That's because when you work out, your brain releases endorphins that make you feel happy. Plus, you get to relieve a lot of the physical stress and tension that's weighing you down.
Whether you already work out regularly or have let your fitness habits temporarily fall by the wayside, there is always room for improvement. For many of us, the reason we don't work out as much as we'd like is our hyper-busy schedules and constant commitments. However, working out should be a priority and it's actually easier than you think to fit it into your schedule if you're willing to get creative.
Take a dance or kickboxing class with your friends to fit your social plans and workout into one convenient time frame
Work out at home using a fitness app that has a variety of classes so you never get bored—try waking up 45 minutes early to check exercise off your to-do list before your day even starts
Pack your gym bag and take it with you in the morning so you can stop by the gym on your way home from work, then enjoy being home without having to leave again
Join a walking or running club like the Virtual Running Club, that way you have other people holding you accountable and motivating you
While you might dread working out at first, you'll soon find that you're feeling confident again and much happier overall.
Track Your Progress
Whether you try one of these recommendations or have your own ways of boosting your happiness that you want to try, it's important to take the time to track your progress. You can track your progress by daily journaling, checking off "tasks" from your calendar, or using your planner.
The reason it's so important to track your progress is because it can help you stay motivated on those days where it might feel like your efforts aren't really working. First of all, you'll be able to look back at the steps you've been taking to improve your happiness and you can reflect on how those efforts have worked out so far. Second, by making reflection part of your daily routine, you'll be more likely to stick with it.
Keep in mind that not every day on the journey to improved happiness and well-being is going to be a success. Stay focused on your long-term goals and small wins, committing to leading a more fulfilling lifestyle takes time and effort.
Finding ways to bring joy and fulfillment into your life, even when you are busy is essential. While you don't have to incorporate all three of these tips at once, you should prioritize your well-being if you aren't already and these are just a few ways to make that happen.
Content may contain affiliate links. This means that, at no additional cost to you, we may earn a little somethin' somethin' when you use the link to make a purchase.
Learn more here.
Would you like Bloggy Moms to feature your brand?
Contact us here.