This post may contain affiliate links. Read our disclosure policy
here.
Deals are current as of date and time posted.
If your family's schedule is similar to ours, packed and sometimes exhausting, then a toes-in-the-sand vacation may be just what you need to unwind. A beautiful shoreline with relaxing waves are an irresistible combination for us and we enjoy making lifelong memories along the coast. Myrtle Beach is one of our favorite family-friendly locations – and here are our top 5 reasons for bringing your family to this fun coastal city.
1: The Beach
This is, of course, the clearest of all reasons for planning a family trip to Myrtle Beach. Not much compares to a beautiful day on the beach, searching for shells and building castles with the kids. We enjoy packing a lunch along with our towels, toys, blankets and sunscreen to make an entire afternoon of it. Remember to bring water and stay hydrated during your day in the sun!
If you're even more adventurous – you may want to try parasailing, schedule a dolphin cruise, or a jet ski adventurd for an amazing ocean experience.
2: Local Dining
The local fare is enough to cause us to want to make a permanent move to Myrtle Beach.  Seriously.  The variety, quality and atmosphere of the local dining offers you the ability to experience something new during each meal of your trip.  Our visit to Myrtle Beach was just a short month ago – but we've spent many meals since that time wishing that we were there enjoying places such as Captain George's or Mr. Fish.
Captain George's specializes in Maryland-style and Outer Banks-inspired seafood. This buffet ranks as one of our favorites among the many we enjoy in that area. There is no shortage of great seafood buffet options in Myrtle Beach – but the atmosphere and location along with the number and quality of items available at Captain George's help it to stand out. It's located just across from Broadway at the Beach – which makes it an easy choice following an afternoon enjoying the shops and entertainment.
Mr. Fish is another great seafood option. We chose to visit this location based simply on the number of sushi menu items. Mr. Fish offers a family-friendly environment and wide variety of made-to-order seafood.  Everything from the hush puppies to the Baked stuffed jumbo shrimp and sushi was delicious! Tip, just say 'yes' to the hush puppies and honey butter! Yum! The casual and fun atmosphere made it a great choice to end a beautiful day spent on the beach.
More local dining that we recommend
Ultimate California Pizza: We're fans of local pizza eateries and love finding new pie favorites!  Ultimate California Pizza has several locations throughout the Myrtle Beach area and serves up "ridiculously good" pizza!  Voted "Best of the Beach" by readers of the Sun News, Ultimate California Pizza adds to their loaded pizza menu by also offering salad, pasta and sandwiches.  We recommend stopping by for the Jack Bread – Garlic bread topped with jack cheese, roma tomatoes and basil. Served with a side of their Ultimate Red Sauce – and the Big Kahuma – a monster everything pie!
One of their locations offers a family-fun game zone.!   Games, pizza, prizes combine for a great time!
River City Cafe: There are many places to find a great burger in Myrtle Beach and one of our top picks is River City Cafe. We LOVE the unique atmosphere and devoured the tasty, large burgers.
When you need a comfortable, no hassle place to go with the best burgers on the beach, it's River City Cafe. Rustic and fun, there's no better place to get that one of a kind, juicy, run down your chin, always made fresh burger. Never had one? There's no better time than right now, whether you are in North Myrtle Beach, Myrtle Beach, Socastee, Surfside, or Murrells Inlet, we have a location near you.
Bojangles: We realize that Bojangles isn't exclusive to Myrtle Beach – but this was our first taste! We had seen the billboards as we drove through South Carolina and decided to give it a try one afternoon when we needed a quick meal. Not only did we enjoy fried chicken, biscuits and fries – but everyone was so friendly and took the time to discuss menu items with us.
3: Entertainment
There are more entertainment options in Myrtle Beach than you'll likely have time to enjoy.  You'll find everything from shows and concerts to family putt-putt and go-karts.
Medieval Times:  We spent a fun evening at Medieval Times – cheering on our knight and devouring what we were told was 'dragon foot'!  Okay, it was a large portion of delicious chicken but we enjoyed the medieval twist on the menu item's names.  If you haven't yet taken in a Medieval Times dinner show, we highly encourage you to make reservations for your next Myrtle Beach trip.
Surrender to an age of bravery and honor and witness epic battles of steel and steed during our ALL-NEW SHOW. From ringside seats, discover a feast of the eyes and appetite with more action, more fun & more excitement than ever before.
As you thrill to a rousing live jousting tournament, marvel at awe-inspiring horsemanship and falconry, Medieval Times serves a four-course meal fit for royalty.
The Carolina Opry:  We were able to attend one of the incredible shows available at The Carolina Opry – and we enjoyed every minute of it!  They offer several entertainment options, The Carolina Opry, Time Warp, Thunder and Light, and The Carolina Opry Christmas Special.  We would have loved to had the time to observe every show – but we were thrilled to watch their show, The Carolina Opry.  The show is comprised of such amazing talent and skill – and we can't wait to visit again to view another show. 

If you only see one show… this is the one! The TCO Show has for nearly 30 years been thrilling Myrtle Beach visitors. The award-winning show blends two hours of high-energy music, comedy and dance! Highly acclaimed by The New York Times, USA Today, NBC Nightly News, and CNN, TCO is the only show to be named "Top Attraction in Myrtle Beach" by CNBC. TCO has won every major South Carolina tourism award including Most Outstanding Attraction and the prestigious Governor's Cup and is the only show to be voted #1 show for 30 years.
4.  Shopping & Attractions

I'm not sure why vacation and shopping go hand-in-hand. Yet, they do, don't they? While vacationing, we enjoy not only visiting local shops and finding unique souvenirs, we enjoy exploring shopping centers and outlets.
Broadway at the Beach: This was our first introduction to Myrtle Beach shopping a few years ago – and has remained a favorite location for us to frequent while we're in town.  It's easy for us to spend an entire afternoon at Broadway at the Beach and enjoy a leisurely dinner to end our day.
Year after year, Broadway at the Beach stands alone as by far the most popular tourist destination in the entire Myrtle Beach area. With its great location, convenient parking and wide range of outstanding activities for visitors of all ages, it's the perfect place to make magical memories of your own.
Barefoot Landing:  Another favorite, Barefoot Landing, offers a large variety of shops, dining and entertainment!  We highly recommend trying Greg Norman's Australian Grill while you're there!
Set along the Intracoastal Waterway and featuring a 27 acre lake, Barefoot Landing combines breathtaking scenery with an outstanding selection of places to enjoy day and night. Immerse yourself in the atmosphere of a quaint Southern shopping village.
Wonderworks:  This is absolutely one of our favorite attractions.  Wonderworks is a fun, family experience that is also educational – which we love!  Located at Broadway at the Beach, it's a convenient and great attraction to add to your must-do list!
WonderWorks is an amusement park for the mind with 50,000 square feet of "edu-tainment". The attraction combines education and entertainment with more than 100 hands on exhibits that challenge the mind and spark the imagination.
Wonderworks offers several zones to stimulate the mind, explore and experience.   The indoor ropes challenge and 6D Extreme Motion ride quickly became our favorite Wonderworks experiences.
Climb through obstacles three stories above the ground in the glow-in-the-dark Indoor Ropes Course, compete against opponents in a fast-paced Lazer-Tag battle in a black-lit maze, and experience the thrill of our new 6D Extreme Motion Ride XD Theater!
5: Hotels & Resorts
Regardless of how you prefer to vacation and relax – you'll find accommodations that fit your style.  This year, we enjoyed a fun week at Camelot by the Sea.  Our suite came with a gorgeous ocean view, two bedrooms, and full kitchen.  All of which were more than enough to comfortably spend all of our time at the resort or beach if that's all we had wanted to do during our trip.
For a home away from home in Myrtle Beach, stay at Camelot by the Sea. Our 231 suite Grand Strand hotel is the perfect vacation destination. Stay in spacious suites and enjoy the endless amenities and services at our hotel in Myrtle Beach.

This expansive hotel in Myrtle Beach offers studios and 1, 2 and 3 bedroom suites. Whether you are traveling alone or in a group, our different types of suites will serve your needs. Our oceanfront Myrtle Beach hotel is ideal for group travel, weddings, or other special events. Take the kids to the nearby Lost Mine Miniature Golf, or pamper yourself at the premier Awakening Spa. Whether you're enjoying a family vacation or a romantic getaway, Camelot by the Sea is the ideal destination.
Camelot by the Sea Includes:
Spacious Layouts and Very Home-Like Feel
Fully Furnished Accommodations
Premier Oceanfront Location
Conveniently Located Near Area Shopping, Dining, Live Entertainment and Golf
Fitness Center
Business Center and Wi-Fi in Every Room
Laundry Facilities
Convenience Store
Outdoor Snack Bar (seasonal)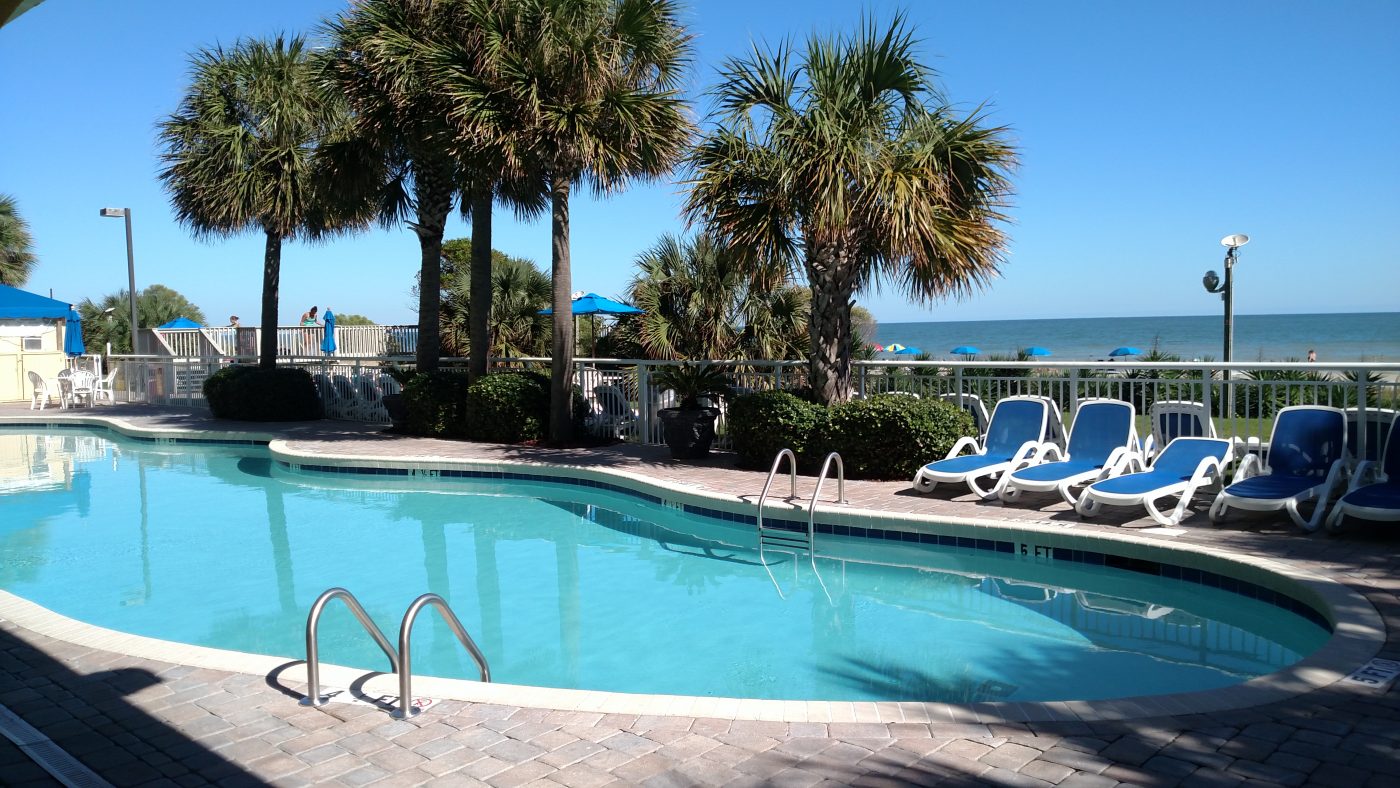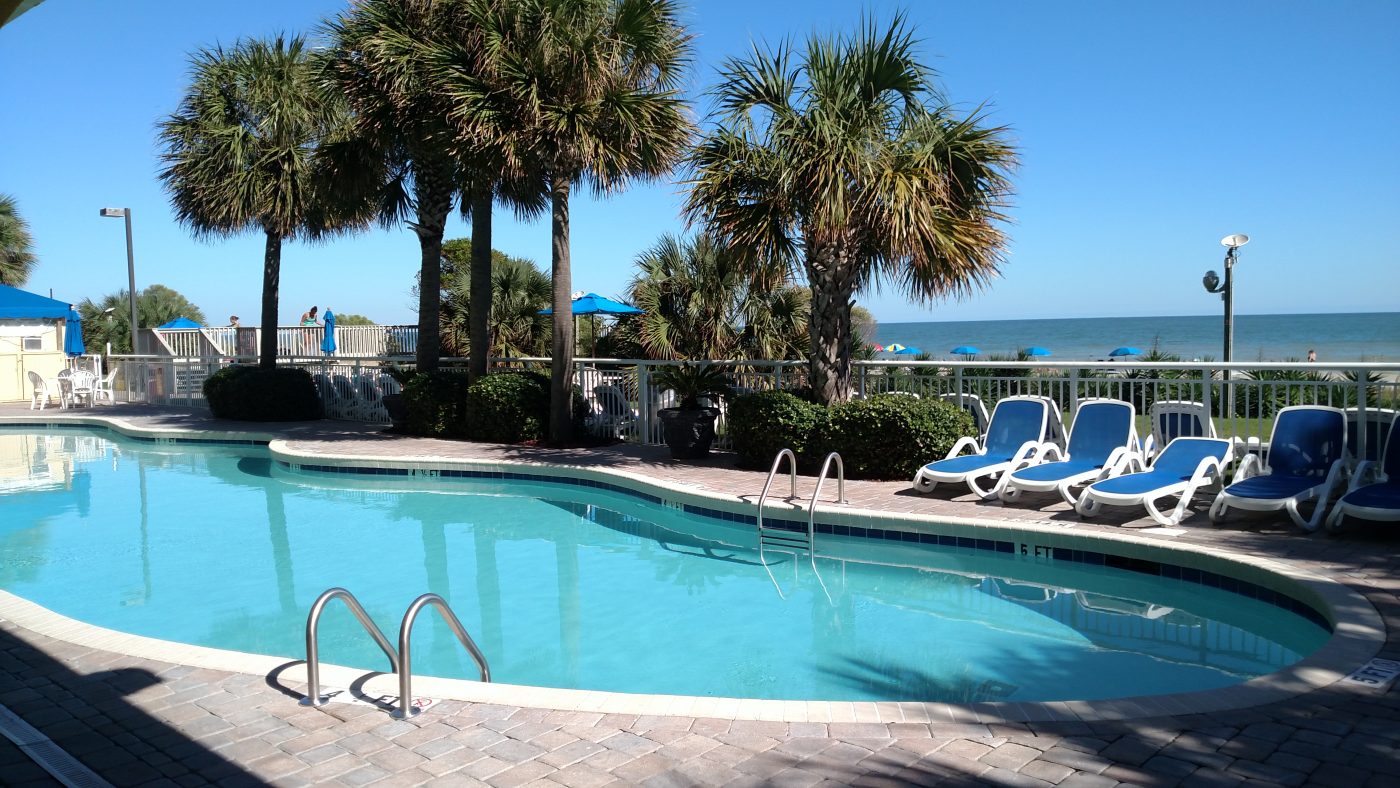 Located just down the beach from the boardwalk allowed us to easily walk to the pier to enjoy an ice cream and an even better view of the ocean as we walked out over its waves.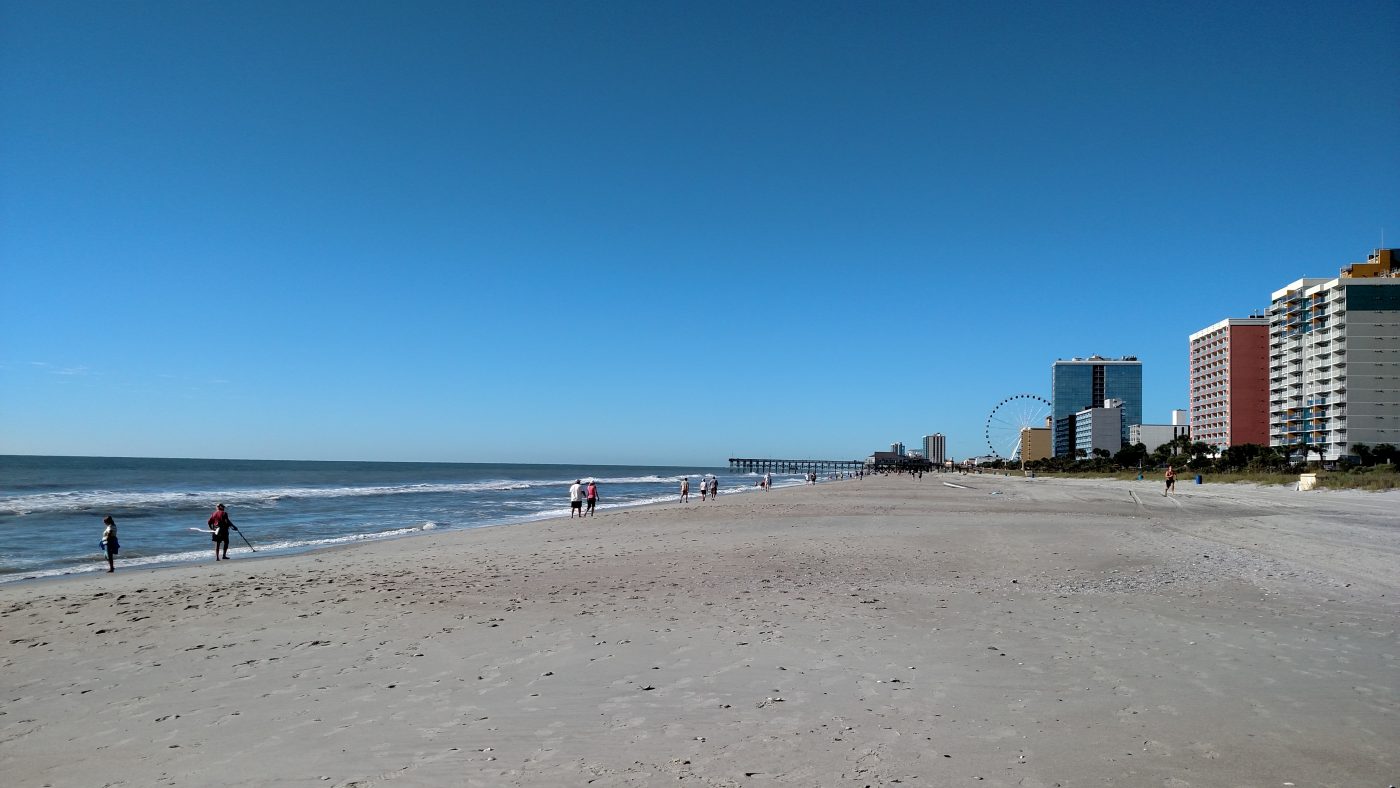 Would you like to have your location featured on Bloggy Moms?  Please contact us here.
Disclosure: Bloggy Moms was provided with a complimentary trip to Myrtle Beach. All opinions are our own.
Content may contain affiliate links. This means that, at no additional cost to you, we may earn a little somethin' somethin' when you use the link to make a purchase.
Learn more here.
Would you like Bloggy Moms to feature your brand?
Contact us here.