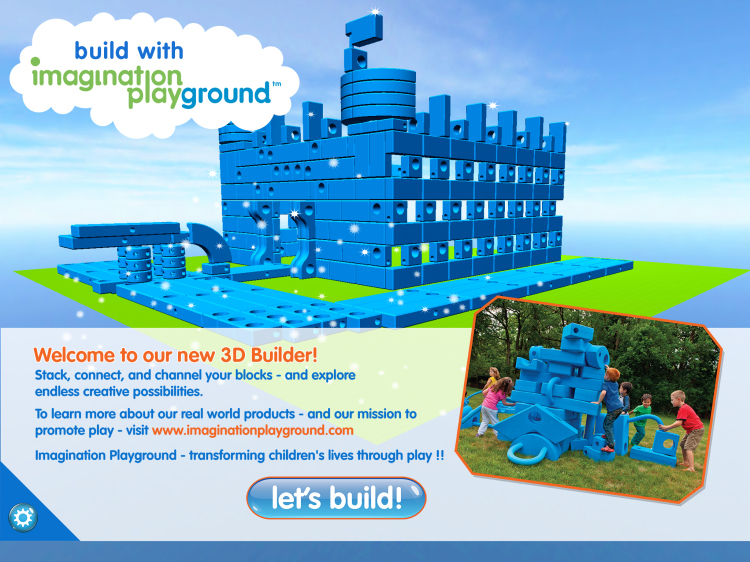 While visiting a local museum last month, we had a chance to play with and build using Imagination Playground's blocks. I think I was just as excited to see these – imaginative – blocks as my children were. They are so unique that they immediately caught our eye and lit our creativity. From vehicles to flowers, we had a fun time building together. In fact if we had the space, I'd love to add them to our educational toy collection. They are so great for the imagination. We're often browsing Priceminister looking for inventive and interesting toys and gadgets like these that spark the imagination.
WHAT IS IMAGINATION PLAYGROUND: Imagination Playground is an innovative playground equipment system that transforms any space — schools, children's museums, parks and recreation, daycare centers, camps, hospitals, churches — into a play space that encourages learning, social development, movement, and above all fun. Using Imagination Playground blocks, kids build a new world every day. They make objects like animals, rocket ships, and robots. They make imaginary places like houses, factories, and cities. They make new dramatic scenarios, settings, and games to play. Most important, they make the rules. Because Imagination Playground is child-directed and open-ended, it encourages self-expression through deep, joyful play.
We were very excited to find out that there is also a free 3D Builder App for Imagination Playground! We are able to create and build from our personal devices. Choosing from all of their standard block shapes, we're given a blank slate to begin fitting the virtual blocks together to create something amazing!
I love that they put the consideration into this app to make it 3D. That is so very important with this style of block. In life, these blocks are bigger than life and together create amazing wonderlands and worlds for children. There are so many shapes and designs, that seeing the full spectrum of your blocks and your design is very important.
So, build that castle and then take an aerial view of your amazing creation!
HOP OVER HERE to download the 3D Builder app to start playing! Or enter their Build-A-Thon! Read below for more information on how you can create and enter for a chance to win your own Imagination Playground set or a trip to New York City.
Build-A-Thon Challenge
Get Ready to Build!
Imagination Playground and their Partners in Play will provide an opportunity for children to build and create with our blocks — both physically and digitally.
The contest runs from March 20, 2015 through September 7, 2015
Over 500 Prizes Awarded!
Grand Prize: All expense paid trip to build at the legendary Imagination Playground Park in New York City — with close to 1000 Big Blue Blocks and a chance to build your dream come true.
A customized 105 piece Big Blue Blocks set for your home – or if you so wish, to donate to your favorite school or organization!
While in New York you will also meet the inventor of Imagination Playground — renowned designer David Rockwell.
1st Place Physical and Digital Build Winners:
A customized 105 piece Imagination Playground Big Blue Block set — and you will have your build featured on our global website.
2nd Place Physical and Digital Build Winners:
A customized 55 piece Imagination Playground Big Blue Block set — you will have your build featured on our global website.
3rd Place Winners:
500 winners will recieve a 50 piece mini playground — and, will have their builds featured on our global website.
Two Ways to Play!
Our BUILD-A-THON will allow digital building with our newly introduced Imagination Playground 3D Builder app
Or physically build with our Big Blue Blocks at local family centers, children's museums, discovery centers, science centers.
HOP OVER HERE for information and to download the 3D Builder app to start playing!
Content may contain affiliate links. This means that, at no additional cost to you, we may earn a little somethin' somethin' when you use the link to make a purchase.
Learn more here.
Would you like Bloggy Moms to feature your brand?
Contact us here.