This post may contain affiliate links. Read our disclosure policy
here.
Deals are current as of date and time posted.
Whether you're looking for Pigeon Forge cabin rentals or scenic Gatlinburg cabins with hot tub – you will want to check out these friendly and gorgeous properties presented by Cabins of the Smoky Mountains. "With over 340 rental cabins near Gatlinburg, Pigeon Forge, Wears Valley, and Sevierville, Cabins of the Smoky Mountains is one of the largest cabin rental companies in the Smokies."
I am especially excited to share this trip with you as it was a long-awaited opportunity to get out and to stretch out! After so much inside time in the last 12 months – getting to visit a cabin and expand out as a family — was amazing! It's something I'll also never take for granted.
Of all the adventures we've had – taking a spring trip to the mountains of Eastern Tennessee has become a favorite experience of mine.
There's something so amazing in the air that time of year. Not that the mountains aren't absolutely gorgeous during every season – but I love when everything is coming to life in the Smoky Mountains.
Best Gatlinburg Cabins with Hot Tub
We've stayed at several amazing places in the Gatlinburg area – but we always find ourselves checking on the availability at Cabins of the Smoky Mountains. Here's a fun look at the cabin we got to experience as a family on our last trip!
Our luxury rental cabins are deluxe mountain homes with features you'd expect at a 4-star resort.
Our trips to the Gatlinburg area are filled with a wide variety of activities. We enjoy everything from dinner shows, shopping strolls, touristy attractions like putt-putt and amusement parks to hiking, and picnicking high in the mountains. All of that is fun and can be very exhausting. We love having a full cabin to come back to – spread out, and relax!
And after this last year, exploring and spreading out is a top priority! This cabin allowed us to do just that. Between two balconies, a gaming area, two living room spaces, a kitchen, a hot tub, two-bedroom spaces, and two bathrooms – this was perfect!
Location
We do a lot of hiking and getting to relax my muscles in a bubbly tub on a balcony with a great view – feels amazing after 5 or even 12 hours on trails.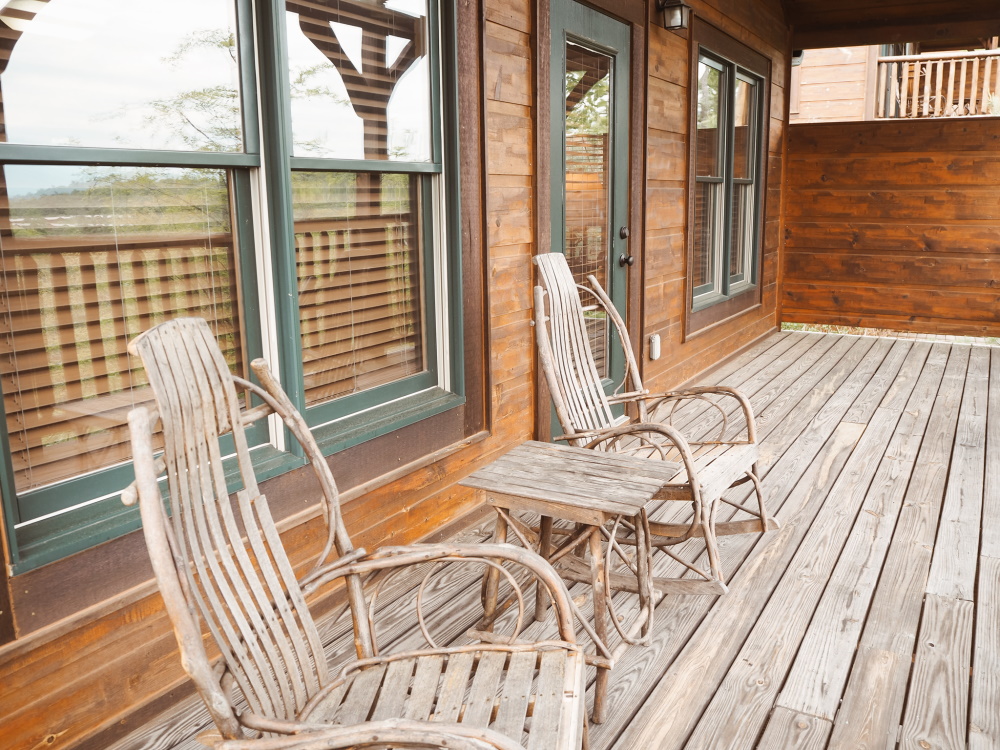 But the location of this specific property of Cabins of the Smoky Mountains is my favorite aspect. Just off the main strip of Gatlinburg, yet still nestled amongst the trees, their Gatlinburg Falls cabins have an amazing view of the mountains, and I didn't have to drive any steep and narrow roads to get there.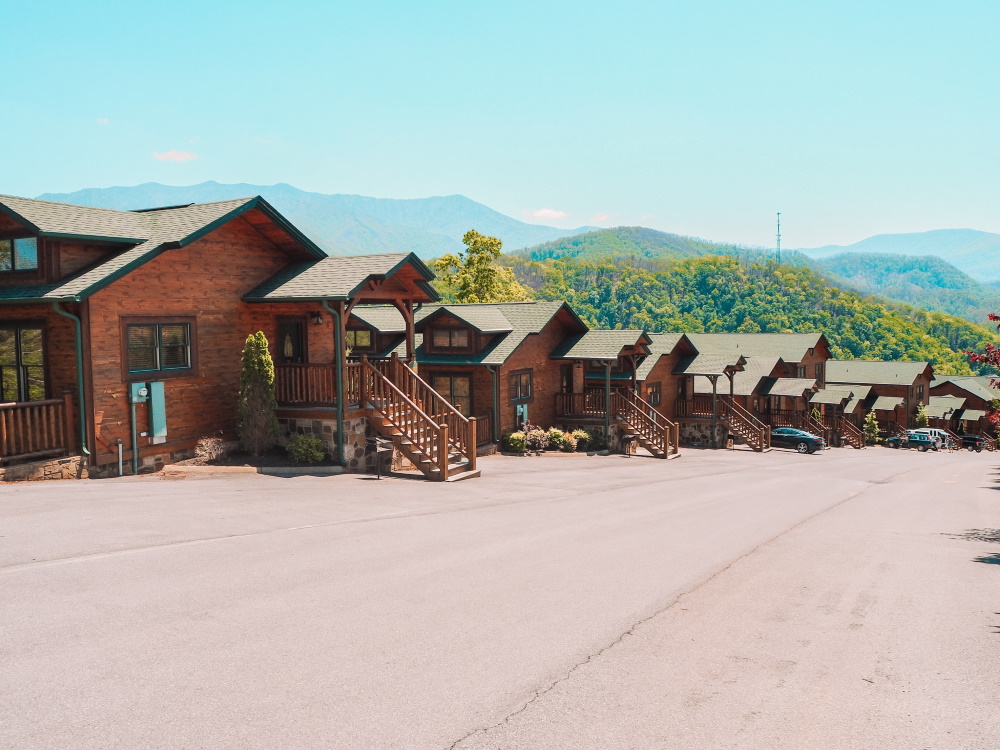 Not that I wouldn't do that, I do, but I know that not everyone enjoys long drives into the mountains to get to their cabin. So if you prefer an easier drive and a location close to the action, while still having a gorgeous view – you'll want to consider this property.
"What do you look for in a Smoky Mountain Vacation? Luxury, scenic views, privacy, top-notch amenities? Welcome to Gatlinburg Falls Resort, where you simply get it all."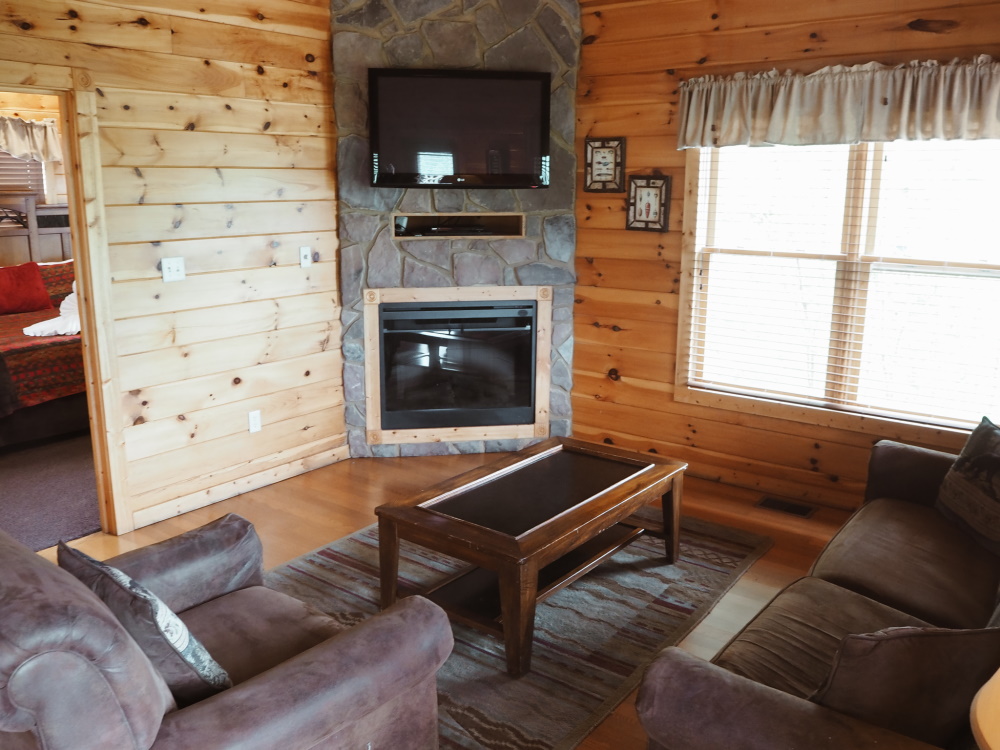 Did you know:  Gatlinburg Falls Resort was also rated the #1 Best Family Resort in the Smokies by Southern Living Magazine.
Full Amenity Cabins
One way of making your Gatlinburg getaway even more convenient – is by opting for a location that provides nearly everything. The cabins at Gatlinburg Falls Resort provide full-sized kitchens stocked with everything you'll need from coffee makers and toasters to pots, pans, and dining wear.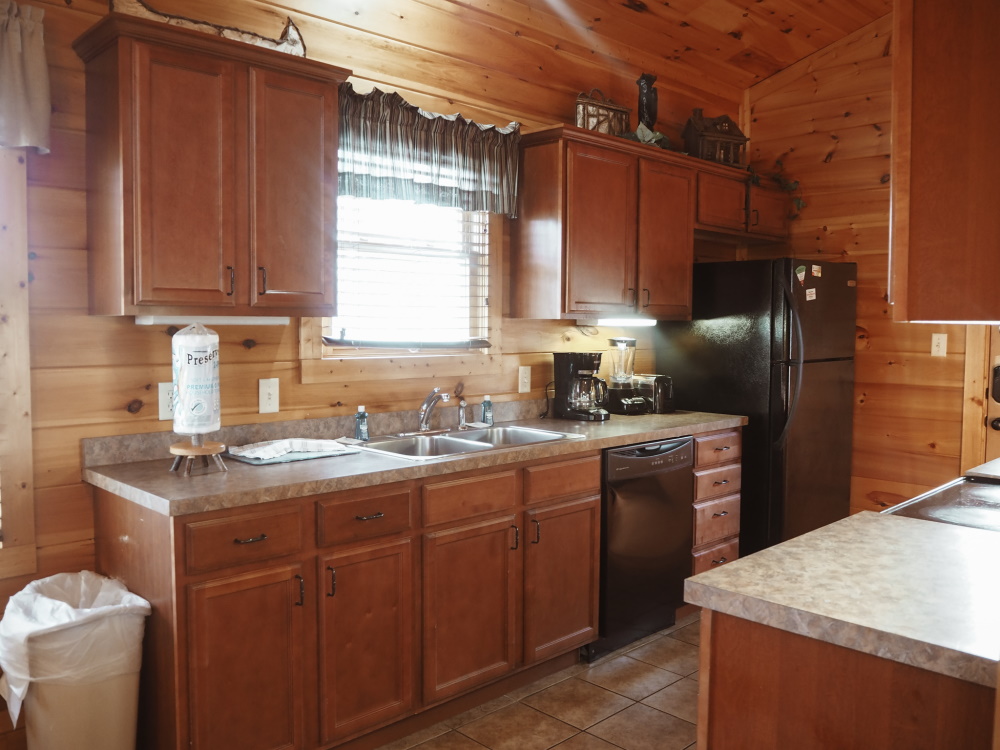 A wide variety of furniture in the cabins makes it possible to easily relax – just as if you were at home. Plenty of table space, seating, and bedding. This includes fun gaming areas – which our kids have always enjoyed and look forward to on every trip.
Hot Tub Time!
We each have our favorite aspect of the cabins, and for me, it's the hot tub. Oh, this hot tub! We did a lot of hiking through the Great Smoky Mountains National Park, and coming back to the relaxing view and soothing waters of the hot tub – absolutely made my trip!
It's actually the first thing we check out as soon as we check-in. Slide the cover off, and fire up the jets – for a nice hot soak after a long drive from our home. It has been a perfect way to launch into vacation and get our system in gear for a great week ahead.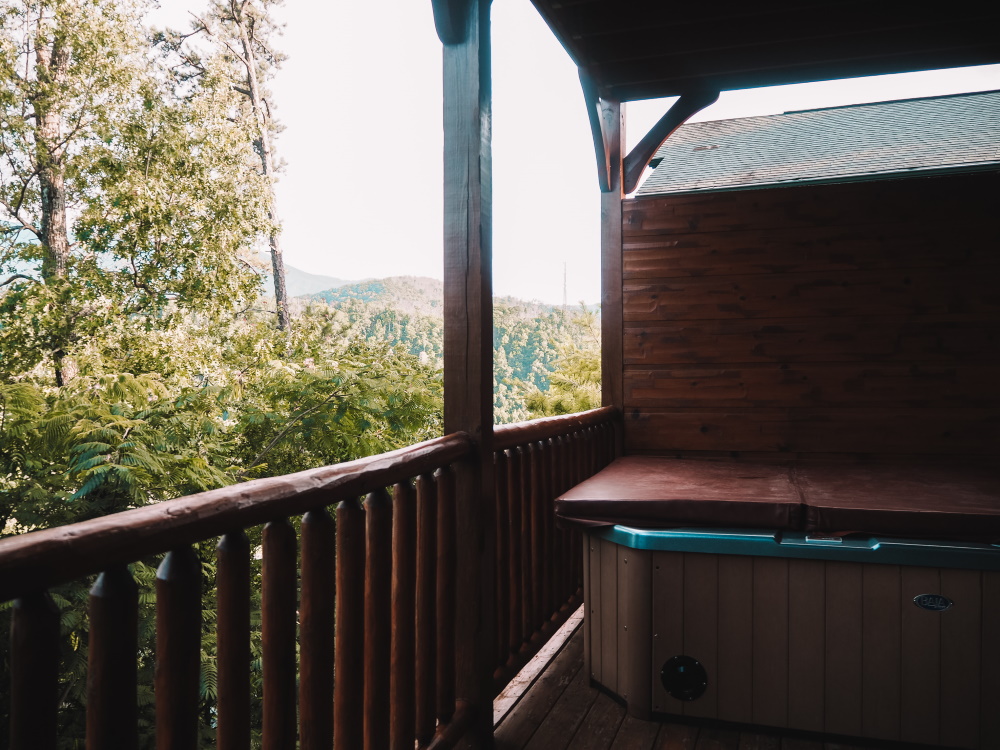 And, there's also nothing better than ending the day with a sunset soak. With a glass of sweet tea in hand and watching daylight slip into the evening, it's a beautiful way to say goodnight to Mt. Leconte off in the distance.
Balcony
So, each cabin has a gorgeous balcony where you can relax. The views of Mt. Lecont bring a sense of peacefulness and is a scene you'll be hard-pressed to find elsewhere in the area. Some of the cabins have more than one balcony – and that will just depend on how much space you are needing and how big your party is.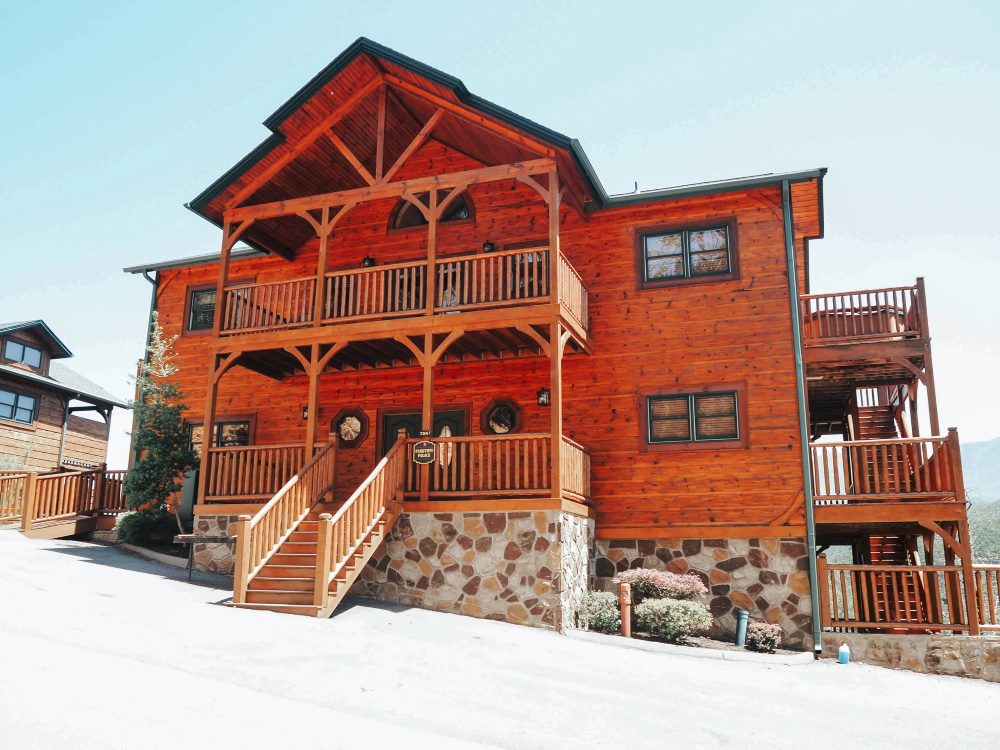 Did you know: they have cabins large enough to accommodate multiple families? They would also be great for wedding parties, company getaways, or a girls-weekend!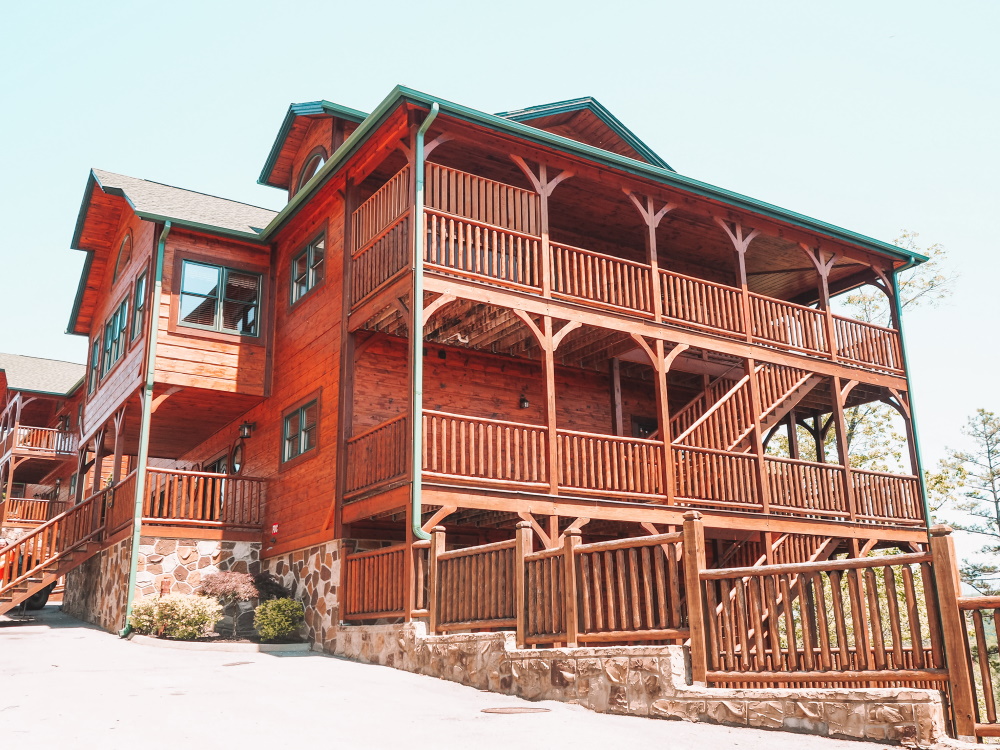 We've not yet visited with a party large enough to need one of these – but my fingers are crossed that I'll get to at some point!
You can view all their options here.
Gaming
Isn't this the cutest idea to include in the cabins? My kids can't get enough of the air-hockey, and pool table. And,the same is true for me. I feel like a kid again when we enjoy these games together. I still have a ways to go before I can win in a game against them – but I sure have a lot of fun trying to keep up with them.
I believe the games available may be a little different based on each cabin – but it appears that they all have the pool table and air-hockey.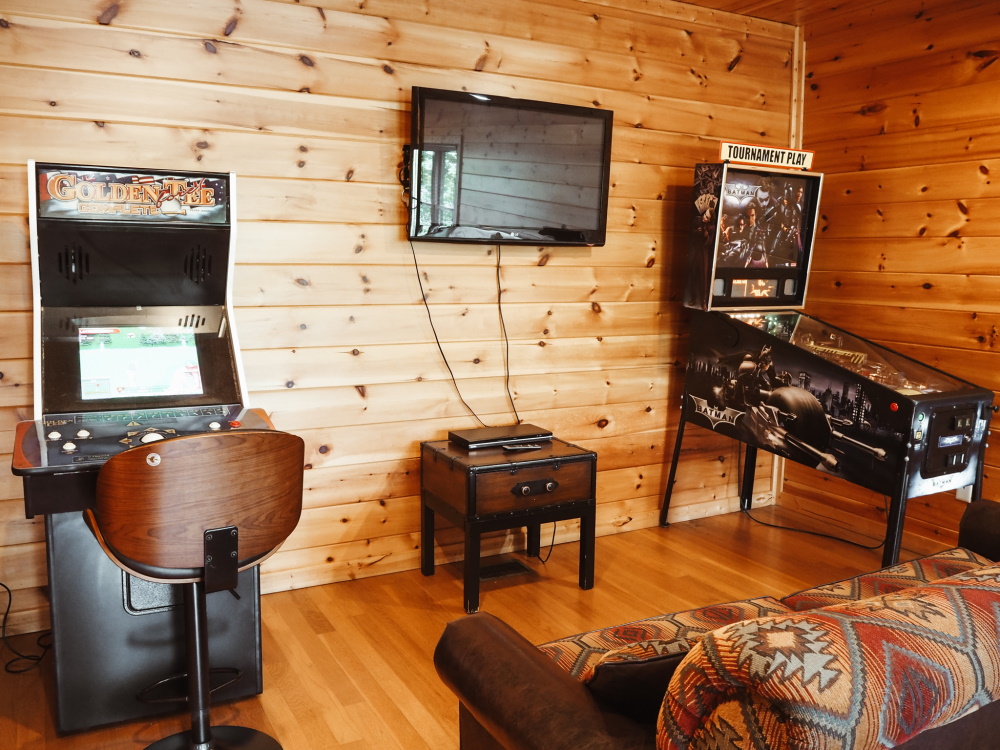 Isn't this a great bonus for those days that are rainy and you just can't get the kids outside like you had planned? No worries – stay inside and make memories with all of the games provided.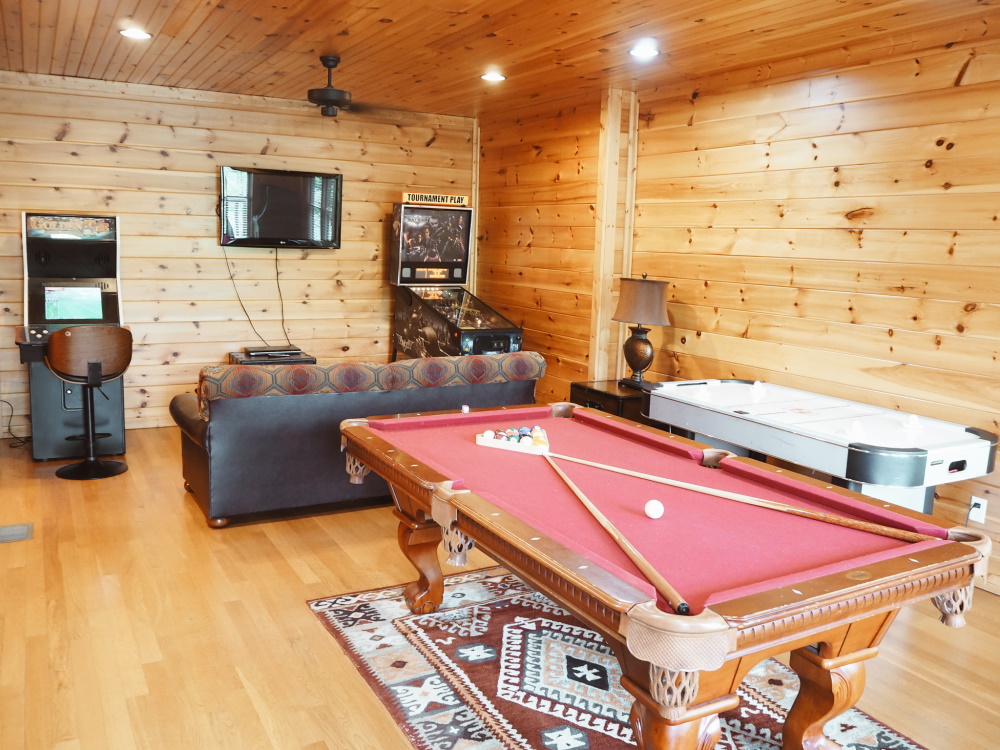 Bedrooms
Another part of getting to expand out, is having personal space where you can retreat. For the kids – their sleeping got to happen right in the room where they played. This was in the lower portion of the cabin. They absolutely loved being down there with all of the games in their "bedroom".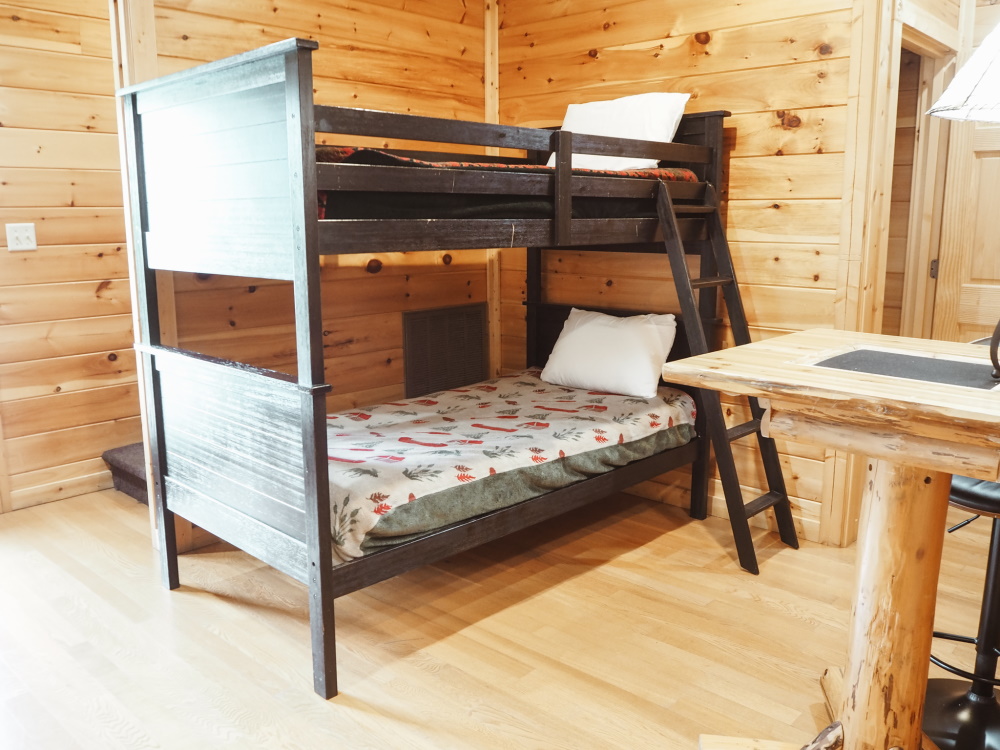 They also had the luxury of getting the jacuzzi in the bathroom just off of their gaming-center. But don't worry, I snuck down there to enjoy it myself! They gave me permission. 😂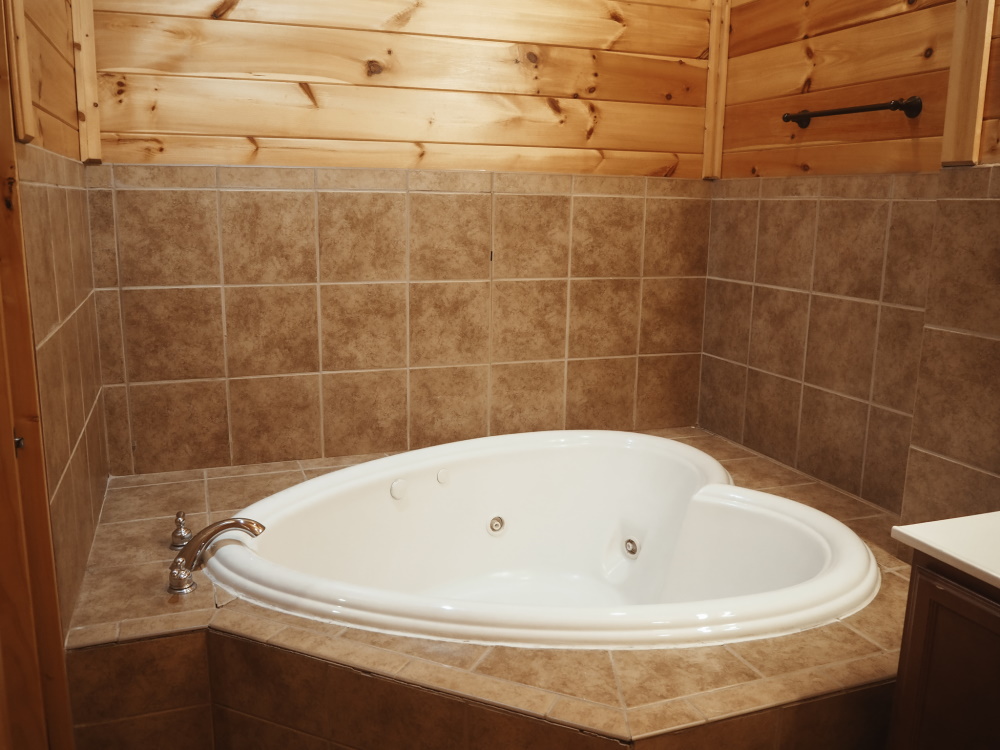 Our bedroom was just off of the living room. With a bathroom of our own and a large bed – it was just the space I needed to myself when I needed a moment of quiet away from the gaming and joyful laughter. But, it was hard to stay away from it for long. I just can't get enough of those moments.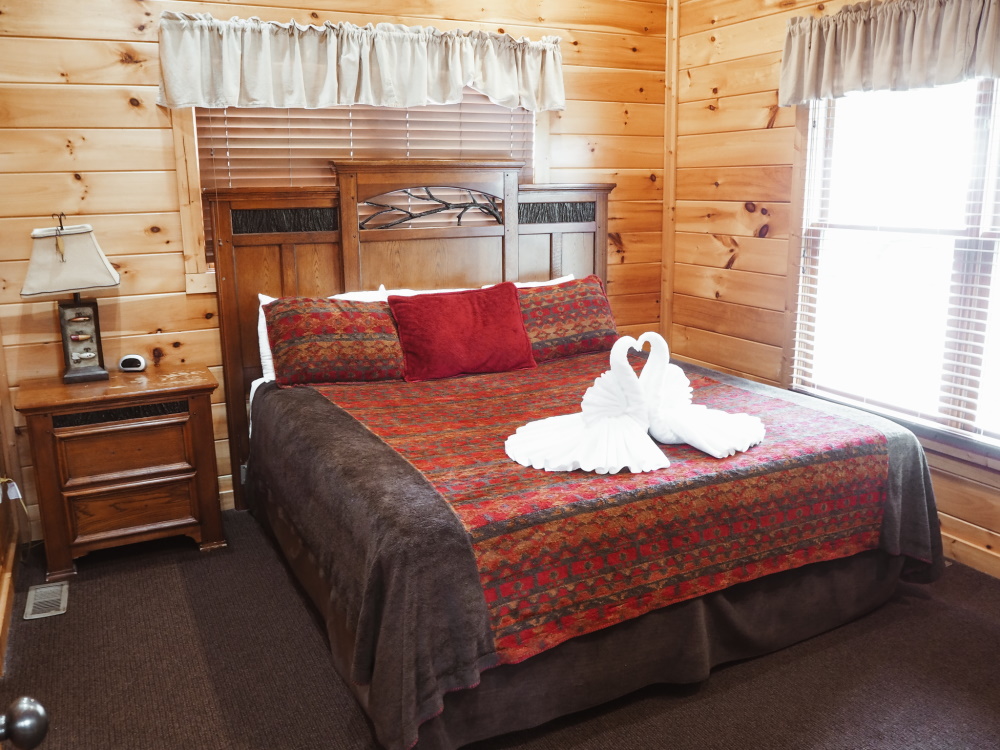 Cooking
Winner, winner – chicken dinner! This is always the area of a cabin that I thoroughly check out before we reserve our dates. Eating out is so much fun on vacation – and you'll find a stack of coupons when you arrive at your cabin – but sometimes we just want to relax with a meal at the cabin.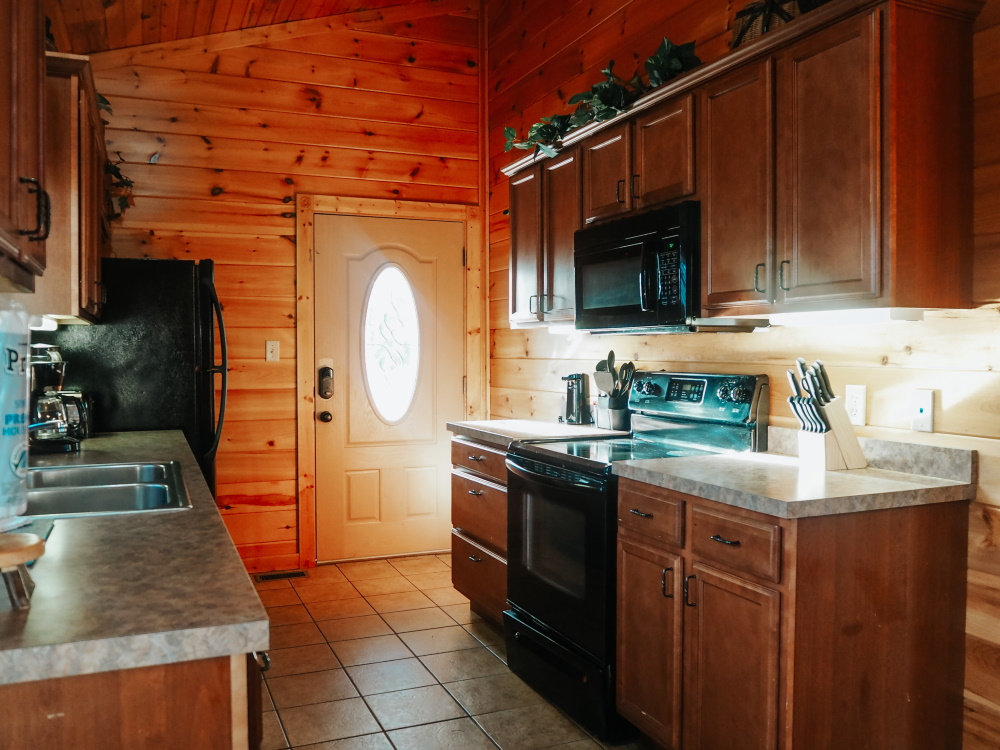 With a full kitchen, I can make absolutely anything that we would typically have at home. Especially our morning coffee. If you follow along on our adventures – you know that I make sure there's a way to have my coffee each and every morning.
Each cabin also has a charcoal grill out front for burgers, steaks, chicken breast, ribs, corn, etc… everything that you make on your grill at home.
A full-sized kitchen is great for when you're trying to vacation on a budget – because eating out can be pricey and really add up after several days. Budget in your dining-out, and enjoy a few meals in-cabin as well.
What's your favorite meal to make on vacation?
Exploring
We always look forward to getting out and seeing what's new in town as well as enjoying some of our old favorites. I love to dig through the coupon and discount packet that we receive as soon as we arrive at the cabin!
Whether you're in town for the mountain adventures or for a lot of time spent at attractions and shopping – this is an extremely convenient location.
So, they have cabins all over the place – but this particular location is my absolute favorite. It's close to downtown Gatlinburg and it's close to the national park entrances and trails. It is the best of all worlds for us.
Pet Friendly
Cabins of the Smoky Mountains is also pet friendly! And, they don't discriminate or penalize based on breed or size. So – bring along every member of the family.
Highly Rated
Cabins of the Smoky Mountains is a long-standing and accredited business with the Better Business Bureau and has earned its highest A+ rating.
Hop over to CabinsOfTheSmokyMountains.com to start plannning your next getaway! I hope your trip is as amazing as ours was.
Content may contain affiliate links. This means that, at no additional cost to you, we may earn a little somethin' somethin' when you use the link to make a purchase.
Learn more here.
Would you like Bloggy Moms to feature your brand?
Contact us here.