This post may contain affiliate links. Read our disclosure policy
here.
Deals are current as of date and time posted.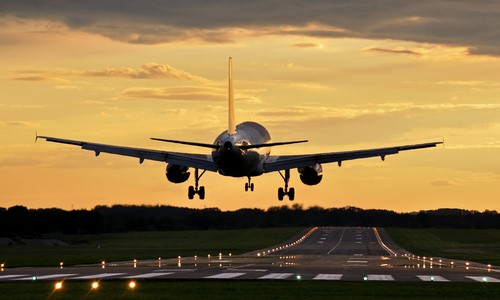 Preparing for an international trip requires a lot of preparation. You need to square away passports, visas, book flights and accommodations, pack your bags, register your trip with the U.S. embassy and so much more. It can be so overwhelming, that by the time you've boarded your last flight, you're ready to relax, and immerse in full vacation mode. To allow yourself to fully kick-back and relax, use this checklist of final tasks to complete before landing in a new country.
Inquire About Connecting Flights
If this isn't your final destination, consider inquiring about your connecting flight with one of the flight attendants. If you're in an unfamiliar airport with only a limited time to make a connecting flight, ask the attendant if they could direct you toward the correct gate or look-up any potential delays or cancellations for your flight. If you're really cutting it close, ask the flight attendant to assist you and your party in deplaning before the other passengers to ensure you make it in time.
Clean-Up and Organize Your Belongings
If you're flying international, chances are you've gotten fairly comfortable on your flight, perhaps sprawling out some of your belongings and digging into your carry-on baggage overhead. Before the seatbelt sign goes on, gather your belongings and organize everything back into their respective bags. Place your carry-on baggage back in the overhead bins and be sure to look under your seat and in the mesh compartment so you don't leave anything behind.
Close Any Food/Drink Tabs
If you ordered any additional food or alcoholic beverages or purchased any items off the SkyMall shopping catalogue, make sure to close out your tab with the flight attendant before the flight begins descent.
Gather Your Documents
If you're reaching your final destination, you should be preparing to go through immigration, customs and possibly some form of security. They're going to need your passport, any required visas and a landing card. They could also ask for proof of your accommodations, departure flights and immunization records, if necessary. Keep everything in one place and don't forget to cross your t's and dot your i's.
Turn-Off Your Personal Entertainment Center
When you're preparing to land, find a good spot to stop your movie or television series and power down your personal entertainment center. This will help you focus on preparing to land and your movie or TV show won't be disrupted abruptly.
Check-In On Family and Friends
Once your personal checklist is squared away, check-in on your family and friends to ensure they're going through their checklist. Help your family fill out landing cards, put away carry-on baggage overhead and double check they've gathered their items. If you have T-Mobile, take advantage of Gogo in-flight internet and inform loved ones back home that you're about to land or inform anyone you might be visiting that your plane is about to land.
Buckle-Up and Prepare for Landing
Last but not least, pay attention to the signs and verbal commands to fasten your seat belt, bring your chair in the upright position and put away your tray table. Remember, this is for your safety and buckling up can't be emphasized enough. Once everything is checked off your list, lay back, relax and prepare for a smooth landing and the vacation you deserve.
Content may contain affiliate links. This means that, at no additional cost to you, we may earn a little somethin' somethin' when you use the link to make a purchase.
Learn more here.
Would you like Bloggy Moms to feature your brand?
Contact us here.