This post may contain affiliate links. Read our disclosure policy
here.
Deals are current as of date and time posted.
My small boys and I love to create. However, our supplies were in multiple locations: the "activity" closet (for the kids), the office closet, a spare kitchen cabinet (for craft cast-offs), and the upstairs craft room (or walk-in closet with shelves I designed to be a "creation station"). But when the lightning strikes and a maker wants to make, ya just gotta dive in! #makersgonnamake No pint-sized creator wants to go hunting down supplies when brilliance strikes, so I had what seemed like an inventive idea. I would round up age-appropriate craft supplies and activities to keep them in this new-to-us cabinet!
The Creation Station
This teal and blue cabinet was repainted by my step-mom who used a paint technique called Bermuda Blending that she wrote about last week in her guest blog post here. I was quick to load up the striking, utilitarian piece at Christmastime and bring it back to this perfect spot between our breakfast nook and our kitchen. Although, at first I didn't have any short- or long-term plans for its use (I just loved the piece and how it turned out!), it didn't take long till I had just the idea. Ooooh….form and function! Look at me making improvements! 😉
Inspiration
The boys and I always do our crafts and activities at the dining table, and I always have to round up the items first and then put them all away in dispersed locations. If I can keep most of their craft supplies in a creation station right next to the table, we can easily grab what we need beforehand and put it away after. And the other nice thing about having all the supplies together is that in a couple weeks' time of having the creation station set up, my preschooler's imagination and excitement for "activity time" has grown immensely. And he already loved it before, so you can imagine what that says! He is inspired by the markers, crayons, stamps, construction paper, funky-cutting scissors, brushes, Play Doh and so much more! [Don't believe me? Just watch his imagination run wild on my Instagram and Snapchat Stories each day!]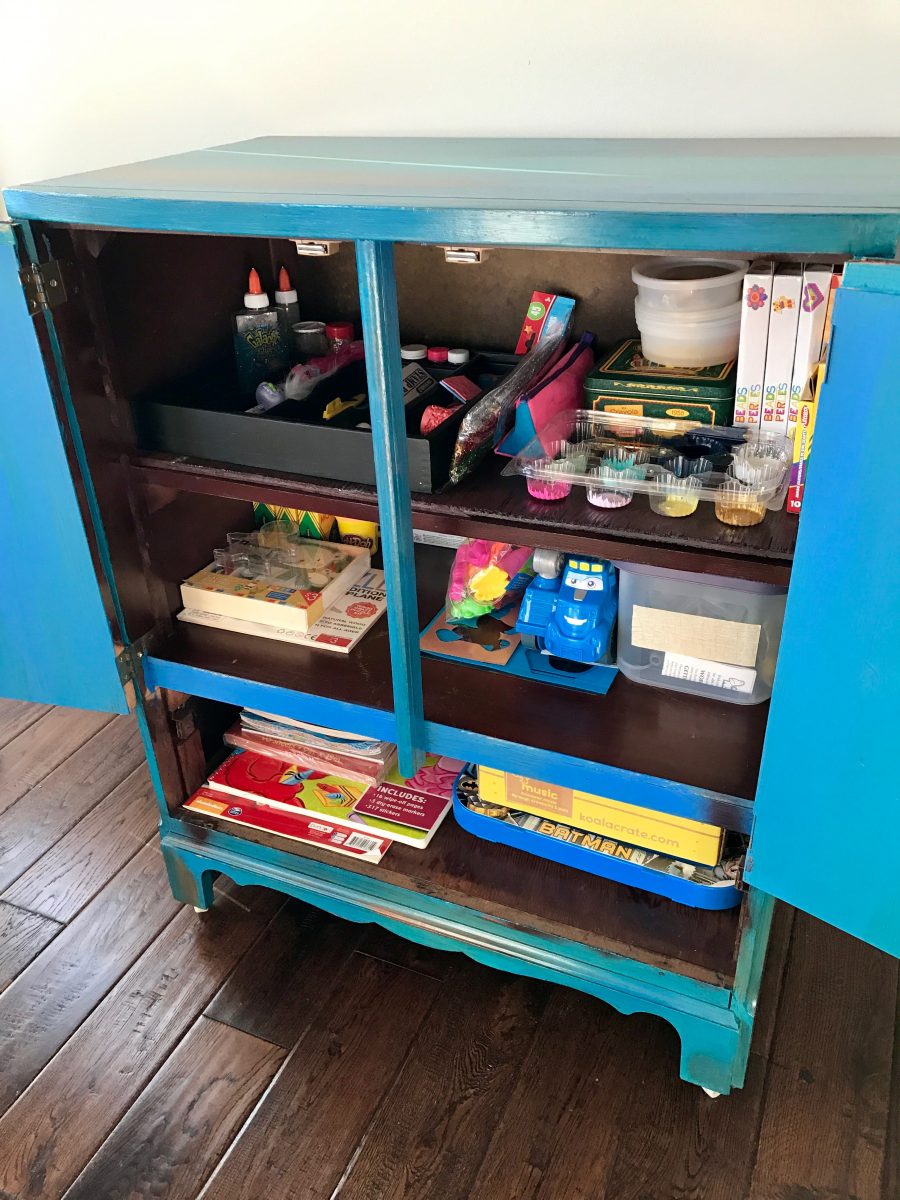 And I beam with pride when I see that my hoarded kiddie stamp/stamp pad collection, stickers, modeling clay, multi-color toothpicks, stencils, sand art and more from my childhood gets to be enjoyed with my littles.  Although I cannot figure out for the life of me why all my glitter glue from the 90's went ahead and dried out on me. 😉  No, I didn't need to keep all that I did from when I was a kid, but since it all fit in a contained spot and (most) was still good all these years later, I'm good with it. 🙂  I'll just teach my kids not to worry about saving their supplies! For more on my desire to use up what I have and save less for a rainy day, click for some embarrassing examples of how I'm working to "spend out". #spendout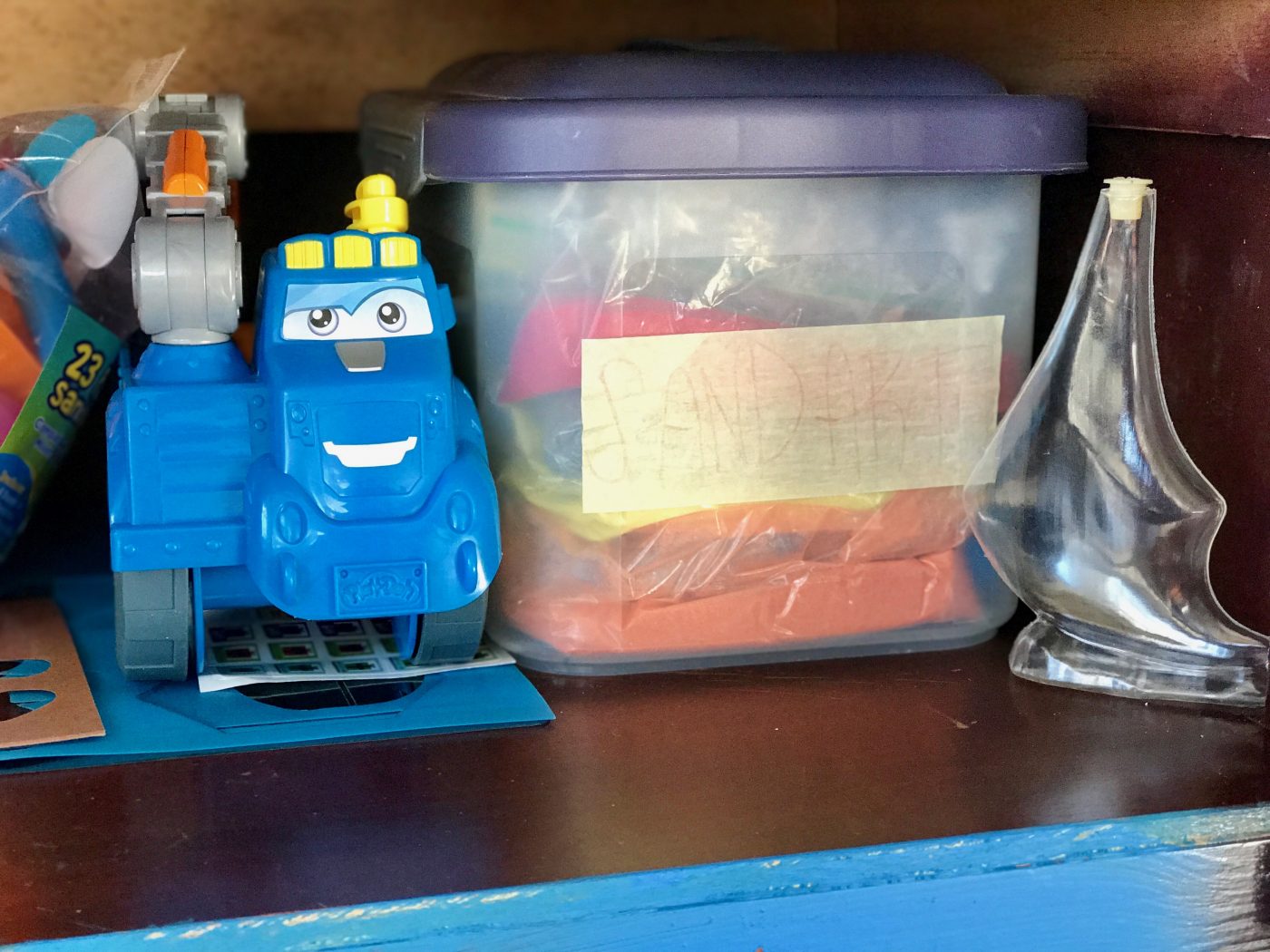 Organization
When gathering craft supplies from my creation station upstairs, I was like a little squirrel collecting acorns. It was so thrilling to see how many things I could take from that space and move it to my kids' new zone!  Speaking of spending out, I even got to repurpose a spare black utensil tray that I had been harboring for craft organization since our move a couple years ago… It is finally serving it's secondary life purpose as a craft supply holder! [I can tell you're wondering when you look at the picture below, so here's your answer: No, those are not my Troll pencils from when I was little; those are Happy Meal toys from a road trip. Lol!]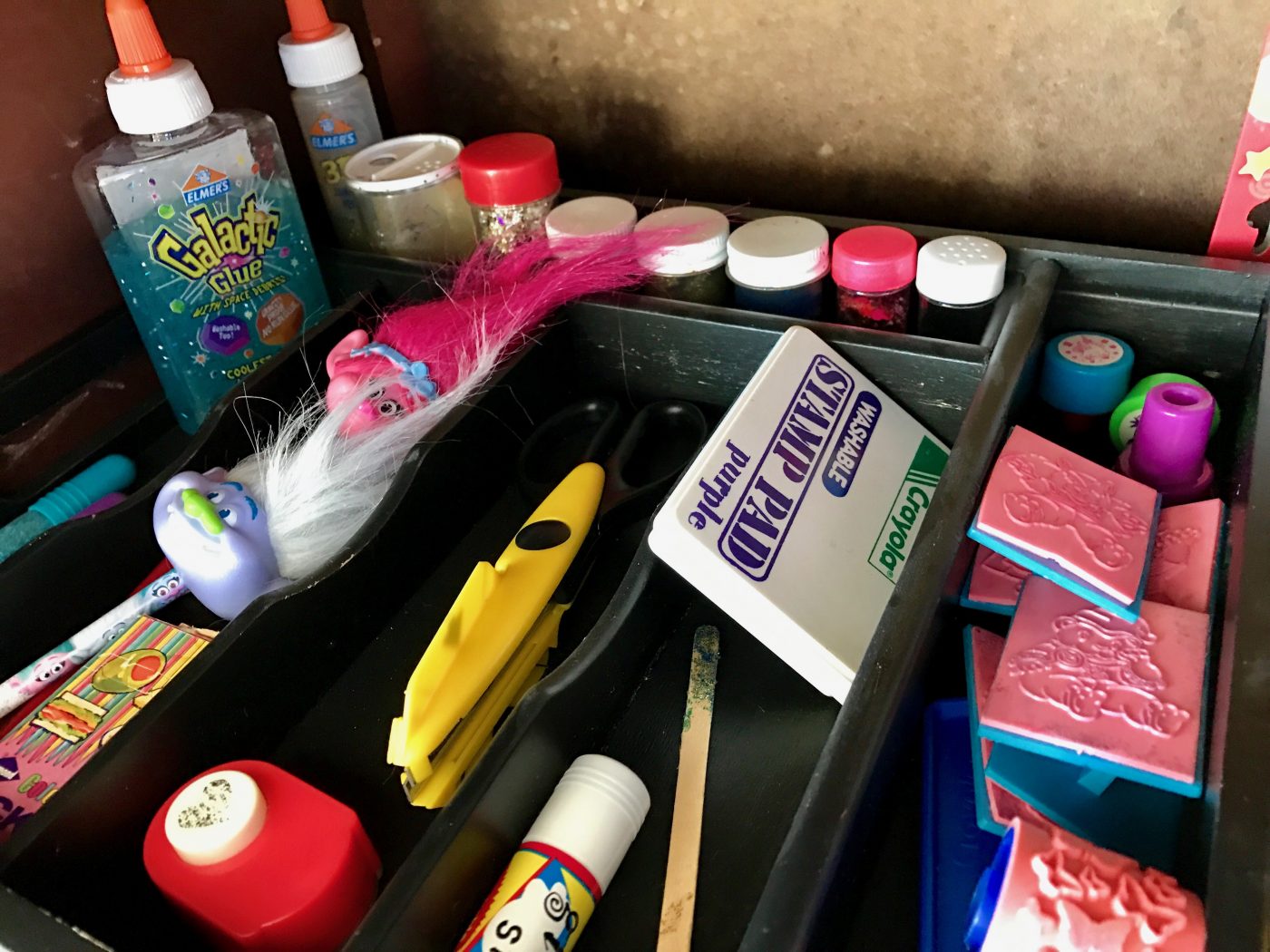 All of the activity books, paper goods kits and the current month's Koala Crate [<<< click that link  and scroll down for my mini review] are housed behind the false-front, magnetic drawer face at the bottom of the unit. So that is nice for fast-grabs of activity pads that contain all the utensils and accessories except pens. #noelectronicsplease The only trick is keeping our toddler out of the bottom unit, but I think he will learn. He's most curious when he watches his older bro retrieve something from that spot, but otherwise he's ready for creative action at the table or standing and using the table bench as is workbench.
Planning
My innovators and I are delighted to have this designated space for all of their projects. As they get older and their creative energy changes, the content in the cabinet will mature with them. In the meantime, we already know I am inclined to keep the surplus stuff in a closet or two. 😉
Starting today, we will plan out our artistic work each week and allow for plenty of spontaneous creation as well. Next post: How to make a DIY Craft Menu!
Do you have a zone for your creative genius to strike? Tell me about your creation station (or what you dream for it to be) in the comments below!
To see the original post on my site and even consider subscribing, click away: www.ashleycamber.com/2017/03/22/creation-station
Content may contain affiliate links. This means that, at no additional cost to you, we may earn a little somethin' somethin' when you use the link to make a purchase.
Learn more here.
Would you like Bloggy Moms to feature your brand?
Contact us here.