This post may contain affiliate links. Read our disclosure policy
here.
Deals are current as of date and time posted.
I absolutely love any version of chicken pot pie that I can get my hands on. I have made a wide variety of the favored pie – including casseroles. I have to be honest – my FAVORITE chicken pot pie is a traditional and completely homemade pie, from crust to filling. However, I don't always have the time to make that flaky, creamy, and mouth-watering dish.
The Easy Homemade Chicken Pot Pie Casserole is one of my personal favorites. So when you don't have time to prepare a crust – this casserole version is a great meal option for those busier days. Switch out any of the veggies that I used in this casserole for your favorites – and make it your own! You can't go wrong with this easy baking option.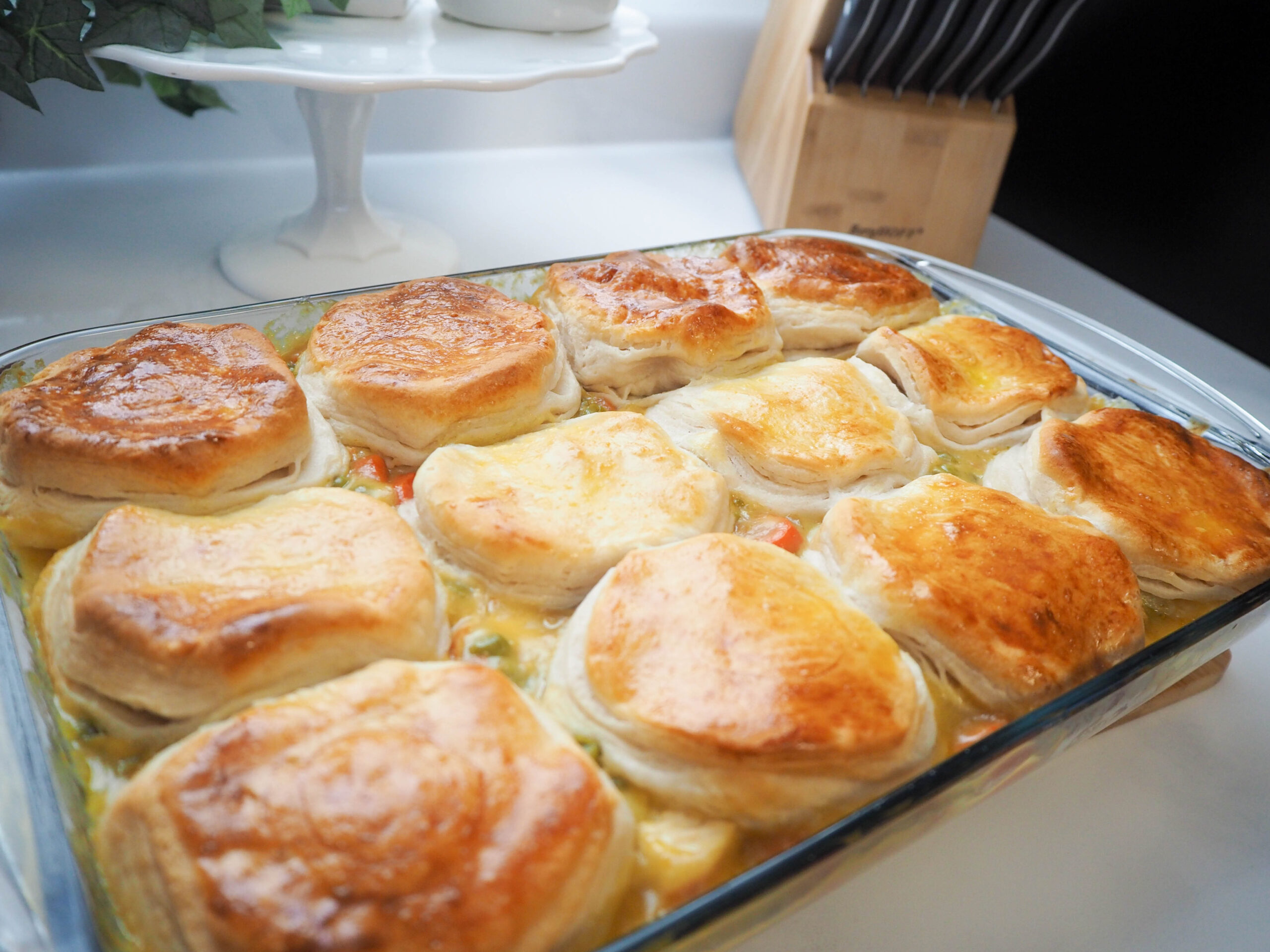 Today, I've collaborated with Riverbend Home to bring you this yummy, easy homemade chicken pot pie casserole recipe! They sent over the gorgeous Berghoff Essentials Cutlery Set (15 piece including block) that I used throughout the video. I had recently been on the search for a new set, and this fit perfectly with my needs. I love this set so much, that you are likely to see it pop up in future recipe videos for the next few years.
As I mentioned in my Instant Pot Cheesy Chicken and Rice recipe, I had forgotten what a good cutlery set felt like. I had my previous block for over a decade and it wasn't the best nor had I sharpened them properly. I feel so spoiled with these knives and vow to care for them as they should be.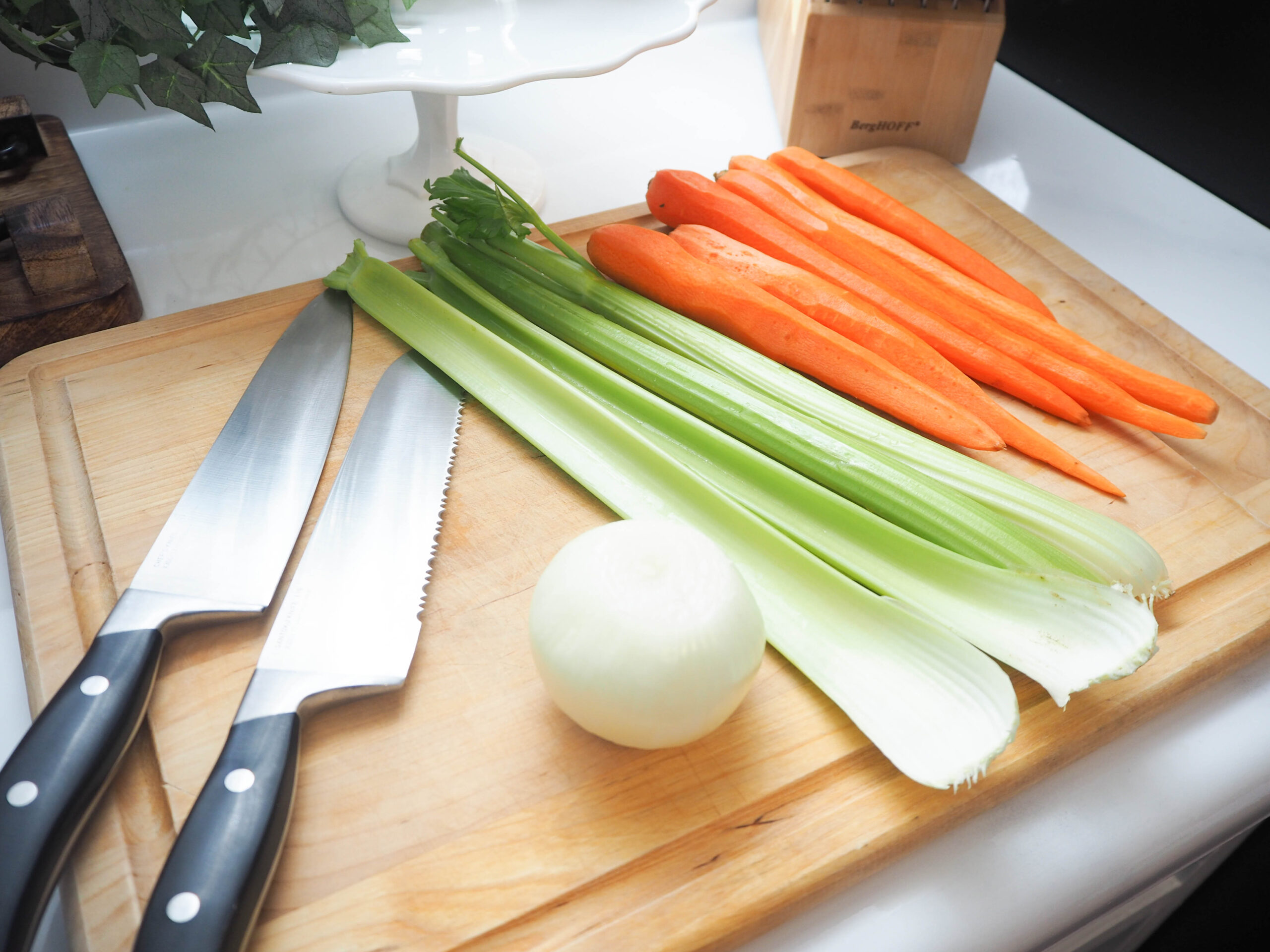 This 15-piece knife set is made from high-quality stainless steel with black, riveted handles for a safe, comfortable grip and anti-skid effect are very ergonomically. The blade is hand-sharpened and provided with a quality label. The stylish wooden block features a stable anti-skid base. The set includes a 3. 25″ paring knife, six 4. 75″ steak knives, a 5″ utility knife, a 6″ boning knife, a 7. 5″ multi=purpose knife, an 8″ bread knife, an 8″ chef's knife, an 8″ sharpener, and a 9. 75″ pair of poultry shears in a stylish wooden block.
What I love about this recipe is that it's hard to mess up or go wrong. You can literally switch out everything I've used for your preferred ingredient – and it will be amazing. I believe that in the video I state that I used buttermilk biscuits, but they are clearly the flaky version. You could even use croissants. For that, you would want to refrain from tolling them, and just lay them flat on top of the filling.
Trade out the veggies that I used for your favorites. A lot of people like potatoes, corn, green beans – so many choices! If you'd prefer a gravy rather than the cream of chicken soup that I used, feel free to make or purchase some for the creamy ingredient. You really can not mess this up!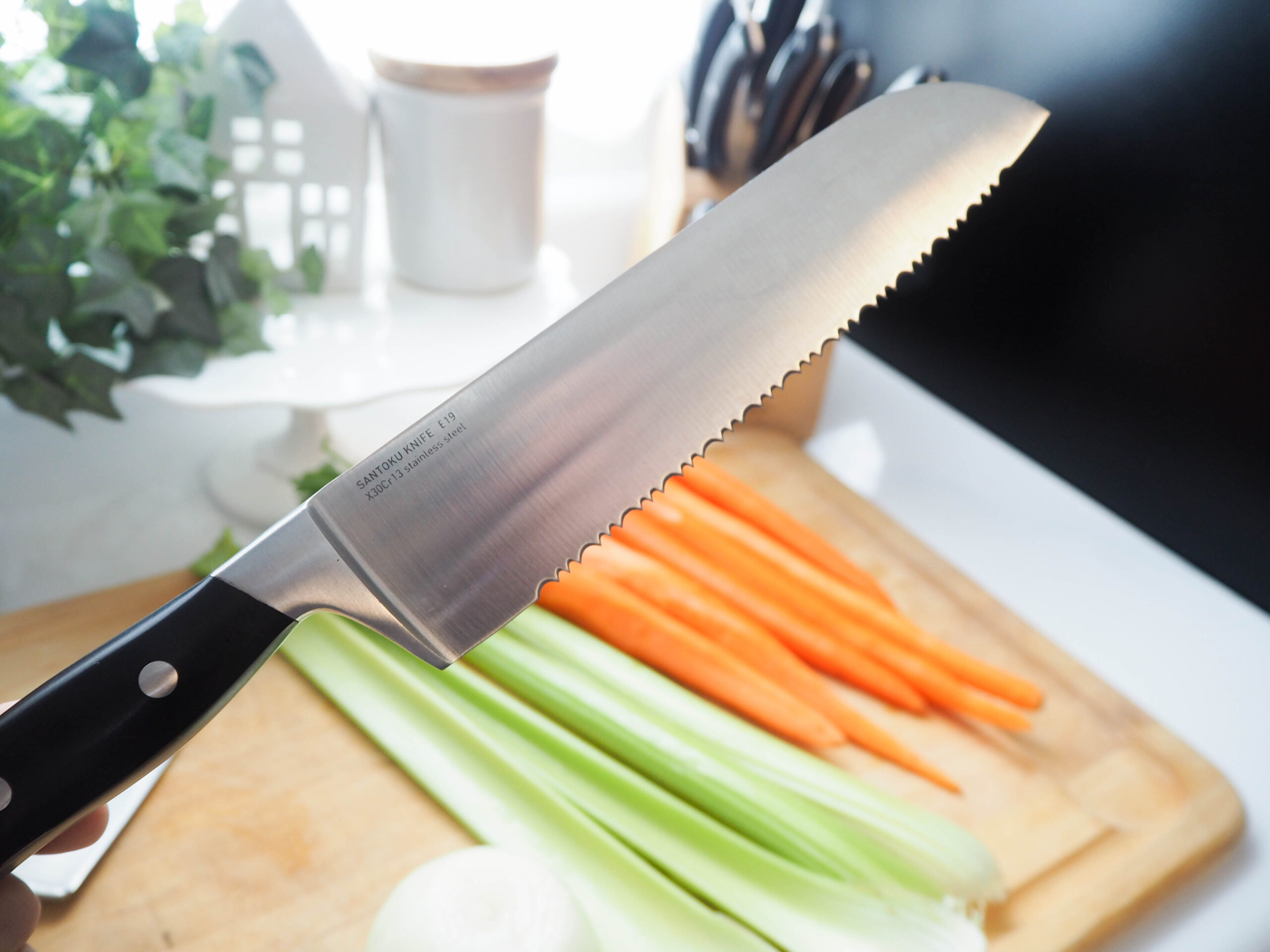 I do want to show off this serrated knife from the Berghoff Essentials Cutlery Set for a moment! I've never been overly impressed with serrated knives. They aren't the most used cutlery item in this kitchen – and it's just a knife, right? But this one is a boss! I've even opted to begin using it on foods that you don't typically use a serrated knife on. Example, the onion in this video. I know, I know – it's not used for onions! But I just love how it grips the onion and keeps it from being so slippery for me. But, you do you and use whatever knife you want when dicing your onions. No judgment!
Check out the video above for complete instructions on making this casserole. The recipe is also listed below!
Easy Homemade Chicken Pot Pie Casserole Bake
Ingredients:
4 – 6 tbsp butter, divided
3 large chicken breasts
4 -6 fresh carrots, sliced
1 medium onion, diced
3 – 4 celery stalks, diced
1 bag frozen peas or 1 can peas
1 can cream of chicken soup (family size, 22.6 oz)
2 cups chicken broth
1 package refrigerated bixcuits
1 egg yolk
1 tsp water
Directions:
Preheat oven to 400 (Your can of biscuits may call for a lower temp, it's fine to use that temp)
Melt 2 – 3 tbsp butter in medium skillet
Cook chicken, turning when needed, until thoroughly cooked
Dice carrots, celery, and onion
Remove cooked chicken from skillet, wipe down skillet.
Melt 2 – 3 tbsp butter in skillet, then add diced vegetables.
Allow to cook down until soft.
Add cream of chicken, and chicken broth.
Add peas.
Dice chicken.
Add chicken to vegetable mixture.
Once cooked, add filling to casserole dish.
Mix egg yolk and water for egg wash
Top with biscuits, slightly flattening biscuits to cover filling.
Brush egg wash over biscuits.
Bake, uncovered for length of time indicated on biscuit can. (approximately 13 – 15 minutes depending on type)
Serve and enjoy!
Browse products here
Riverbend Home: http://bit.ly/2RI65C1
Berghoff Essentials Cutlery Set: http://bit.ly/30Y2iF7
Trisha Yearwood Coffee Server Tray: http://bit.ly/36nXIAZ
Content may contain affiliate links. This means that, at no additional cost to you, we may earn a little somethin' somethin' when you use the link to make a purchase.
Learn more here.
Would you like Bloggy Moms to feature your brand?
Contact us here.