This post may contain affiliate links. Read our disclosure policy
here.
Deals are current as of date and time posted.
Oh, take me back to Germany… Where you're never too far from a sausage and a delicious Bavarian pretzel. We spent last September in Berlin and were this-close to the start of Octoberfest in Munich. German food is in my blood, of course, and from as far back as I can remember, holidays were filled with bratwurst, rouladen and red cabbage.
My grandma never made pretzels, though, so I was on my own for this one (Well, me and the Internet.) I've been known to eat my share of mall pretzels, but only a German style pretzel would do for the beginning of this year's Octoberfest, which starts this Saturday.
Since I won't be making it again this year, we might just have to pick up some German hot dogs from our Continental Deli and have a kids-allowed Octoberfest party of our own.
With kids in the kitchen, you'll want to use this recipe, which I adapted from Allrecipes.com, which avoids soaking the pretzels in a bath of lye (toxic when not cooked) and recommends a baking soda bath instead.
German Style Pretzels
Makes 6 large pretzels
For Pretzels:
3 cups all-purpose flour, divided
1 tablespoon active dry yeast
1 teaspoon white sugar
2 tablespoons butter, softened
1 1/3 cups water
1/4 teaspoon salt
For Baking Soda Bath:
3 cups water
3 tablespoons baking soda
To Top Pretzels Before Baking:
1 tablespoon butter, melted
1 tablespoon coarse sea salt
Directions:
1. In a large bowl, stir together 1 cup of flour, yeast, sugar, 2 tablespoons butter and 1 1/3 cup water. Let the ingredients stand about 10-15 minutes or until bubbles form (also known as proofing the yeast).
2. Stir in the salt and remaining flour until dough comes together and starts to separate from the sides of the bowl. It will be really sticky at this point.
3. Knead the dough on a clean cutting board about 8 minutes until the dough is smooth and elastic, adding more flour if needed.
4. Divide the dough into 6 pieces and let them rest for 10 minutes. Roll out one piece at a time into approximately 18-inch long ropes. Make the rope into a U shape on the cutting board, pull both tips together and twist them once or twice. Then, fold the twisted tips down to the center of the bottom of the U. See image below.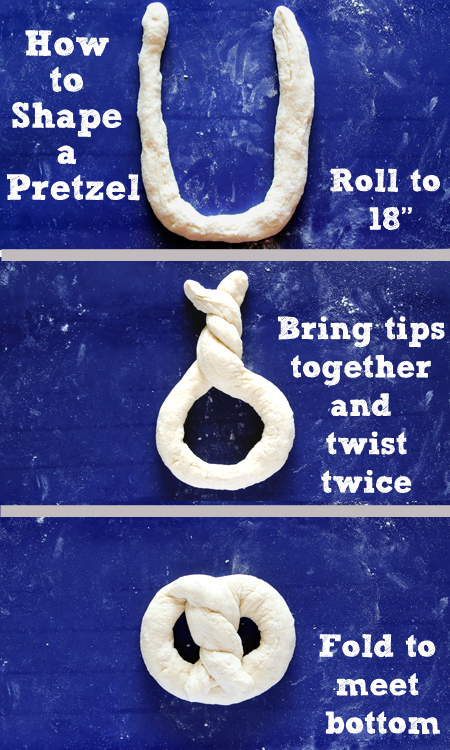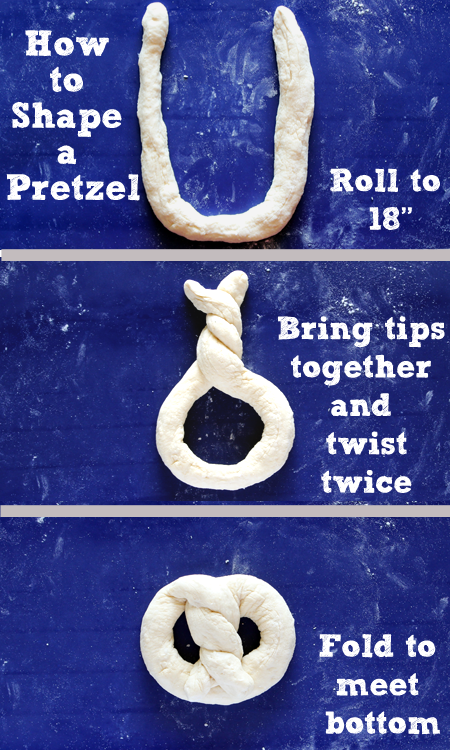 5. Preheat the oven to 450 degrees F. For the baking soda bath: Bring 3 cups of water to a boil and add the baking soda. Remove from the heat. Using a flat spatula, drop pretzels in the water bath for 20 seconds each side. Put the soaked pretzels on a parchment-paper covered or greased baking sheet.
6. Top the pretzels with 1 tablespoon melted butter and sprinkle with coarse sea salt. Bake in the oven for 8-10 minutes or until golden brown.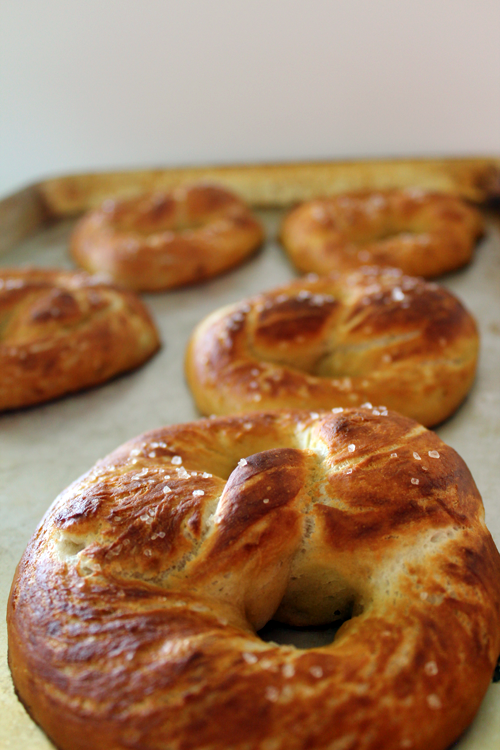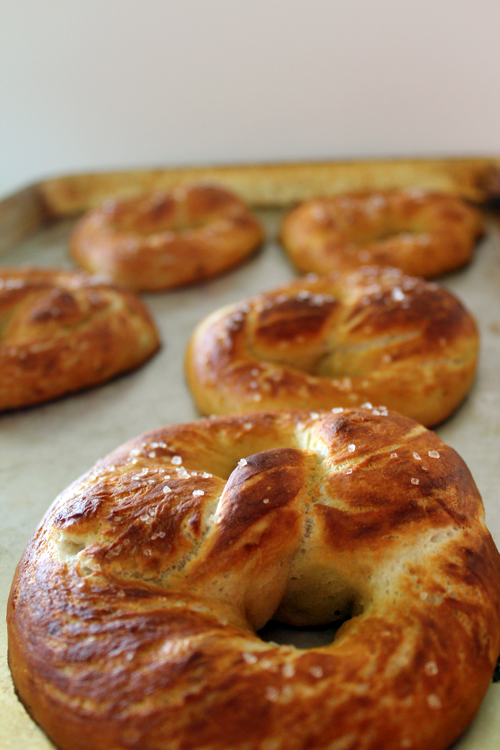 See this on my blog!
Prost!
Content may contain affiliate links. This means that, at no additional cost to you, we may earn a little somethin' somethin' when you use the link to make a purchase.
Learn more here.
Would you like Bloggy Moms to feature your brand?
Contact us here.