This post may contain affiliate links. Read our disclosure policy
here.
Deals are current as of date and time posted.
Looking for some fall family-fun in Southern Indiana? Then check out Holiday World's Happy Halloween Weekends! Holiday World is one of our must-dos every summer. It's a clean, well-managed, family-friendly theme park – and I love that they continue the fun into the fall season.
Happy Halloween Weekends
So if you love Halloween but not the scary parts, Happy Halloween Weekends at Holiday World may be the perfect fit for you and your family!
Halloween Fun for the Whole Family!
"This family-friendly special event includes the rides you love at Holiday World, plus lots of Halloween-themed shows and fun!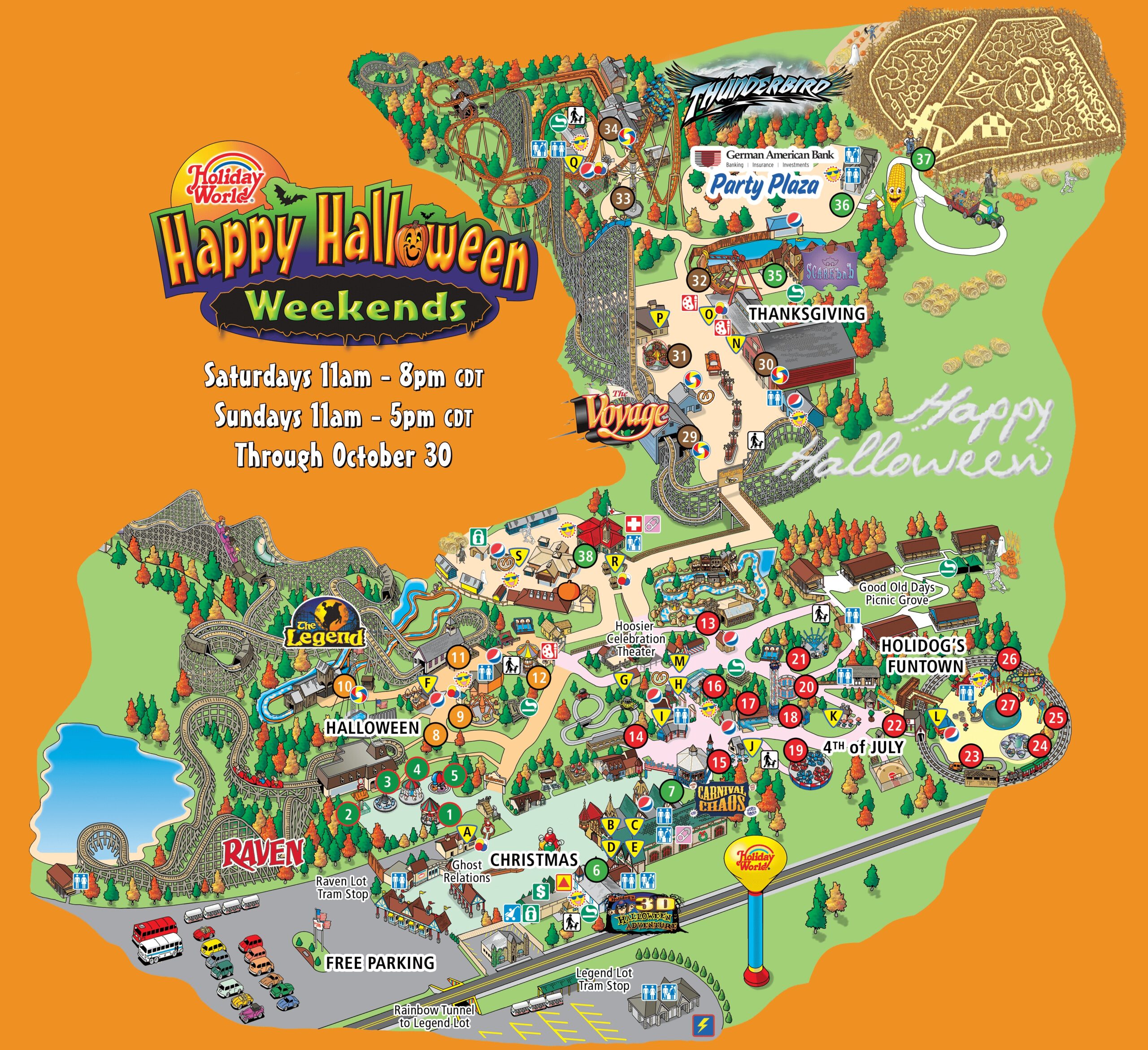 1. SCAREbnb: Holiday World's family-friendly funhouse
"Knock on the creaky door and venture into SCAREbnb to experience Marilyn's Mansion. Other guests have already arrived – Dracula's Den is occupied by visitors who flew in early, Frankenstein is stretched out for a nap, a werewolf plays the piano, and… what's that smell in the kitchen? SCAREbnb, Holiday World's family-friendly funhouse, is just spooky enough to tingle the spine, but won't terrify even the weariest of travelers."
2. Holidog's 3D Halloween Adventure
Pop on your free 3D glasses and help Holidog find his Halloween candy in this colorful funhouse!
3. Mazed & Cornfused Corn Maze
Enjoy 12 acres of one of Indiana's most fun corn mazes! Each spring, a local farmer plants 12 acres of corn to prepare for Happy Halloween Weekends. When the stalks are about knee high, they cut in that year's design.
4. Professor Holiday's Wacky Workshop of Wonders
"This is the magical home of Professor D.R. Holiday, the self-proclaimed "World's Greatest Inventor." Professor Holiday lets you take a peek inside his mystical workshop of gadgets and gizmos and even lets you try a few out! You'll witness his latest and greatest creations guaranteed to make you giggle."
5. The Monster Mash
"Join in on the singing and dancing with the Monster Mash troupe with new songs and dance moves – not to fright, but to delight!
Every year, when the moon is full, all the ghosts and ghouls gather for the choosing of the "Monster of the Year." Our Monster of Ceremonies will lead this pageant of the dead… and we want YOU to be the judge! So sit down, rest your bones, and enjoy every last minute of The Monster Mash!"
6. Carnival Chaos
Older children and adults: "a ghostly barker invites you in to explore this abandoned carnival. It's filled with clowns (or are they only reflections?) and side-show attractions."
7. Kitty's Dance Spooktacular at Hoosier Celebration Theater
Close out the day at Kitty's Dance Spooktacular at Hoosier Celebration Theater with trick-or-treating for children 12 and younger!
Can't make it to the park for Happy Halloween Weekends? Enjoy some great at-home fun at Kitty's Digital HoliWeen!
Frequently Asked Questions:
What are Holiday World Hours? Holiday World hours change from Summer to Fall, check them out here.
Is Holiday World Splashin Safari open during Happy Halloween Weekends? No. Check out the Splashin Safari activities here to plan next summer's fun!
Some images and text taken from HolidayWorld.com
Content may contain affiliate links. This means that, at no additional cost to you, we may earn a little somethin' somethin' when you use the link to make a purchase.
Learn more here.
Would you like Bloggy Moms to feature your brand?
Contact us here.