This post may contain affiliate links. Read our disclosure policy
here.
Deals are current as of date and time posted.
I have been looking for well over a year now for that perfect blanket that I could keep in my van – to use in any and all situations. I've gone through fleece blankets, summer throws, and full-on sleeping bag – without finding one that perfectly encompassed every aspect I needed.
It needed to be capable of keeping us warm in an emergency situation. I wanted it to be easily cleaned, whether that meant wiped down or thoroughly washed. I also wanted it to be versatile. I wanted to be able to use it when we camped and also when we were at the ballpark or beach. We're very active and a multiuse item is a valuable time and space saver for us. I believe I have found that in the Kubie!
Head out on your next adventure with the versatility that only the Kubie can provide. The Kubie is the best multi-use product and can be configured into over 8 set ups! These set ups include an insulated poncho, hammock, sleeping bag, ground cover, shade canopy, pillow, hammock liner, and hammock underquilt.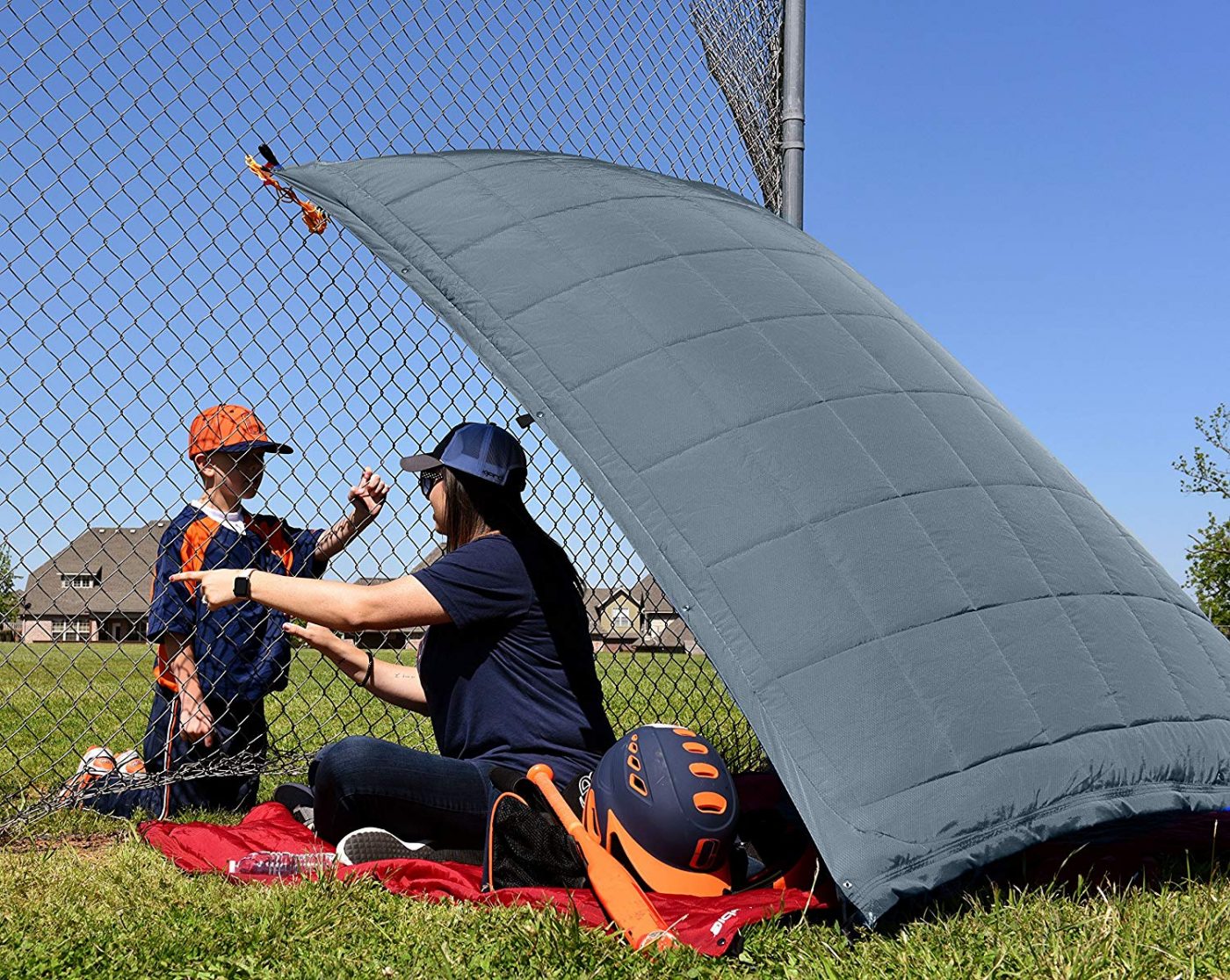 I am continually organizing and re-organizing my "just in case" section of our van. It's loaded with a myriad of items that may and have come in handy over the years. But the emergency blanket has always given me fits as I had a hard time finding out that was compact yet contained all of the benefits that I wanted.
The Kubie is perfect for a wide variety of activities including: camping, tailgating, and spending the day watching your kids play their favorite sport. The Kubie only weighs 3.6 pounds and can be repacked into the attached bag for portability, and can even be used as a pillow once repacked. No need to bring a big pile of gear with you camping. The Kubie is all you need! The Kubie fabric is made of durable water-resistant rip stop nylon, and features Thermalite Technology that keeps you warm on chilly days. The Kubie has so many unique uses that you will never want to leave home without it.
My favorite aspects are the compact nature of the Kubie, it's versatility and ability to easily be cleaned.
The Kubie can be configured into 8 different uses including: insulated poncho, ground cover, sleeping bag, pillow, hammock, hammock liner, under quilt, and shade canopy
This extremely versatile item is the best camping companion and even perfect on the sidelines during your favorite sports games
Comfortable and durable nylon ripstop fabric with water resistant coating, integrated hammock straps and fleece lined hood
The multi-use product compacts down into a pouch with a carry handle creating easy transport on your next adventure
Hammock configuration holds up to 250lbs / Product weighs 3.6lbs
Explore the Kubie setups!
THIS is why the Kubie has become my all-in-one answer to my wishlist of blanket components for our adventures. I don't yet have the accessories to create the hammock – but will soon have that as well! I can NOT wait!
Insulated Poncho
The Kubie can be configured into 3 poncho set ups. Utilizing the snaps along the edge of the Kubie you can transform your Kubie into a full poncho, mid-length poncho, and half-length poncho. The fleece lined hood helps keep your head warm and cozy. You can find more information on poncho set ups of the Kubie on Kijaro.com or YouTube!
Hammock
The Kubie can also become an insulated hammock! Both ends of the Kubie have integrated straps making set up a breeze. Just choose a Carabiner* and Hanging Kit* of your choice to set up your hammock. The Thermalite technology will help keep you warm as you relax in the trees. Hammock Weight Capacity: 250lb You can find more information on the hammock configuration of the Kubie on Kijaro.com or YouTube!
Ground Cover
Want something comfortable to sit on or to keep your gear covered? The Kubie is the perfect solution! Just lay the Kubie on the ground and stake* the corners through the attached loops to keep it from coming off the ground.
Hammock Underquilt
Who says you can only hammock when it is warm? The Kubie helps you take your hammocking experience to the next level. Use the Kubie as a hammock underquilt to keep you warm into the chilly months. The ends of the Kubie can be cinched tight ensuring the best insulation possible.
Hammock Liner
Using Themalite technology the Kubie works great as a hammock liner to add a little more warmth and comfort on chilly days enjoying the outdoors.
Sleeping Bag
The Kubie can even be configured into a sleeping bag! Simply fold the Kubie in half and use the attached zipper to transition it into a sleeping bag. Sleeping Bag Open Size: 86.6" L x 33" W
You can find more information on the sleeping bag configuration of the Kubie on Kijaro.com or Youtube!
Pillow
Simply repack the Kijaro Kubie into the attached bag and it can be used as a pillow! This is great for lounging on the ground looking at the stars, or even taking a nap while on a road trip. Closed Size: 16.9" L x 9.1" W x 5.5"H
For instructions on repack or pillow set up, you can find more information on Kijaro.com or YouTube!
Shade Canopy
Spending a long day at the ball fields with the kids? The Kubie can also be configured into a shade canopy for those hot summer days. Use the attached loops with your choice of gulylines* and stakes to configure your Kubie into a variety of shade canopy set ups.
This really is a great addition for everyone and in every lifestyle!
Browse the Kubie here!
Content may contain affiliate links. This means that, at no additional cost to you, we may earn a little somethin' somethin' when you use the link to make a purchase.
Learn more here.
Would you like Bloggy Moms to feature your brand?
Contact us here.