This post may contain affiliate links. Read our disclosure policy
here.
Deals are current as of date and time posted.
SING MY SWEET LION; The Story Behind the Book
My first born is embarking on turning five…and I'm in denial.
He stands tall past my waist, hugs me hard, and has figured out how to eye roll (I know- painful).
I took his whole preschool graduation hard. Preschool is the best. It's all fun. The kids are nice. The teachers are comforting. And there's not much to fear. Kids have yet to learn meanness, exclusion and cruelty. The preschool age is pure innocence, and if I had it my way, I'd confine him in that safe preschool bubble forever.
But I can't.
Upon Nicholas' preschool graduation, I went to write him a card, but instead, words poured from my heart.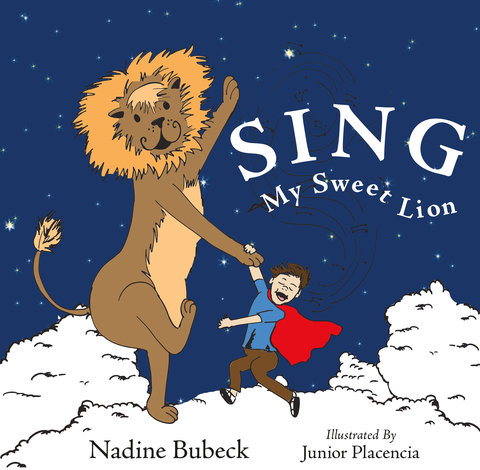 The first few lines:
School bells are ringing 
They're calling your name 
A brand new beginning,
new chapter, new game
It seems like yesterday 
In my tummy you grew
And we rocked for months
In quiet, me and you
 As I continued writing, my eyes teared. A huge transition was on the horizon… for him, and for me. While my mind had obviously been focused on prepping him for a new school, who was going to prepare me? I can't help but feel a little lost inside, knowing his and my "baby stage" has come and gone.
I kept writing- documenting his growing up before my eyes; that I've savored every first, and that I'm proud of the little boy he is becoming: a cape-wearing, compassionate, creative old soul.
I want to protect you 
From germs and from dirt
From running bare feet
Or ripping your shirt
From falling 
From hurting
From crying
And more
But the truth is, my dear
You'll find your own roar
My letter took an empowering turn, encouraging him to find his inner-lion. (And as it turns out, he is, in fact, a Leo.)
So roar my lion,
Roar loud and roar strong
I'm proud of you, lion
I'm proud of your song
Sing, my sweet lion,
That song that is yours 
Be kind, my sweet lion 
Kindness opens all doors 
As I finished this "ode," I was in sobs. And to punish my emotions even more, I re-read it about 50 times. After some time and tears, I concluded I was not the only crazy sentimental mom out there, so I sought to publish my tribute to him, honoring all our children making transitional milestones of babyhood to youth.
Thanks to the lovely artwork from his preschool teacher, my vision came to life, and so birthed "Sing My Sweet Lion." My goal- to share this story with you, instilling in children unconditional love and confidence.
When push comes to shove, this whole growing up thing is quite bitter sweet. How I want Nicholas (and all my boys) to stop growing, but I sure love watching them blossom.
I appreciate you welcoming "Sing My Sweet Lion" into your heart, home and reading ritual.
XO,
Nadine
Book:  "Sing My Sweet Lion"
Website: www.singmysweetlion.com
Nadine Bubeck is a TV personality, fashion designer, author, blogger, and Scottsdale-based blessed boy mom. 
Content may contain affiliate links. This means that, at no additional cost to you, we may earn a little somethin' somethin' when you use the link to make a purchase.
Learn more here.
Would you like Bloggy Moms to feature your brand?
Contact us here.