This post may contain affiliate links. Read our disclosure policy
here.
Deals are current as of date and time posted.
With an early spring on the way, you only have a few weeks to get your outdoors in order before the sunshine and warm temperatures bring guests to your garden. Even a mild winter can wreak havoc on your lawn and garden, covering it in leaf litter and other debris, killing plants in containers and beds and generally giving the space an aura of disrepair. Fortunately, it only takes a weekend or two of work to get your outdoor spaces looking spic and span — and the work can be fun and fulfilling, too.
Once your area experiences the season's final frost, you can launch into spring cleaning for your lawn and garden. Here's how you and your whole family and spruce up your front and backyards to prepare for the spring entertaining season.
Clean
Perhaps it shouldn't be surprising that the first step of spring cleaning your lawn and garden is, well, cleaning. After a few months of cold and chaotic weather, as winter typically brings, the exterior of your home likely covered in all sorts of debris. Here are a few cleaning tasks to accomplish before you can get to the more exciting spring cleaning steps.
Gather. If you didn't tidy up your yard before winter, it is possible that your outdoor spaces are littered with furniture, toys, yard tools and other items left to the elements. You need to gather up any items that survived the cold season and put them in the place they belong, like the shed or an outdoor toy box. Items that faired less well might be salvaged with repairs or be worthy of upcycling.
Rake. Leaf litter isn't good for your lawn or garden, especially in the spring. The sooner you rake up leaves, twigs and other debris, the sooner your soil can benefit from the sunshine and rain, and the sooner your lawn will begin to grow lush and full.
Weed. Weeds like to take advantage of spring's ideal growing conditions, too, so you need to get a jumpstart on controlling their growth. You might spray a pre-emergent herbicide around your yard, but if you have young children or pets, you might want to try a more natural weeding solution. Regardless, you don't want to let weeds get too large, or else you might never get rid of them.
Wash. Finally, your hardscaping and your home's exterior are important design elements of your outdoor spaces. You can rent a power washer from your local home improvement store to scour the dirt from your patio, deck and siding to give it a fresh look.
Revive
Many plants wake up from dormancy in spring, but they need your help to get up on the right side of the bed, so to speak.
Lawn. There are all sorts of tasks necessary for lawn care in the spring, and all of them require precise timing, special tools and knowledge about your grass type and soil. It might be best to look into lawn fertilization companies in your area, as well as professionals that assist with aeration, dethatching and overseeding. Then, you can manage more frequent and low-tech chores like mowing and watering.
Perennials. Perennials are any plants that live longer than two years — so, your shrubs, bushes and trees. Once these start showing new, green growth and before they flower, you need to trim and prune them. You should prioritize removing dead limbs or growth in improper directions, like branches that rub against your home. You should never remove more than one-third of the plant, so keep your pruning simple and sweet.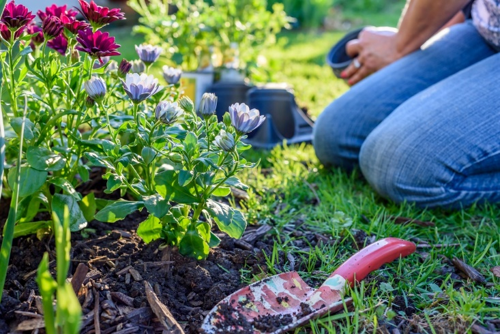 Seasonal beds. You should keep some of your beds available for annual flowers, which add bright color and exciting texture to your outdoor areas. Different annuals should go in the ground at different times in the spring season; you should research different varieties and plan your plantings accordingly. Some early blooms that can survive cooler temperatures include calendulas, pansies, geraniums and snap dragons.
Decorate
Once your yard is clean and your garden is growing, you can focus your attention on the final element of a perfect outdoor space: décor. Outdoor living is a major trend, so you should equip your yard with furniture that allows you and any guests to take full advantage of the gorgeous spring weather. Then, you should decorate your space to make it feel like a room in your home. You can find all sorts of deals on outdoor furniture and décor on websites like Overstock.com and in stores like Big Lots.
An early spring gives you more time to enjoy the outdoors — but only if your outdoor areas are worth enjoying. By devoting a weekend or two to cleaning, reviving and decorating your lawn and garden, you and your family will have a truly spring-worthy space.
Content may contain affiliate links. This means that, at no additional cost to you, we may earn a little somethin' somethin' when you use the link to make a purchase.
Learn more here.
Would you like Bloggy Moms to feature your brand?
Contact us here.