This post may contain affiliate links. Read our disclosure policy
here.
Deals are current as of date and time posted.
Image Source: Dasha Petrenko/Shutterstock.com
Taking a trip with your kids can be challenging for some parents and guardians. Children tend to be unpredictable, especially when left to their own devices. As a parent behind the wheel, you need to protect your child as well as the interior of your vehicle. Kids usually mean spills and accidents, both of which can be hard to avoid. That's why it's best to kid-proof your car instead of trying to prevent the impossible. Learn how to protect both your child and car from everyday mishaps.
Create a System
Before you take off on your next family trip, come up with a system for handling different situations in the car, such as eating, drinking and unexpected physical reactions such as nausea, car sickness and urgent trips to the bathroom.
If you plan on having your children eat or drink in the car, limit their diet to healthy snacks and beverages. Overly fatty foods and sugary drinks can lead to nausea and vomiting. Most parents are all too familiar with the dangers of feeding their kids too much sugar. Kids can easily get overexcited in the car, even if they should remain in their seats. Put a trash can or bag in the car so you can quickly clean up after snack time is over.
Prepare for the occasional bout of motion sickness. Bring along anti-nausea medication, bland food and plenty of water. Avoid having your kids look down at screens for too long, as this will make matters worse.
For bathroom breaks, designate a local facility that can accommodate your needs, such as one with a private family restroom. For smaller children, it may be best to have them wear a diaper in the car, especially if they are still getting used to holding it in.
Come up with a schedule for cleaning the car, especially if you travel with your children often. Get in the habit of cleaning up dust, crumbs, trash and other debris to improve the air quality in your vehicle.
Seal Food and Beverages
When feeding your children, it's best to limit their access to the food as much as possible. Serve them using individually wrapped containers to avoid the worst-case scenario. There's always a chance the entire package will end up on the ground, so it's usually better to serve them less food than more. You also don't want your kids to give themselves a stomach ache while you're focused on the road.
The same is true of water and other beverages. Use spill-proof bottles and sippy cups to keep fluids inside the container where they belong. The chances of your kids using a cup holder may be slim to none, so they should be able to wave around the bottle as they please without making a mess. Again, smaller portions are always the best. If your kids drink too much water, you might have to make a mad dash to the closest restroom.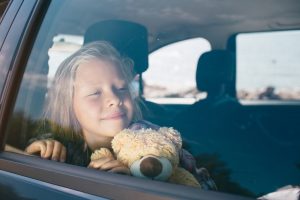 Source: Estrada Anton/Shutterstock.com
Protect Your Seats and Floors
These safety precautions are designed to protect your car from spills and leaks, but accidents can still happen. They're just a part of being a parent.
That's why it's best to use floor mats in addition to sealing food and beverages. Made with thick, durable rubber, these mats use thick, deep grooves to soak up fluid so it doesn't end up staining your floors. After a spill, just take out the mat and dump the excess fluid in the grass. Use a hose to rinse off the rubber and you'll be good to go.
Do the same for the seats in your car by installing water-repellant seat covers. A small spill can become a trap for strong odors. You shouldn't have to worry about your kids sitting on moist or moldy fabric. Keep your car clean and wash your seat covers every week or more. This way, food, dirt and beverages will never reach your seats.
Preventing stains and spills isn't just about protecting the upholstery in your car. It's about ensuring you and your loved ones can breathe easy behind the wheel. Leaks and excess fluid can lead to potent smells, mold and mildew, all of which can pose a danger to you and your family's health. The same is true of dirt and mud. If your kids like to spend time outdoors, they could track in all kinds of debris. Use additional protection to keep the interior as clean as possible.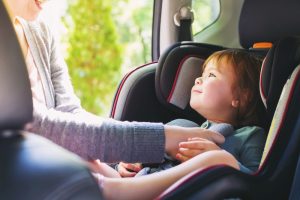 Source: TierneyMJ/Shutterstock.com
Health and Safety Tips
Now that the prep work is done, let's focus on getting your children into the car. According to the Centers for Disease Control and Prevention, it's best to have your kids sit in the middle, while wearing a seatbelt, of course. However, children require different kinds of car seats and seating arrangements depending on their age.
Health experts say it's best to have infants and toddlers sit in a rear-facing seat until they are old enough to sit in a forward-facing car seat, based on the manufacturer's recommendations. For toddlers and preschoolers who can fit into car seats, it's best to have them sit forward-facing with a harness. Experts say parents should use the car seat until the child no longer meets the age and size requirements.
As children outgrow the car seat, they may still be too small for a traditional seatbelt. In this case, parents should have their child sit in a booster seat until they are tall enough for a regular seatbelt, which usually happens when they reach 4 feet, 9 inches in height and are 8 to 12 years of age. All children younger than 13 years should ride in the back seat. After that, they can ride like normal passengers.
As you can see, kids tend to be rough on cars, even if they're well-behaved. From spilled food to dirty shoes, use these tips to make sure your vehicle is up to the task at hand. A few small changes can save you hours of grief and hassle down the line.
Content may contain affiliate links. This means that, at no additional cost to you, we may earn a little somethin' somethin' when you use the link to make a purchase.
Learn more here.
Would you like Bloggy Moms to feature your brand?
Contact us here.