This post may contain affiliate links. Read our disclosure policy
here.
Deals are current as of date and time posted.
Are you keeping up with all the giveaways this year? Keep checking back to the Bloggy Moms and Mom Fave communities for more giveaways. I am thrilled to introduce this giveaway. With each passing year, I seek out more ways to do better in my self-care for my skin and this is a tool that I would love to have in my routine. So, I'm excited for you to get to check it out and enter for a chance to win! Welcome Trophy Skin and their BrightenMD to our giveaway lineup and don't forget to enter the giveaway below!
Meet Trophy Skin
"Whether you are trying to reverse the signs of aging, slow down the aging process, or have simply exhausted your options for clear, blemish-free skin, Trophy Skin is your partner in your quest to Discover Your Best Skin.
Our overall mission is to provide the knowledge and tools to feel beautiful, special and important to EVERYONE that wants it. We have hacked the professional beauty services industry and brought those products to you with simplicity, ease and results at an extremely affordable price."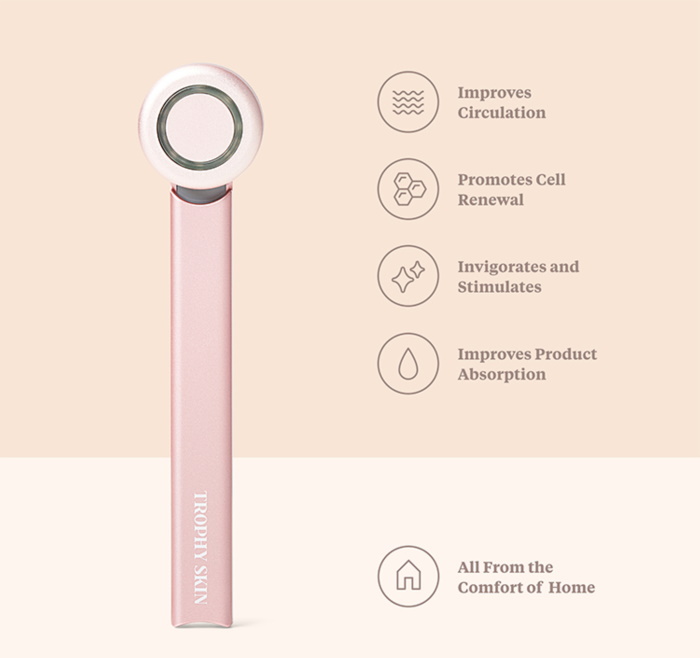 BrightenMD
Meet the esthetician and science-backed BrightenMD that combines 4 skincare technologies for a powerful 5-minute a day brightening facial experience. Add this tool to your routine after applying your favorite serums and see amazing results in just 4 weeks.
De-puff and improve the skin's natural radiance with low-vibration facial massage. Reduce the appearance of fine lines, wrinkles, scars, and dark spots with high-powered red light therapy. Increase the absorption of skincare serums and reduce redness with therapeutic warmth. And reverse the aging process with microcurrent technology that stimulates the facial muscles.
Trophy Skin released a new and upgraded design of BrightenMD this year! The smart wand sensor turns on when in contact with your skin and turns off automatically.
With their 60-day no hassle returns, trying BrightenMD for yourself is stress-free! Try it out for yourself!
Benefits and Features:
Enhance your nightly serums with BrightenMD!
Instantly improve tired, puffy, or aged skin around your eyes, mouth, and forehead with this 4-in-1 device.
Red LED Light therapy to improve circulation and brightness
EMS / Microcurrent to stimulate muscle contraction
Heat therapy to both increase blood flow and relieve discomfort
Vibration to improve serum delivery

What Does BrightenMD Do?
✔️ Combines 4 different treatments to bring out your best skin
✔️ Microcurrent stimulation to improve skin's appearance
✔️ Therapeutic warming helps improve circulation
✔️ Red light therapy stimulates cell turnover and renewal
✔️ Vibration enhances absorption of your favorite serum
✔️ Smart touch sensor turns on when in contact with your skin
✔️ Small design: perfect for travel so you can refresh your skin anywhere
What Others Are Saying
"Noticeable improvement within one week of use. I deliberately did not inform my sister that I was using this magic wand, just to see whether she would notice any difference. Within one week of use she told me that I look younger. I then introduced her to it. Of course, I'm going to buy her one as well." -MG on August 21, 2021
"Small but Mighty. I love the BrightenMD. I was not sure what to expect when I ordered it but after using it for a short time I am already seeing a difference. I like the mobility of the devise, the way it can be turned to fit the contours of your face. The BrightenMD is so compact you can take it with you for use on those puffy eye days. I have been using my Trophy serum when I use the BrightenMD but there are times I have used it without the serum as well. I Love Trophy products. I already have another product in mind." – Patti P. on August 16, 2021
BrightenMD Giftaway
One winner will receive: a Brighten MD. This includes a BrightenMD Device and the USB Charging Cable.
Use the form below to enter for a chance to win a BrightenMD!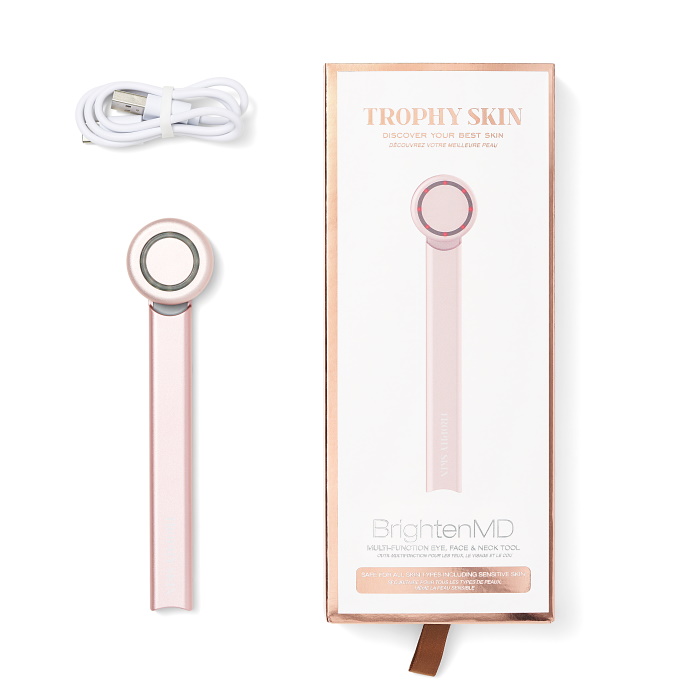 One winner will receive: a
Brighten MD
. This includes a BrightenMD Device and the USB Charging Cable. This giveaway is open to United States residents who are 18 years of age or older. Giveaway will begin on Friday, March 28, 2022 at 8:30 am ET and will end on April 28, 2022 at 11:59 am ET. To enter, please use the giveaway widget above, complete any mandatory entries and any optional entries that interest you. Winner will be chosen at random from all valid entries. 18 years old and older, US only The winner will be informed via email within one week of the giveaway end date. The winner's name will be available on request for a period of 30 days after the giveaway has ended. Your email address may be passed on to the sponsor/promoter for prize mailing/emailing arrangements. By entering this contest, you may be added to our newsletter. You can unsubscribe at any time. Entry to this giveaway confirms that participants have read, understood and agree to be bound by these Terms and Conditions. All decisions are final.
Content may contain affiliate links. This means that, at no additional cost to you, we may earn a little somethin' somethin' when you use the link to make a purchase.
Learn more here.
Would you like Bloggy Moms to feature your brand?
Contact us here.