This post may contain affiliate links. Read our disclosure policy
here.
Deals are current as of date and time posted.
If you happen to be familiar with Gallup Polls' Strengths Finder concepts, this story and how I ran across Bermuda Blending won't surprise you.  According to the Strengths Finder 2.0 assessment, one of my top five strengths is Input [just like Ashley Camber!], which indicates I like to collect things, archive them, find out more, enrich myself, etc.  When I explained this to my husband, he referred to it as "surfing the net" but then he doesn't understand the power of Pinterest and the ability to so easily save information.  It could be called an addiction.  I'll just go with strength.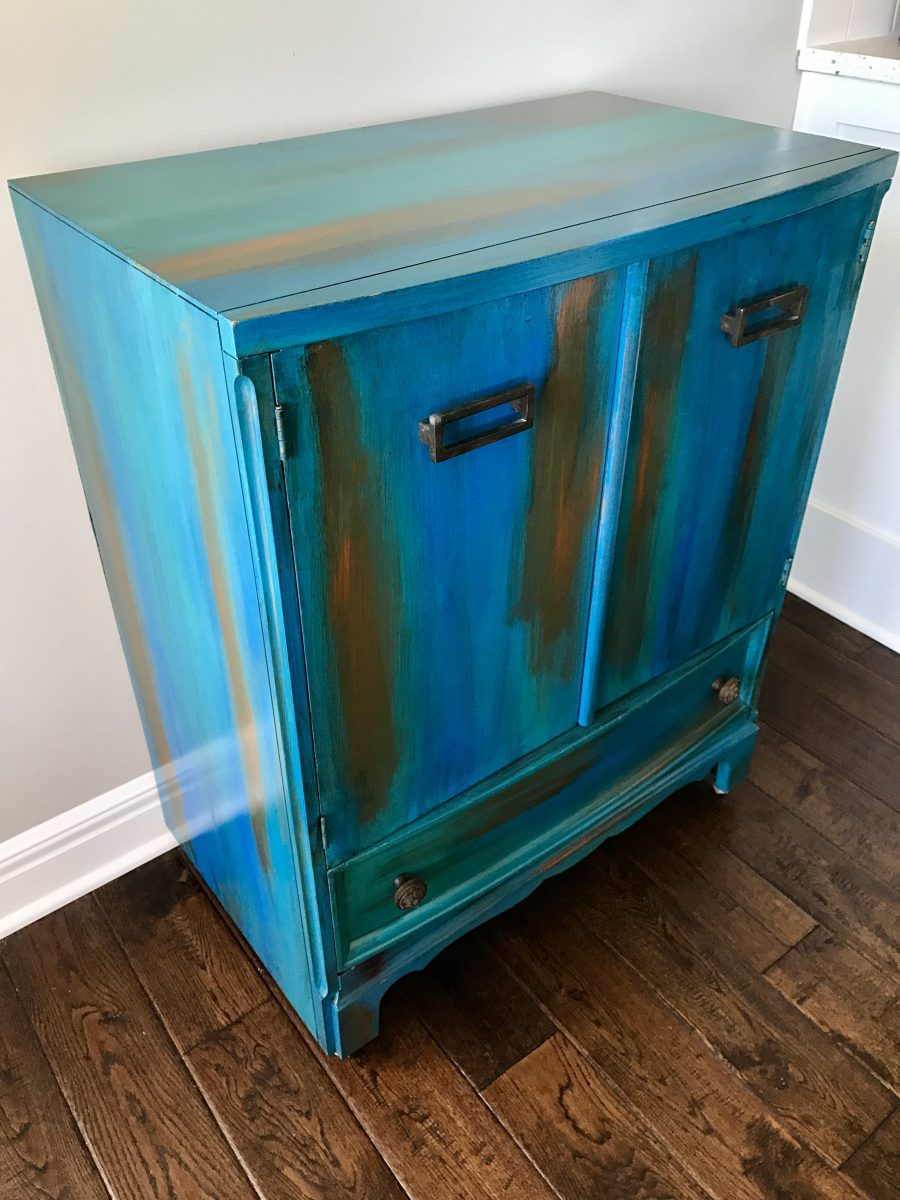 The Research
So one night, as I was "researching" I ran across a photo of a beautifully and uniquely painted armoire.  I immediately started to look for sources and the creator which brought me to Beth at Reality Daydream.  Beth had Maria write the guest blog post about the technique she used and named Bermuda Blending.  It's a great tutorial and it explains things really well.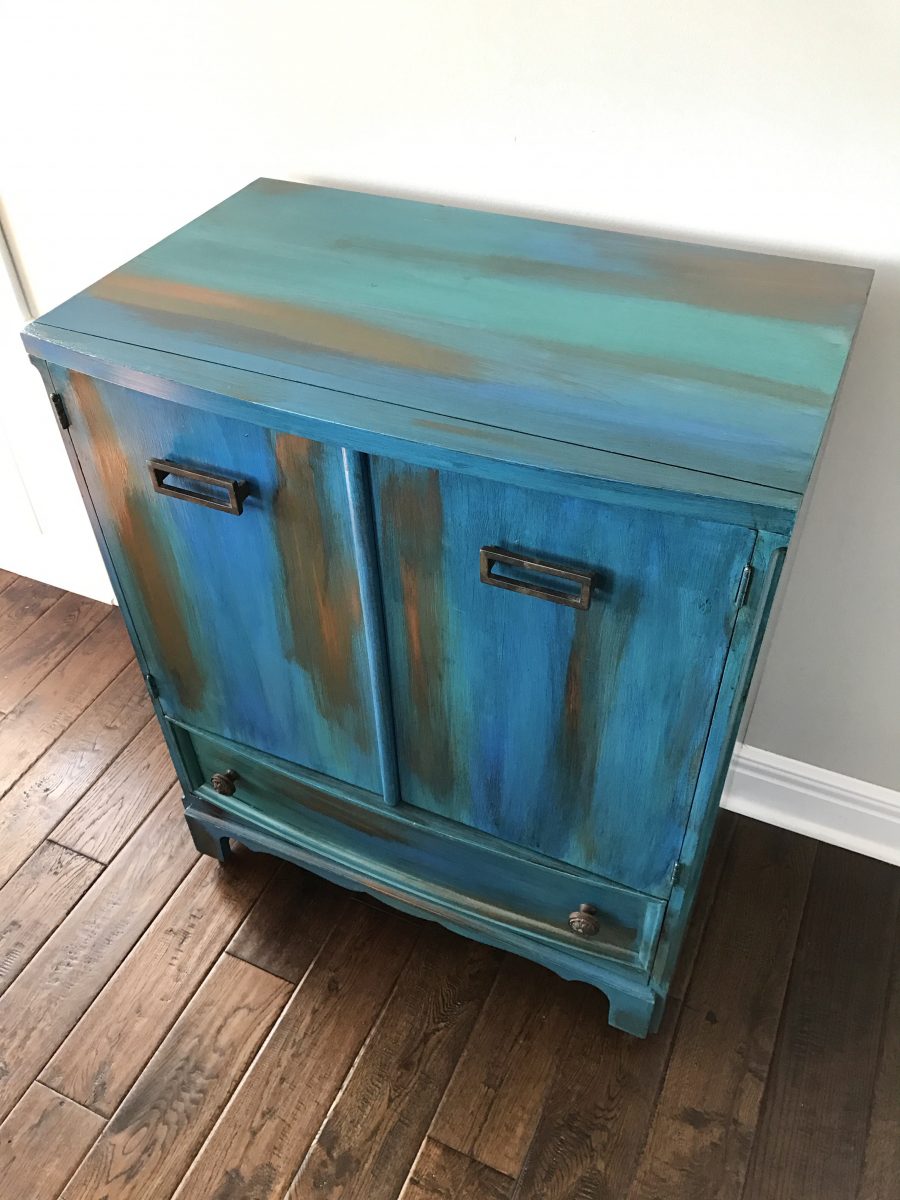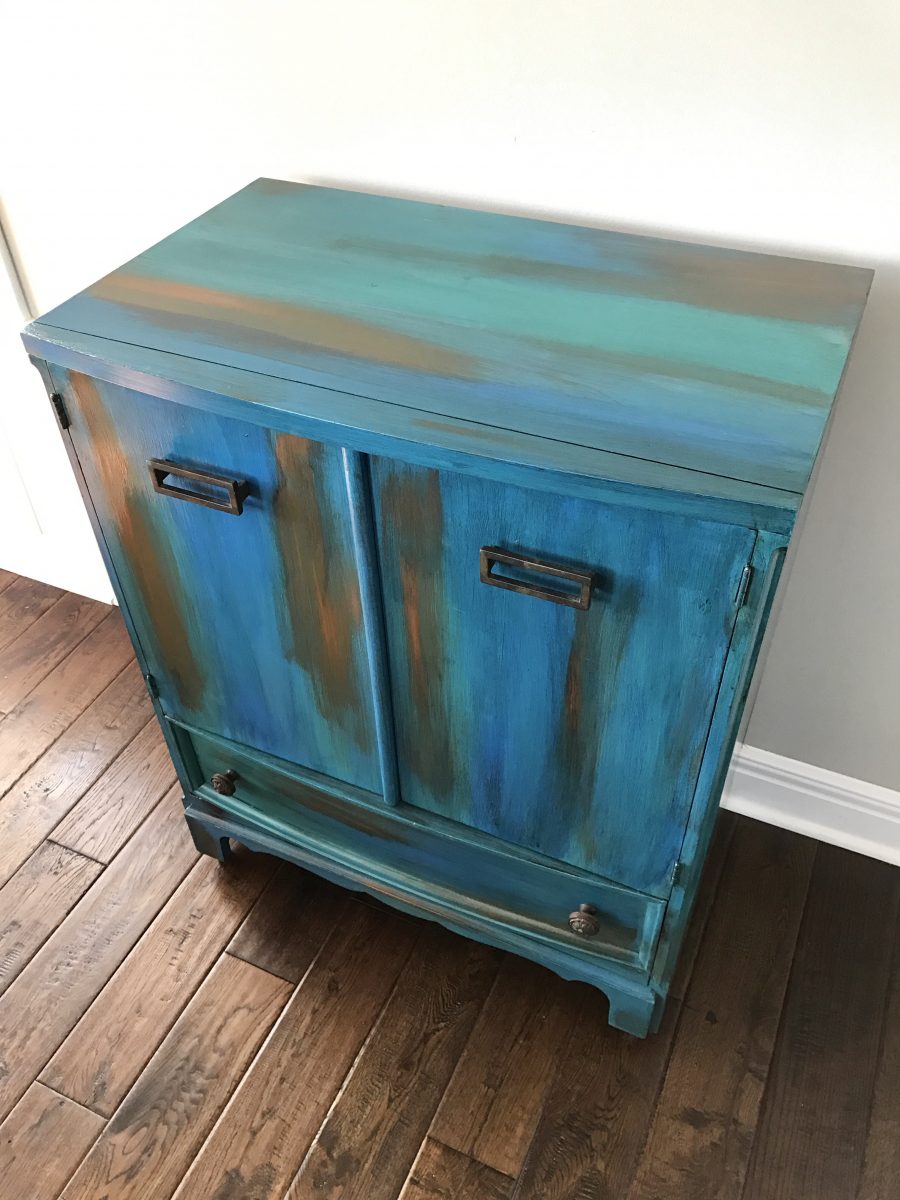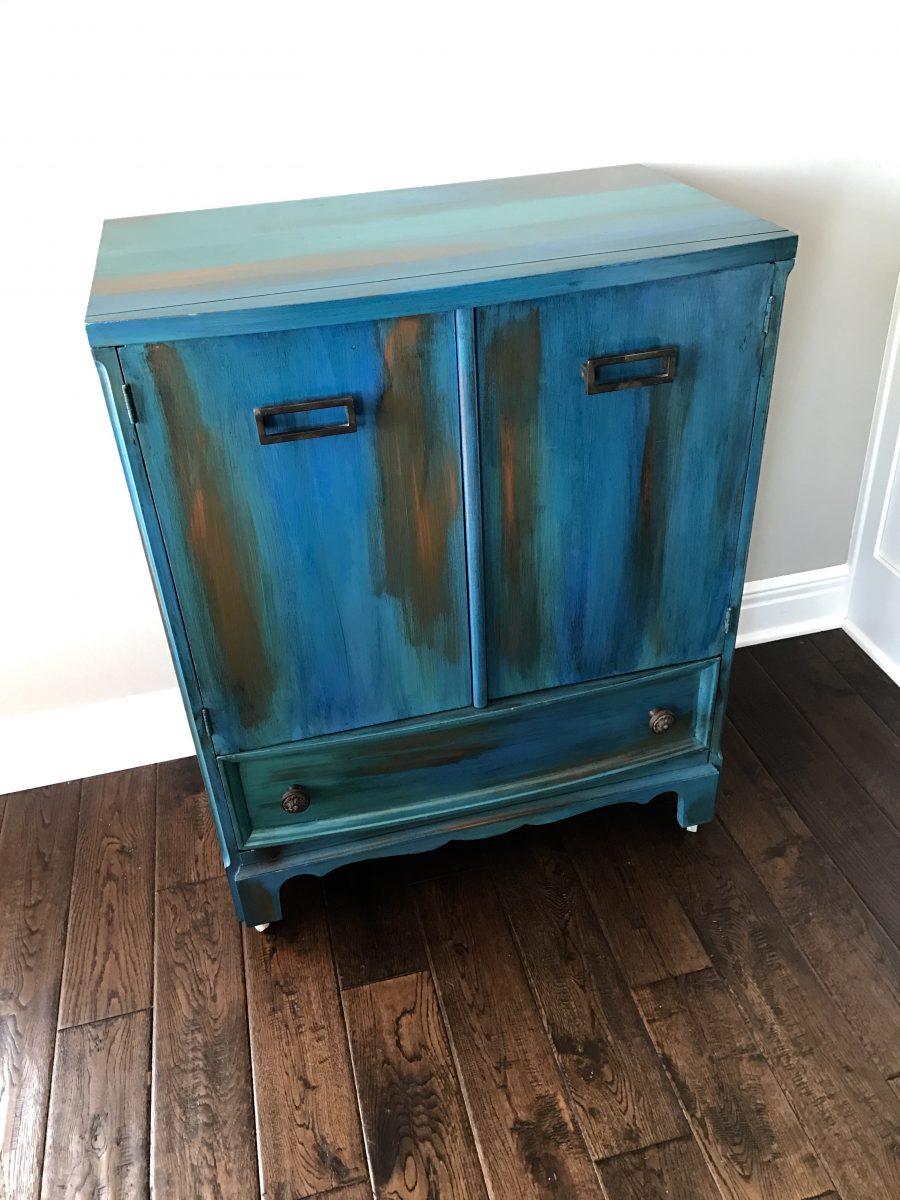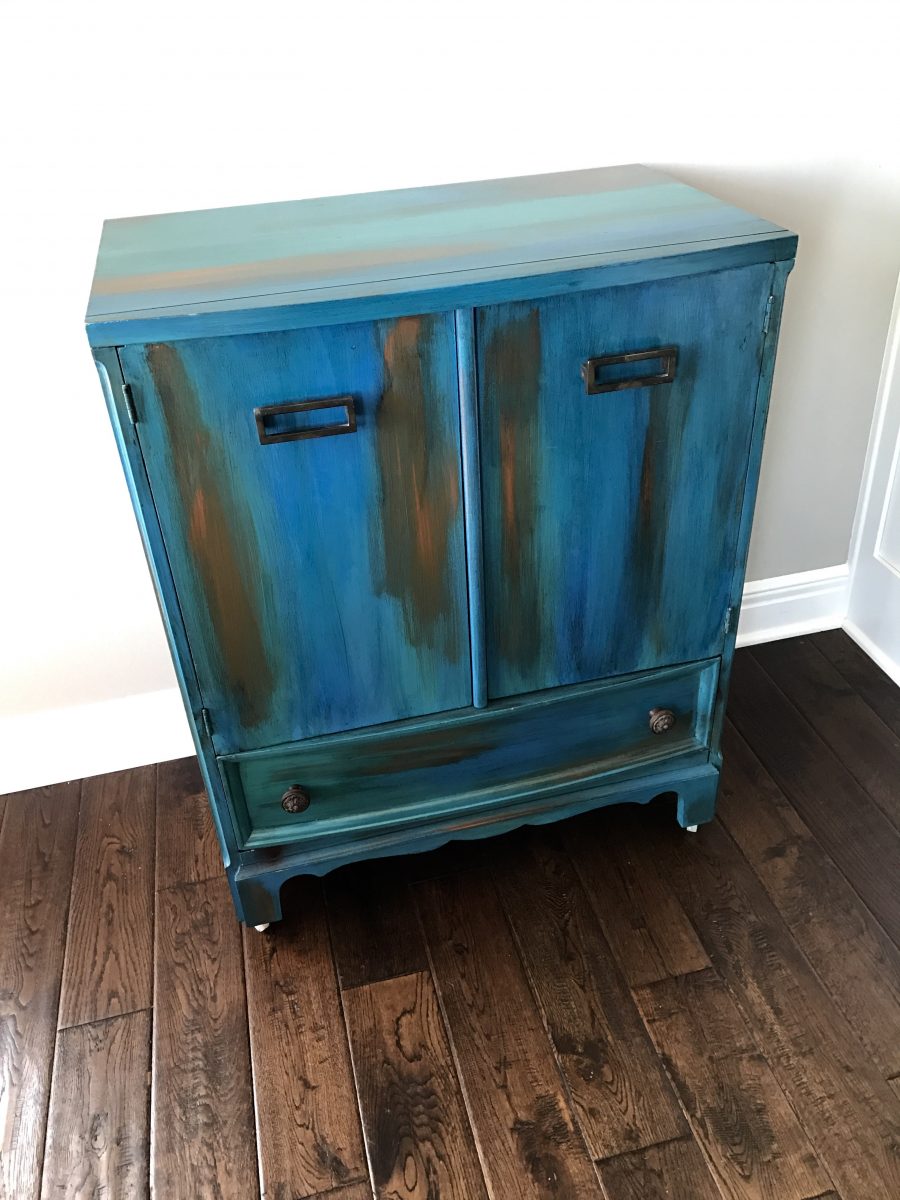 The Bermuda Blending Technique
I loved the color combinations and the almost rusty look that she blended into the bright blue and turquoise.  I had just purchased a cabinet I wanted to try this technique on and because we are isolated here on the Great Plains, I had to be a little creative with my products.  The nearest Annie Sloan Chalk Paint is nearly four hours away (and yet I've still managed to find some on occasion for other projects).  So I did what you do when you live where I do, and that is I use what's local and be flexible.
Maria, the inventor of Bermuda Blending, used a product called Pixie Dust, an additive to help blend custom colors.  I opted not to use this product, but if you decide to use it, you can find it at Pixie Dust Paint Company.  I did, however, use the product she recommended called Unicorn Spit and yes, you heard me right.  It is a natural stain, a nontoxic gel and glaze in one.  I ordered four colors, the ones that most closely matched the paint I had used on the base coat.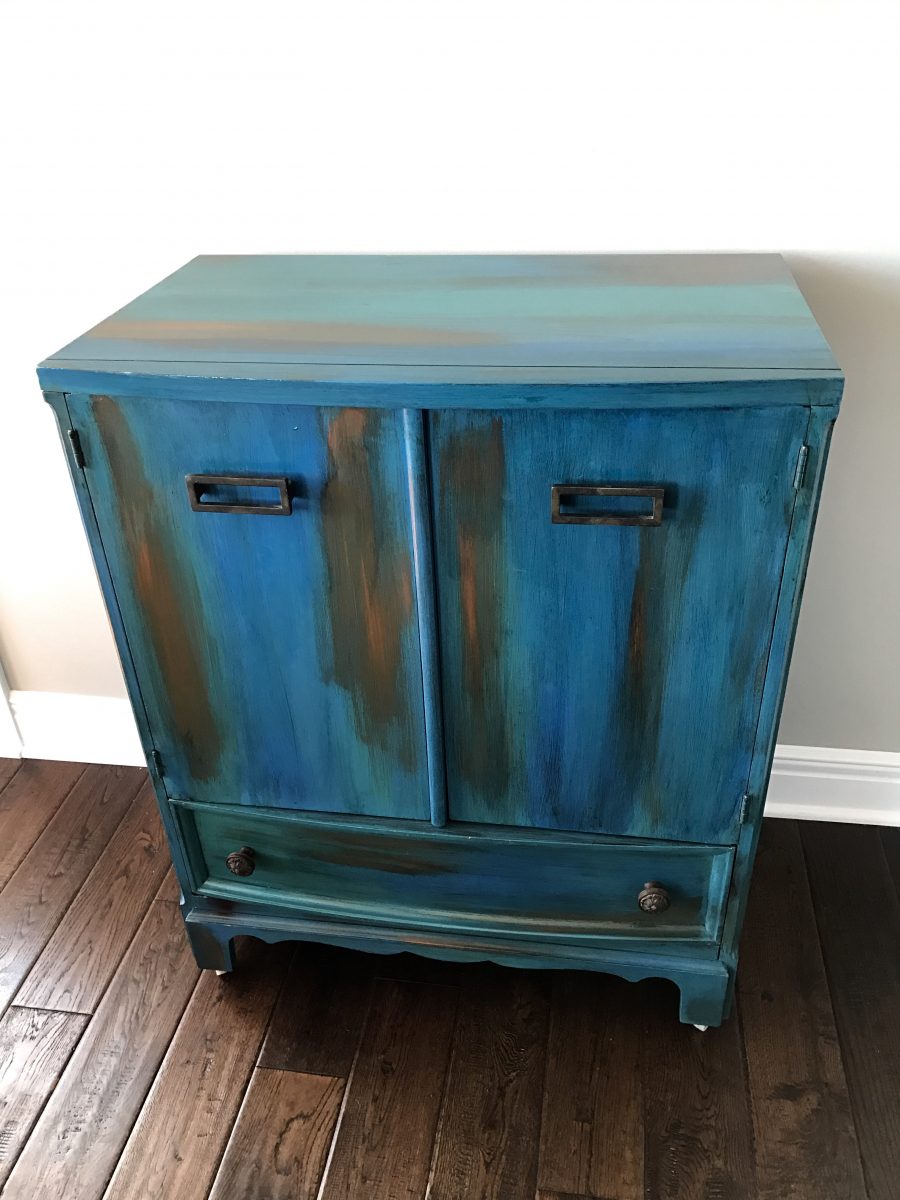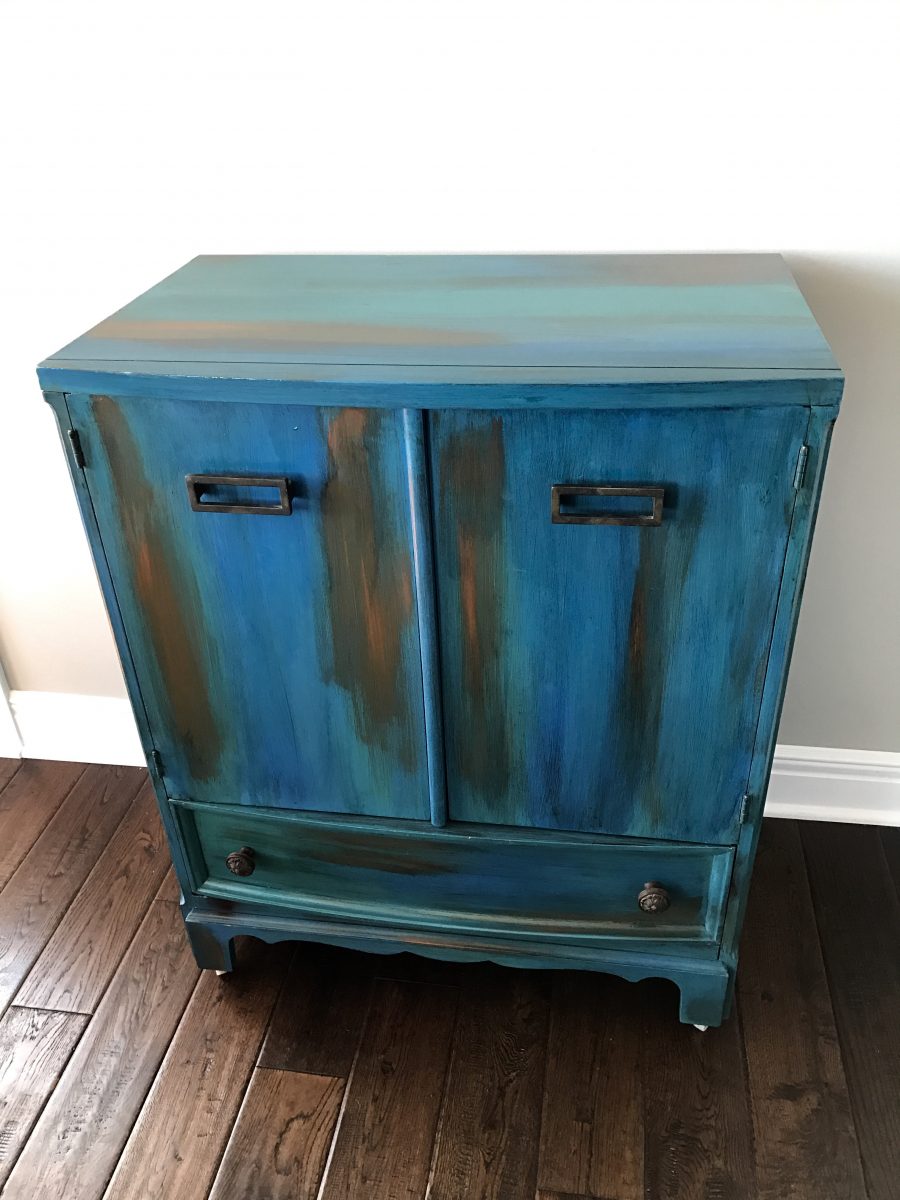 The Process
For me, the process looked like this:
I prepped the wood on the cabinet by sanding it and spray priming it to be sure the paint would adhere.
I found my local sources of bright blue, turquoise, and burnt orange paint. Using the same brush (because we are blending after all), I loaded the dominant color onto the piece, and then randomly added bits of the bright blue and burnt orange for accent.

The key here is to use all three colors while they are wet and let them blend into one another, creating a beautiful washed, worn, rustic effect.

After the paint dried for at least an hour, I squeezed Unicorn Spit onto the paint randomly and wiped it in with a dry rag.  Using small squirts, I put similar colors over similar base coat paint as I blended with my dry rag to work the color in.
After the piece was well dry for at least a few hours, I wiped on Annie Sloan Dark Soft Wax to antique and age the piece a bit.  I used a dry rag to do it and used the wax sparingly.
Finally, the last step was to brush on a varnish of one's choice.  I used a semi-shiny spar varnish. I let it dry for 24 hours before moving it.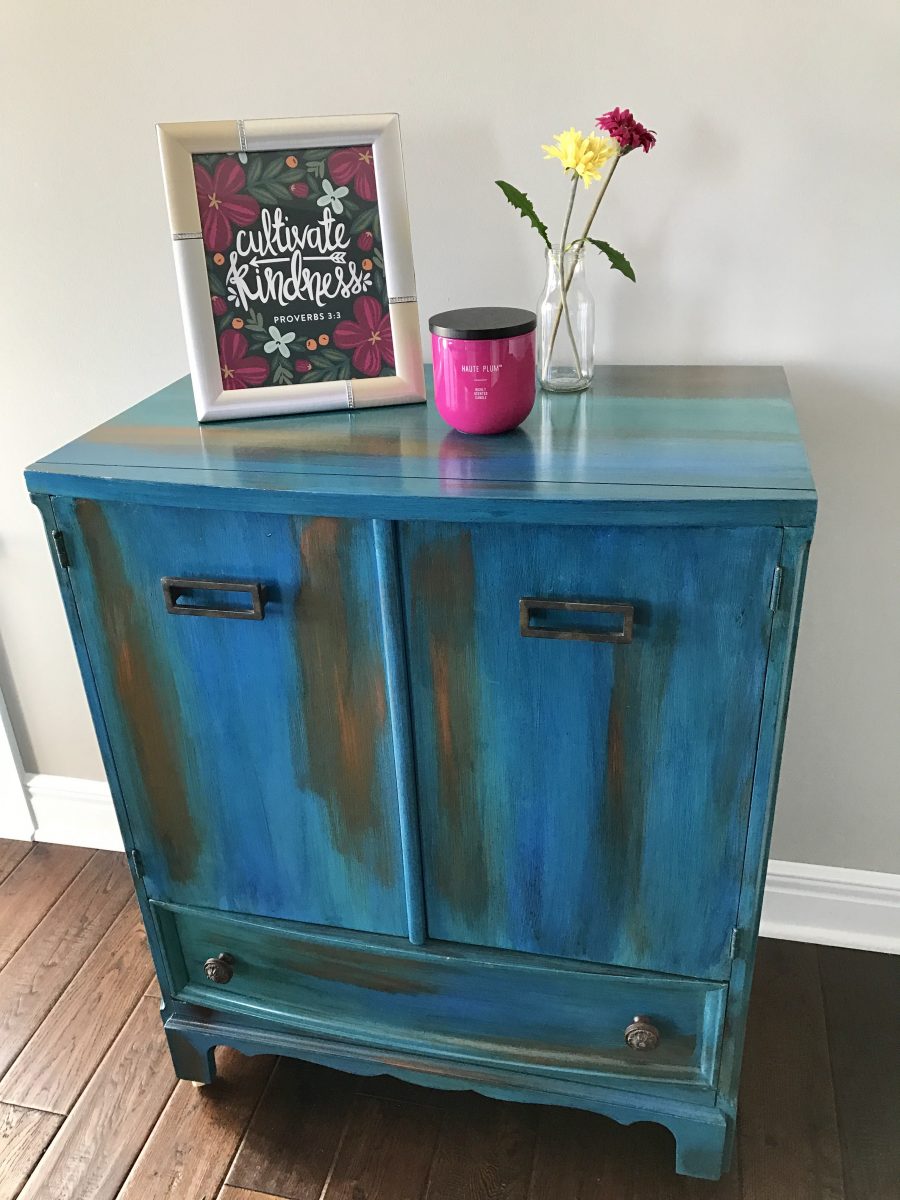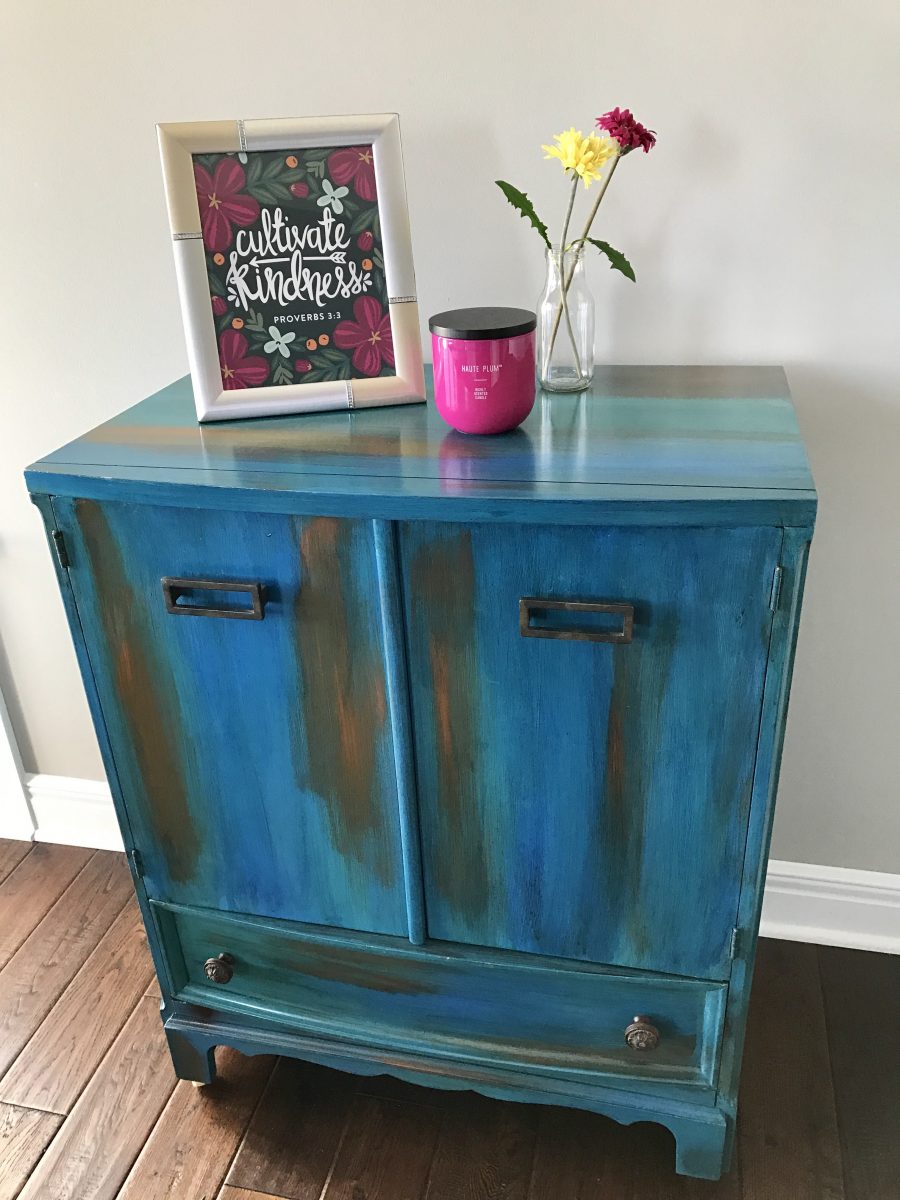 I loved the color variation of it. You can't deny it catches your eye.  And my daughter decided she wanted to use it caught sight of it and fell hard for it [Editor's correction 😉 ], so for the time being it proudly sits in her beautiful home. So while I may have Input as a dominant strength based on Strengths Finders, you can see SOMETIMES my inclination to hoard (did I just SAY that?) ideas does result in a beautiful finished product.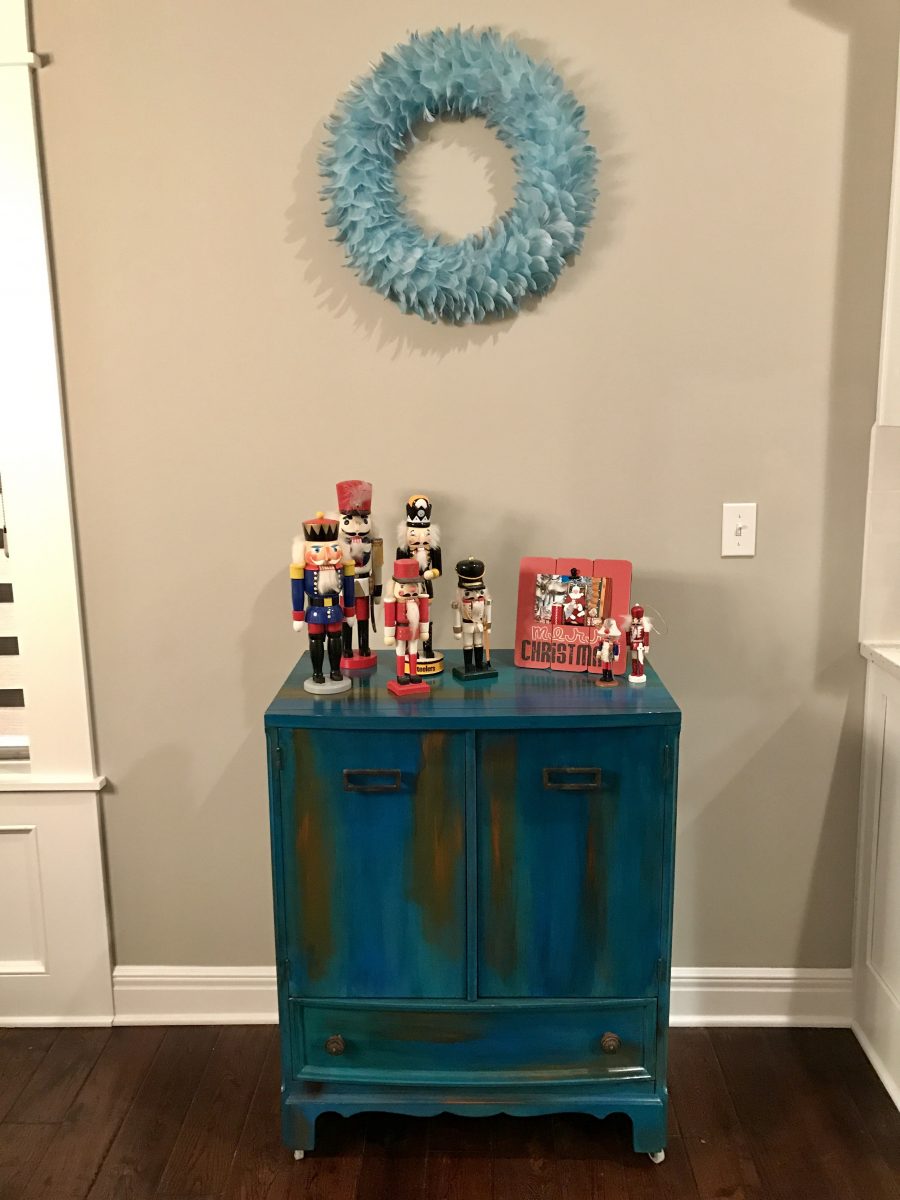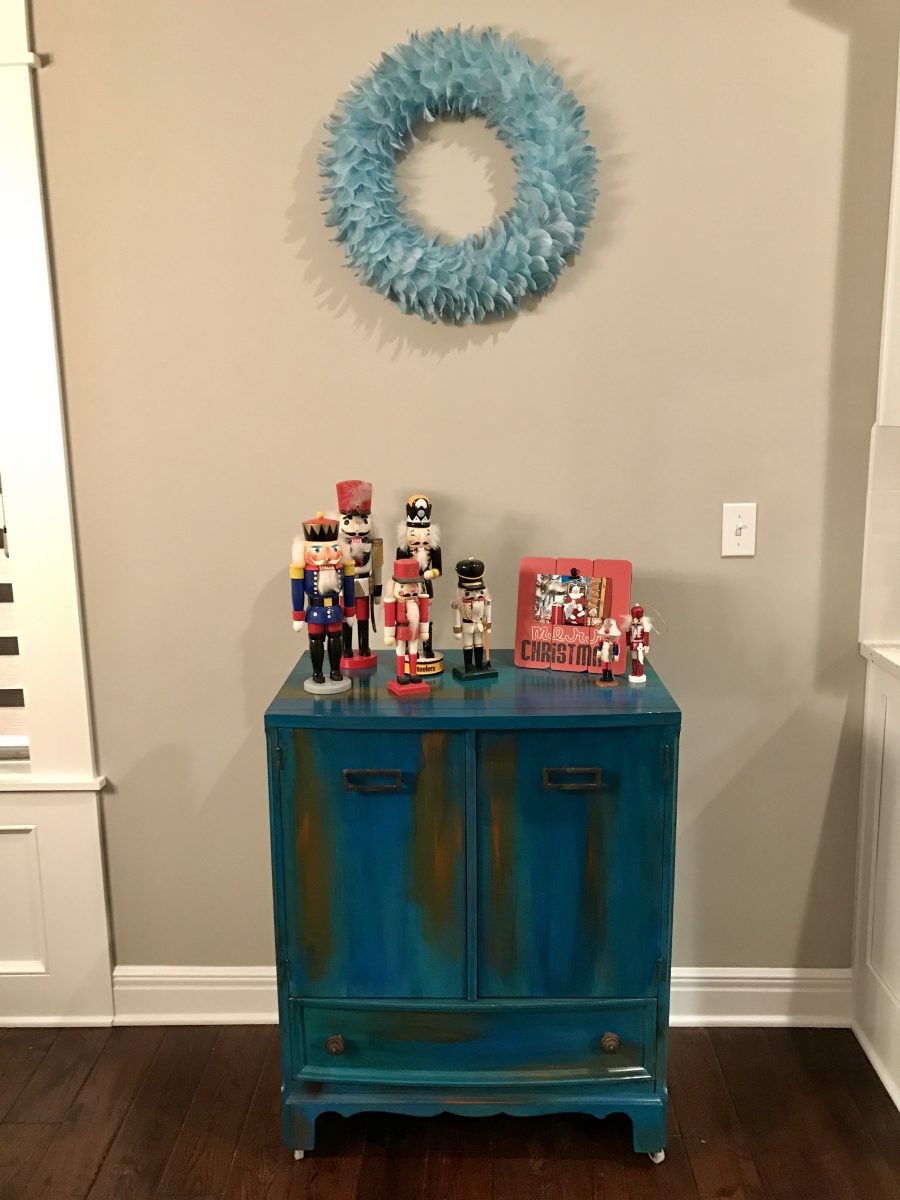 Subscribe below so you don't miss the Kiddos' Creation Station and Craft Menu Board coming SO soon! [Hint: The Creation Station resides in this cabinet with Bermuda Blending, and you can see part of the Creation Station is hiding behind the false front drawer.]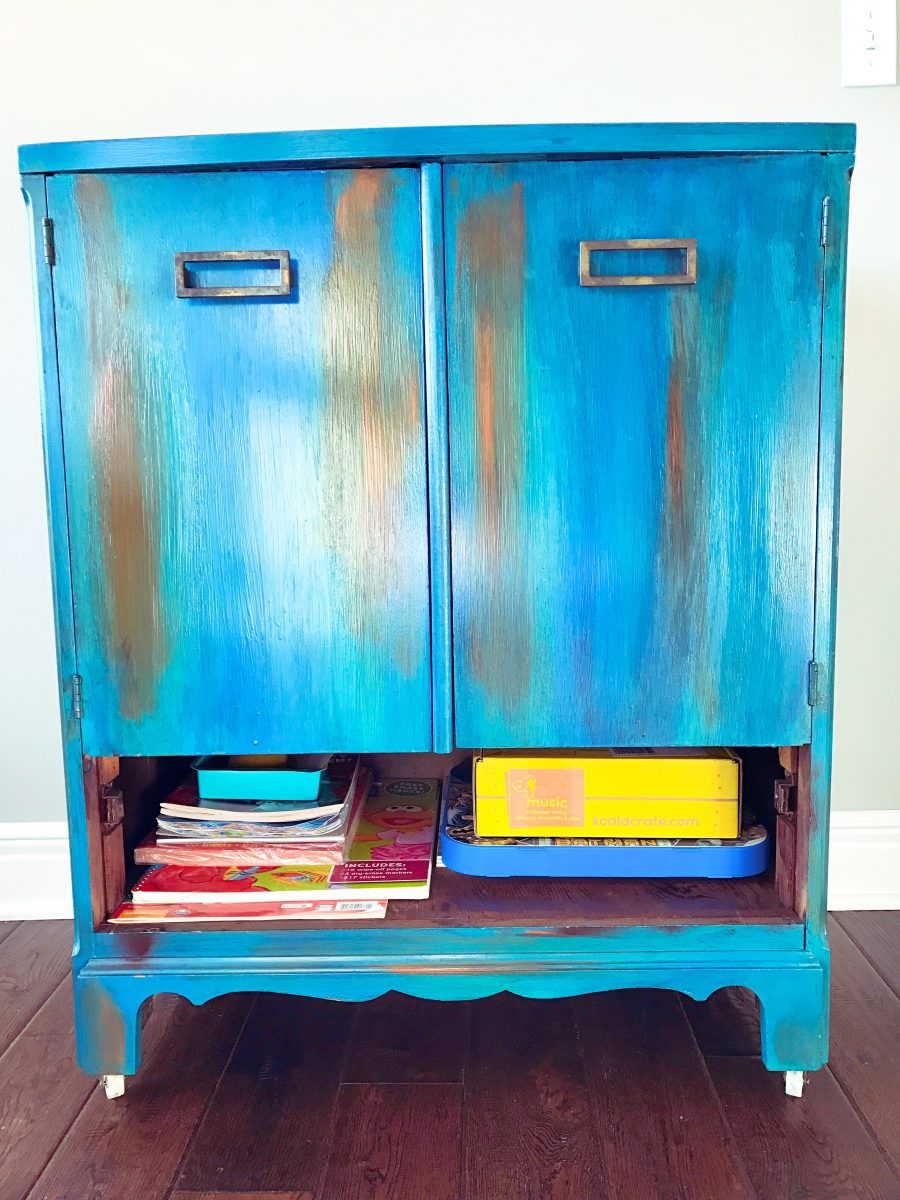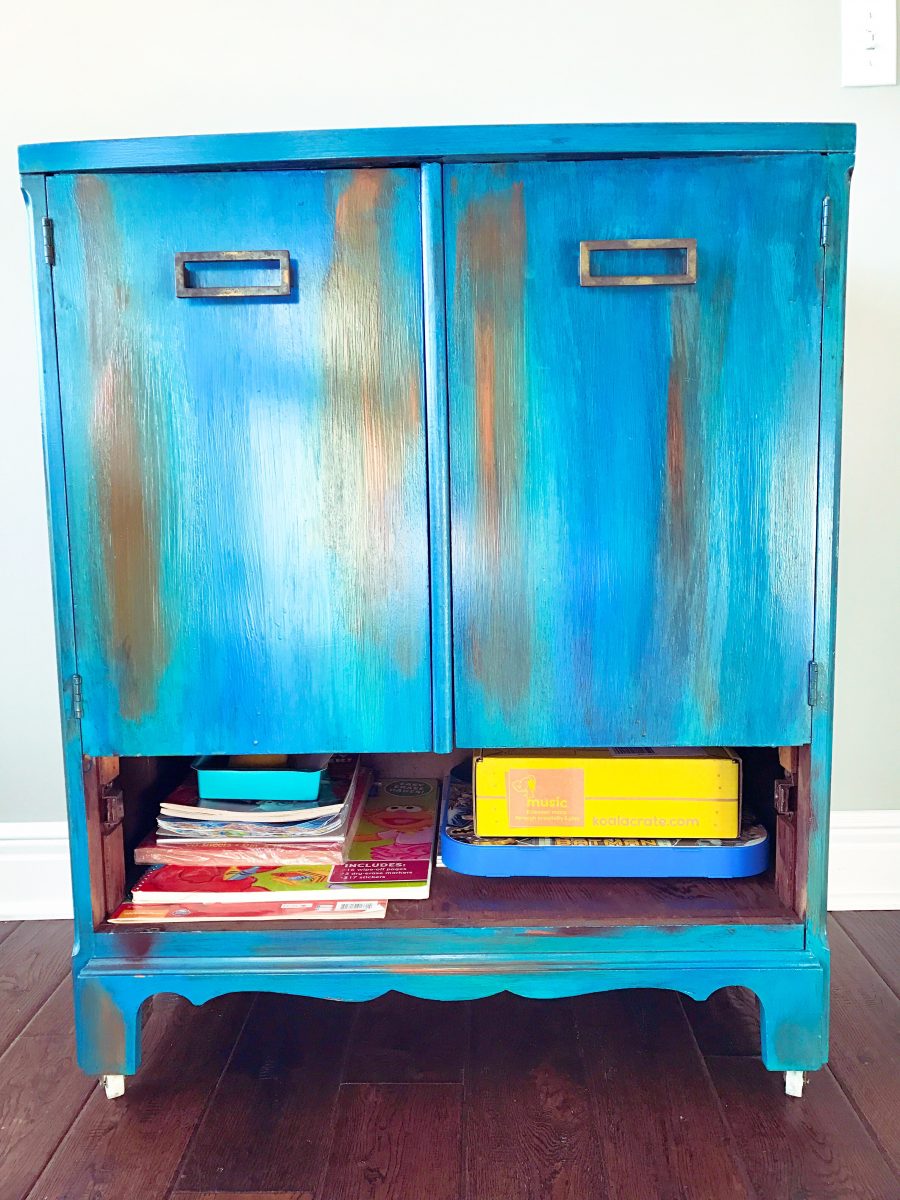 To see the article on my blog, visit: www.ashleycamber.com/2017/03/07/bermuda-blending-drama
Content may contain affiliate links. This means that, at no additional cost to you, we may earn a little somethin' somethin' when you use the link to make a purchase.
Learn more here.
Would you like Bloggy Moms to feature your brand?
Contact us here.